2017
24th December 2017
Here at Willowpark we hope everyone has a wonderful Christmas and a Happy Healthy and Safe New Year.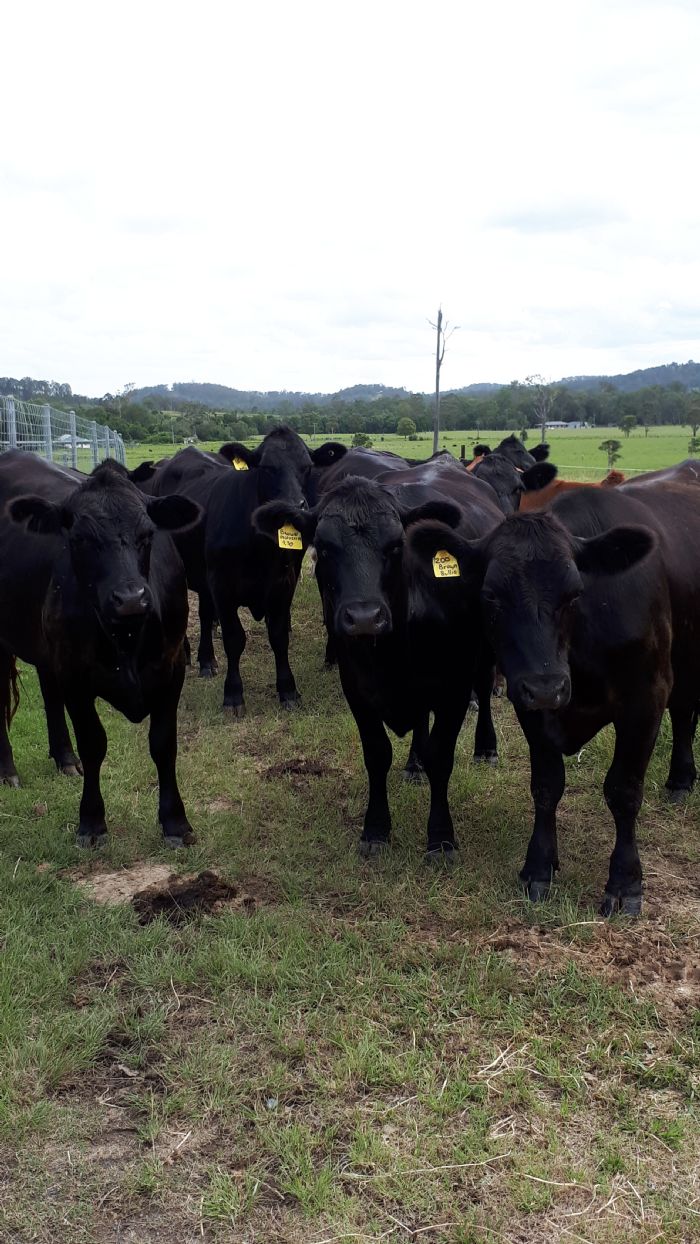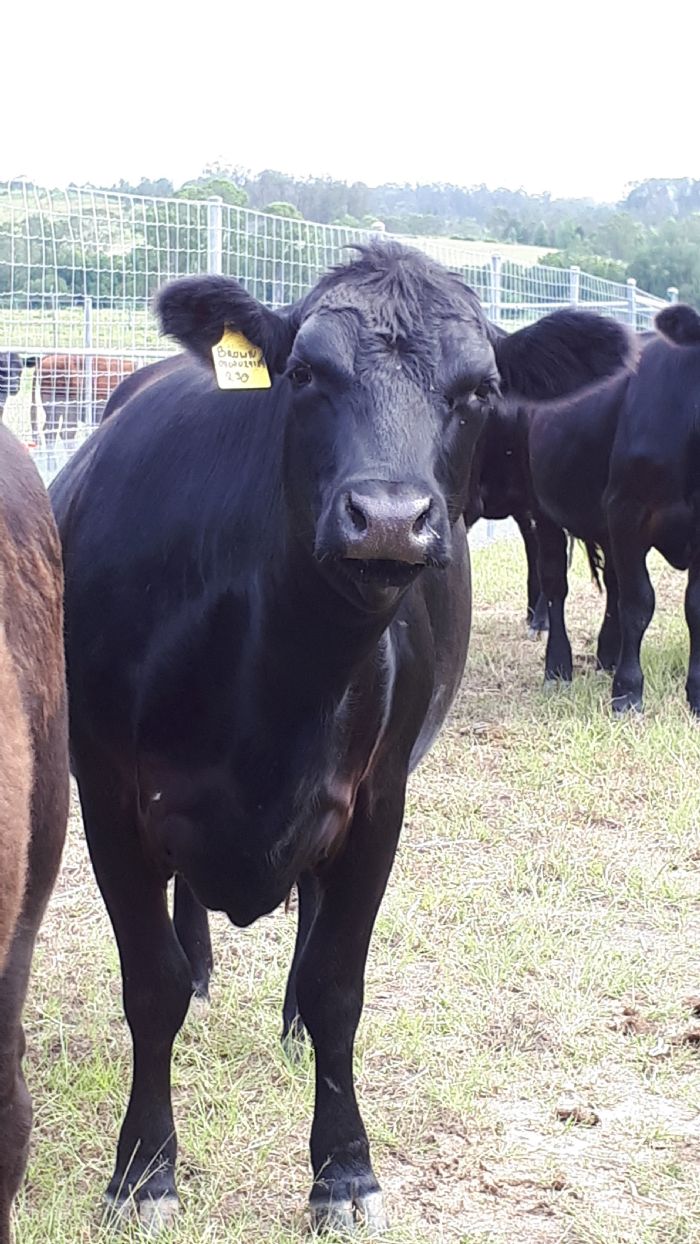 15th December 2017
Summer had her 9 babies today, lovely litter of 3 x red boys, 1x blue boy, three red girls and two blue girls. This is Summers last litter.
What an amazing girl Summer has been, producing three Sydney Royal Challenge offspring, BOB and RUBOB, and also a puppy in Group, from 3 different litters.
Six of these babies have wonderful homes waiting for them and we will retain two of her daughters.
We must not forget that Ted being the sire of all these as well. Ted has been an integral part of our breeding program for the last couple of years.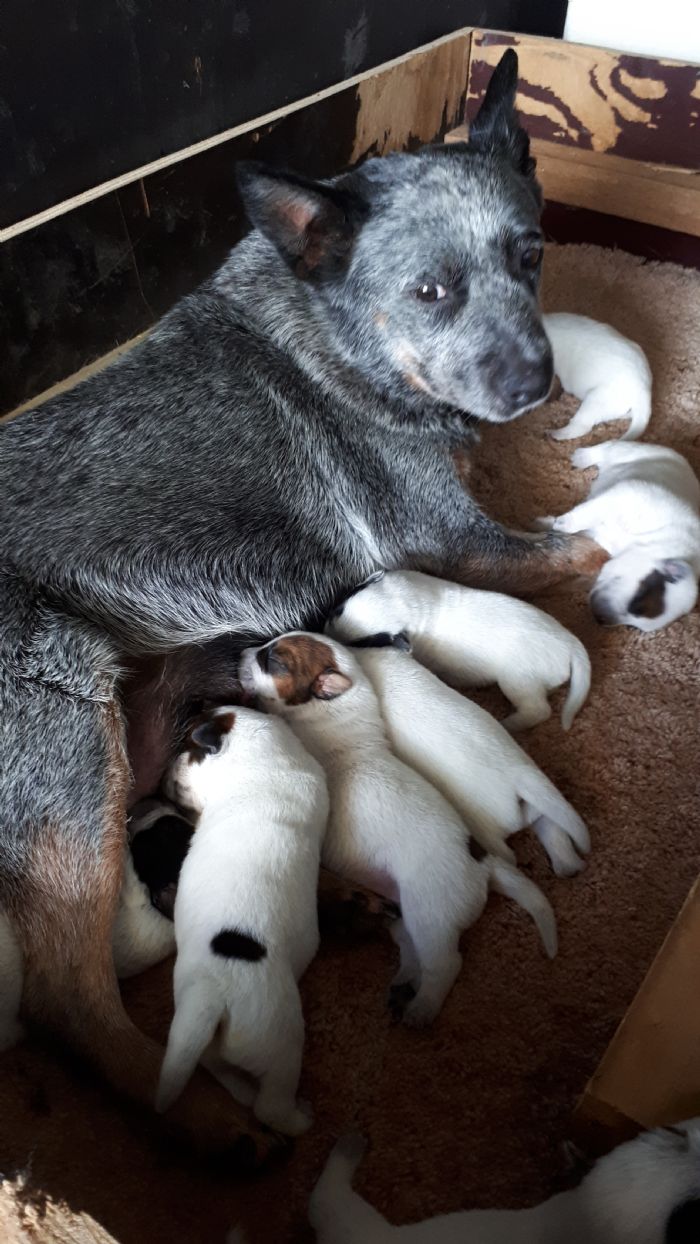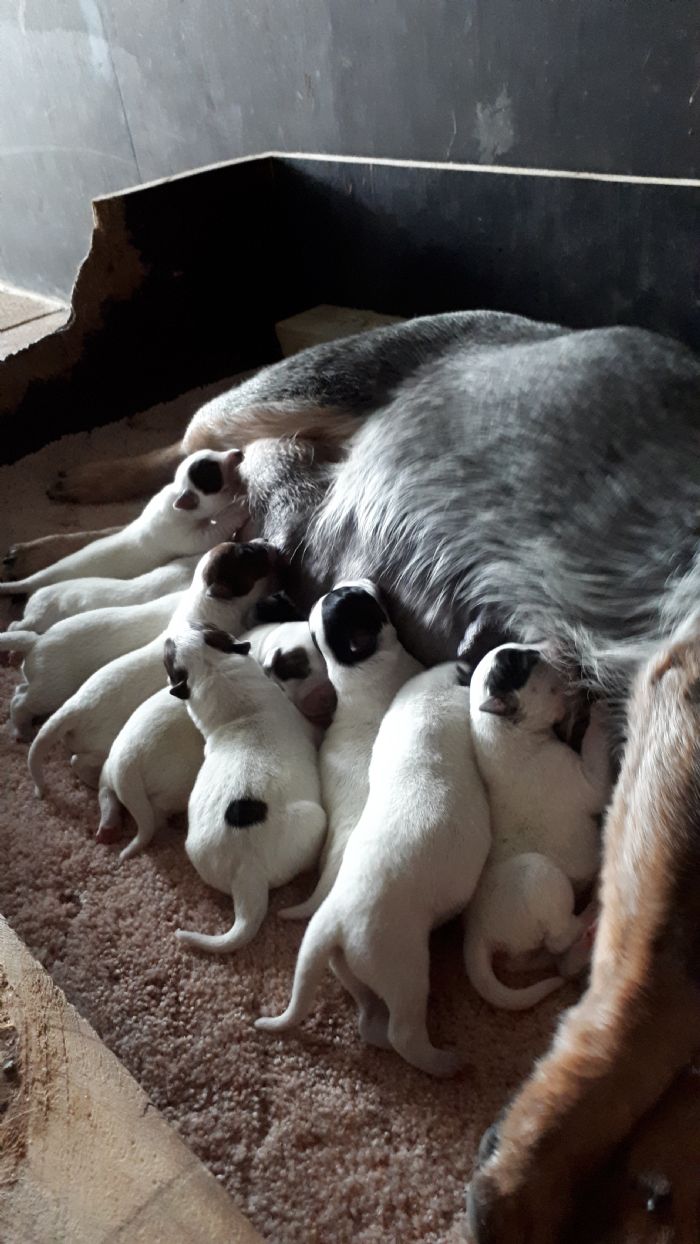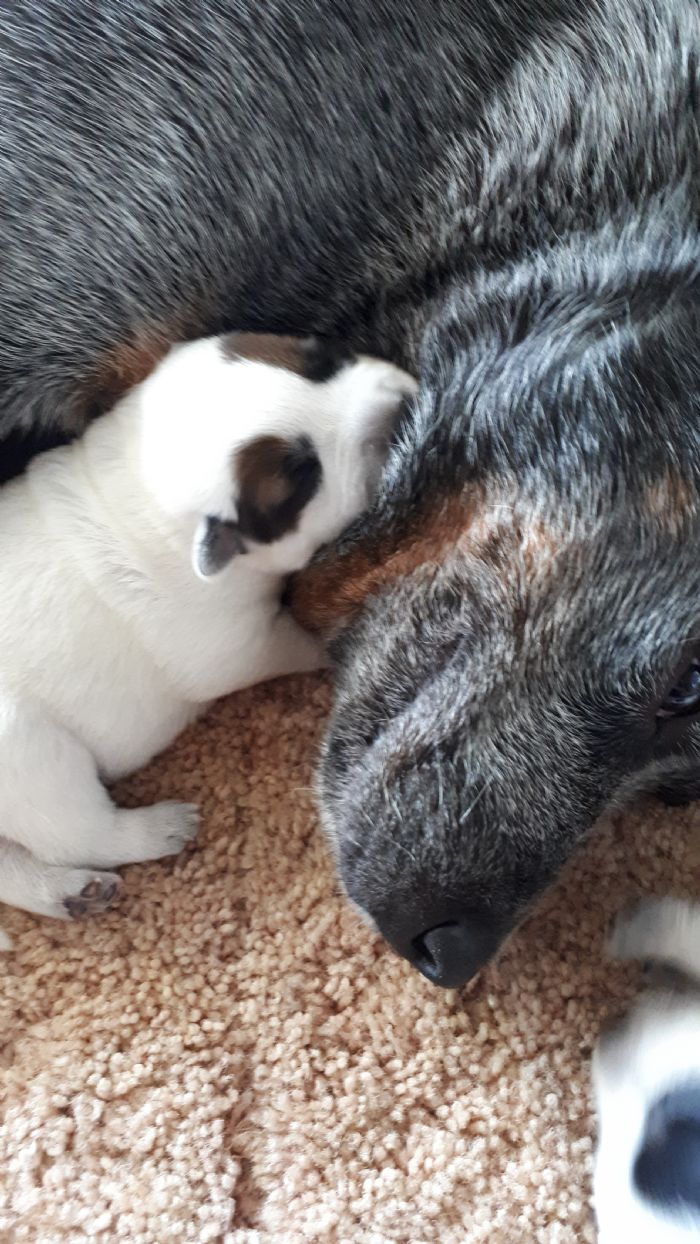 10th December 2017
Star had her babies today. Five big healthy pups. Three girls and two boys.
Mick once again a proud Dad. All these beautiful babies have wonderful homes awaiting them.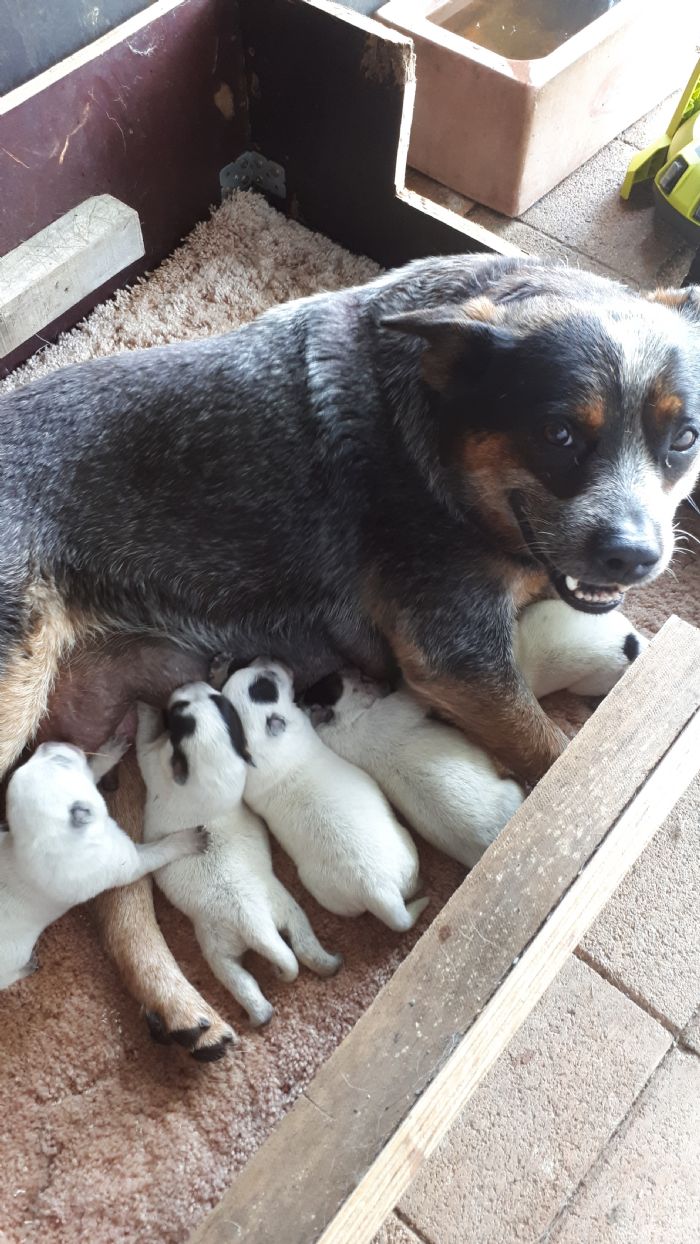 21st November 2017
Thanks Isha for sharing your success with Hope, winning BOB at all 4 shows entered, so glad you are happy with her and Mate.
I cannot wait to see how Mate goes in the showring as well, he is looking very handsome I must say and thanks for sharing the pics.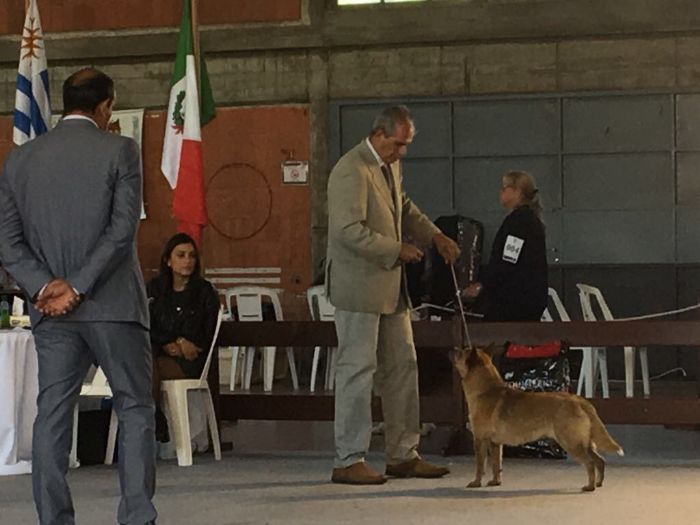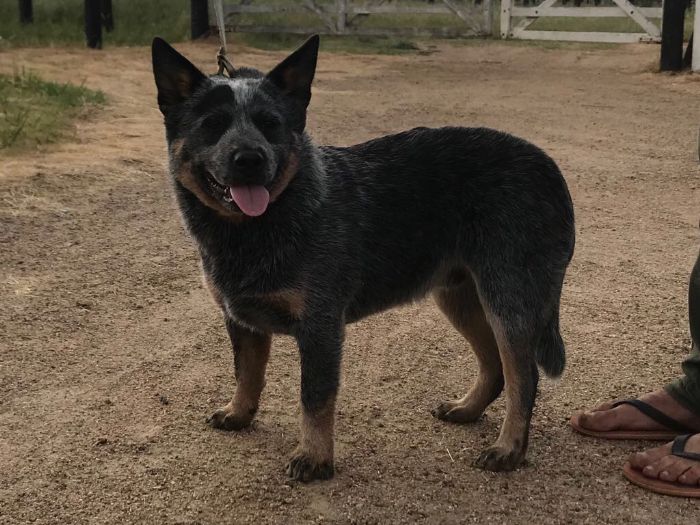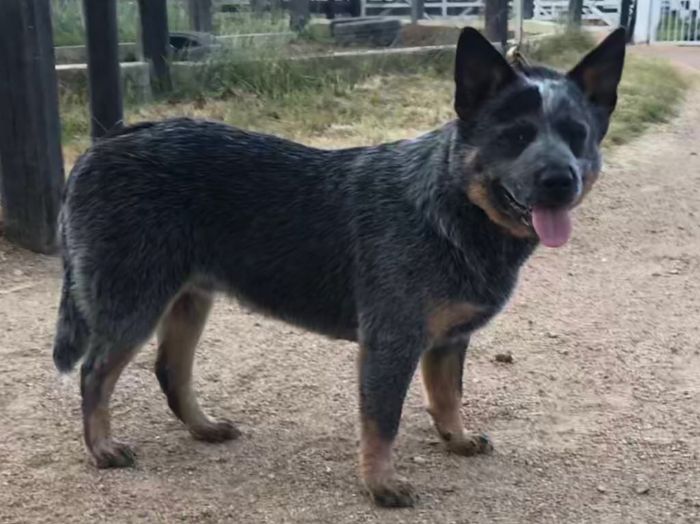 18th November 2017
Well we ventured to Buladelah show today, and we had a great time, with great company.
Abbey winning an 11 point BOB and May winning her baby of breed.
Mindy was the star winning a 10 point Best Neuter of breed and taking out Neuter in Group.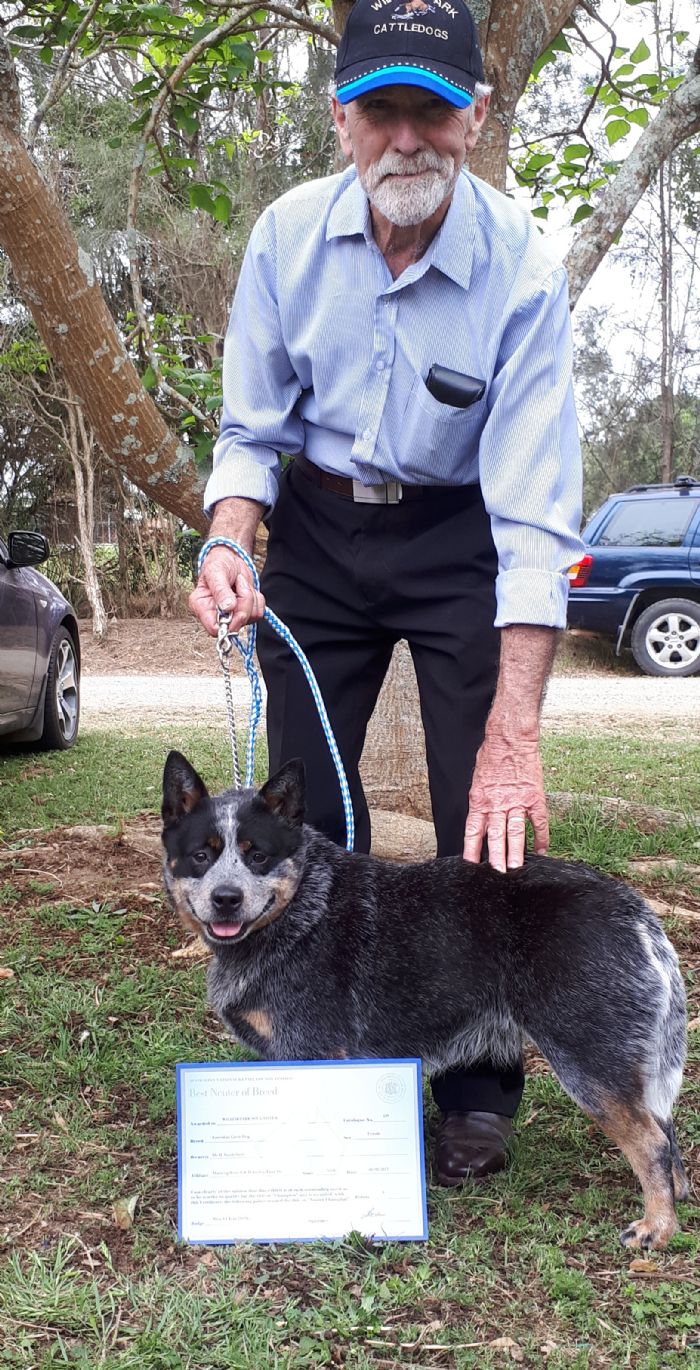 All three were extremely well behaved in the wind, and with the Zipper ride, right beside the ring.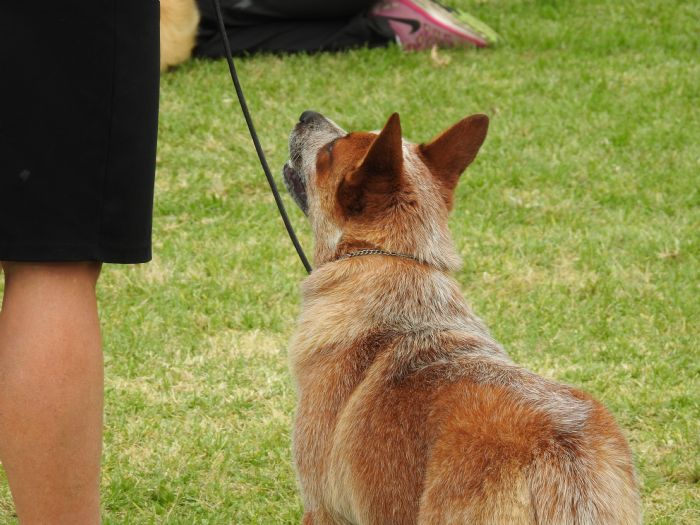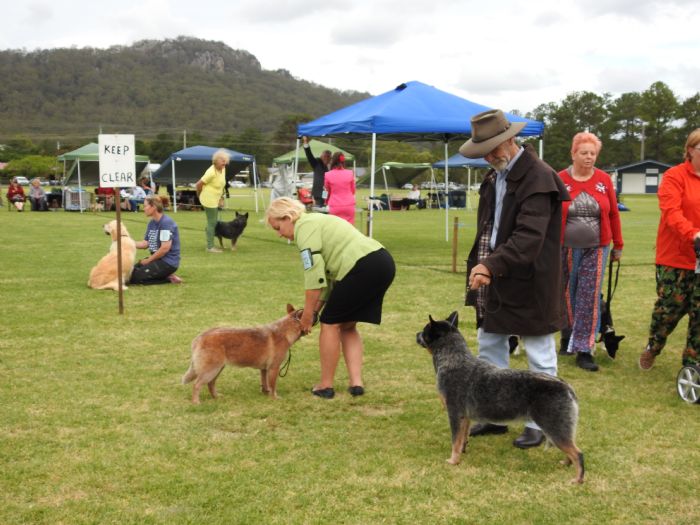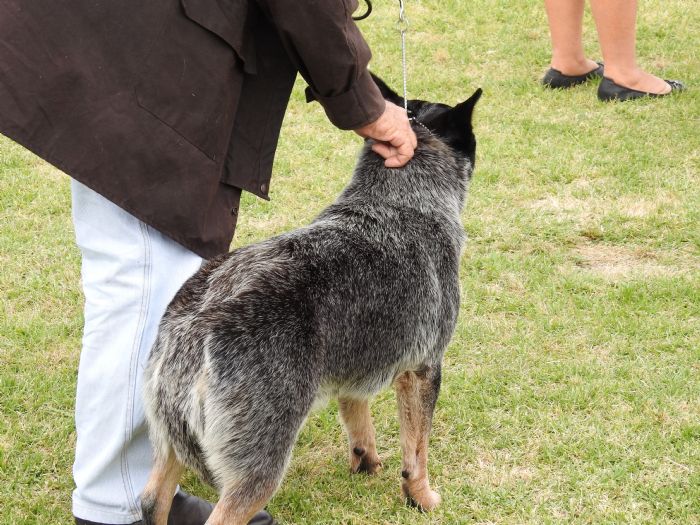 3rd November 2017
May (WP Tequila Sunrise) does it again, 4 out of 4 Shows for Baby Puppy in Group, beating some lovely Puppies today.
Abby (WP Burn for you) wins a RUB, Very happy with these girls.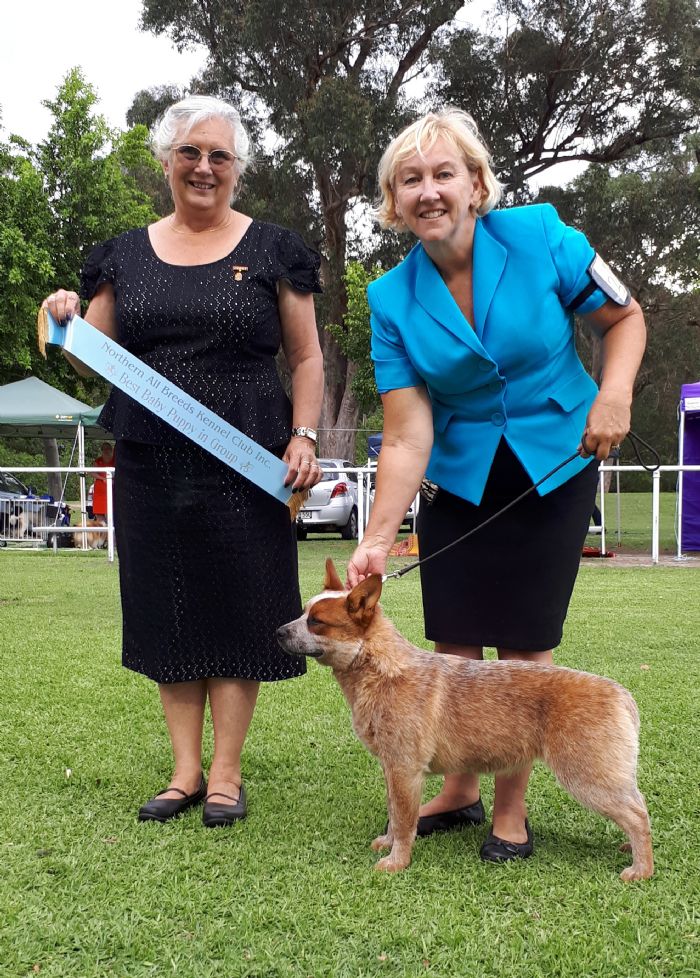 2nd November 2017
Tinder's mum sent us this lovely pic of her today, Tinder is from Ella and Mick and is now 5mths old.
Tinder is a much loved family member.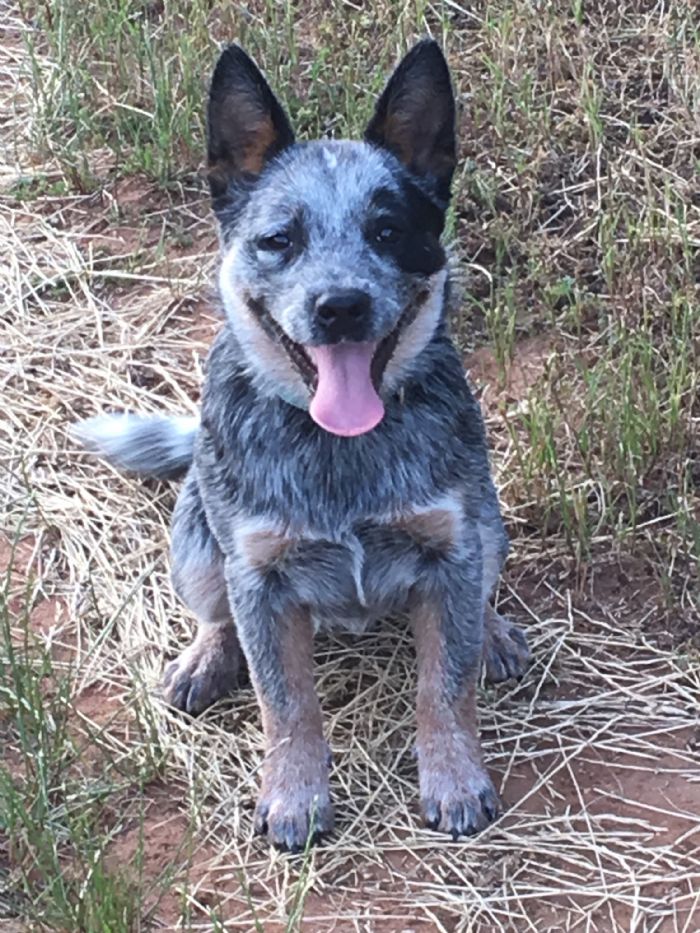 2nd November 2017
Meet Ivy,(WP Fancy Pants) Ivy is from Mindy and Ted, she is now 12mths old. Ivy's mum sent this pic of her today and said they just love her to bits.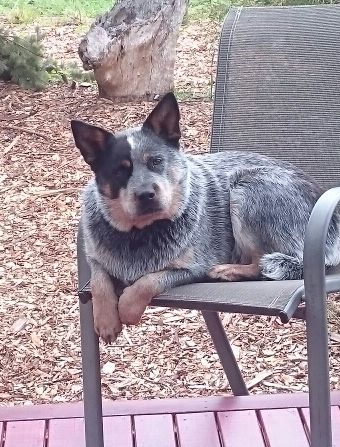 29th October 2017
Huge Congratulations to Belinda and Zac today, Zac became a duel Champion with a 98/100 in Masters Level.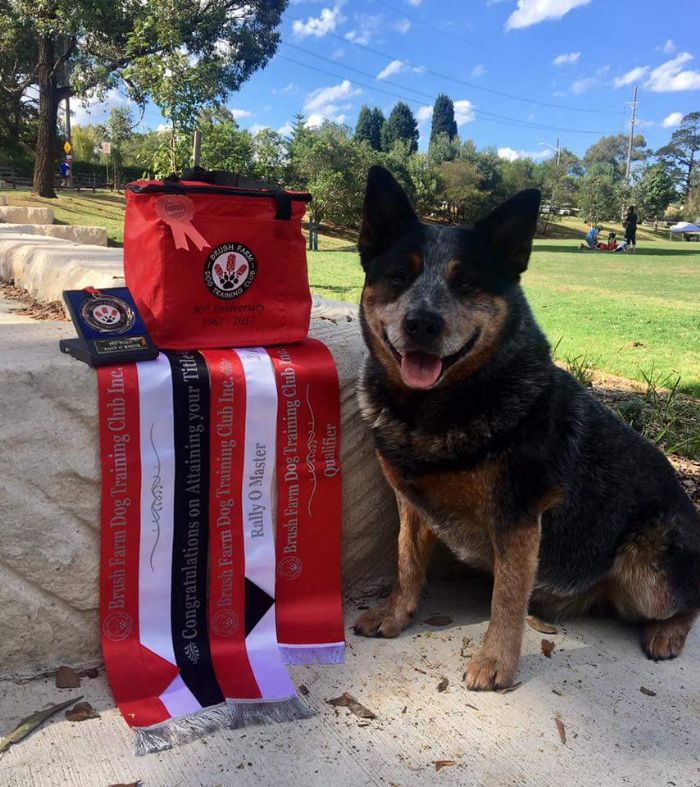 14th October 2017
Well we had a great day at Camden Haven Show, May,taking out her third baby puppy in group, thats 3 from 3. What a wonderful baby she is, to show and just to have around, just loving this, baby. Abbey wins another 10 point BOB as well.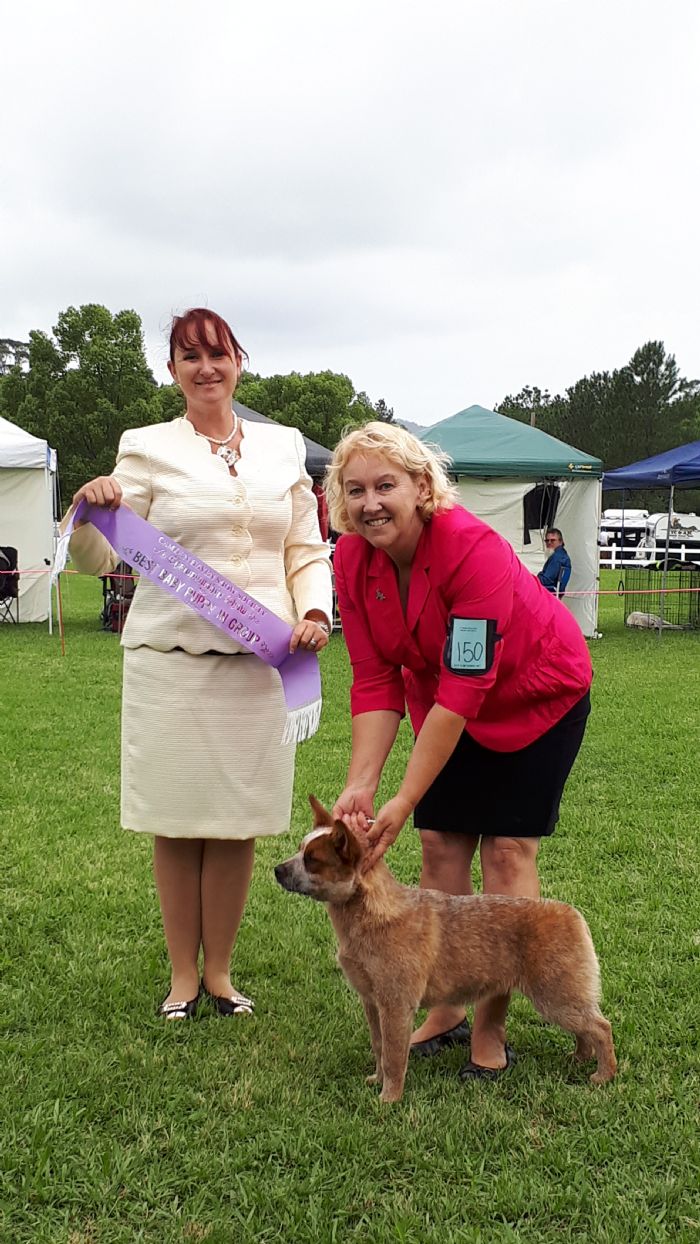 13th October 2017
Donny's Family sent us this gorgeous pic of Donny today, Donny is one very spoiled and loved family member. Donny is from Mick and Dusk.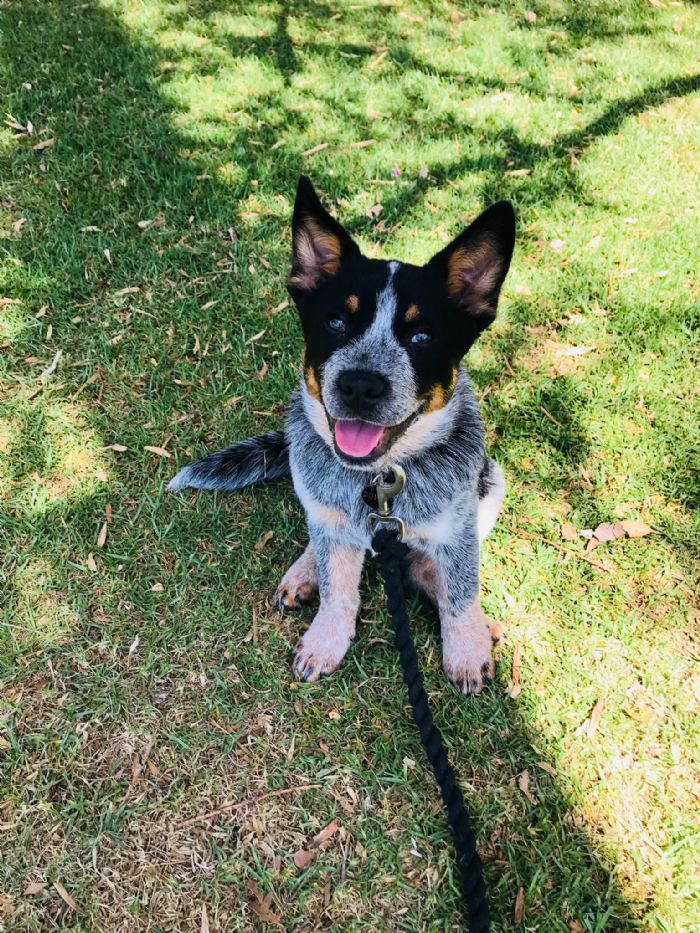 11th October 2017
John and Debbie have sent us a couple of pics today of their Beautiful girl Lucy, from Ted and Mindy.
She has just turned 12mths old and what a lovely girl she is.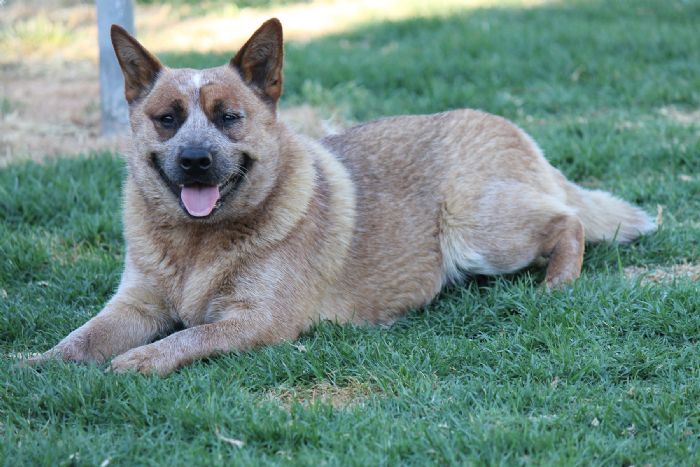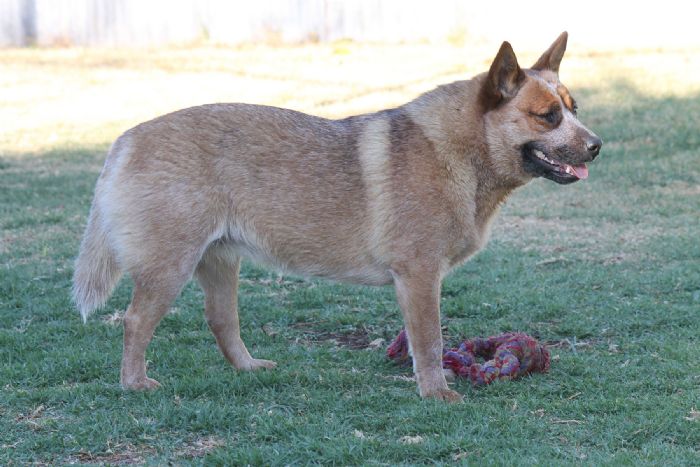 8th October 2017
Great Day at Taree Show, May winning another Baby puppy in Group, Abbey 10 point BOB, and Mindi, now owned by Harold and Maureen Sunderland, a 8 point best Neuter of Breed.
Wonderful company and a great day.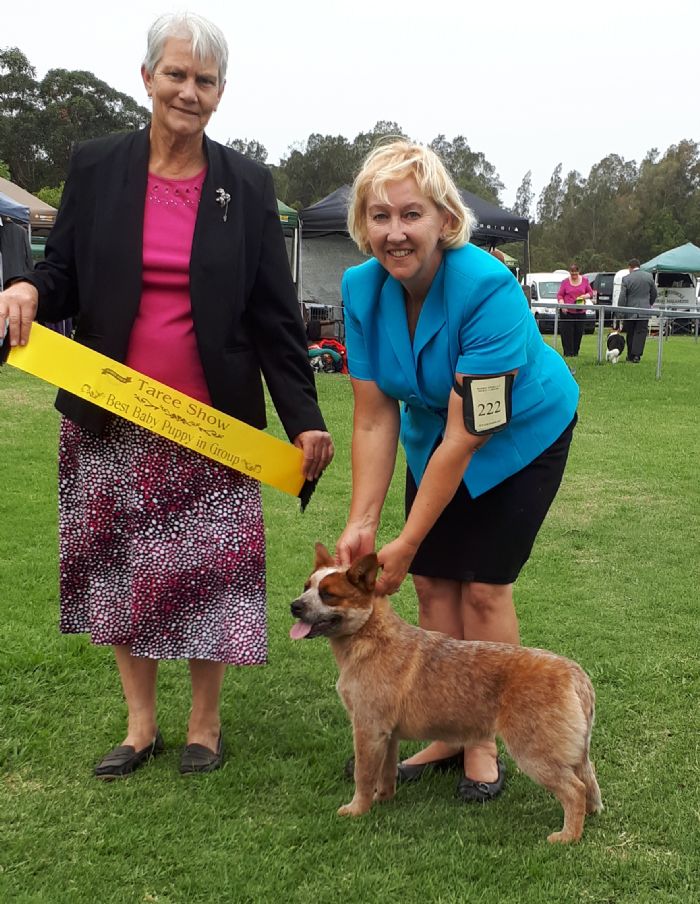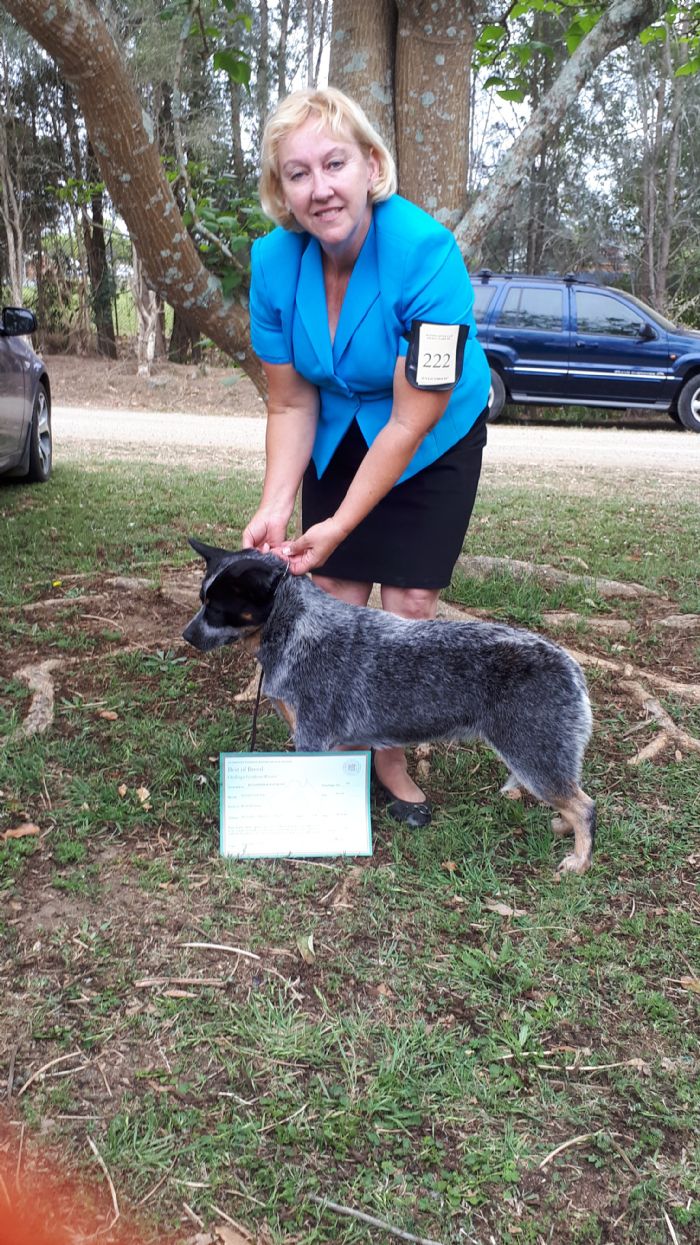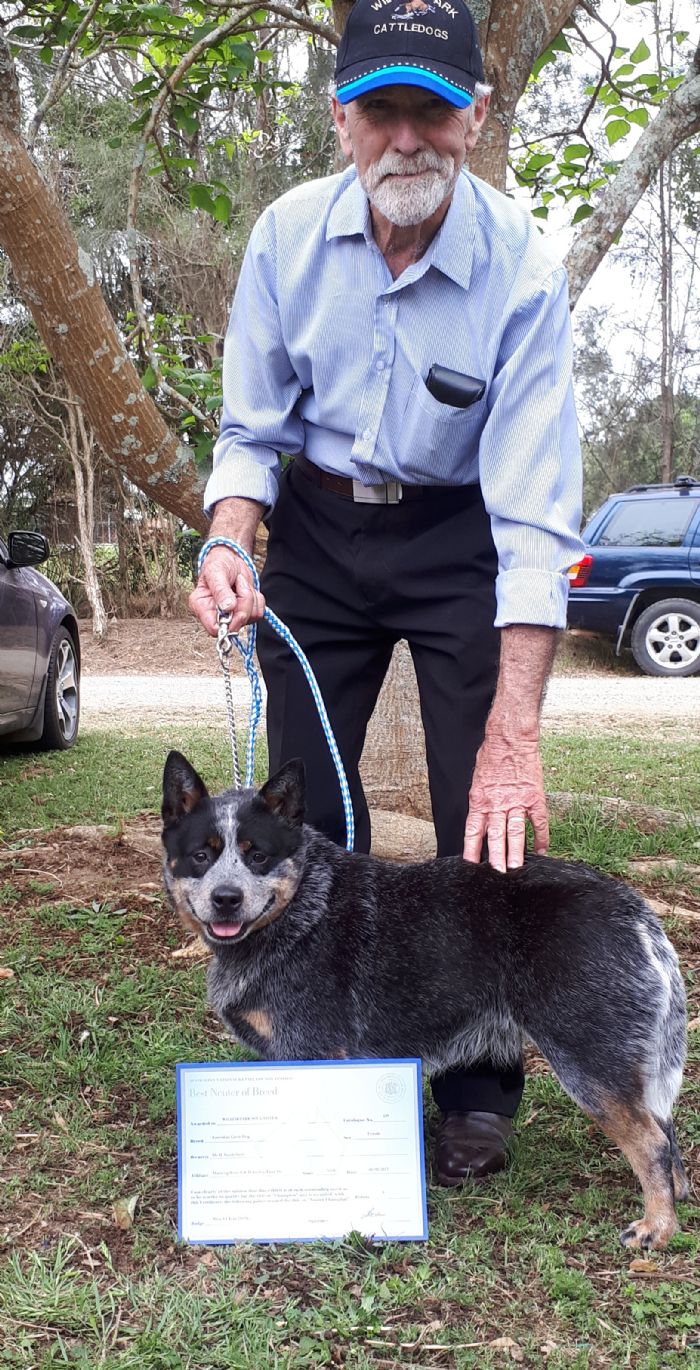 24 September 2017
Well today I ventured out to a Show in Newcastle on my own with Abbey and May.
May just 16 weeks old and her first ever show.
We were looking forward to a lovely day not expecting much, just hoping for May to get a little experiance and my first time showing Abbey.
Well May was the star, and I was thrilled when she won Baby in Group against some nice babies. The Judge giving her some lovely compliments.
Feeling very happy with May and myself, I was blown away when she went and won Baby Puppy in show, with some lovely babies in the line up, again this Judge giving her wonderful Comliments.
So looking forward to going forward with this beautiful girl.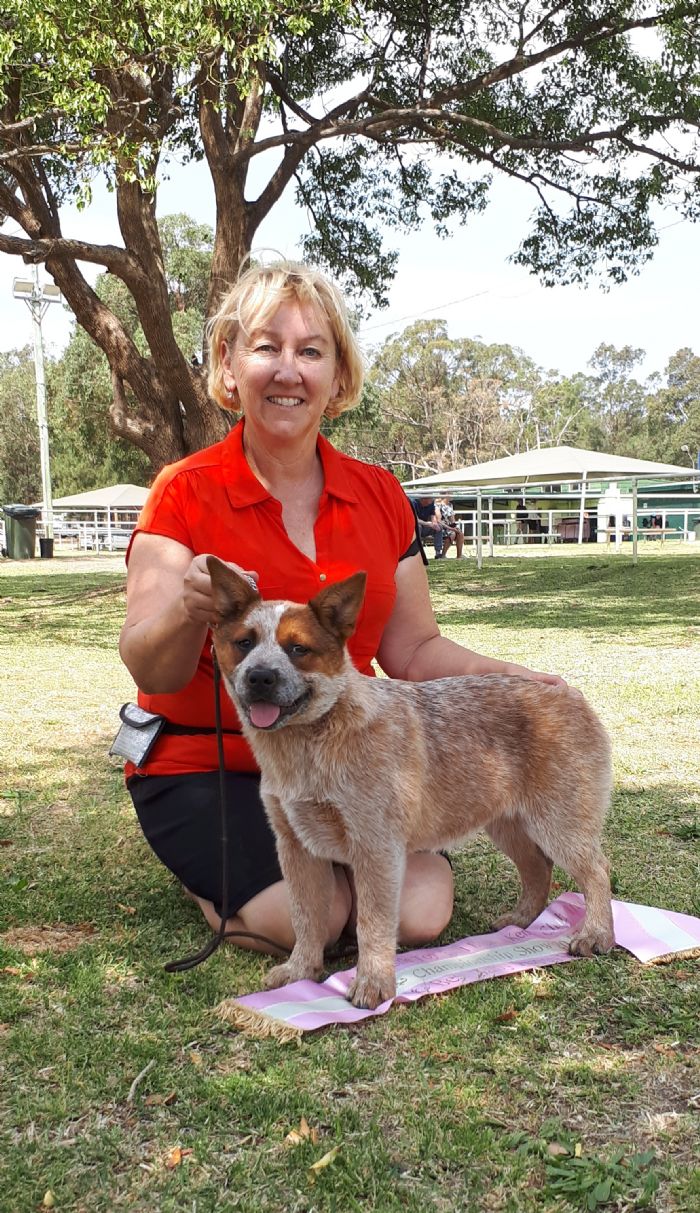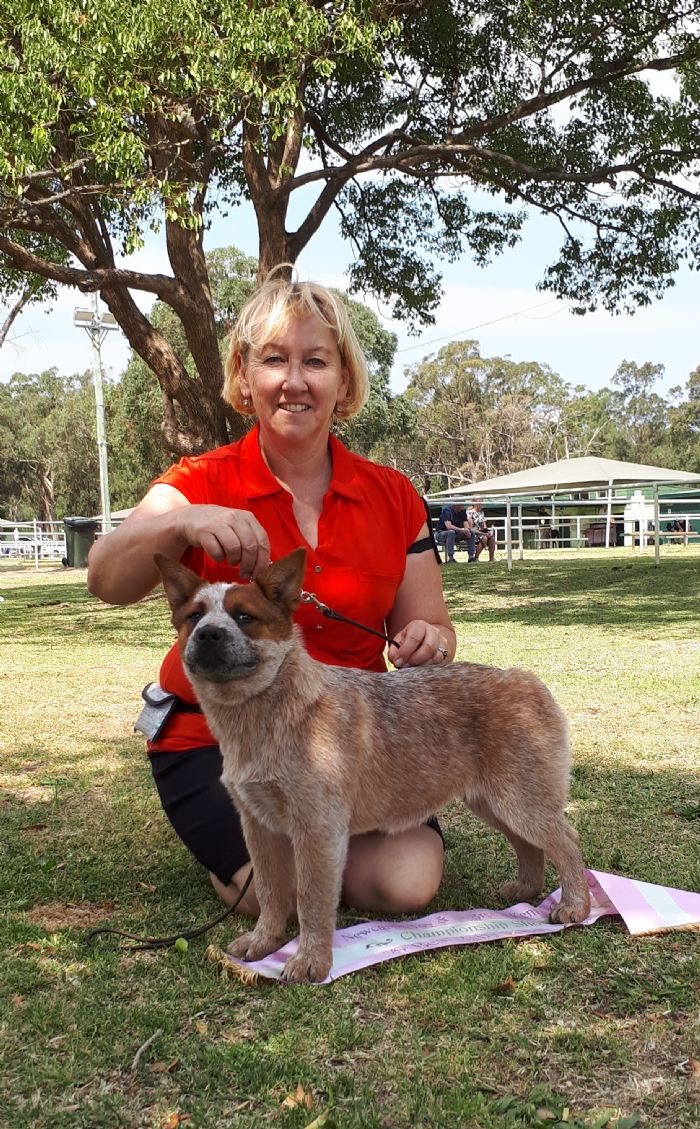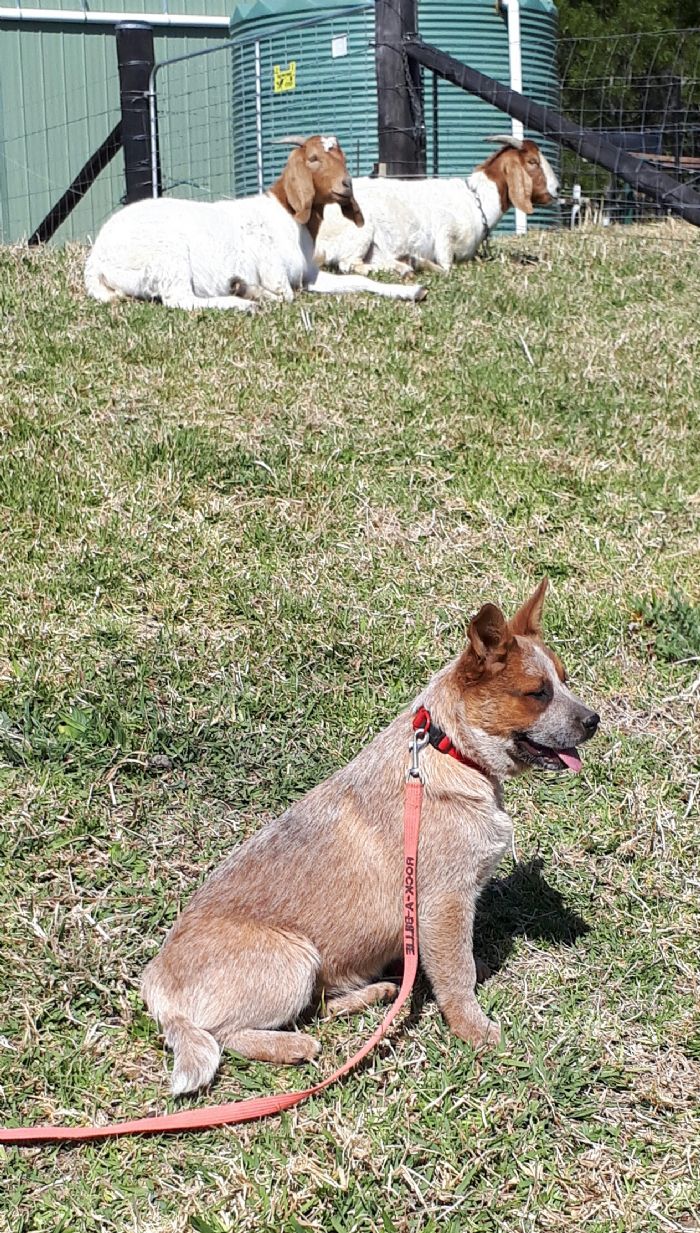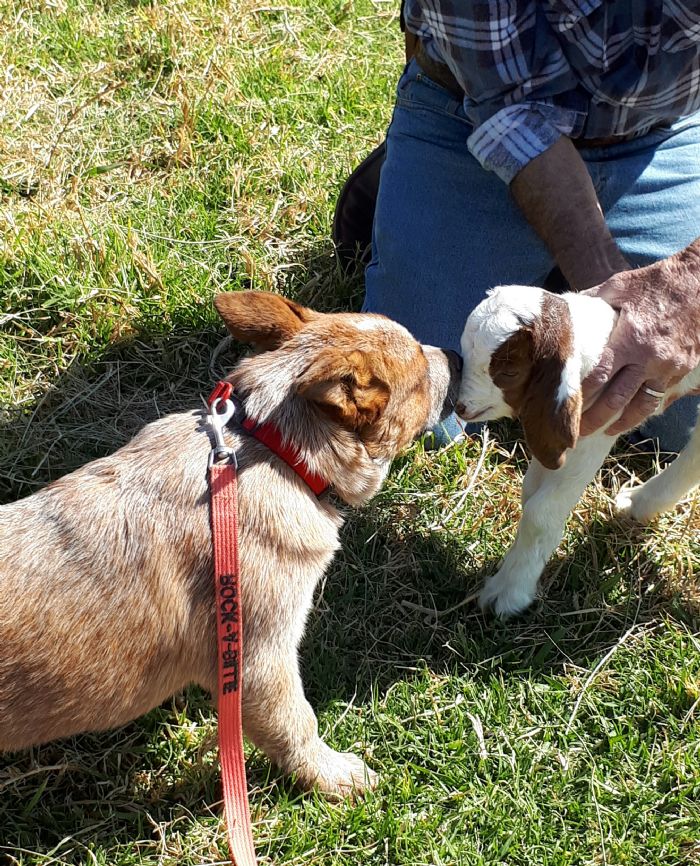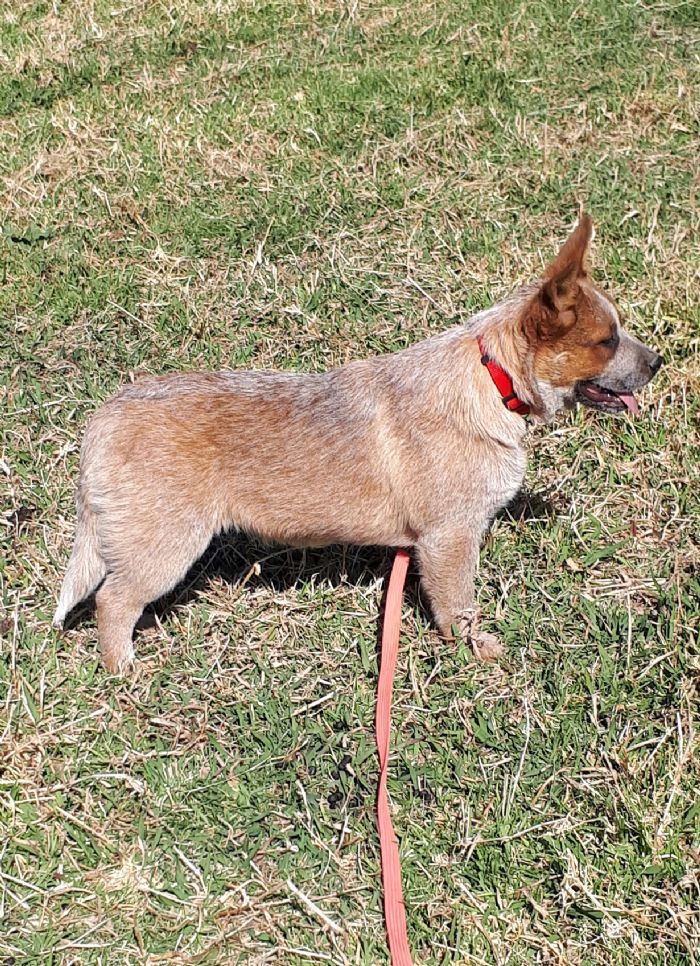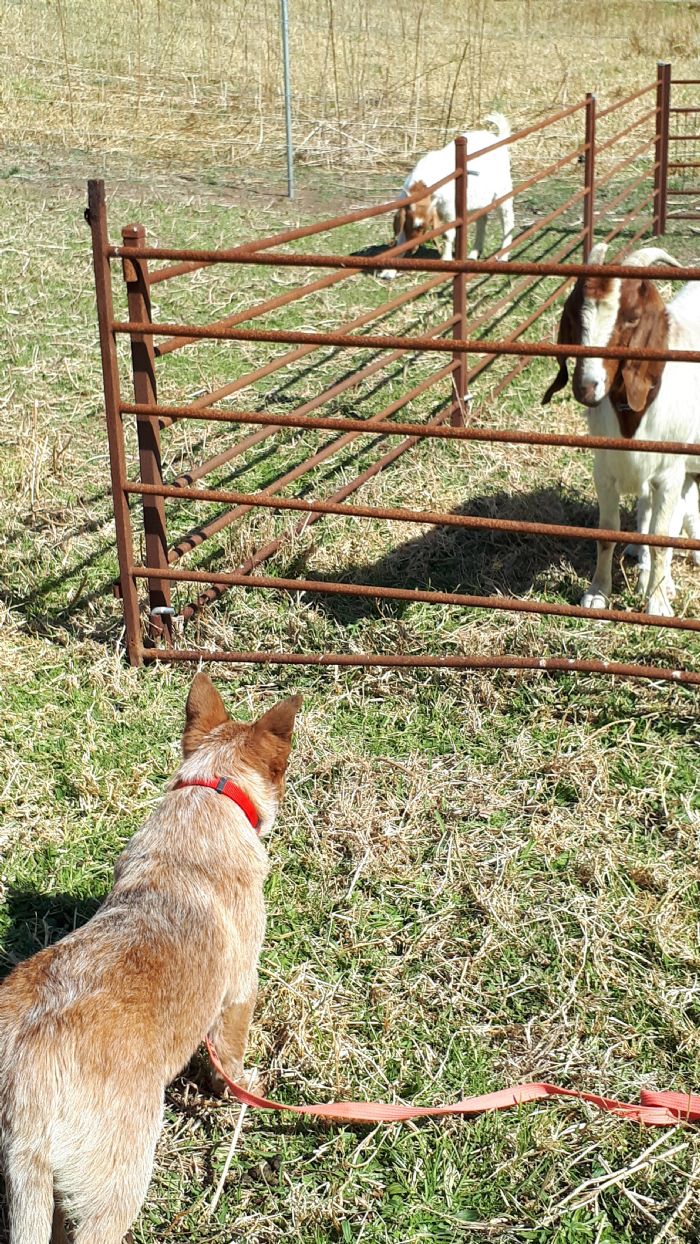 September 20th September
May, 14 weeks old had a lovely morning meeting with my friends goats.
They all have babies and were quite abliging whilst May become familiar with them.
She was very good, even learnt to sit and watch. She was keen, but not wanting to chase, just follow nicely behind them.
I am looking forward in working with this lovely sensible girl.
September 12th 2017
Melanie Davies is Indy's owner from Mick and Reece, has sent these lovely pics and to give me an update on her progress. Indy is only 9 mths old.
She says that she has been having so much fun with her and has graduated from begginers nose work course and is now waiting to do her intermediate course, She is also flying through her obediance classes and is about to start treiball. Sounds like she is a great ambassador for our breed.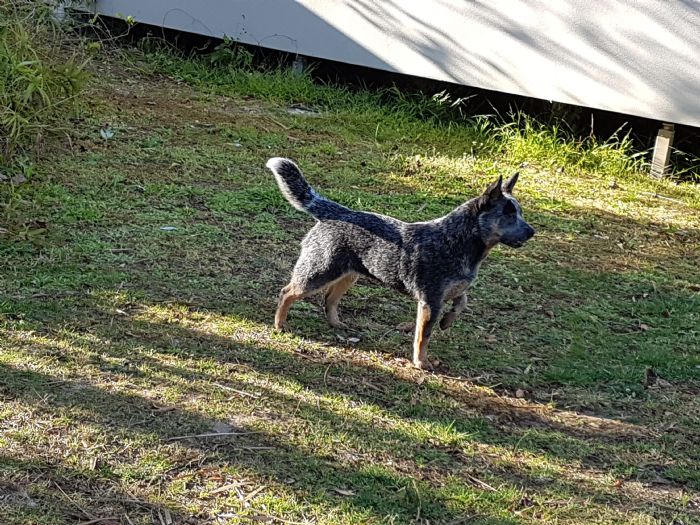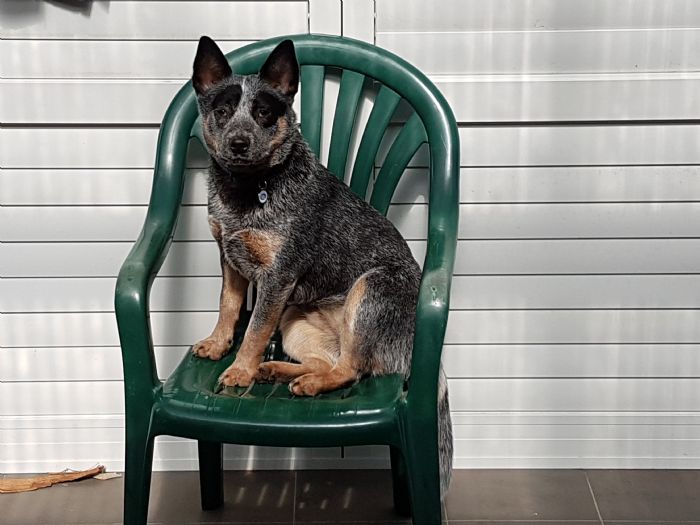 September 11th 2017
May and April now 14 weeks old and first time at the beach.
They certainly enjoyed meeting with the other dogs< and people on the way.
Both where very well behaved and confident. Very proud of these two girls.
S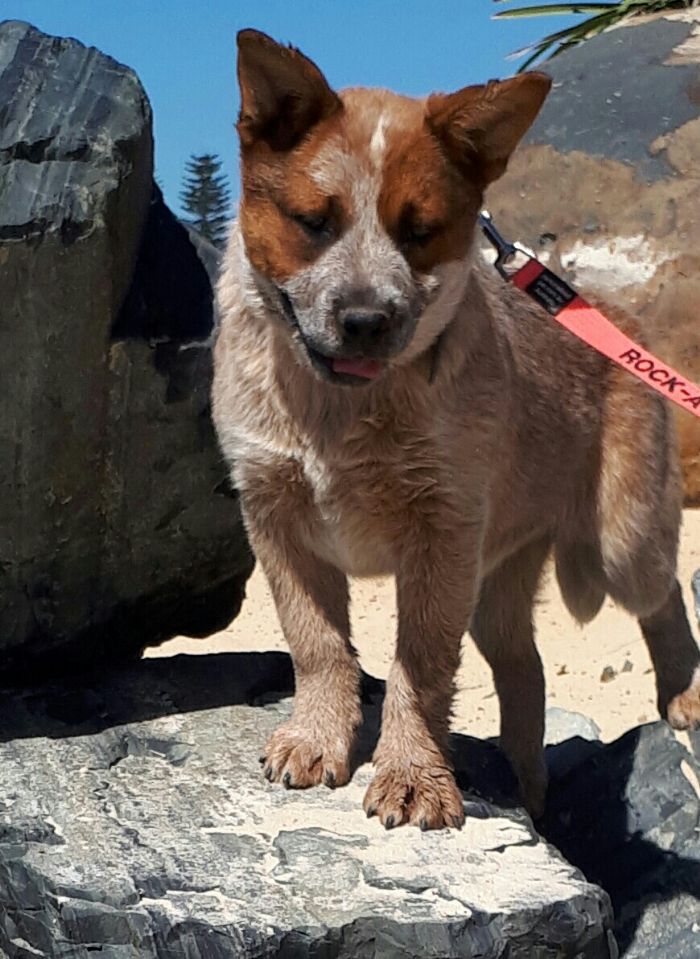 August 20.2017
WP Code Reds( Cody) family brought him to visit today, he is WP Heartbreakers (Ella's) full litter sister.
I must say he is very handsome and his family tell me he is a great assest on their property, working some very strong headed stock in the hills and bringing them down,
He is also such a sweetie with a truly beautiful temperament who loves eveyone. He also is extremely well adjusted to living with another 11 farm/working dogs,
I was very impressed with this boy.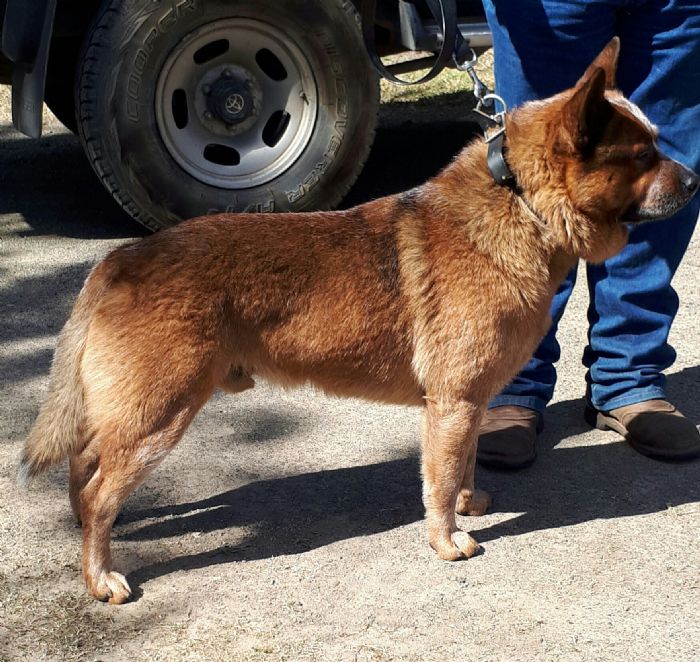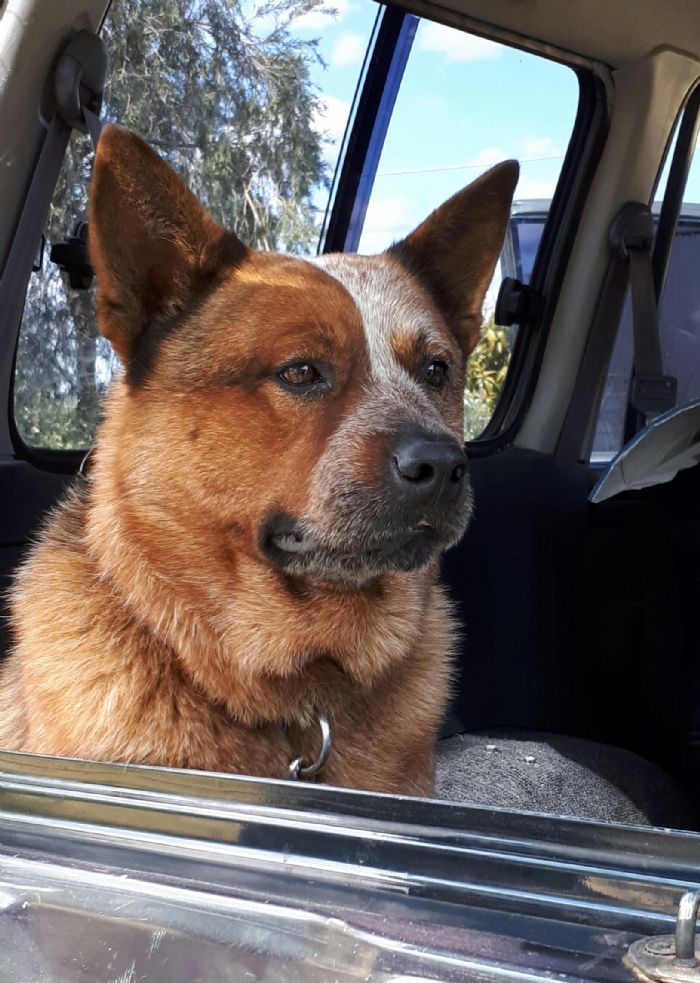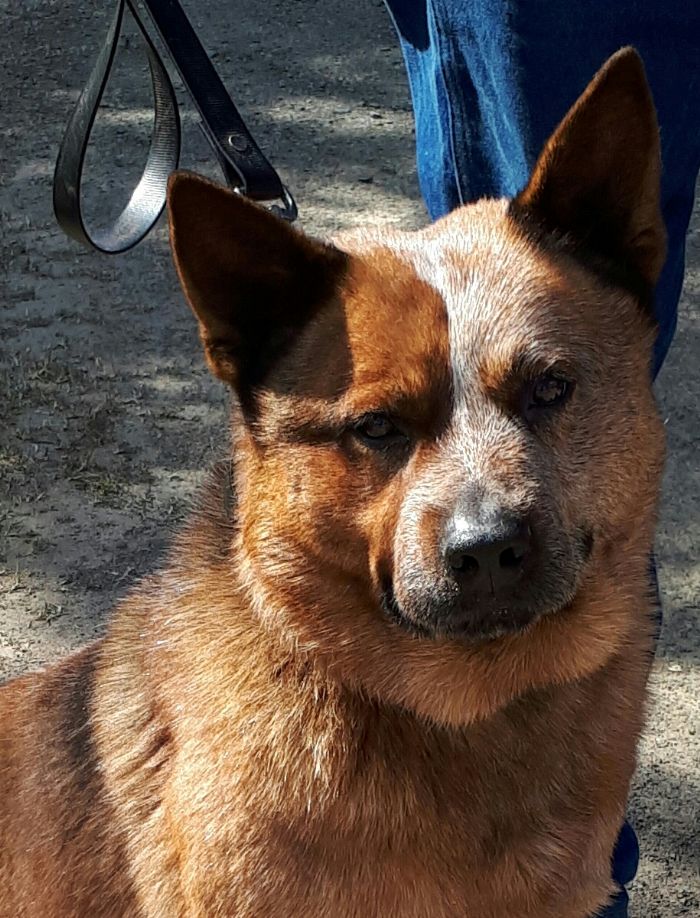 August 01,2017
Edwina and Neil sent us this lovely pic today with Mate, now 6 months old. Taken at there their most favourite place, in the country. By all accounts they are both very happy with this Gorgeous Boy.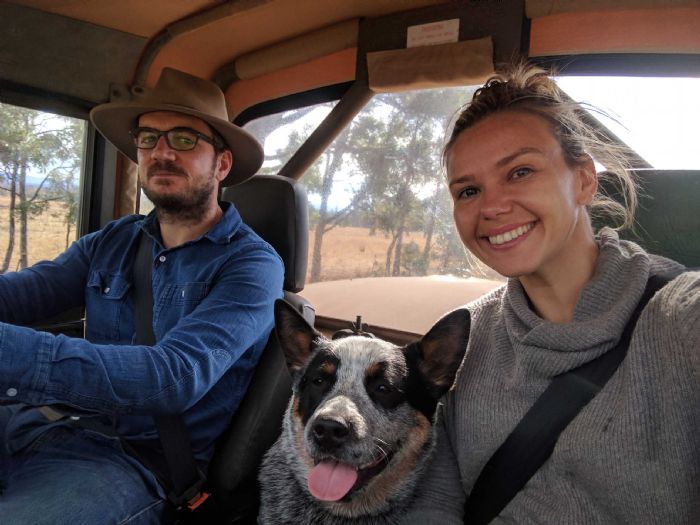 July 16 2017
Looks like Lou has really settled into her new home with Gail.
So Glad she has become Gails best mate.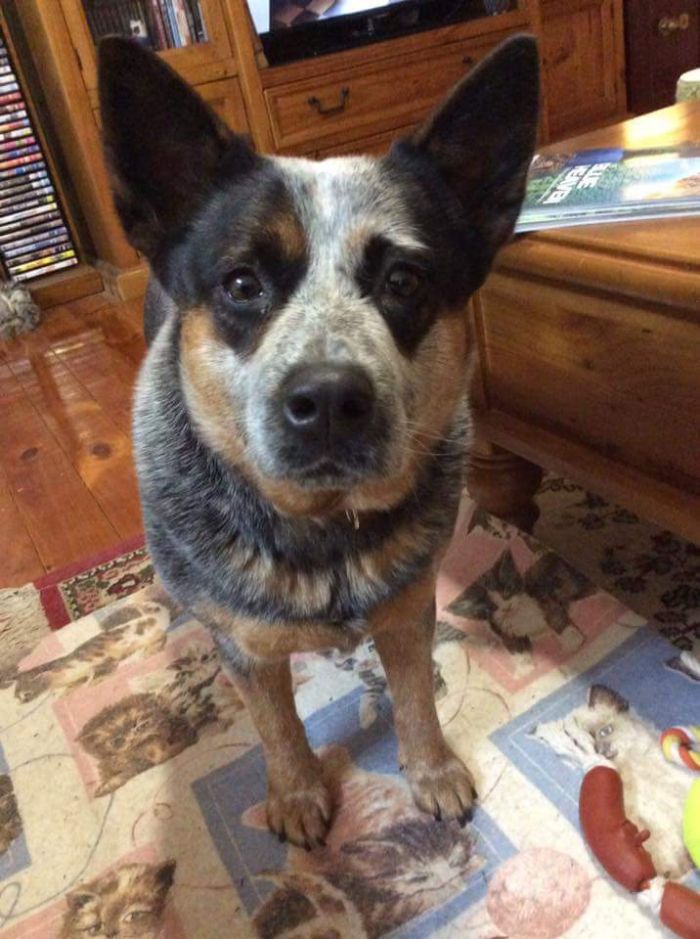 July 16 2017
Anna with one of her Daughters today. Anna has been the best mum with her brood of nine, could not of asked for a better mum.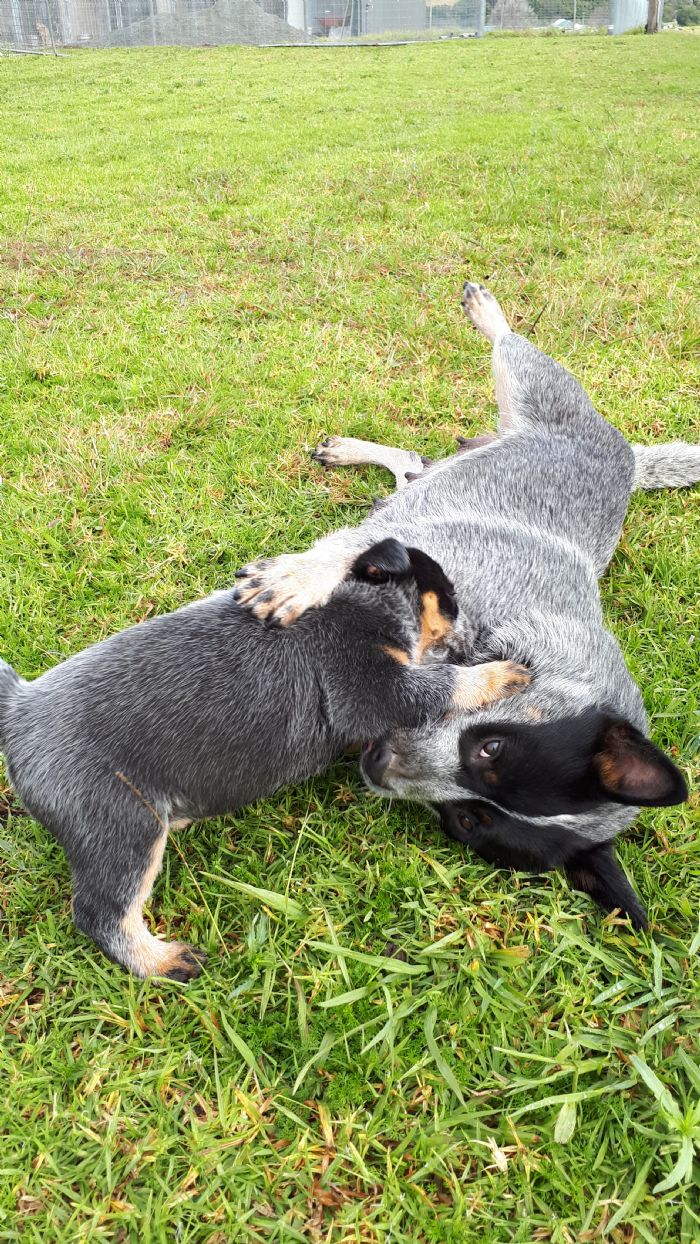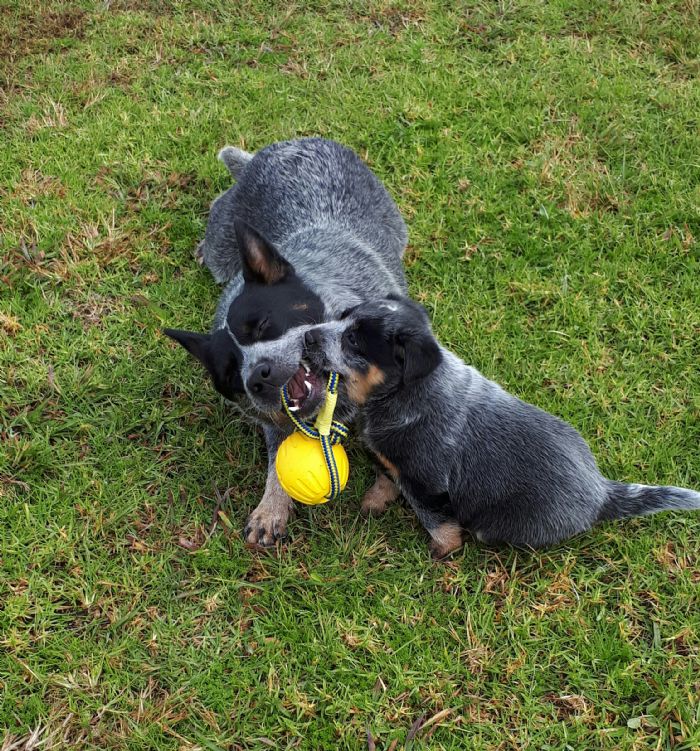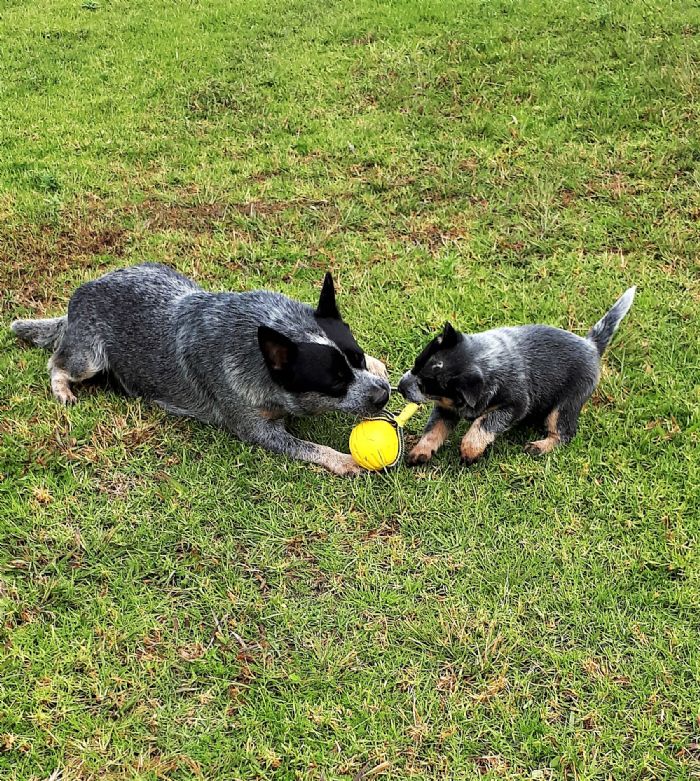 July 08 2017
This little cutie is from Anna and Flynn, and is on her way to WA in 2 weeks time,
Im sure her new owners will love her as much as we do.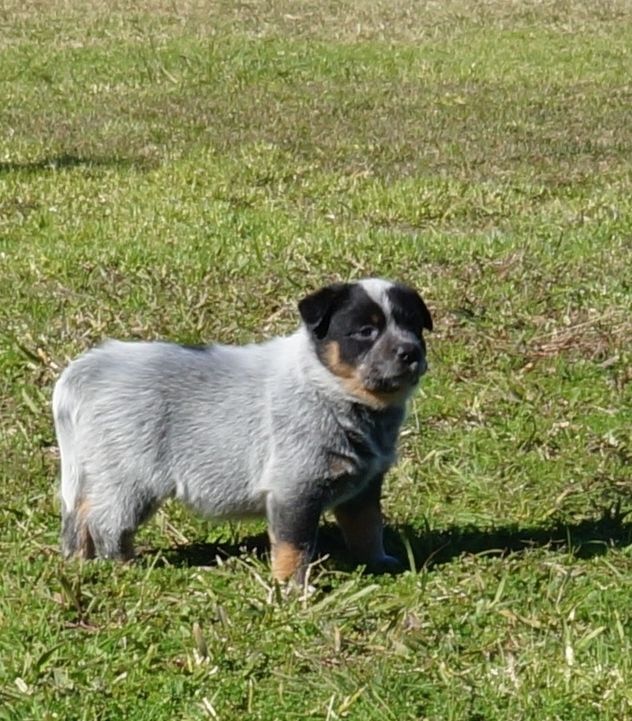 June 25, 2017
Beautiful Ella (WP Heartbreaker) had 7 girls and 1 boy to Mick (WP Mick Dundee). All nicely marked. This is a repeat mating which produced Thunder who now lives in Italy.
May 29, 2017
Pria (WP Whiz Kid) had her 5 red pups to Kylies Good Onya Rowdy (USA) - 3 boys and 2 girls.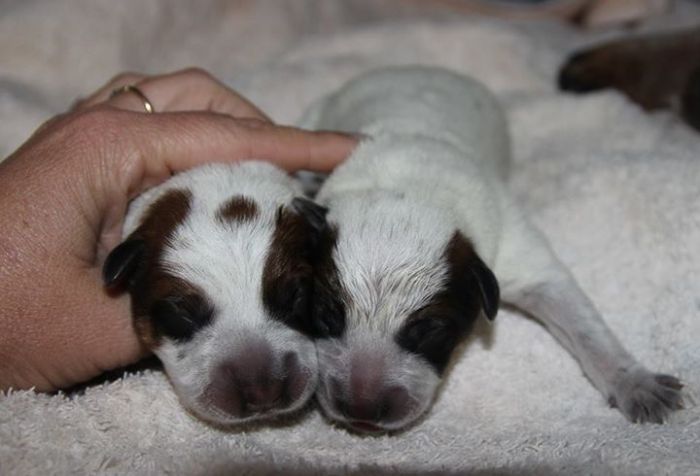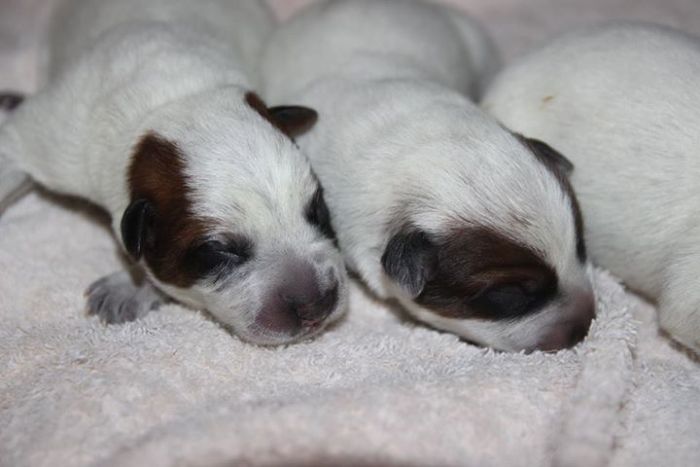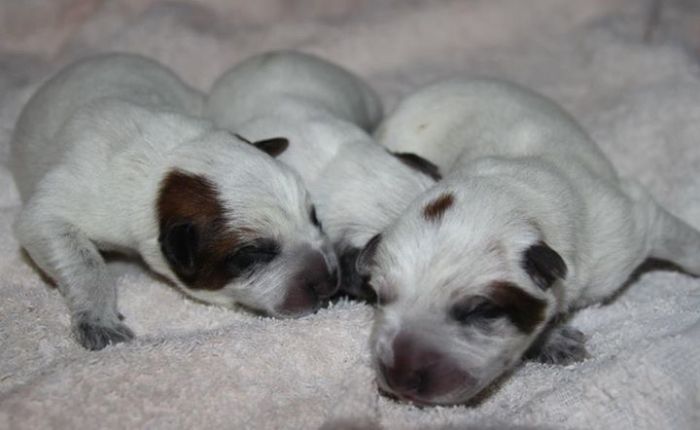 May 28, 2017
Zac (WP Custom Made) is edging closer to his Dual Champion title, with 2 more Rally Obedience Masters passes at the Greater Western Kennel Club trial. He won the afternoon trial with a score of 98/100.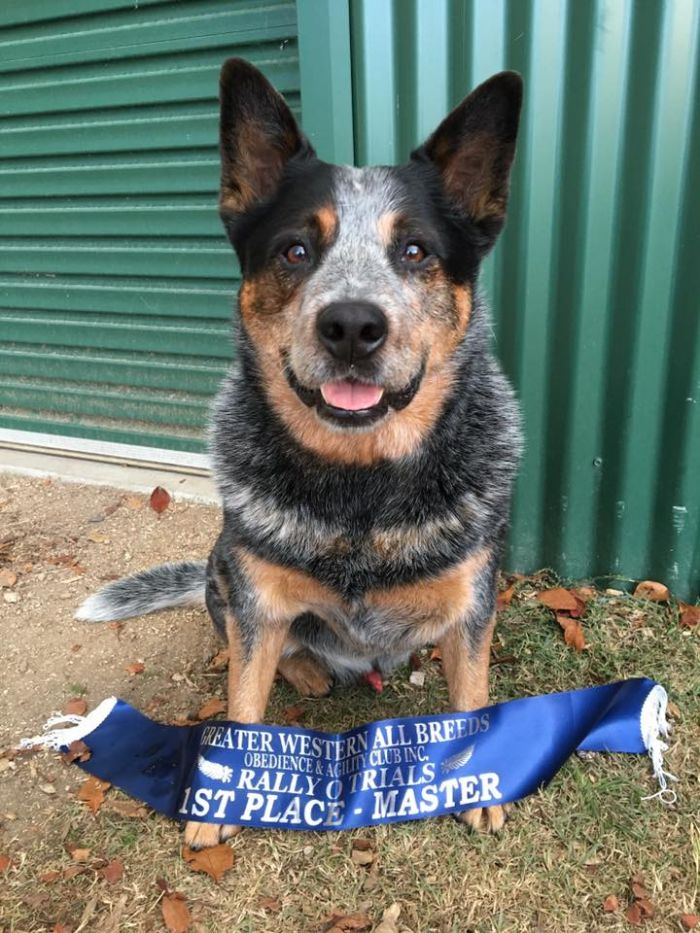 May 27, 2017
Abbey (WP Burn For You) won herself a Puppy In Show at the Ku RIng Gai Kennel Club Show. With an entry of over 500 dogs we think she did really well.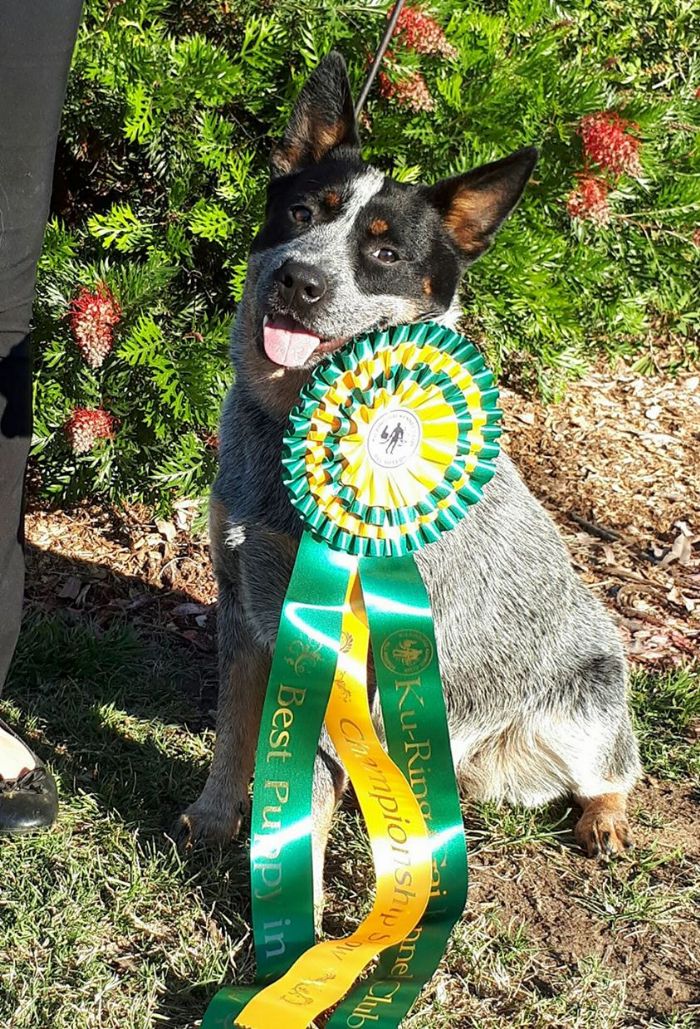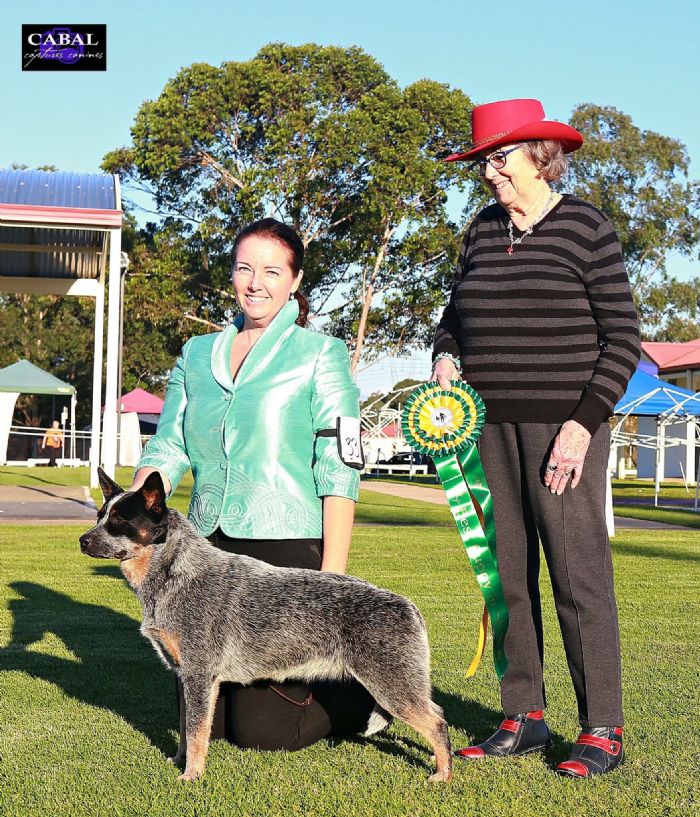 May 26, 2017
Anna (WP Have A Lil Faith) had her puppies to Flynn (Landmaster Tell Me Why). 9 lovely babies - 3 red girls, 3 blue girls, 2 red boys and 1 blue boy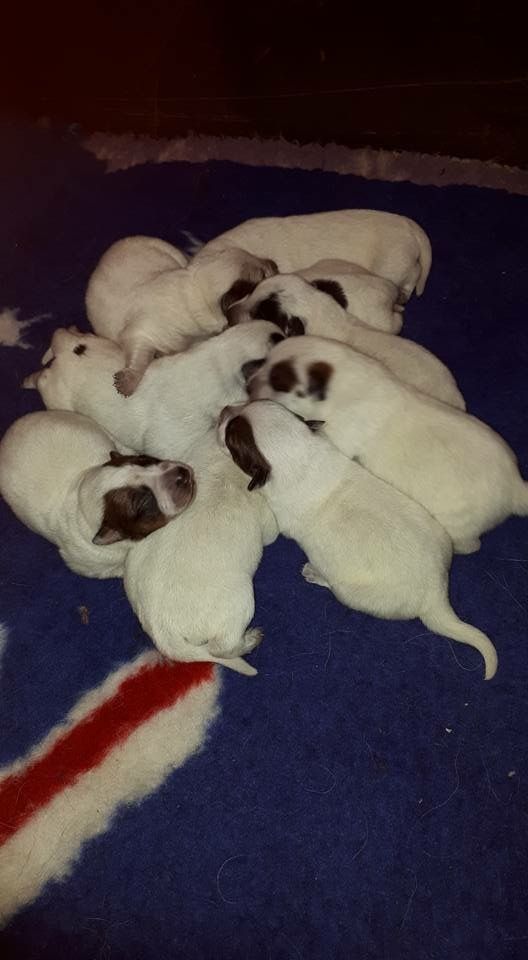 May 24, 2017
Ivy (WP Fancy Pants) made it into a Perth newspaper for the local Million Paws Walk with her family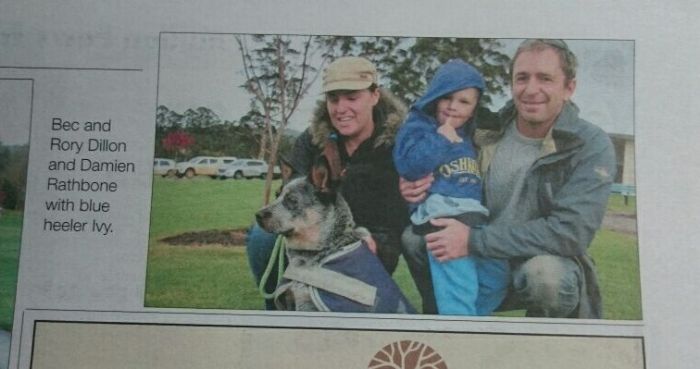 May 23, 2017
The cloves were no match for Yarni (WP Blue Yani) at the K9Noseworks Odour Retrieval Trial, with Yarni locating the odour in windy conditions. She is almost at her NW2 title.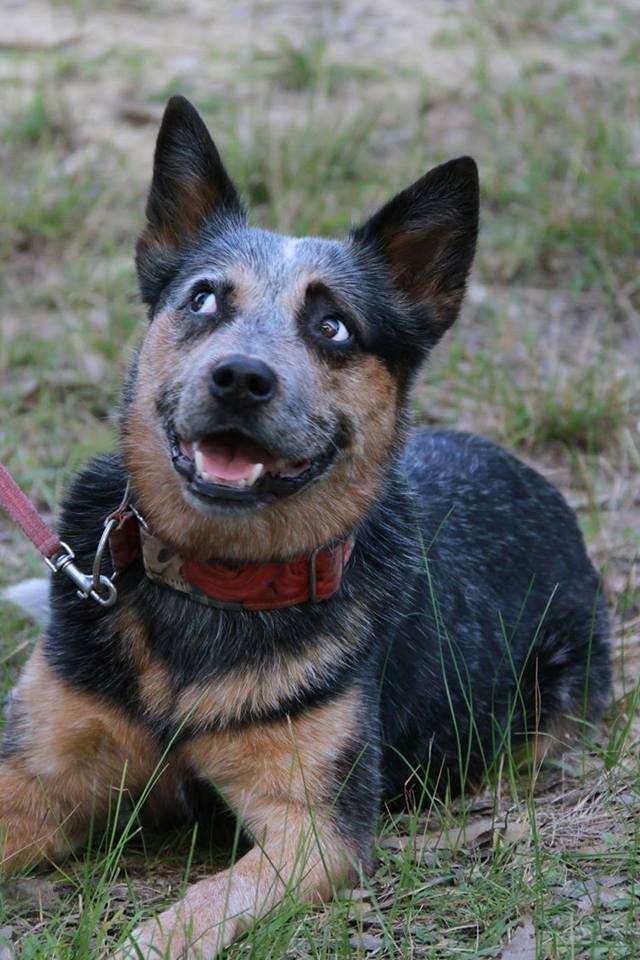 May 22, 2017
On the weekend Darcey (WP Blu Skye) became the first pedigree Aust Cattle Dog to obtain a BH title in Australia! The BH is the first title in the sport of IPO/Schutzhund which comprises of tracking, obedience and protection. The BH is essentially a temperament and trainabilty test which the dogs must earn before they can compete in the protection phases. When we say we breed temperament & trainability we certainly mean it!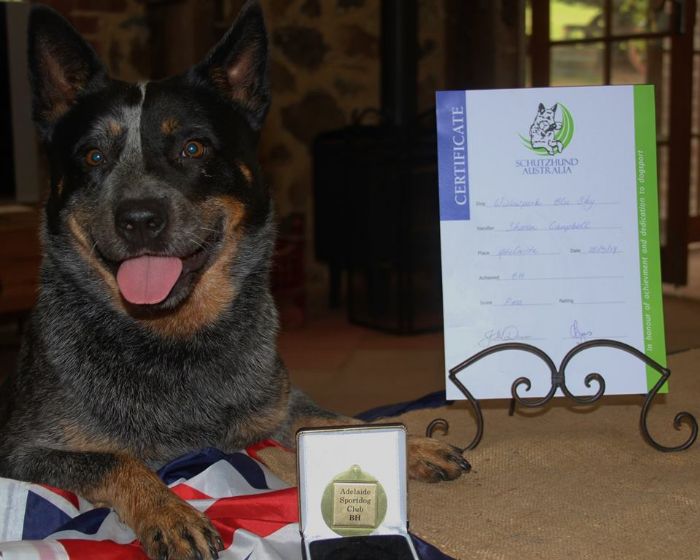 May 19, 2017
Buster (WP Bush Buster) is back out showing and he won Best of Breed, Best Owner Hander & Winners Dog at the Durango Kennel Club in America. He is so close to his American Champion title!
May 17, 2017
We love these two ads for Willowpark Kennels. One for the Dog News Australia Annual and one for the May edition of the monthly paper.
In this photo, celebrating 3 years straight as the Number 1 Aust Cattle Dog Breeder in Australia, there is Pria (WP Whiz Kid) on the angus cattle, Mick (WP Mick Dundee) on the merino sheep & Zac (WP Custom Made) on the peking ducks, Mick & Anna (WP Have A Lil Faith) on the podium, and Lace (WP Denim & Lace) and Jessie (WP Xtra Special) moving around the show ring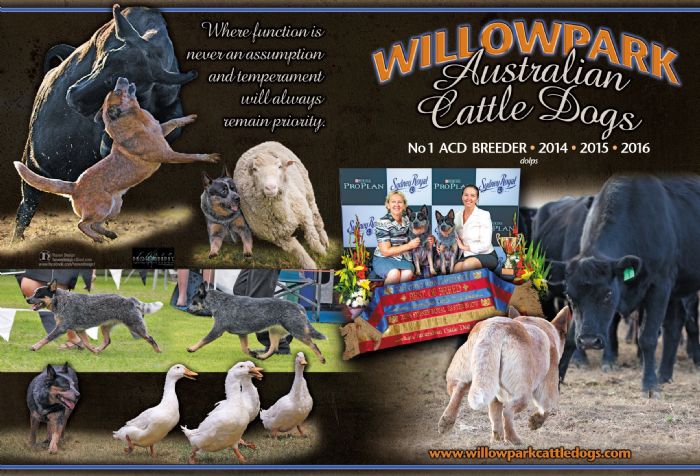 This ad is for Abbey (WP Burn For You) winning Puppy in Group at Sydney Royal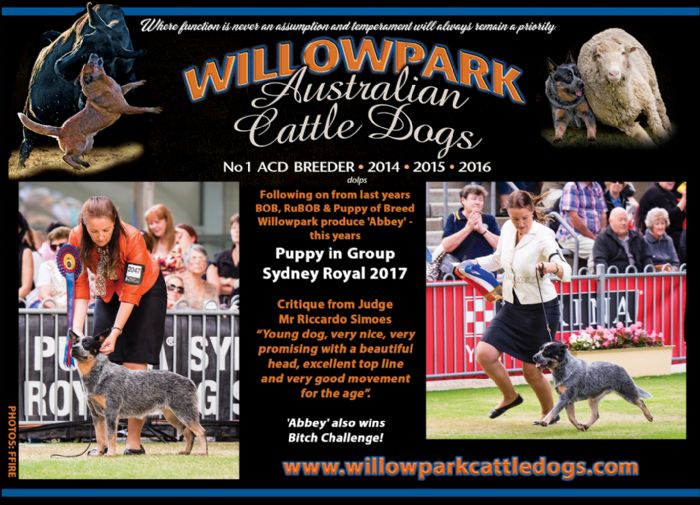 May 16, 2017
Mate (WP Be Me Mate) is loving life with his new owners, featuring here in an interview with his mum
https://thedowntimeagenda.com/journal/edwina-bartholomew-going-lo-fi-farm/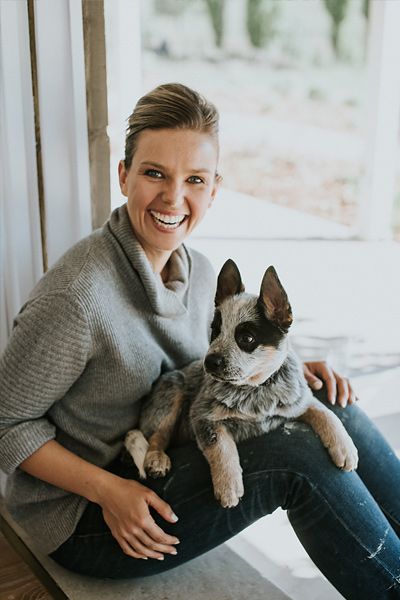 May 8, 2017
Over the weekend Pria's (WP Whiz Kid) daughter Kelly (Erudite Fantasia) attended a working dog school in Tamworth with Ian Cox. Ian judged the last NSW State Titles Cattle Trial and has achieved many accomplishments. She went really well on both sheep and cattle. This was her first look at cattle.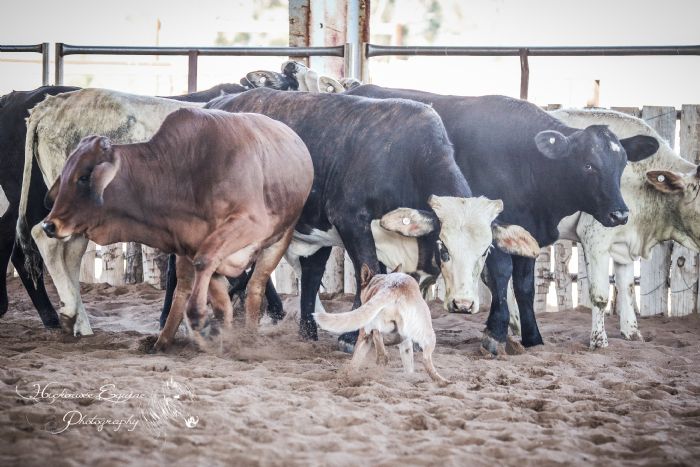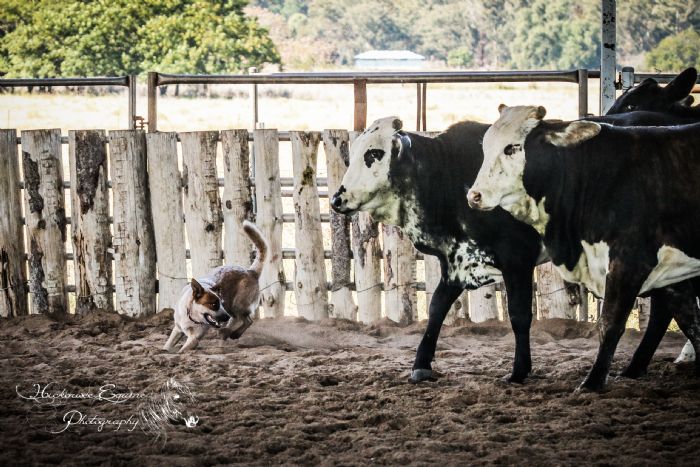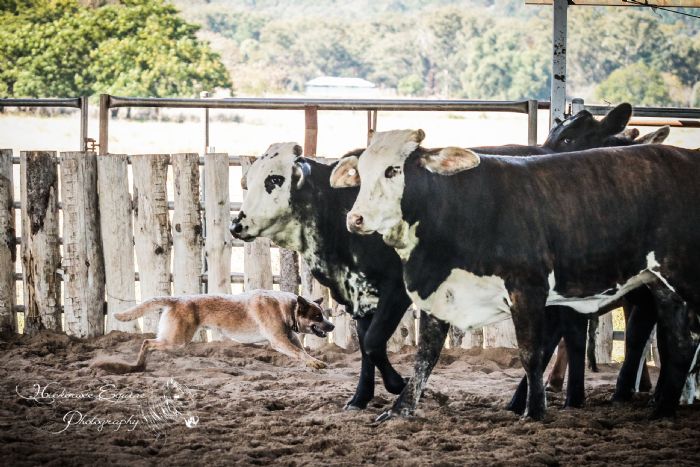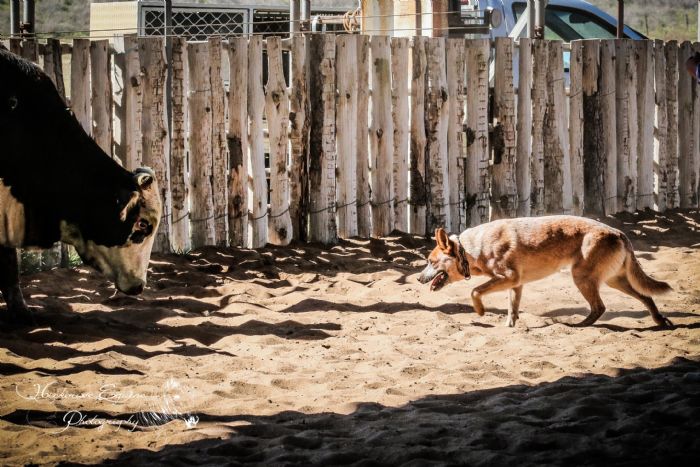 May 7, 2017
3 weeks left for these 2 pregnant girls.
Anna (WP Have A Lil Faith) is having pups to Flynn (Landmaster Tell Me Why).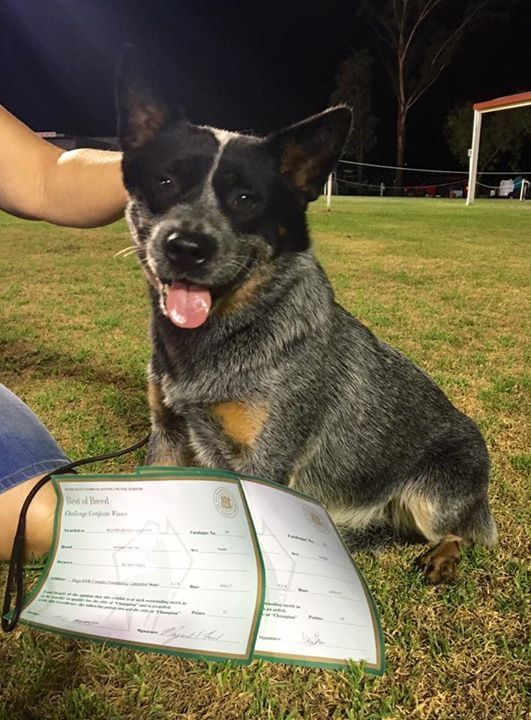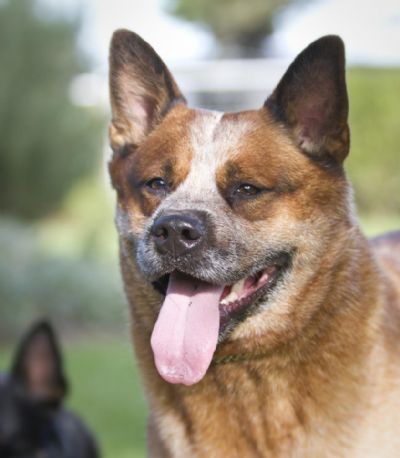 Pria (WP Whiz Kid) is having pups via frozen semen to Rowdy (Kylies Good Onya Rowdy -USA)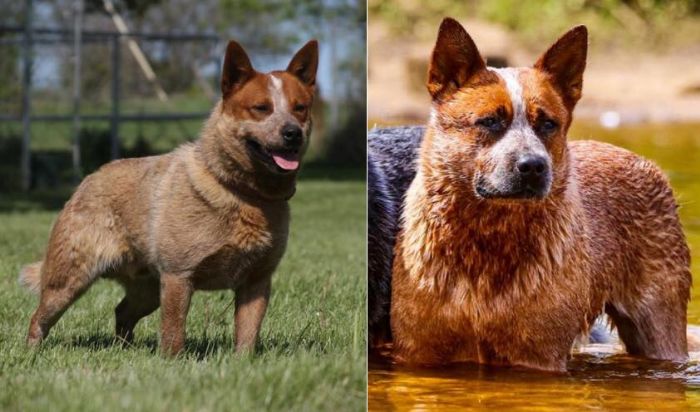 May 4, 2017
Some more photos of Abbey (WP Burn For You) & Mick (WP Mick Dundee) at Sydney Royal.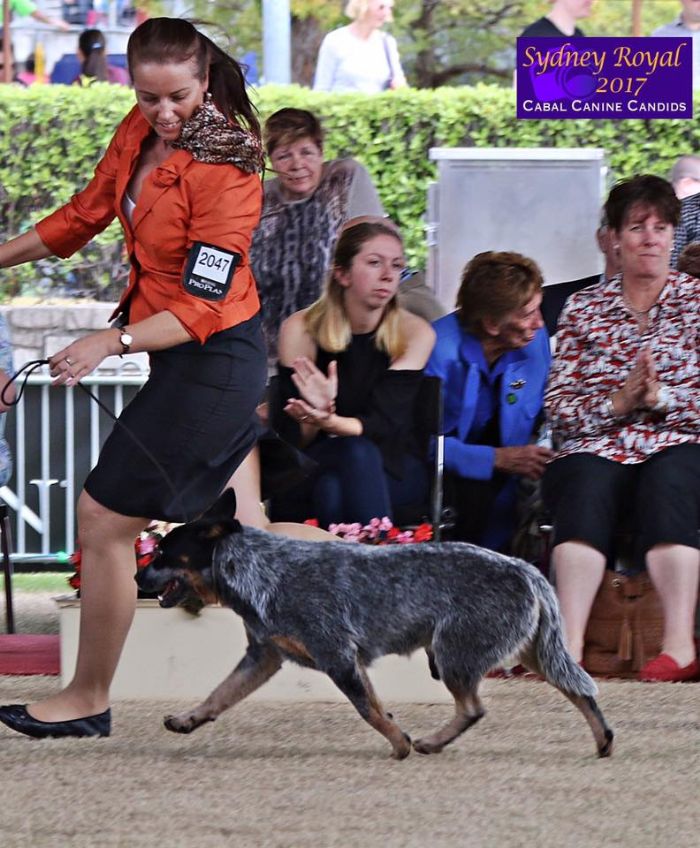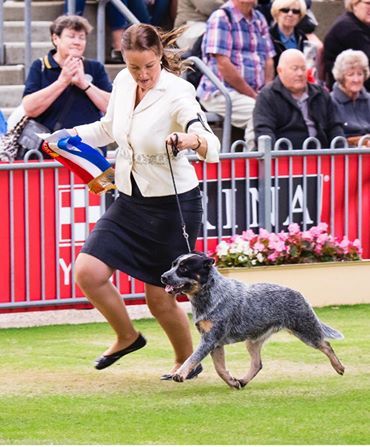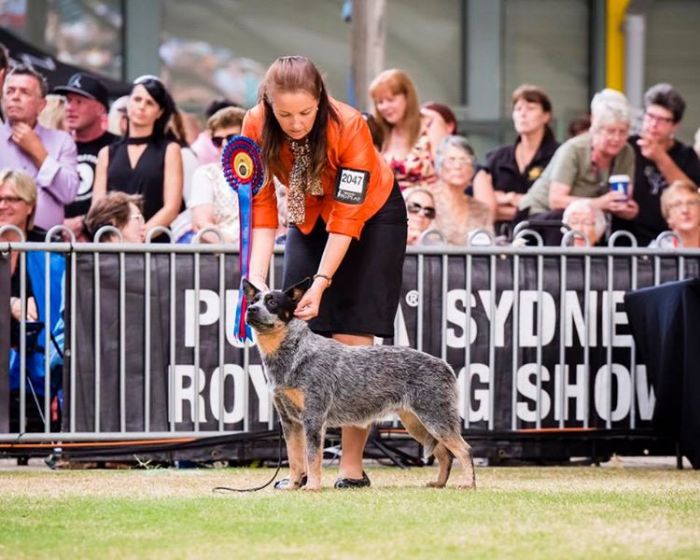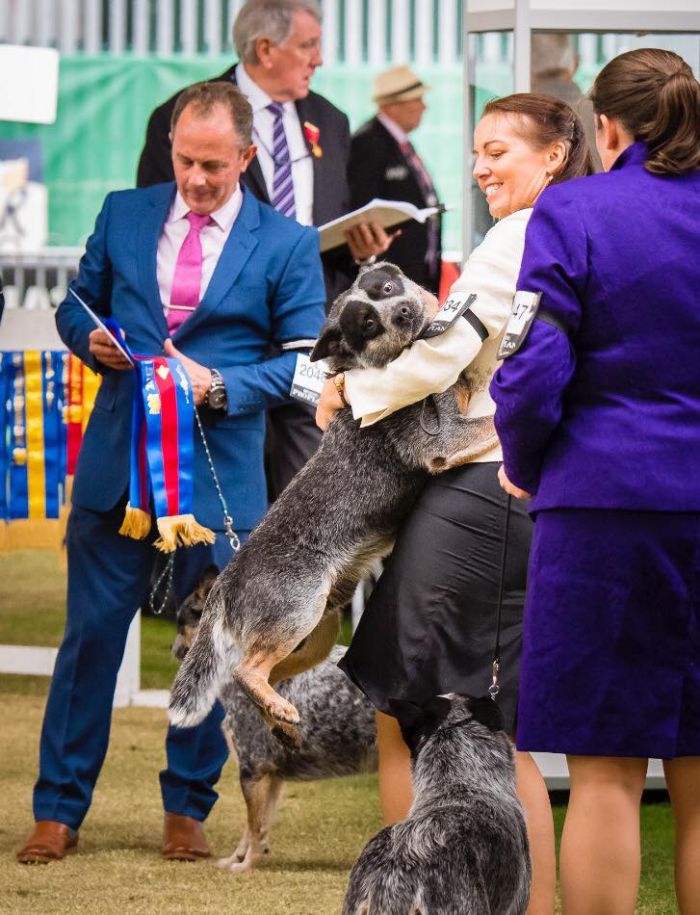 April 24, 2017
Mate is loving his home with Neil and Edwina. He gets to split his time between the city and the country. Maybe one day he will make it onto TV like his new mum!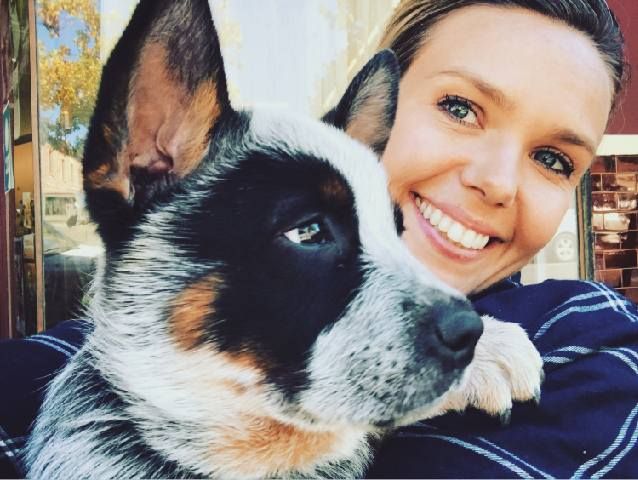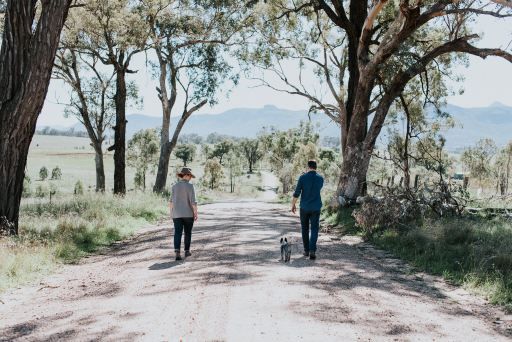 April 21, 2017
Thunder (WP Thunda Down Unda) has been enjoying life in Italy. His owners are delighted with him and we can see why. He is 8 months old now and looking sensational. He is soon to start being shown in Europe.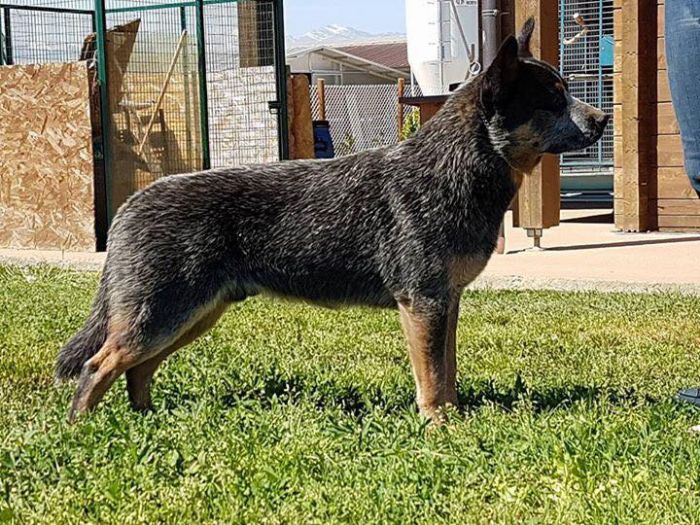 April 20, 2017
Abbey's (WP Burn For You) official photo from her Best Working Dog Puppy at Sydney Royal.
She was so tired by this stage, so hard to get her to prick her ears! She is pictured with the lovely judge from Brazil - Mr Ricardo Torre Simoes. He has judged all throughout Europe and the US and commented that she is a very promising puppy. We can't wait to read his full critique of both Mick and Abbey.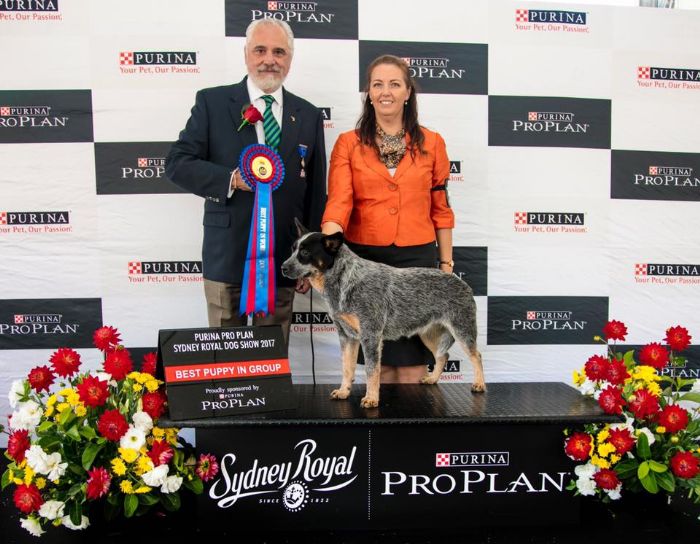 April 17, 2017
Official photo to follow... but... Abbey (WP Burn For You) just won Best Puppy in the Working Dog Group at Sydney Royal! We are over the moon!. Many people complimented her sound movement which saw her just float around the ring.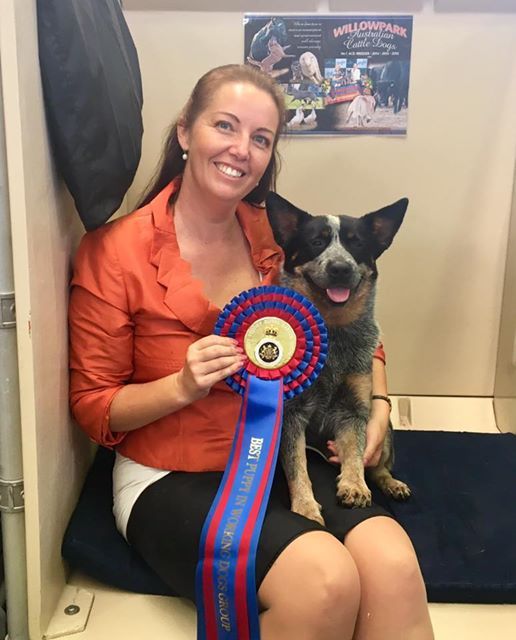 April 15, 2017
Red (WP Rugy Red) is back doing his most favourite job - Mascot for the QLD Reds. He brought the team good luck with a win this weekend.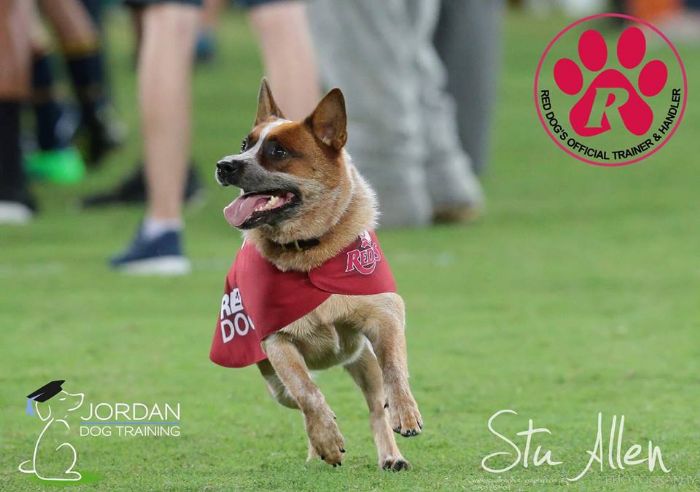 April 11, 2017
The dogs did us proud again at Sydney Royal! With absolutely no expectations after doing so well last year we took
Mick (WP Mich Dundee)
Ella (WP Heartbreaker)
Pria (WP Whiz Kid)
Anna (WP Have A Lil Faith)
Abbey (WP Burn For You)
Mick was a happy, confident boy winning his Aus Bred Class, even with the handler behind him trying to throw him off his game by running very close to him. Typical of the Willowpark temperament, it was water off a ducks back to him. He then came back against all the dog class winners to be awarded Reserve Dog Challenge. He is such a consistent performer and in 5 royals across 3 states he has never lost his class!
Abbey was next in the Puppy class, and this was only her 4th show ever. She handled the atmosphere great, and showed off her effortless movement. She won Puppy Bitch.
Pria and Anna were in the same class, Intermediate Bitch. 5 in this class and Anna was 1st and Pria was 2nd. Very happy with both girls as Anna is 2 weeks pregnant and Pria 1.5 weeks pregnant. Both were quite sooky.
Ella, who hasnt been to a show in 2 years, was another fantastic representation of our temperaments. She was handled by Steph, who she barely knows, and didnt put a foot wrong. Ella won the Aus Bred Bitch class.
In the Bitch Challenge line up, 3 of the 5 girls were Willowpark! The judge said Abbey was an extremely promising young bitch and awarded her Bitch Challenge.
Mick ended up Runner Up Best of Breed, Abbey was Best Female and also Puppy of Breed. This is the 5th year Willowpark has won Best Australian Cattle Dog Puppy.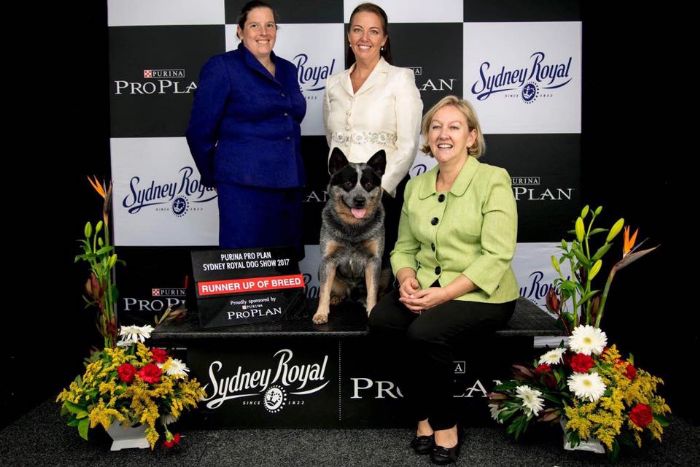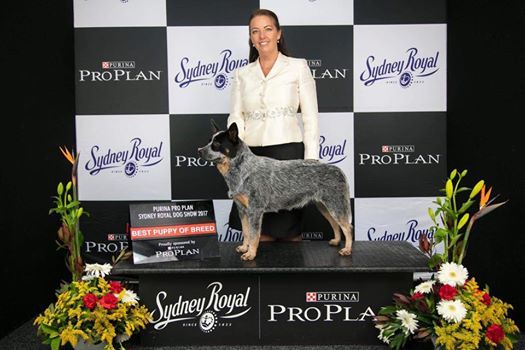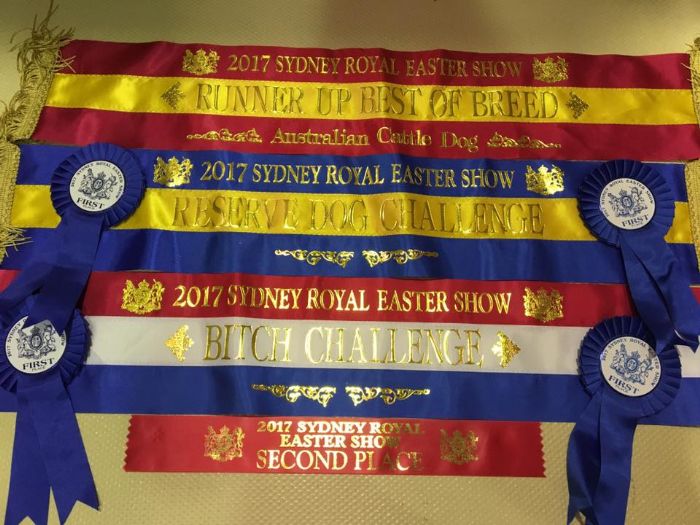 Intermediate Bitch line up. Pria at the front, and Anna at the rear.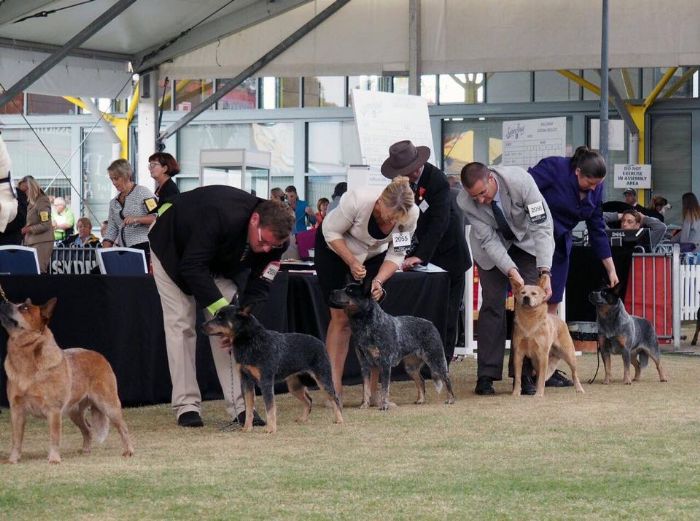 Bitch Challenge line up. Sandra handled Ella, Steph on Anna and Belinda on Abbey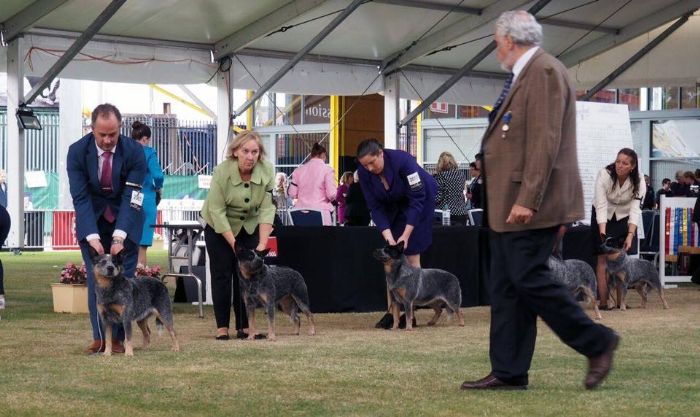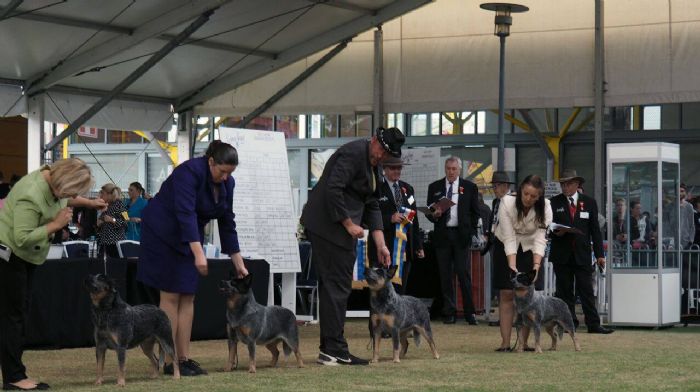 Mick and Abbey against each other for Runner Up Best of Breed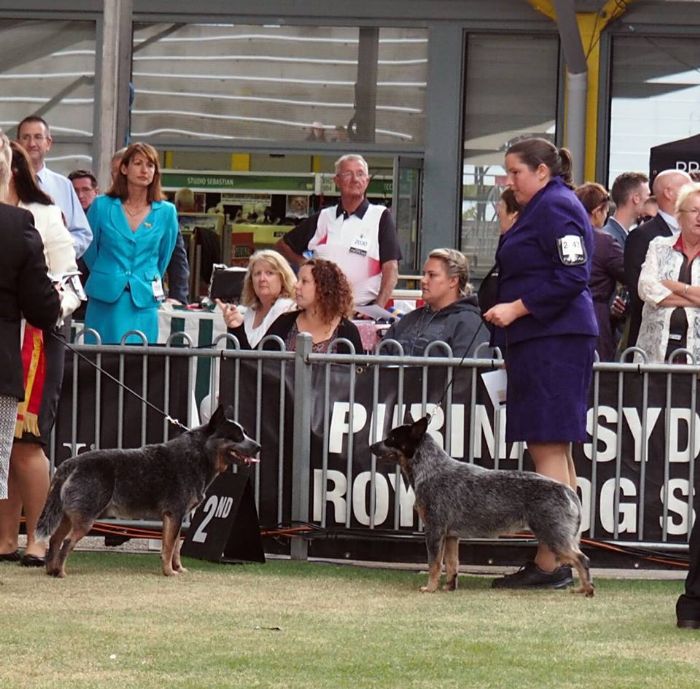 Hanging out back at the benches.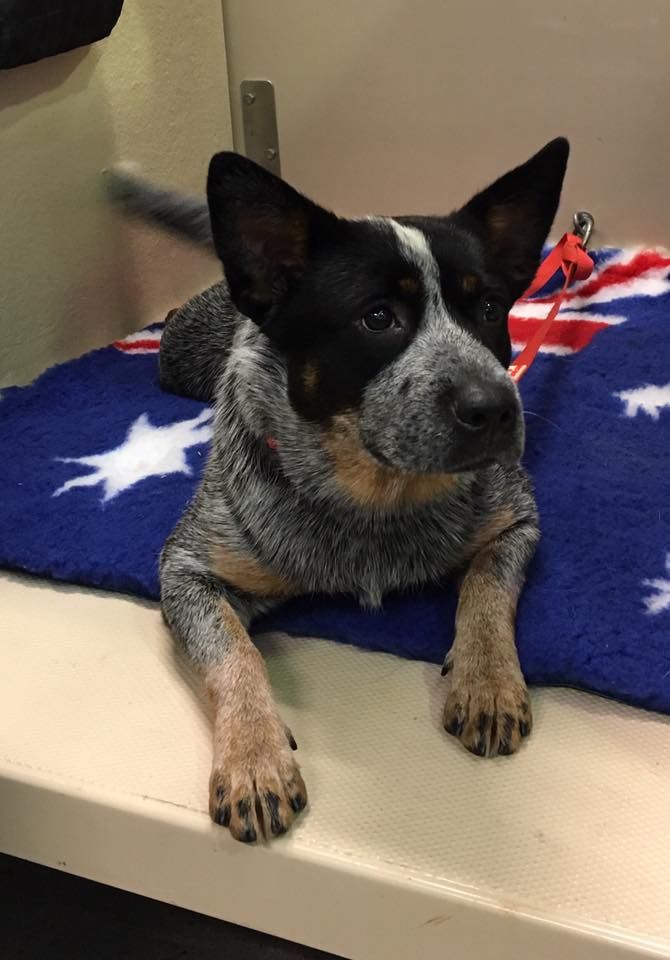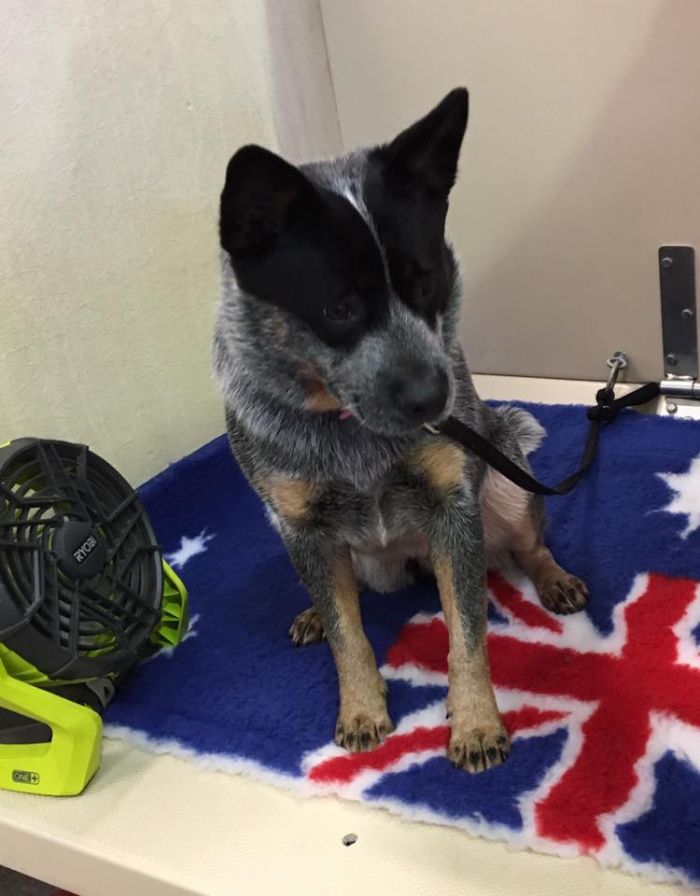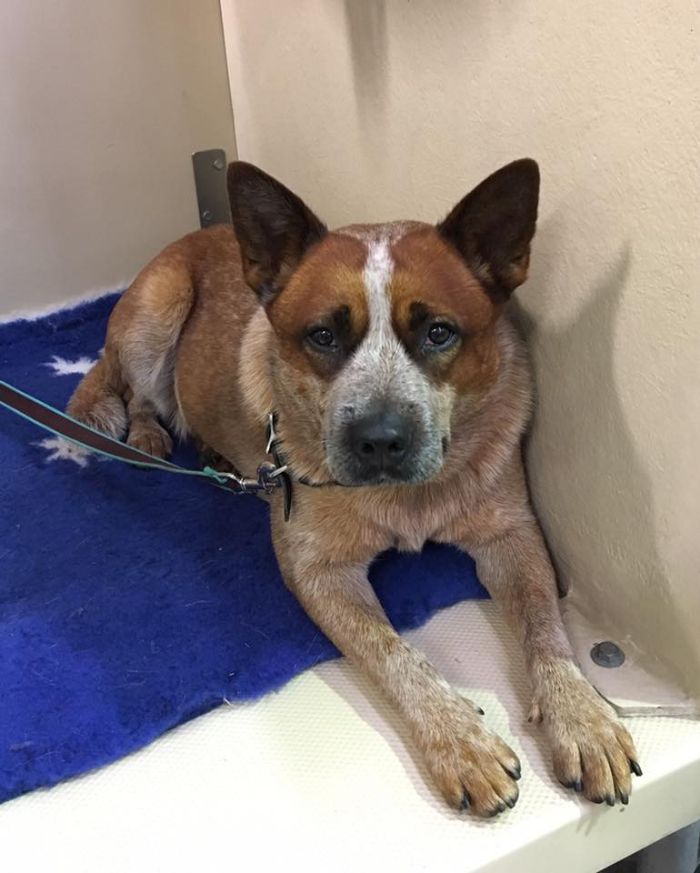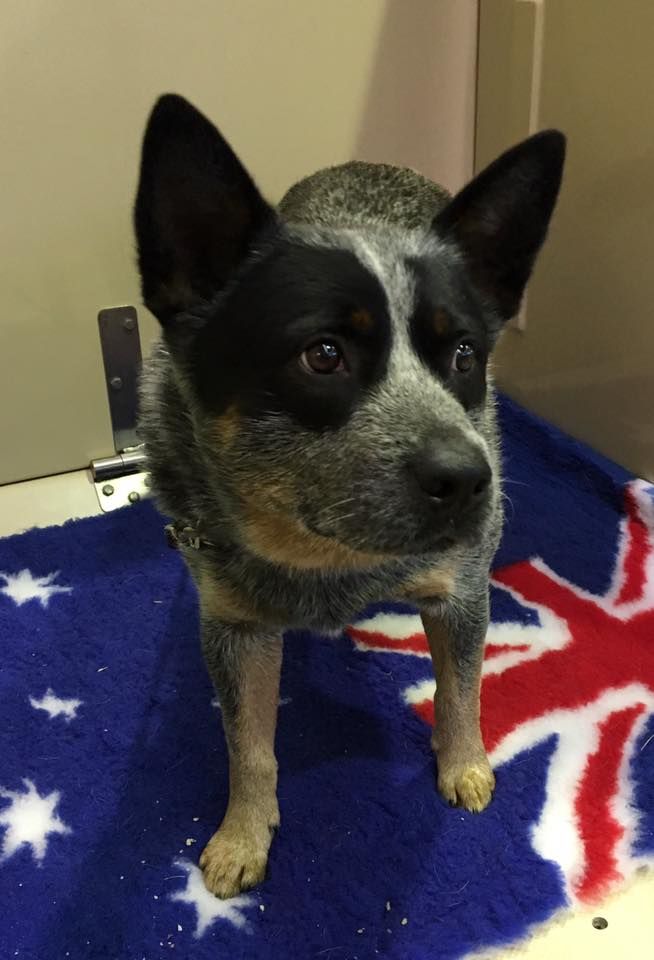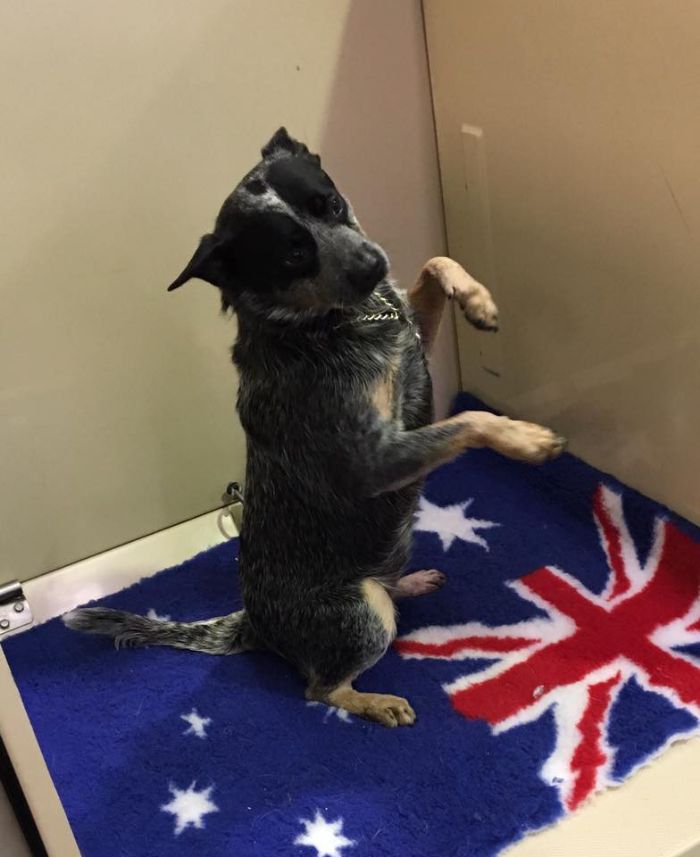 April 2, 2017
The first title for Willowpark for the year. Congratulations to Alan and his girl Willow (WP Deja Blue) on earning her Australian Champion title. Willow is still only 1 year old!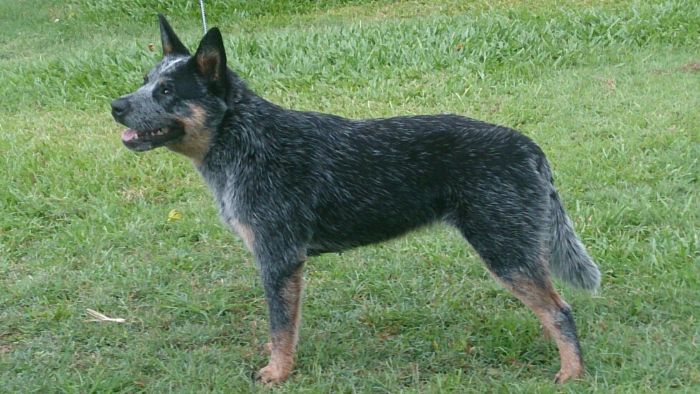 March 13, 2017
WOW! Pria (WP Whiz Kid) was selected to be on the cover of the Spring 2017 ACD Spotlight online magazine.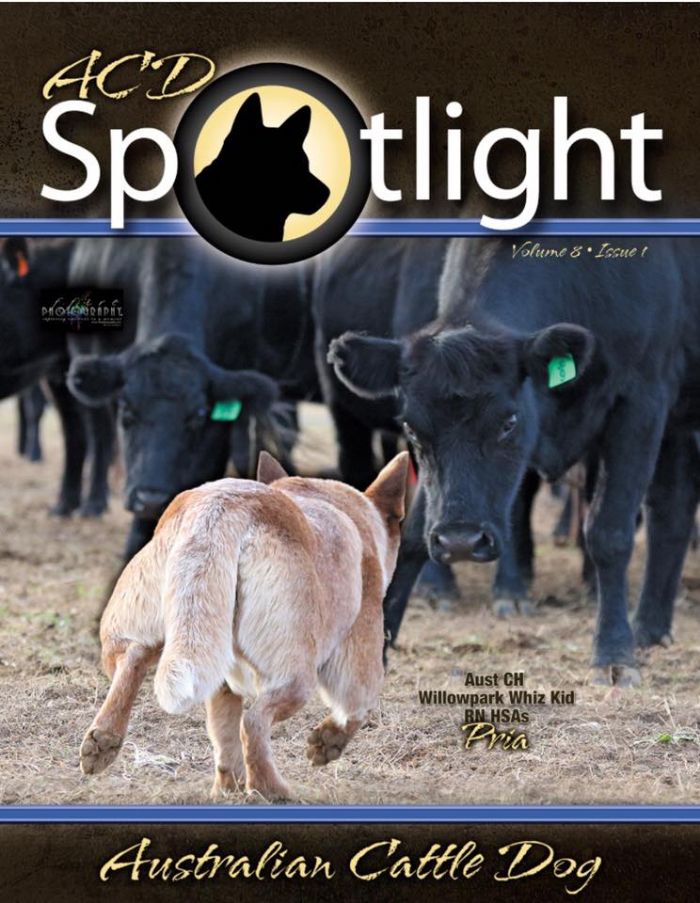 We also had this lovely poster made to celebrate Ted's (WP Bush Tribute) achievements as a sire.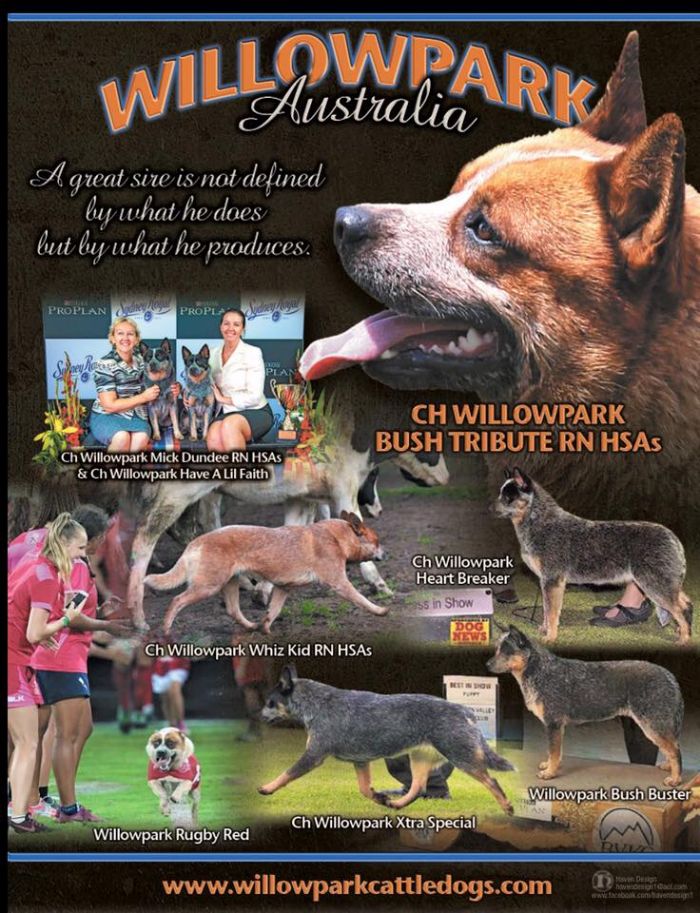 March 11, 2017
Jessie (WP Xtra Special) is back in the show ring and she won herself a Best of Breed & Inter in Group this weekend. Such a typey girl whose first puppies are stunning.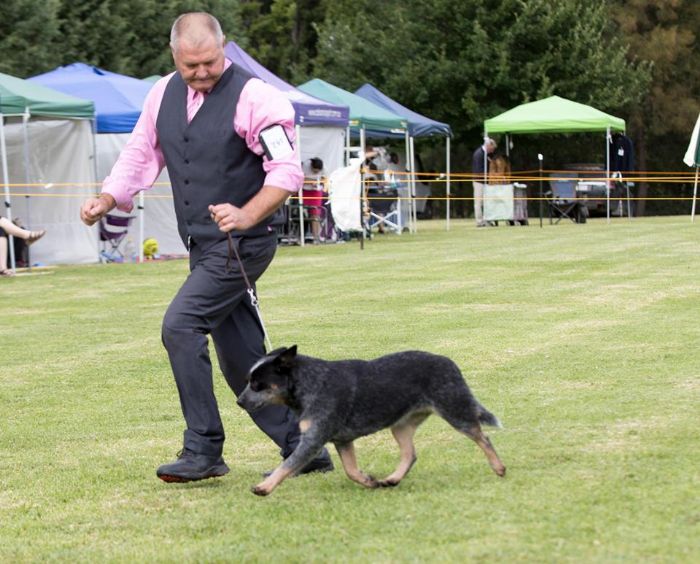 March 8, 2017
Johnnie is off to live with his new family, in Armidale where hopefully he'll be helping out on the families Angus stud.
March 8, 2017
Sharon is reporting that both Darcey (WP Blue Skye) and Pria daughter Holly (Erudite Holly) are continuing to master the skills needed for IPO work, which is basiclaly police style work. The dogs need to have very stable temperaments, be highly trainable and not fearful at all to do this training.
Darcey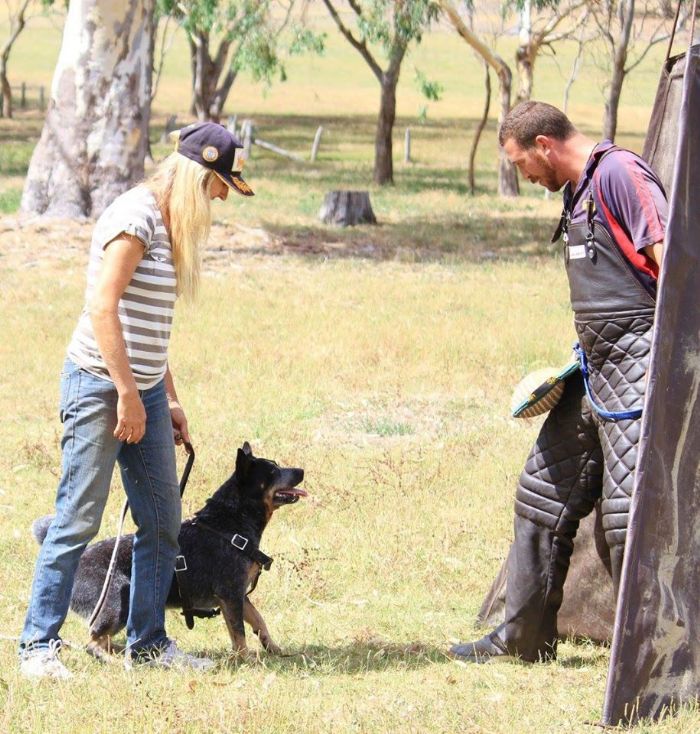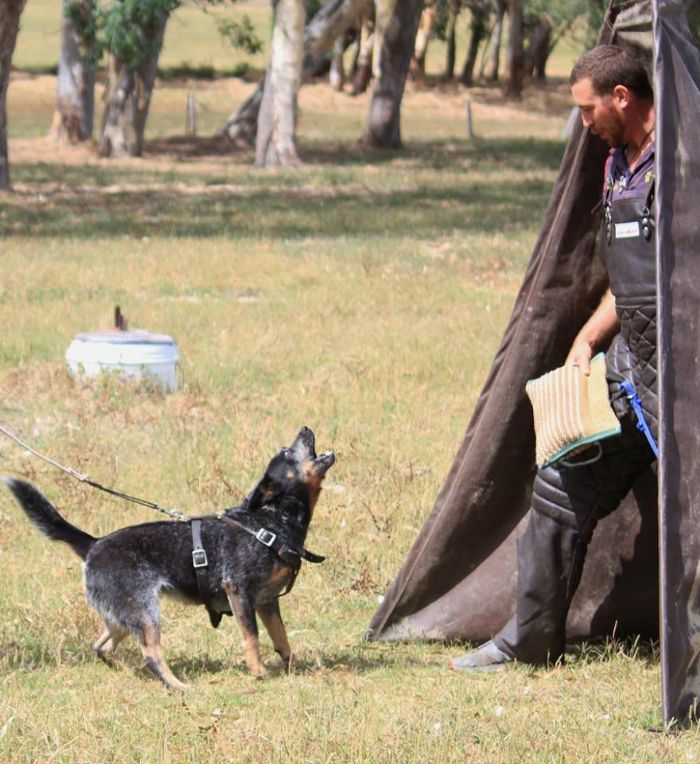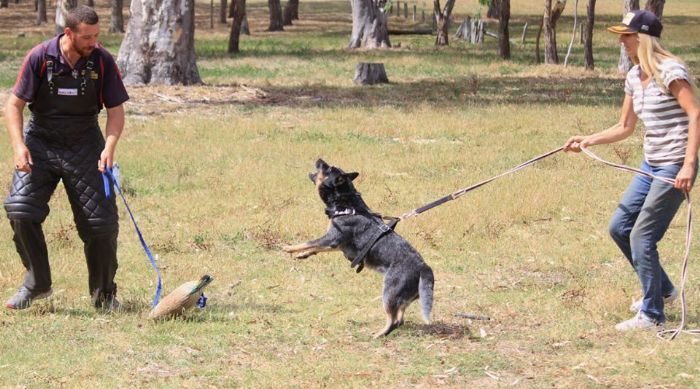 Holly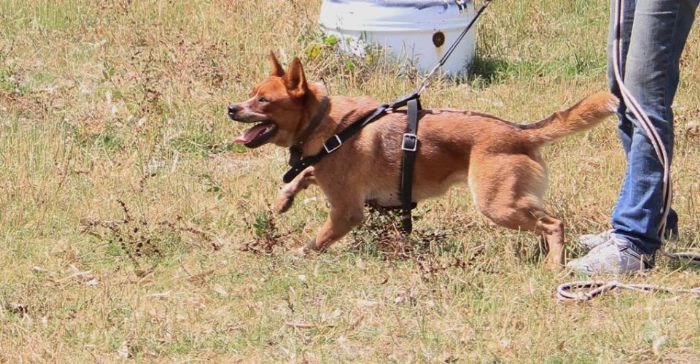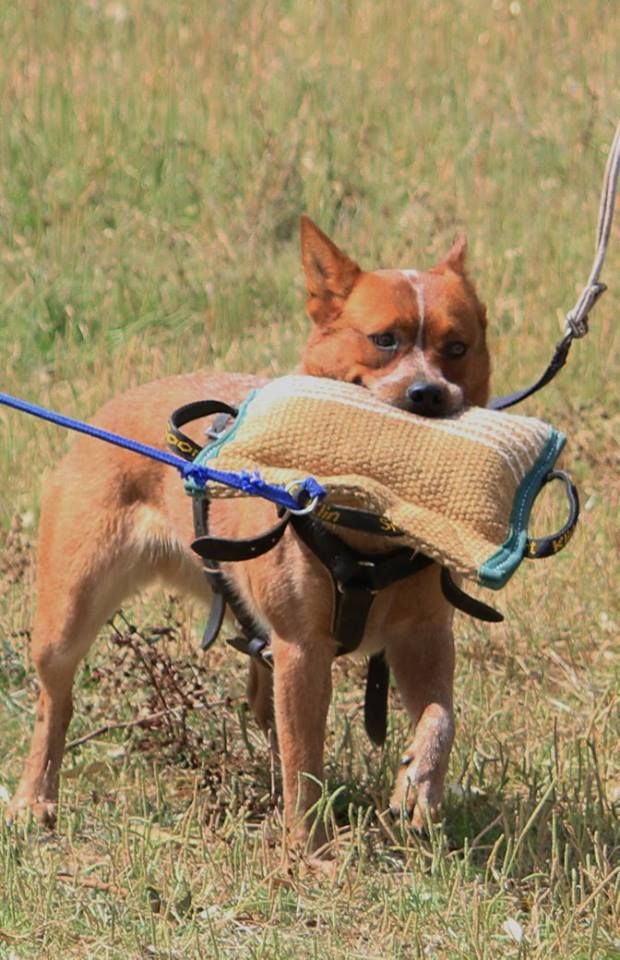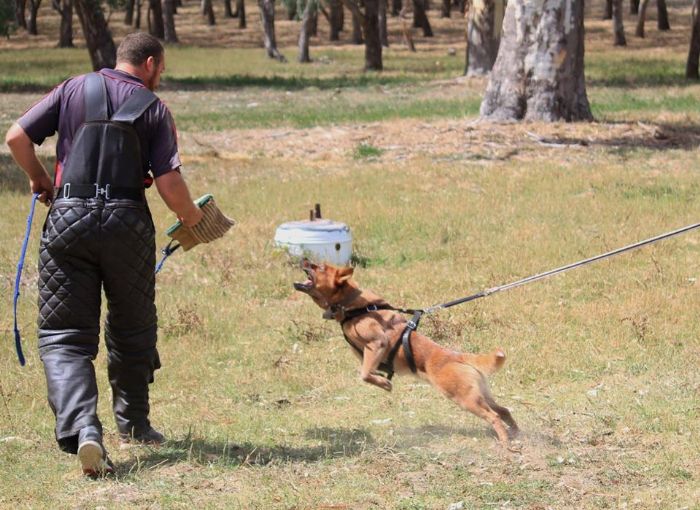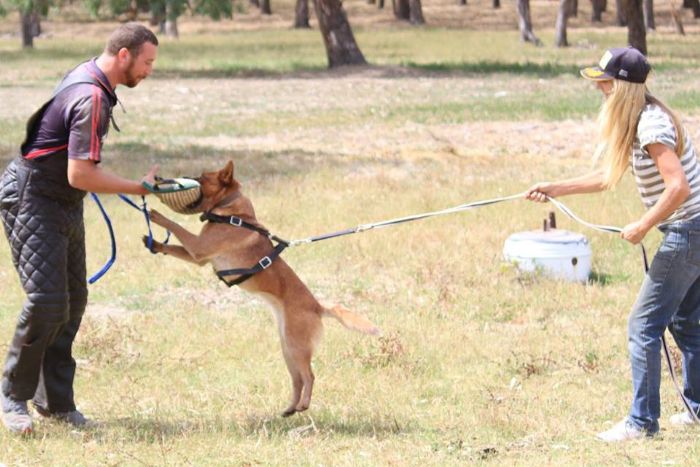 February 26, 2017
Kelly (Erudite Fantasia), a daugther of Pria (WP Whiz Kid), is showing some really nice ability to work stock. She is sired by an American working sire so has inherited the finer body and longer legs, but it has also been a great blend of the heading and cover from Pria's sire Ted (WP Bush Tribute) and the wider, natural flanks from the American sire Vin (Spaders Vintage Vaquero). Belinda is very happy at seeing both traits in Kelly. The plan is to mate her and one of her sisters to Mick (WP Mick Dundee), to come back more to our physical type but also to complement Mick's natural style as well.
February 25, 2017
This weekend a few of the dogs went down to the ASCV ANKC herding trial in South Gippsland. We are so excited that Mick (WP Mick Dundee) showed us what he is capable of. Only last wednesday we introduced the idea to him of not always covering stock, but also driving them away from the handler. He picked it up like a duck to water and won both of the Novice A course sheep classes. Novice is the level where they do a full length outrun, and must drive the sheep for half way around the course, plus drive the cross drive.
Not only did he manage this, he also ran the cattle really well. 25 entries were in the cattle section, consisting of working line border collies, kelpies, koolies etc. Mick got the highest score to win High in Trial!
This is Willowparks 7th High in Trial.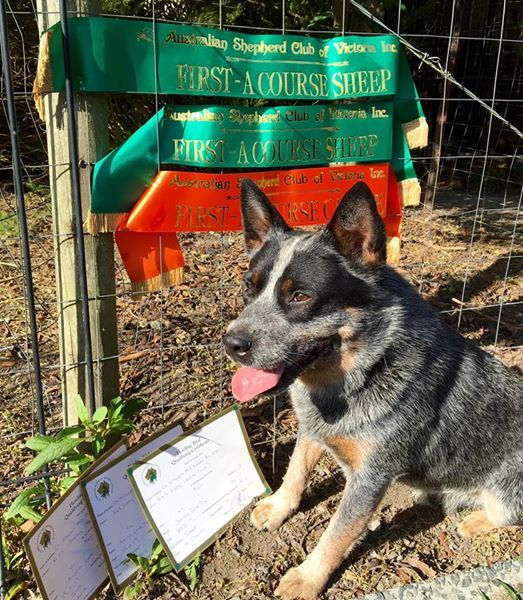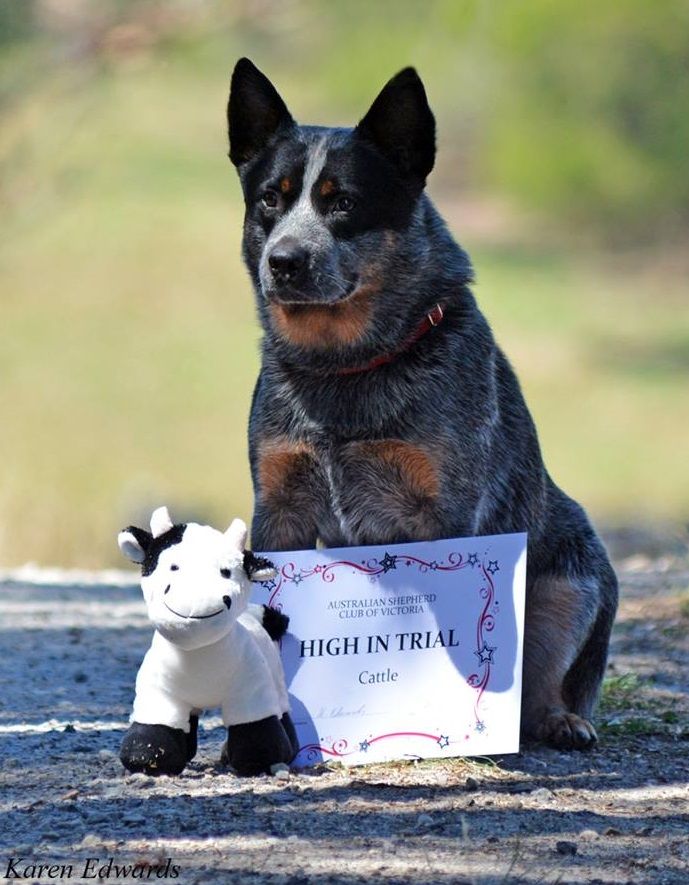 February 23, 2017
We are currently building our new kennels and dog yards at our new farm on the NSW Mid North Coast. If you have sent an email apologies if we have been slow to respond. We will get to all genuine enquiries as soon as possible.
February 20, 2017
Check out Pria's (WP Whiz Kid) daughter Holly (Erudite Holly), she has just started bite pillow work to see if she would enjoy IPO training. IPO is police style work and by all accounts Holly is proving to be a natural!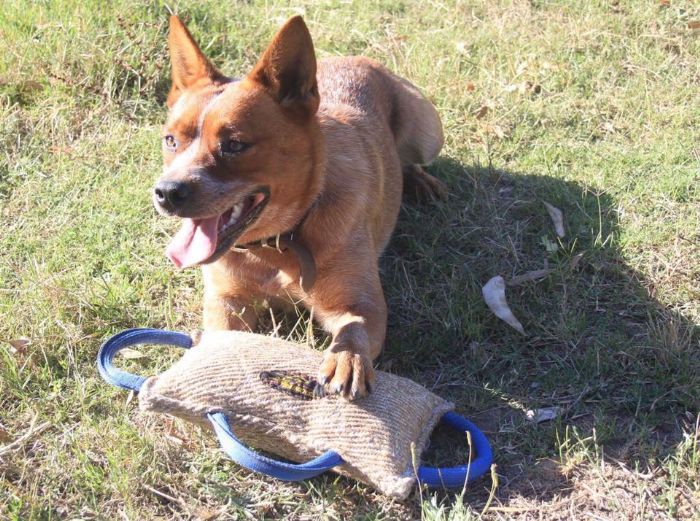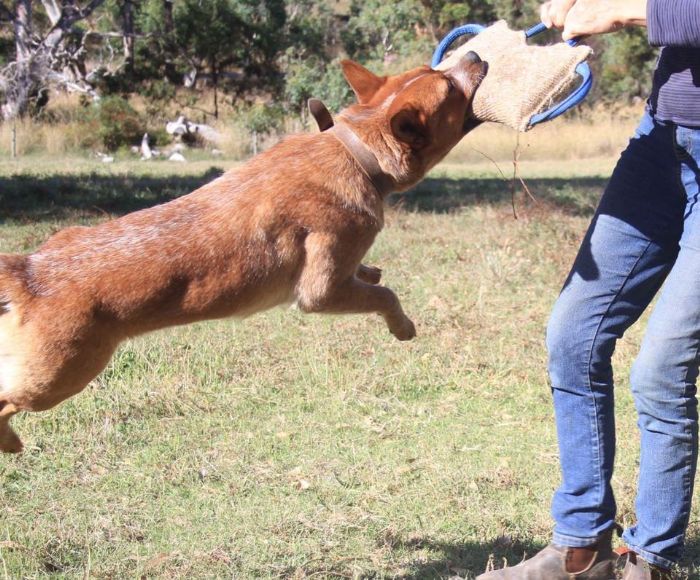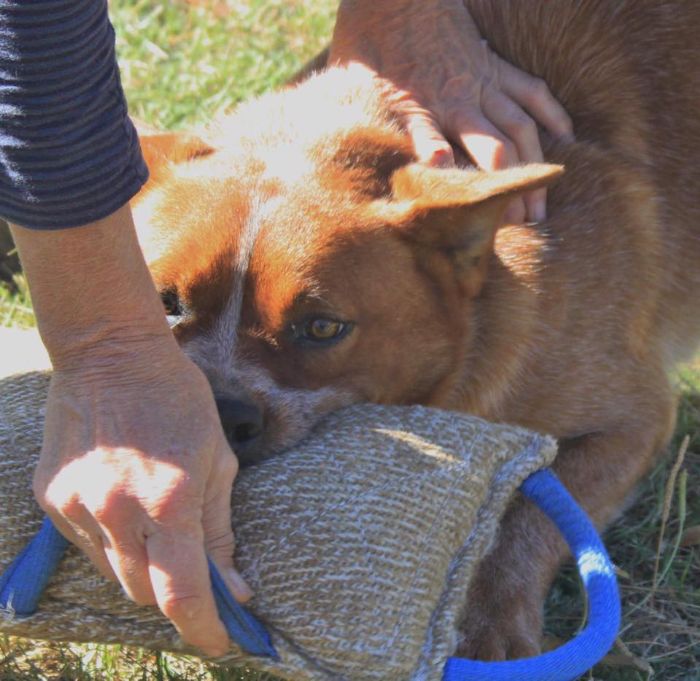 February 19, 2017
Anna (WP Have A Lil Faith) did it again tonight, with another Best of Breed (13 points). Abbey (WP Burn For You) won herself a Minor Puppy in Group.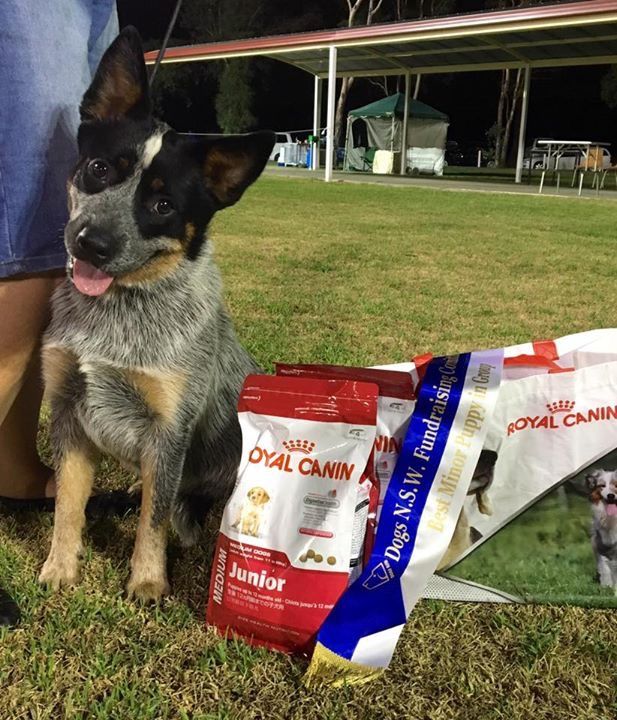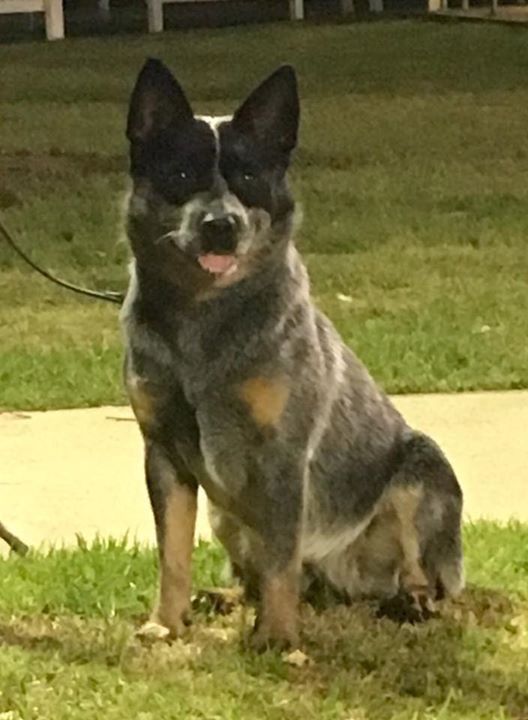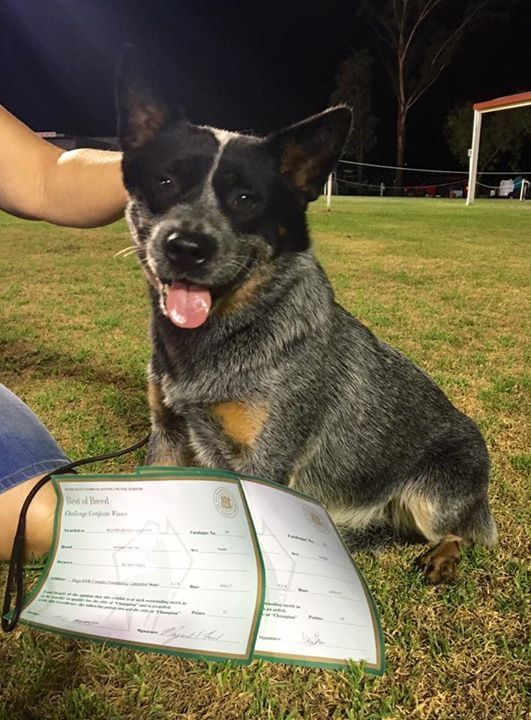 February 18, 2017
Anna (WP Have A Lil Faith) made a return to the show ring after titling last year. She has come back a little star and showing like a seasoned show dog. She won Best of Breed (14 points) and her little sister Abbey (WP Burn For You) was Reserve Bitch.
Buster (WP Bush Buster) won himself another Puppy in Show in America. What a roll he is on, and such an impressive boy who deserves all the accolades he is receiving.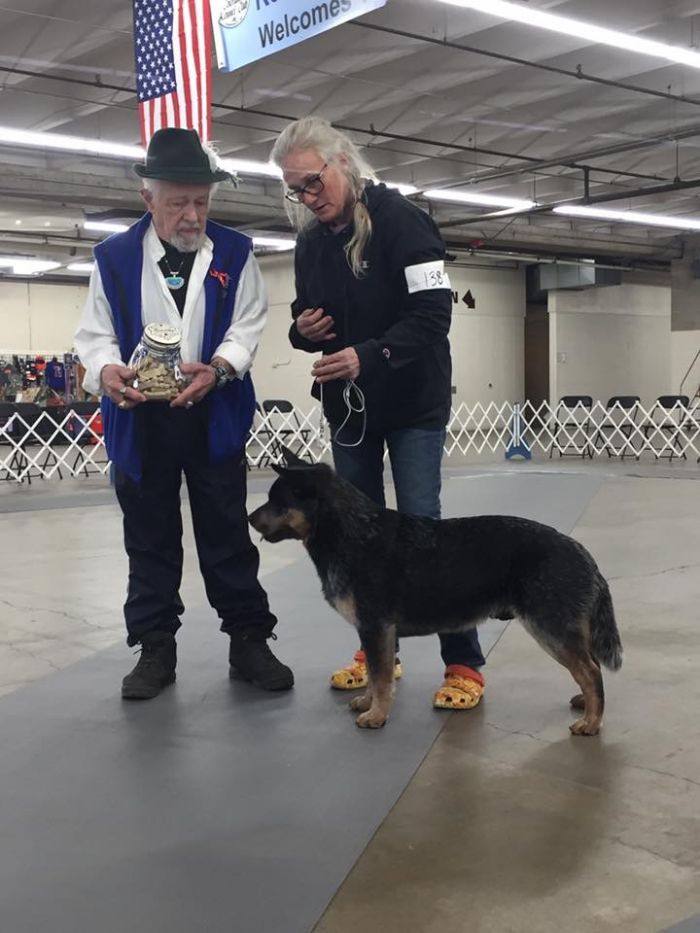 February 15, 2017
Zac (WP Custom Made) earned himself more Rally Masters quallies towards his RO Championship. He is almost halfway there now!
February 7, 2017
Darcey (WP Blue Skye) is steadily training towards competing in IPO soon. It would be fantastic to see a cattle dog in this country compete at IPO1 level, again proving the versatility of our Willowpark dogs. IPO simulates police style work and requires dedicated training and very particular temperament traits.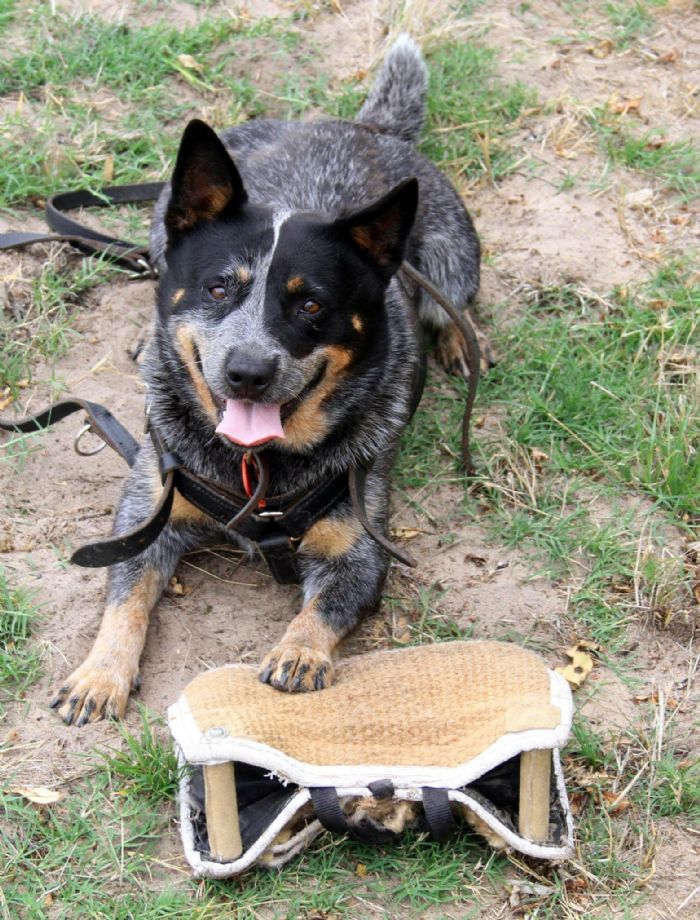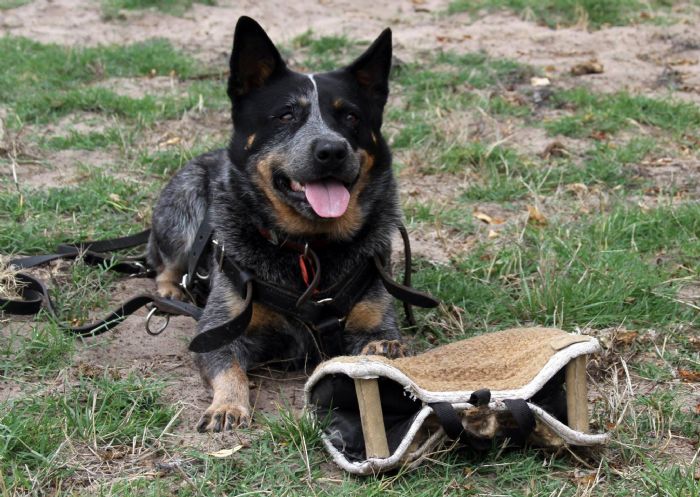 February 6, 2017
Zac (WP Custom Made) featured in the DogsNSW Journal this month, which was lovely to see a 'cattle dog' being versatile enough to compete and qualify at a duck herding trial. Zac only requires 1 more pass for his Novice Duck title (he already has his Started Duck title) and is showing a real apptitude for the Intermediate level work. He really likes working the ducks. Thats Zac in the top photo.
February 3, 2017
Diesel is 6 months old and his new owners have shared his new 'leave it' command. He is waiting to be told he can eat the food on his front leg. They say he is the loveliest, happiest, busiest boy.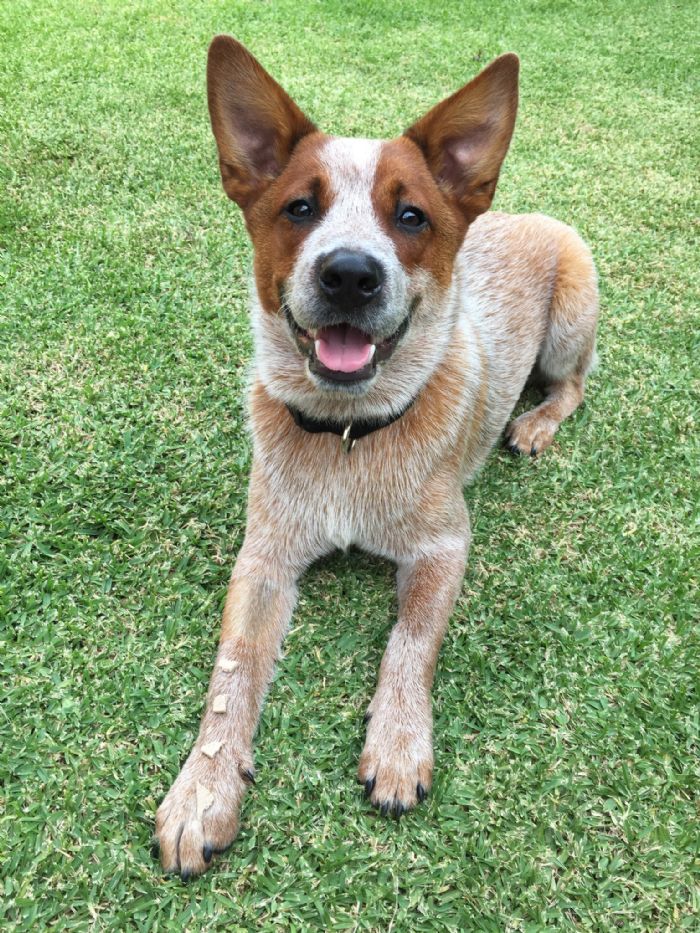 January 20, 2017
These are our charismatic Reece (WP Legally Blue) and Mick (WP Mick Dundee) pups, they have just turned 5 weeks old. We are so over the moon with this litter, type wise but also they have great personalities.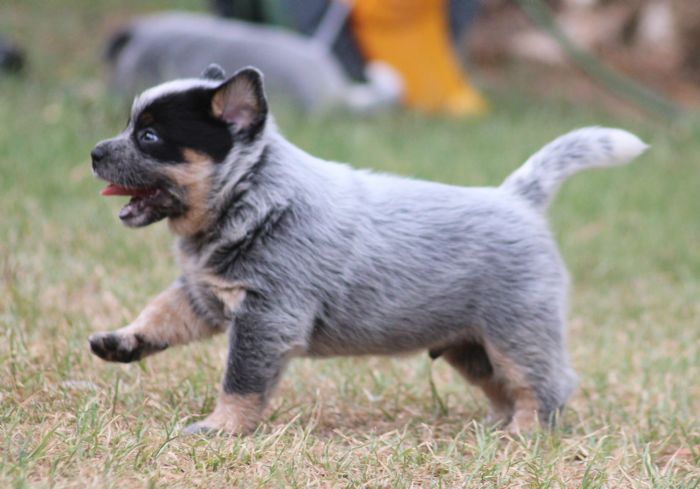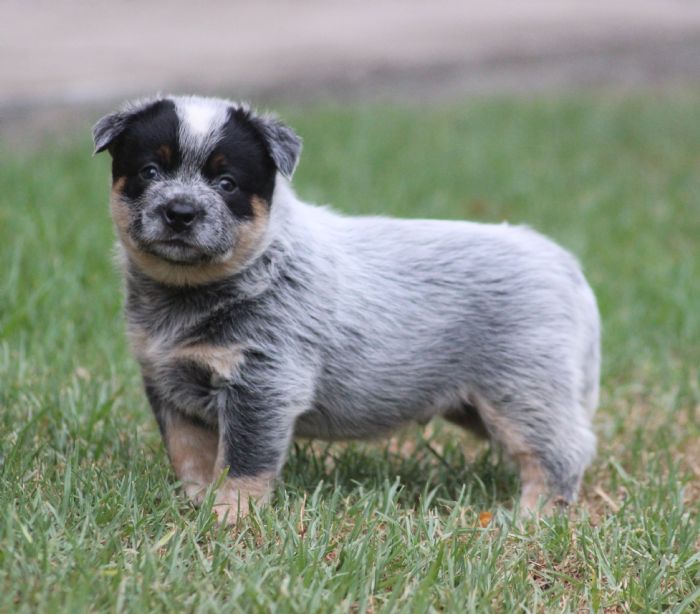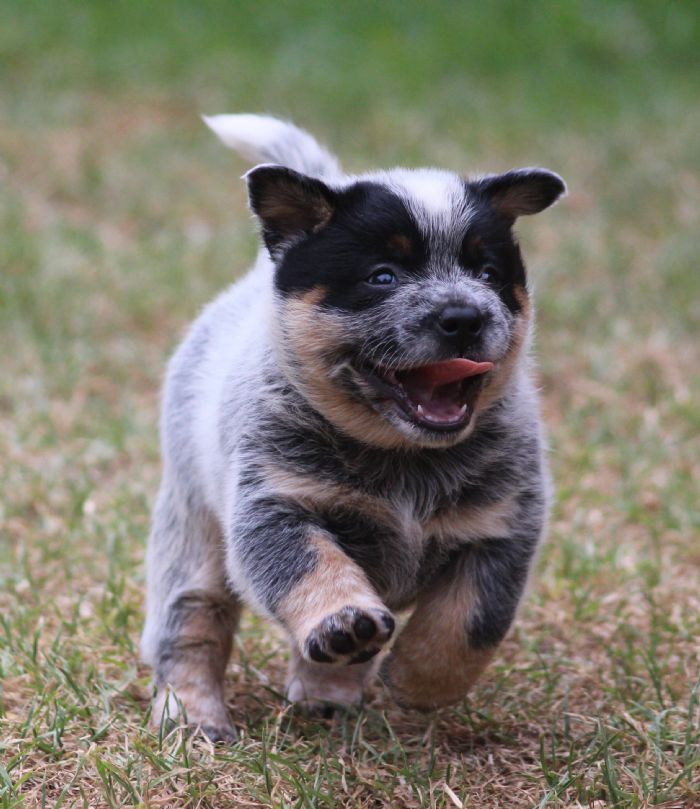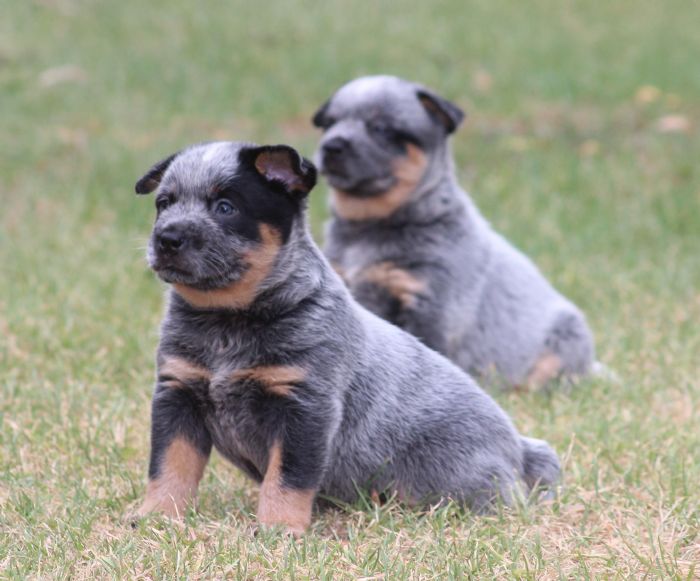 January 18, 2017
Maree's boys came to see their new puppy from Reece (WP Legally Blue) and Mick (WP Mick Dundee). One of Maree's boys is quite intimidated by dogs but with the help of patient Ella (WP Heart Breaker) he had a lovely time talking to her and eventually patting her through the wire. With Reece and Mick both being such sensible dogs we have no doubt that their new puppy, when he is ready to leave, will be a wonderful companion for the family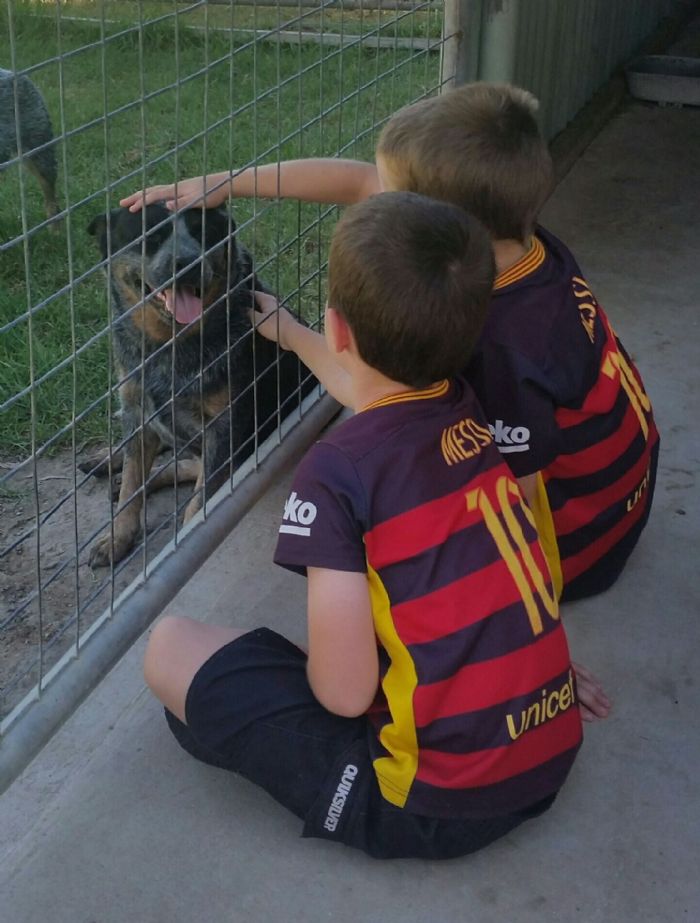 January 17, 2017
Tess (WP Inevitablue) in her Mitsubishi Triton ad. This was filmed in December and she did so well on such a hot day. It was her first time working with drone cameras.
January 16, 2017
Blast from the past - Some photos of Sandra with her horses and her judging appointments. We have always enjoyed breeding our dogs and working them on our cattle properties in Cowra, Wingham and now Dyers Crossing and its only in the past few years that we have enjoyed showing them with our good friend Belinda. Our Appaloosa Stud and quarter horse acitivities were really successful, winning many events at National level.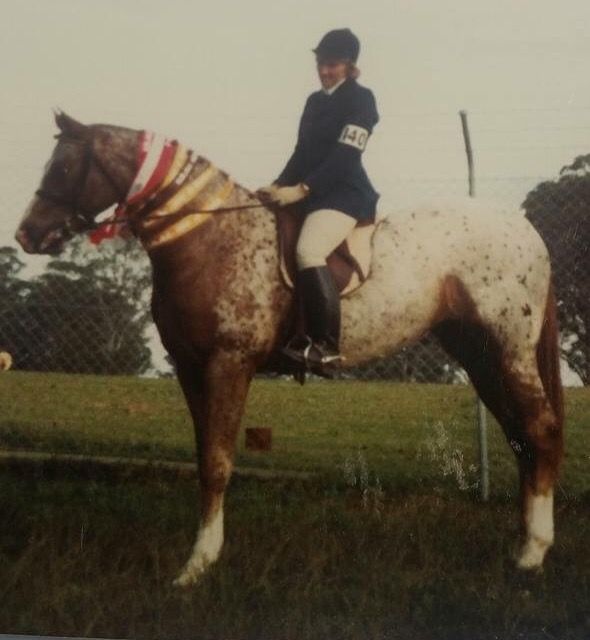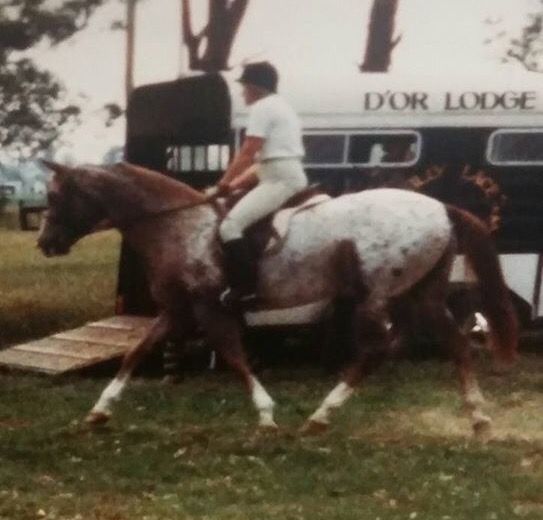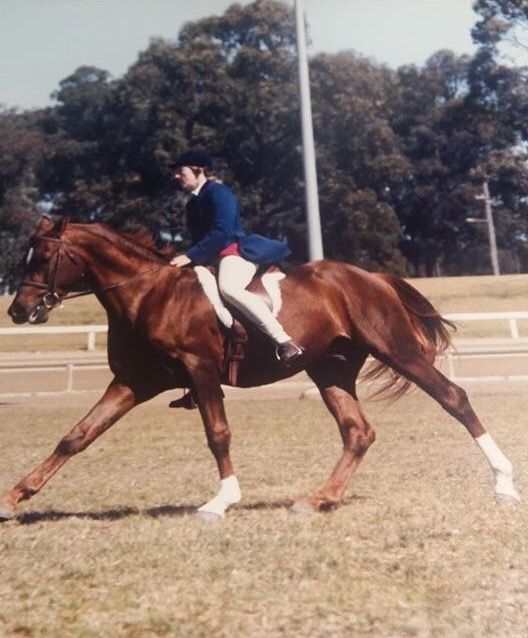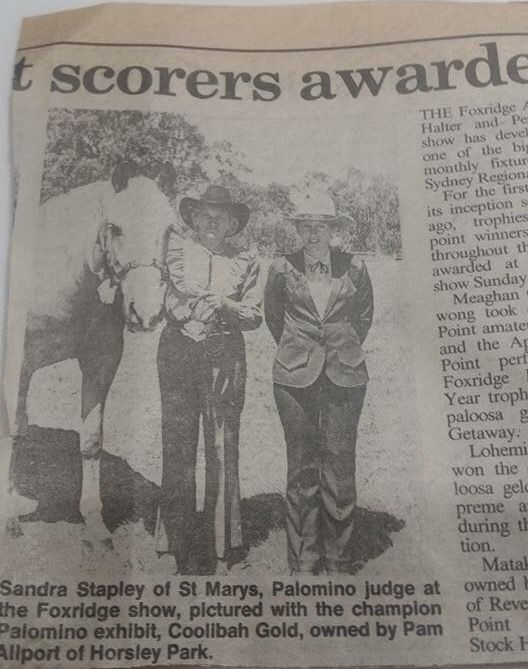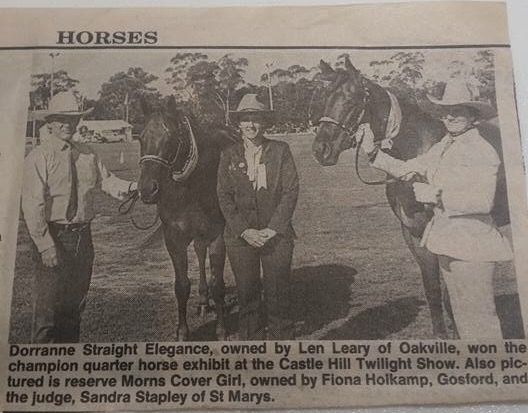 January 12, 2017
Thunda (WP Thunda Down Unda) made it to Italy, and we bet he is enjoying the cooler weather! His new family say he has been making good friends with their other dogs.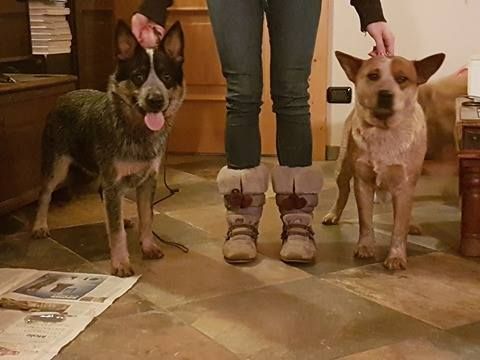 January 11, 2017
Another video of Kelly (Erudite Fantasia), Pria's (WP Whiz Kid) daughter. The trialling is starting up next month and we are keen to get both Pria and Mick (WP Mick Dundee) back into the cattle trials, and also Zac (WP Custom Made) up into Intermediate A course, and also onto B course ducks and sheep.
January 10, 2017
Kelly (Erudite Fantasia), a daughter of Pria (WP Whiz Kid) is going great guns with her herding training. She just turned 12 months old, so still some baby mistakes but is looking to make a great worker.
January 9, 2017
Thunda (WP Thunda Down Unda) left today for Italy! We hope he loves his new home. He is growing into such a handsome man.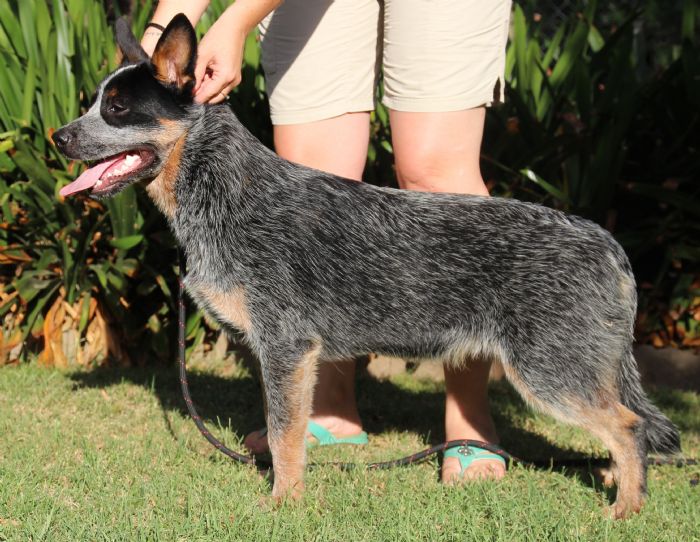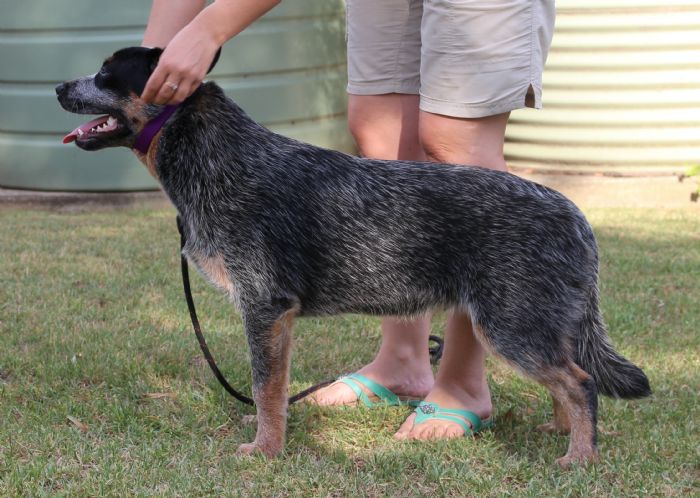 January 8, 2017
Some of our babies at 3.5 weeks old, these are Mick (WP Mick Dundee) and Reece (WP Legally Blue) babies.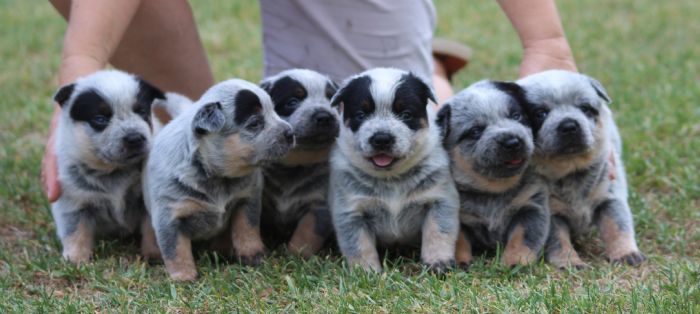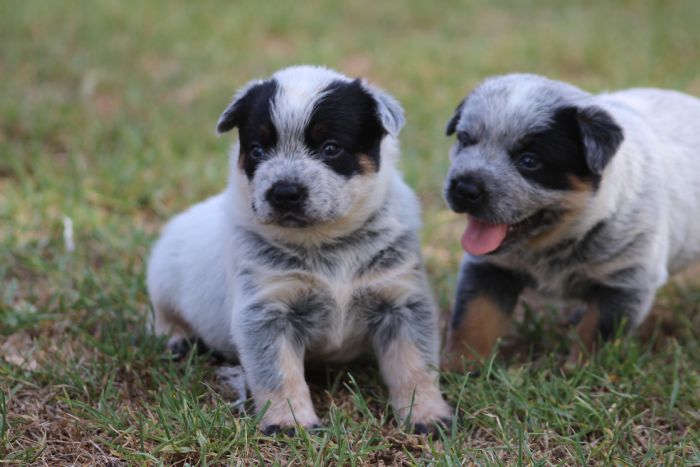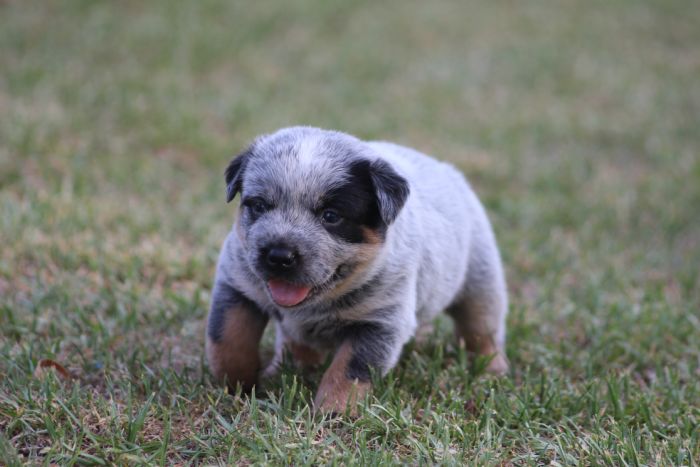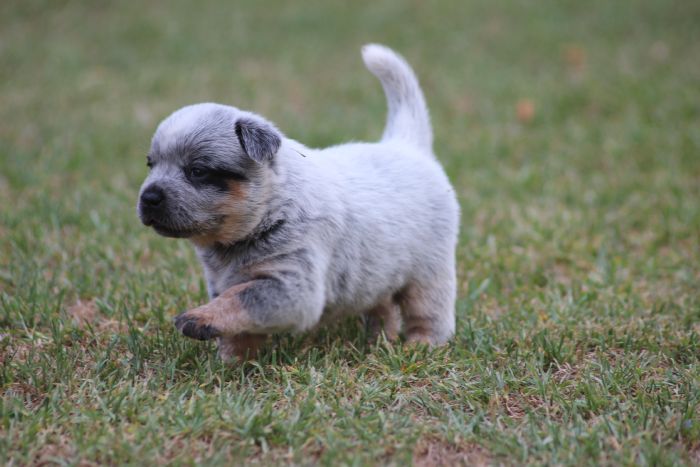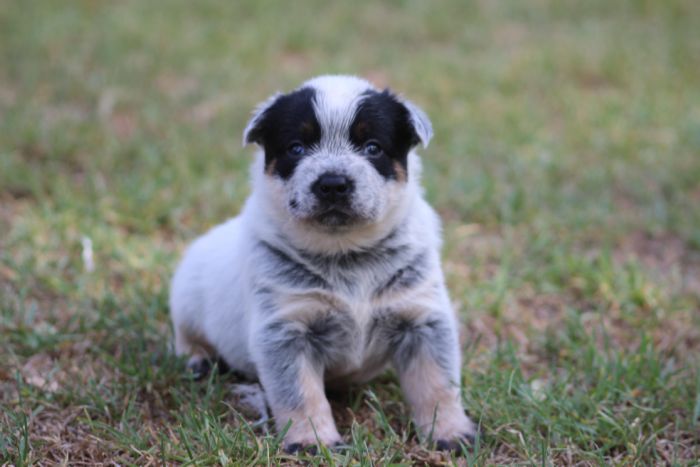 Contact Details
Sandra Stapley
Mulgoa, NSW, Australia
Phone : 0431 431 814
Email :
[email protected]