Archived Latest News
December 23, 2013
Lola's parents have sent us this wonderful photo of her in all her Christmas cheer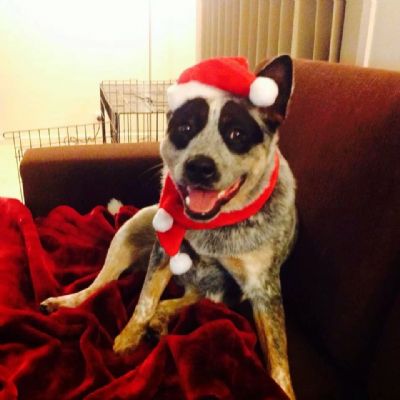 December 22, 2013
Tess (WP Inevitablue) is a star yet again, this time working on the new Australian Pensioners Insurance Agency TV commercial. She was required to work one on one with the actor for over an hour, which she did very well. She also recently worked at Tropfest - Australia's premier short film festival.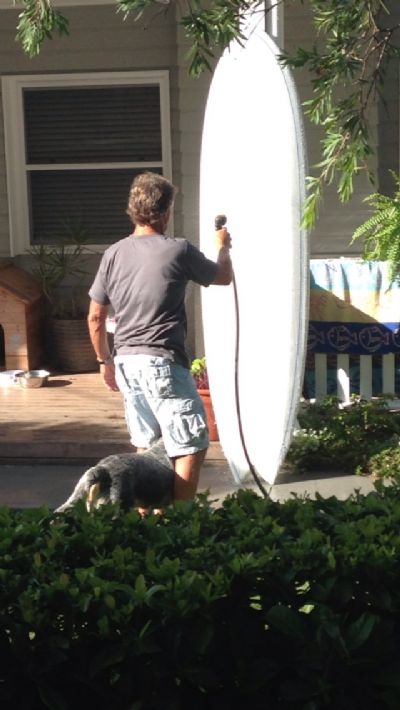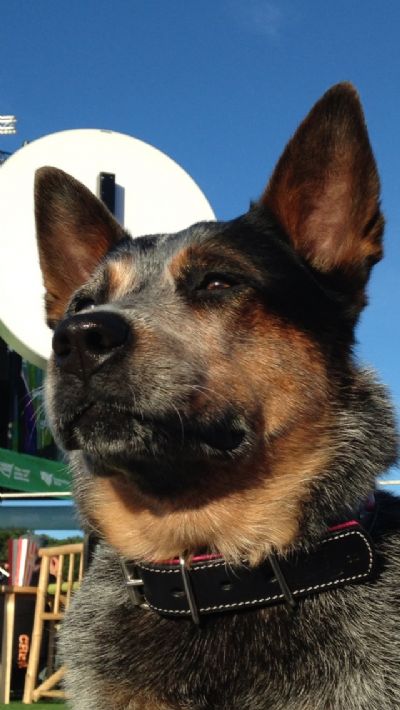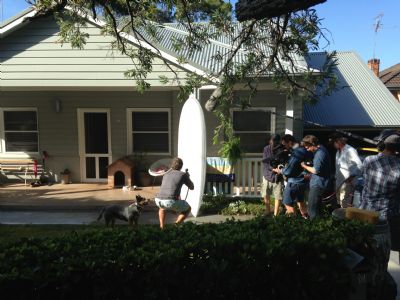 December 18, 2013
Everyone here at Willowpark Kennels, people and dogs, would really like to wish our extended family of friends, puppy owners and those who enjoy following the adventures of the Willowpark dogs a very merry Christmas and a successful, prosperous new year filled with wet, sloppy dog kisses and many good times with treasured friends, both 2 and 4 legged.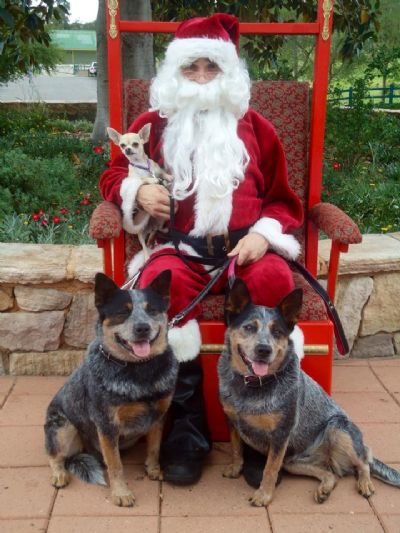 Santa with KFinch Playing With The Stars (Ava), Aust Ch WP Custom Made RN PT HSAs (Zac) and Aust Ch WP Inevitablue CCD RN PT HSAs (Tess)

December 17, 2013
We mated WP Bush Tribute HT (Ted) to Barkingpines One Of A Kind (Summer) which produced 7 lovely puppies this morning. We used Ted much younger than we would with any other male, however he is such a level headed, mature minded boy that we knew it would not be any stress on him. He looks to be one of the easiest males we have ever had - did the job in the blink of the eye then wanted to get back to playing with the others! He is still social with all other males and has supervised interactions with Levi still. The puppies all have masks with only one mismarked pup. There is a mini Ted male in there as well.

There should be some lovely puppies in this litter, so if you are interested please fill out our Puppy Application on here. Summer is full Jellendore breeding and Ted is half Willowpark with Adavale and Bendboi also, so this litter, we anticipate, will have that wonderful Jellendore intelligence.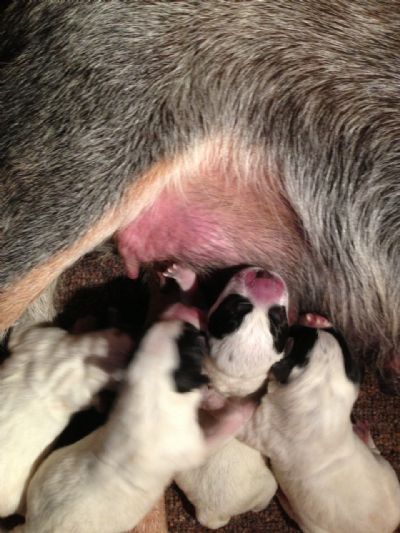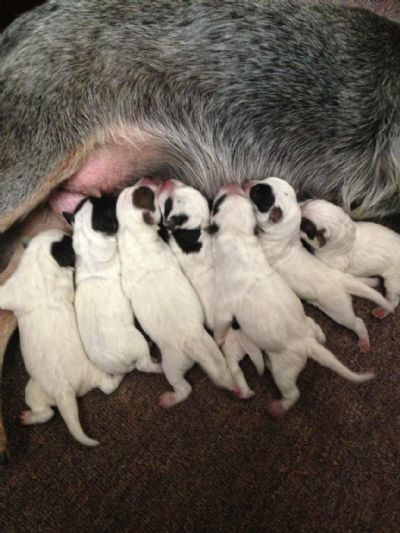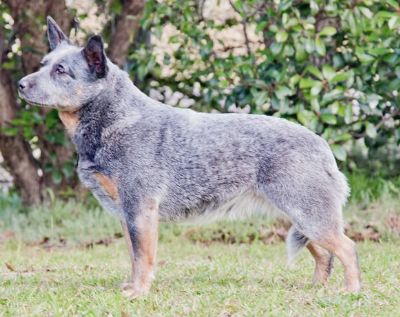 December 14, 2013
WP Royal Flush (Flame) has been doing well in the Baby Puppy classes, recently winning a Baby Puppy in Group!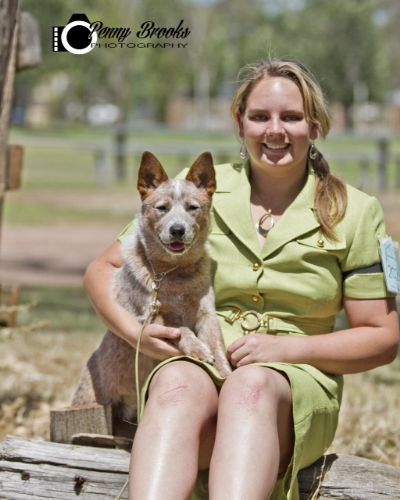 November 24, 2013
Willowpark has a new show champion! WP Poker Face (Bree) finishes off her title with a 15 point Best of Breed in Sydney this weekend.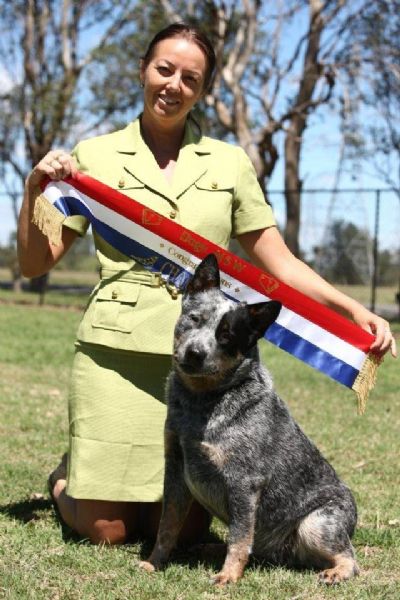 Bree at 16 months old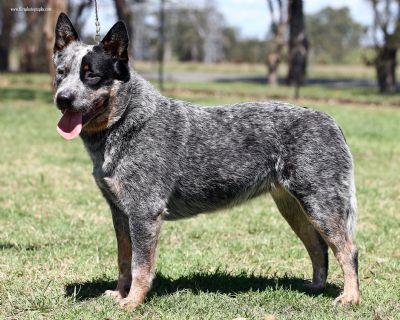 WP Denim & Lace (Lace) gets Baby In Group at her 2nd show.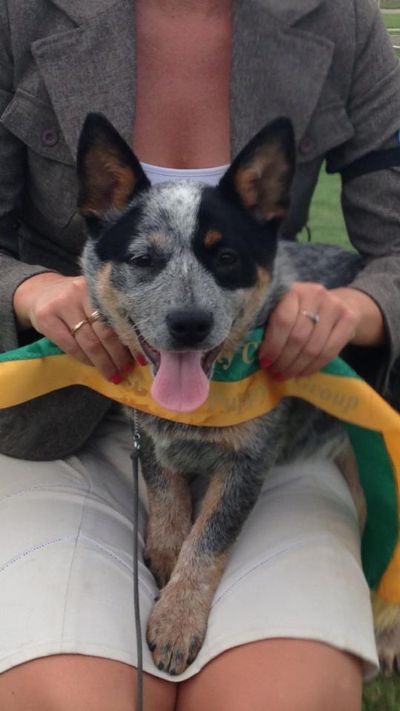 November 15, 2013
What a great day for Willowpark dogs at the Children's Cancer Charity Show in Sydney. WP Poker Face (Bree) shows for the first time at Erskine Park for an 11pt Best of Breed, WP Bush Tribute (Ted) beats older dogs to win Dog Challenge from the puppy class and little WP Denim and Lace (Lace) was outstanding at her first show. Confident, animated and not worried by anything, she wins Baby of Breed.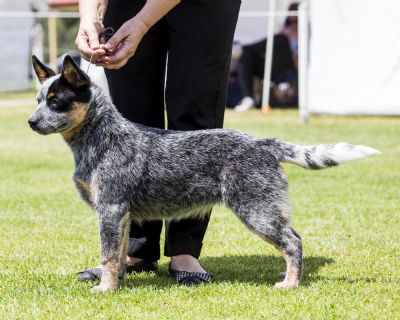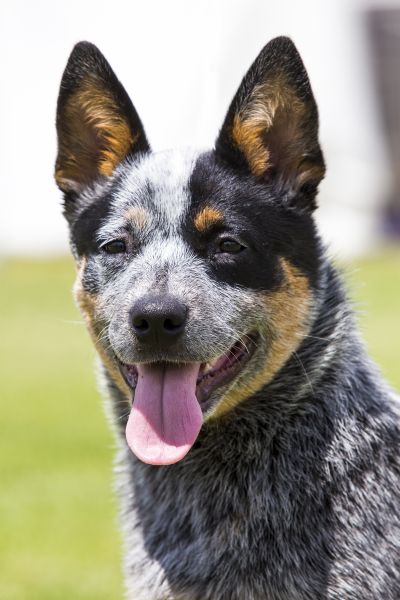 November 14, 2013
This is footage of WP Bush Tribute HT (Ted) working on his balance, and to be more relaxed around sheep. To be at balance requires him to always be at 6 o'clock if the handler is at 12 o'clock. He is quite an intense dog with a very strong desire to work. You can see it is his job to make the sheep stay with the handler. This is the beginning work of fetching stock - this evolves into being sent into a big paddock and collecting stock by himself. ACD's work in much closer than border collies and kelpies but as he matures we will start making him work wider. He has one sheep challenge him in the far corner and it is good to see him hold ground. He is 10 months old in this footage. He will be a star on cattle, but to show his versatility and the trainability of this line we will also keep competing with him on sheep, and will also introduce ducks soon. WP Custom Made (Zac) competes in both sheep and cattle trials on the same day, and Ted will also be following the same path. The easiest thing in the world for an ACD to do is heel bite, its all the finesse, and controlled movement of stock which sets the good dogs apart from the rest. The ability to rate stock (use appropriate pressure/ force) is a sign of intelligence and self control.

November 13, 2013

This is another lovely photo from Penny Brooks Photography of WP Royal Flush (Flame) and WP Poker Face (Bree). Flame went to her first show last weekend and was so showy, confident and showed her little heart out. Bree is very much a born show dog, again being highly competitive winning a Bitch Challenge Certificate and a Best of Breed to bring home 19 points. Bree is about to be campaigned in Sydney and we hope she is competitive. In the 3 times she has been handled by Belinda she has won Puppy of Breed at Sydney Royal, Aust Bred in Show at a Newcastle International show, and last weekend was unbeaten in the bitch class and brought home 19 points.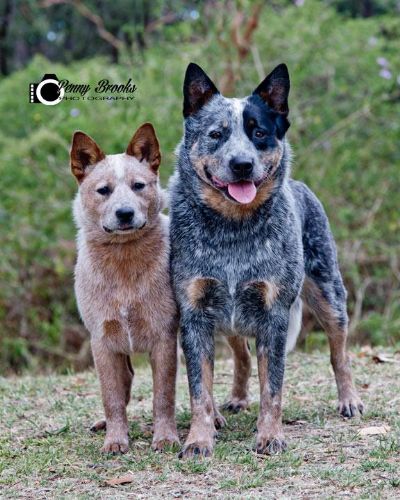 November 11, 2013

Hi Sandra,


On Friday

the 8th November 2012 River's first litter was born and your Sophie and our Lola graced with the world with bounds of energy and personality. We have seen the profile on Lola's full sister Sophie and she is just beautiful. We have been extremely happy with Lola and she has been the most energetic, loyal, always happy pup we have ever seen. Since she has gotten a bit older she is just starting to calm down and mature but she is very smart and very head strong which keeps us on our toes. Her fur sister Coco the cat doesn't appreciate this in the slightest, even now, but Lola is still as excited as day one to say hello to her.

Her striking markings get comments from friends, family and strangers wherever we go. Lola has been described as a panda dog, bandit, raccoon, super hero (hence the mask) just to name a few. We have even had people stop in their cars to comment and some even wanting to buy her (which we just refer them to your kennel).


She has been a water baby since day one and loves going for swims in lakes and rivers. We hope with our next posting we have the opportunity to live on some acreage where she can have a lot more free reign. We are just grateful we have boundless parks and walking tracks here in Canberra.


We just thought we would share a couple of these photo's of her as she has turned into such a beautiful part of our family.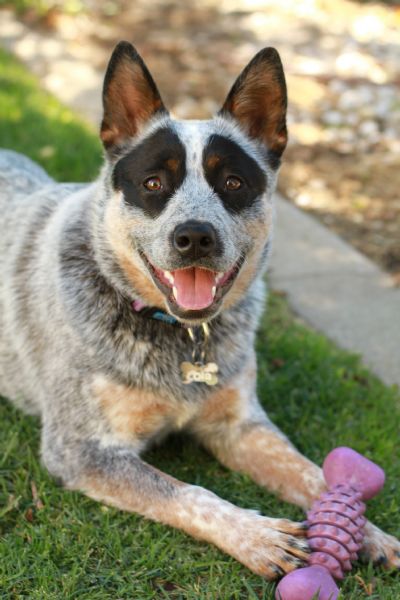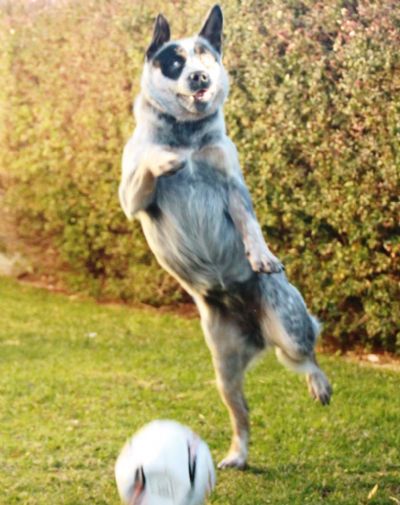 November 6, 2013

WP Custom Made (Zac)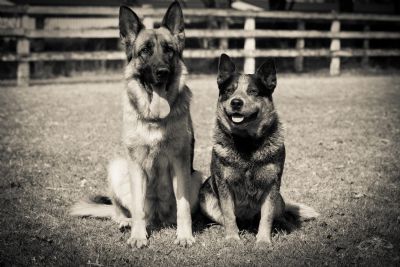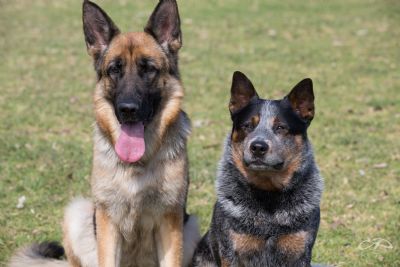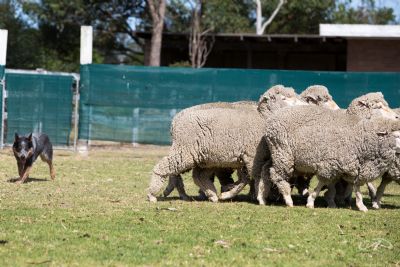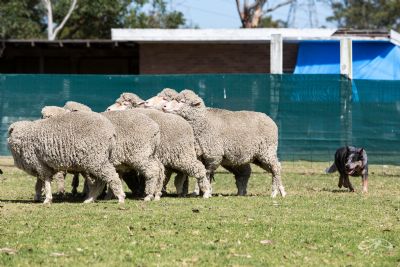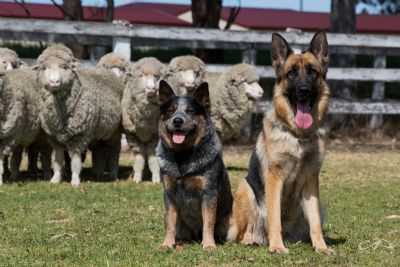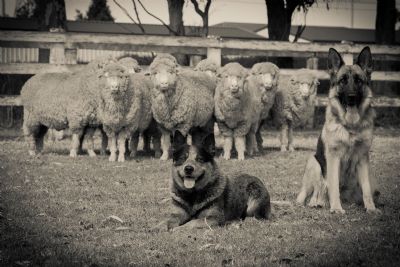 November 4, 2013
Meet Star, she is the Meg daughter we are retaining. She is currently 6 weeks old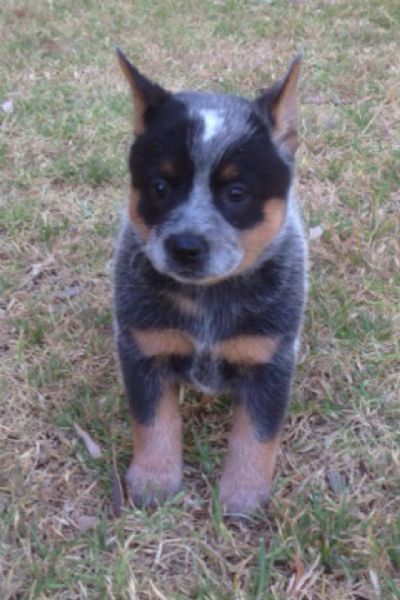 October 29, 2013
Due to circumstances changing at what was to be her new home, this little girl has become available. Currently 5.5 weeks old, she is sired by Pavesi Five Card Stud and from WP Eternal Flame (Meg). She is full of life and quite wriggly.

UPDATE This little girl is off to work cattle on a Limousin Stud.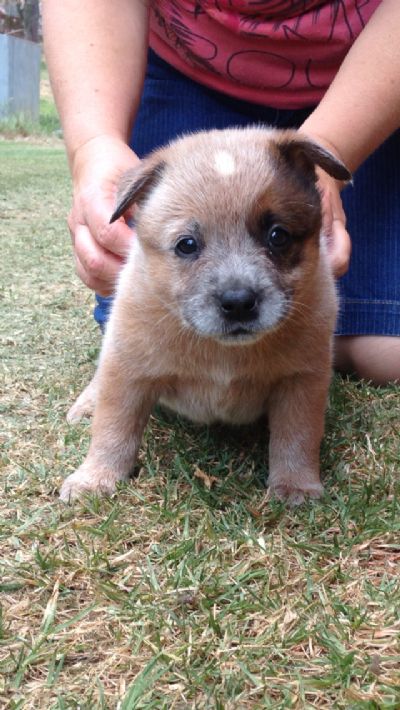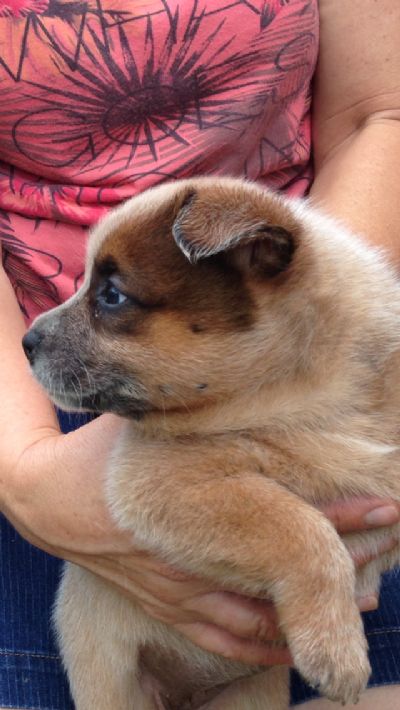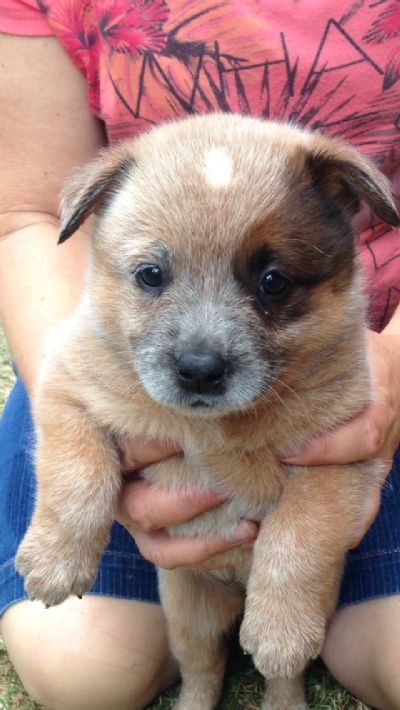 October 28, 2013

This is WP Hot Stuff at 16 months old. He is from Annie's first litter. We think he is stunning, and his owners say he is just the perfect dog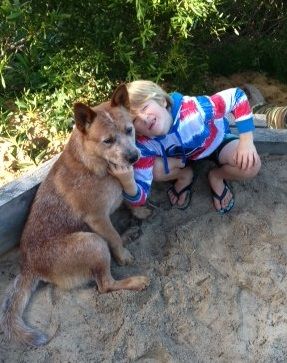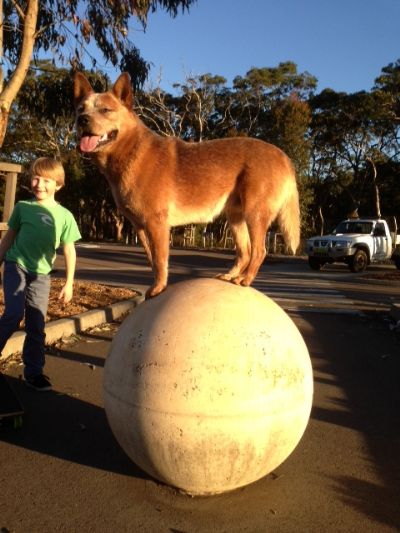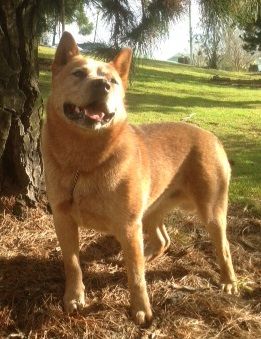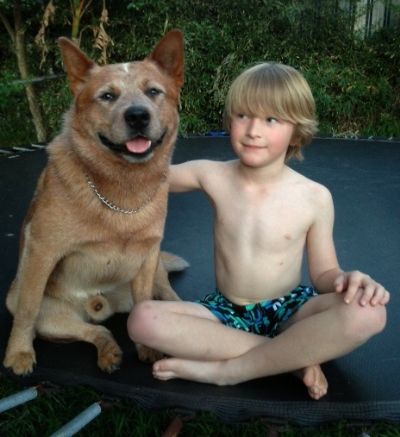 October 26, 2013

WP Blue Yarni (Yani) has turned out to be a star at the new sport of Dock Dogs.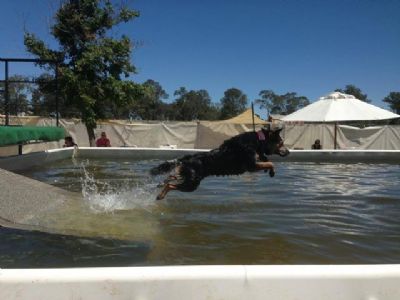 October 24, 2013

Holly is doing so well in Far North Queensland, she has even featured in a new coffee table book!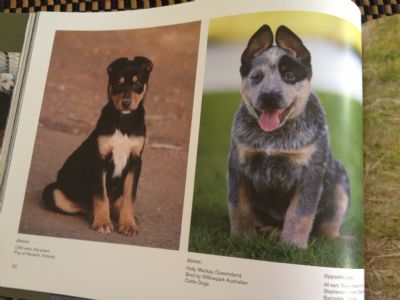 October 21, 2013
Zac, Tess and Ted went on a trip to South Gippsland to work on their herding skills. Tess and Zac are working towards Intermediate A course level, and Ted is working towards Started A course level. They also had a tonne of fun in the dam with Aussies, Koolies, and German Shepherds.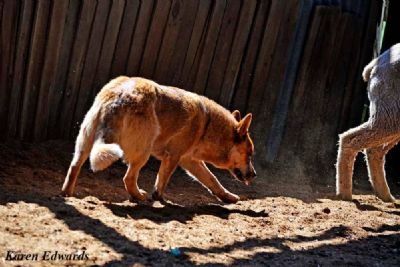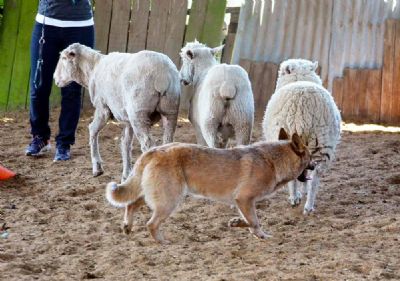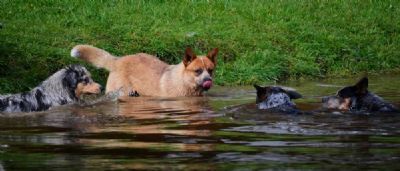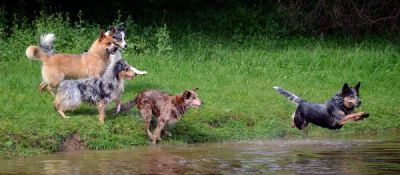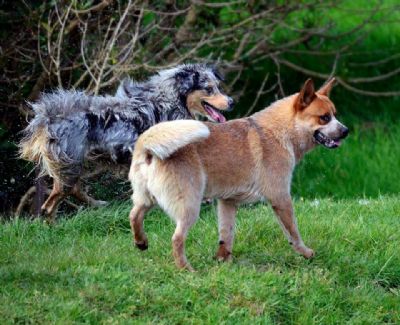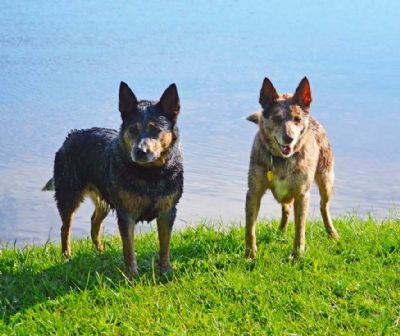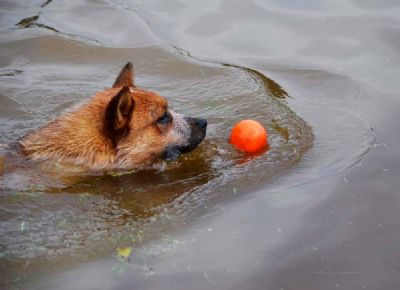 October 12, 2013
Zac's (WP Custom Made) commercial hits the air. Last week we were asked to provide a suitable dog for a TV ad being shot for the new channel 10 morning show Wake UP with Tarsh, Tash and Matho. The brief was for Zac to ride on the back of a ute and be in the background, The whole crew loved him so much and they have given him more importance in the commercial. His whole head fills the TV screen. Look out for the handsome cattle dog on channel 10!

Tess came along as well, here are the dogs being so patient and well behaved on the busy film shoot.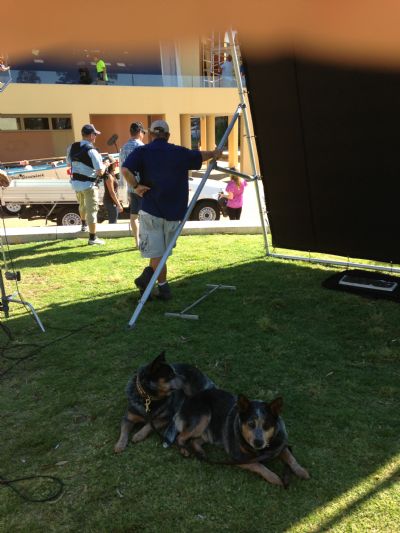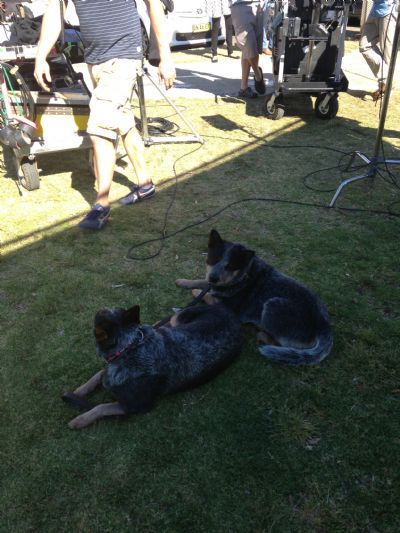 October 12, 2013
Puppy Cam!!

Meg's pups, who turned 3 weeks old today. Excuse the barking in the background, the adults were running amok at the dam. Thankyou so much for the overwhelming number of enquiries on this litter, We are so impressed with them, this being the first time a Levi daughter has been bred to Pavesi Five Card Stud. These 2 lines have just clicked.

Now its certainly time to cross back to our own line. Levi will be happy to not see 'his' girls drive out the gate anymore and Ted is certainly chomping at the bit!

October 7, 2013
These are some of Meg's puppies at just over 2 weeks old.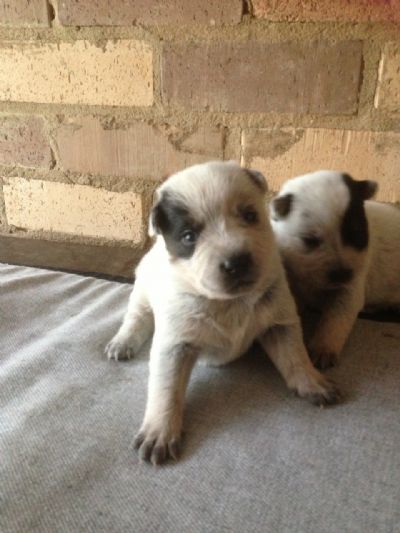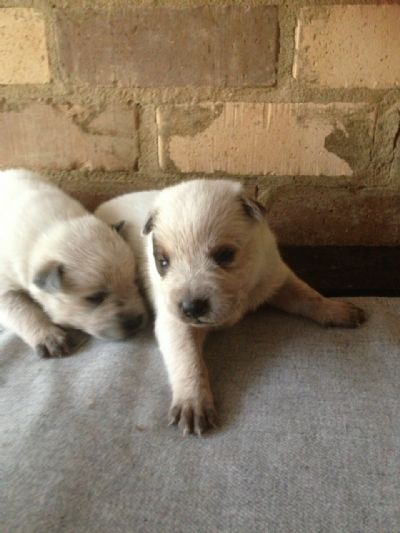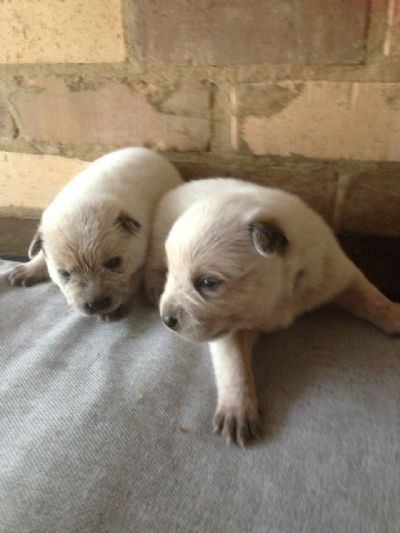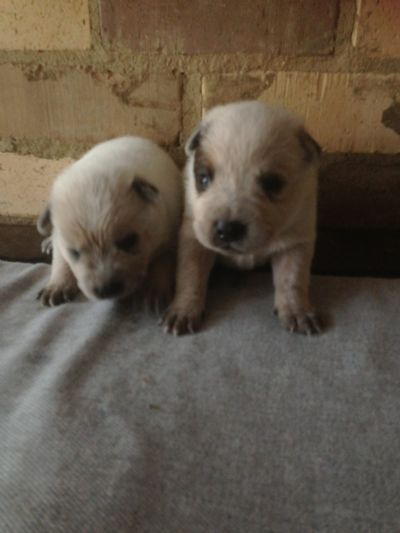 September 29, 2013
We are so excited to say that Breeze is now known as Aust Ch Willowpark Blue Breeze HT ET after earning 25 points over the weekend, taking her to 101 points. She has been to relatively few shows in just a few months but many judges commented that she is such a sound moving bitch, feminine with substance. Her front assembly has been a talking point, being so well angulated.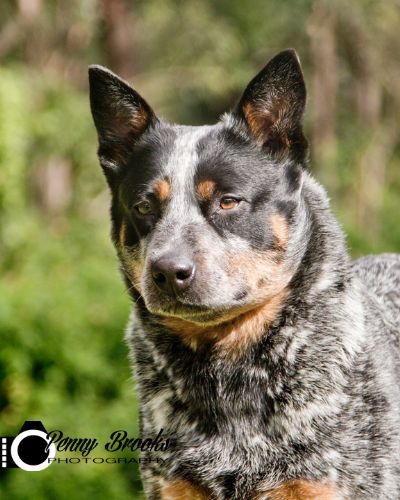 Alice (WP Wind Song) has a great weekend away winning a 12pt best of breed and also a Puppy in Group award. She is a little star who received the following feedback from a working dog judge ringside 'that little bitch is the best moving cattle dog Ive ever seen, so balanced - everything matches'.

Ted (WP Bush Tribute) is just out of minor puppy class and already is 1/3 of the way to his title. He has such an amazing frame, which he is still yet to fill out into. He is still full of puppy coat but many judges have liked his topline which never moves and his dead straight movement, We suspect its his very sweet face and wagging tail that might also be influencing their decisions!

September 27, 2013

After barely being shown since winning Puppy of Breed at Sydney Royal this year WP Poker Face (Bree) wins Best of Breed and Australian Bred in Show at the Lake Macquarie International Spring Spectacular PM Show. Bree has been a late maturer but is such a solid bitch who looks like she could work all day. She is from the first litter we did with the outcross to Pavesi Five Card Stud. WP Bush Tribute HT (Ted) gets Dog Challenge. The Bitch challenge line up was WP Blue Breeze HT ET (Breeze), WP Poker Face (Bree) and WP Wind Song (Alice) and whilst Breeze is dropping coat, it was fantastic to see her two daughters beat her for BCC and RBCC. Makes us proud that she has produced such lovely progeny.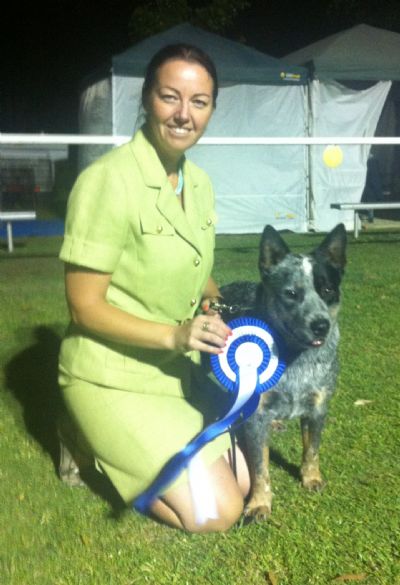 September 24, 2013
We took 5 (well 5 and a half- Ava the chihuahua came too) dogs away to Coffs Harbour over the weekend. Our 2 Minors picking up Reserve Challenges with an entry of 11 ACD's. Alice (WP Wind Song) getting a Minor in Group as well. Zac (WP Custom Made) was entered in the obedience and after blowing his drop stays on the saturday night (and sitting in 1st place with a score of 78/80!!!) he contains his enthusiasm for a 2nd place on the sunday in the CCD ring. Extremely happy with his work in the ring and he had never done group stays up until this weekend as he isnt trained in a club environment.

All the dogs were exceptionally well behaved and always receive wonderful comments on their temperaments, from other dog show people and the general public. Ted (WP Bush Tribute) showed his exceptional solid temperament having to be handled by different people each day over the 3 days due to clashes between the show and obedience trial.
The dogs loved their downtime at the beach in the afternoons - Tess, Ted, Zac, Alice, Breeze and Ava the Chihuahua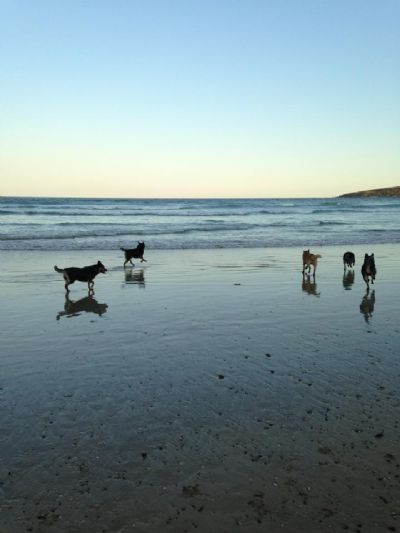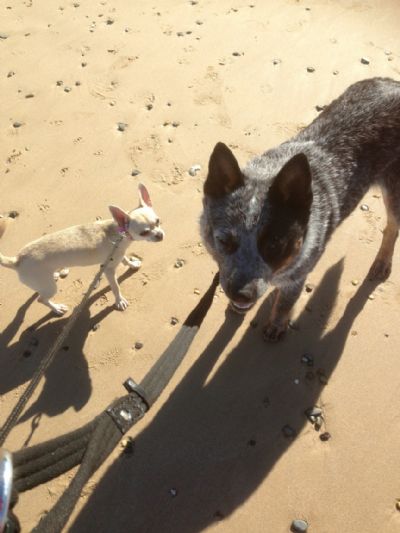 September 15, 2013
Zac (WP Custom Made) wins Best Headed in Show at the ACD Society of NSW Specialty Show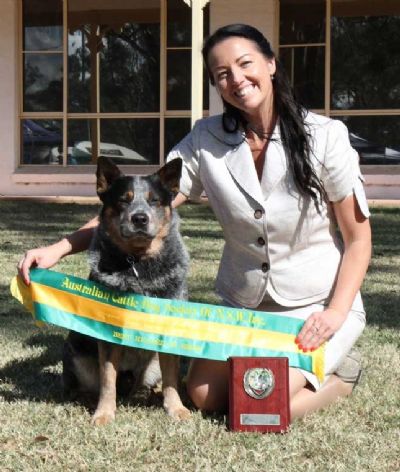 September 7, 2013
Zac (WP Custom Made) wins the Rally Advanced A at Hills District Obedience and Kennel Club trial. It was his first time in the Advanced class.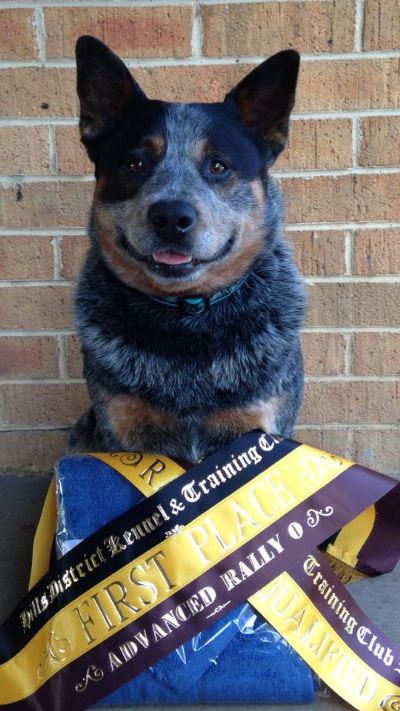 August 30, 2013
Tess (WP Inevitablue) is one of the cover dogs for the new Bayer Advantix packaging! We are thrilled that we are not the only ones who think she is very photogenic,


August 20, 2013
We love feedback from families with a WP puppy. Little 'Mojo' seems to be making herself right at home in Western Australia.
Hi Sandra,
I thought that I would just send a couple of pic's to show you how our 'Mojo' is fitting in with the family. In the first pic's she is having a deep and meaningful chat with our youngest son Jarrod, the two of them look like they are going to have some fun in the future. In the others pic's she is helping Blake, our eldest son with the gardening. She is certainly keeping us all busy, thanks again for such a beautiful puppy,
Jodie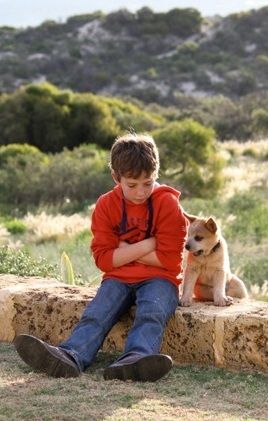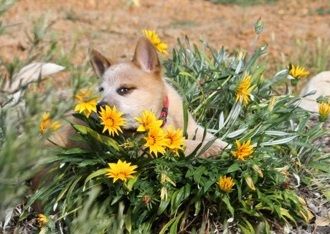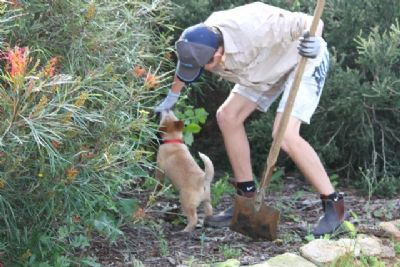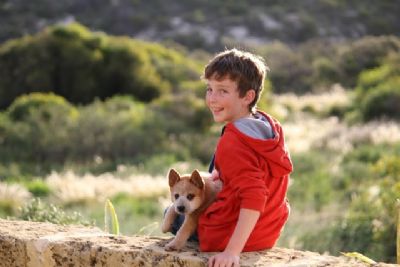 August 18, 2013

WP Bush Tribute (Ted) finishes off his Herding Test title. The herding season is coming to an end so next year he will be competing out in the open paddock on A course, WP Custom Made (Zac) was asked to be the stock handling dog for B course. So much fun and he proved his worth pushing sheep into the race from the shed, drafting off sheep for each competitor, then putting away sheep after each competitors run. He worked very well 'up close and personal' with the Merinos.

August 17, 2013

WP Bush Tribute (Ted) turned 7 months old today and got the first pass towards his Herding Test title. This is his 4th day ever working sheep. He had to show control being removed off leash and a minimum of two changes of direction, and a stop at the end. This boy has an very nice natural balance. He would normally work wider but his handler was a tad nervous taking in a young and inexperienced boy!

August 13, 2013
The Annie pups have left for their new homes, We are so flattered by all the enquiries we have received. It is fantastic to know there are so many wonderful homes out there wanting a WP puppy. We are so looking forward to following the progress of the puppies which went to agility homes, and to our friends who will be showing a lovely bitch in Sydney.

We will be retaining some of the Cleo puppies, as we did the mating to introduce some genetic diversity to our line, but there will a few male pups available. They are a uniform litter of mottled colouring, impressive heads already and dark eyes.

August 11, 2013
Breeze is now known as WP Blue Breeze HT ET after successfully completing the 20km endurance test today. She has such a huge heart and is such a trier. WP Inevitablue had been in training for the test but came into season 2 weeks ago, meaning she couldnt compete. With only 2 weeks fitness training Breeze did exceptional. Here she is with her friend from herding, Venus.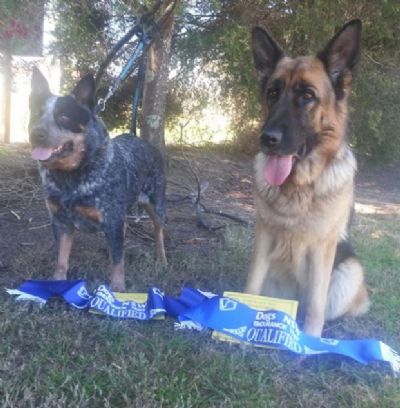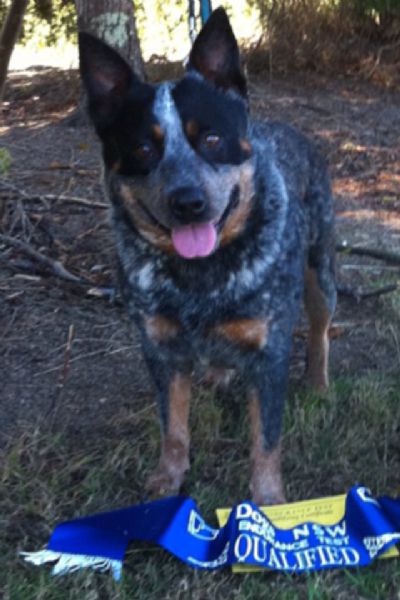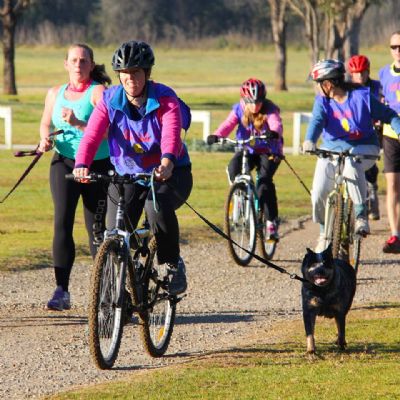 August 9, 2013

We apologise to anyone who has sent emails and we haven't responded yet; Life has been very busy for us selling cattle and moving bulls between properties, We will respond asap.

August 7, 2013
Currently 3 weeks old, Queblue Tanloch Bride (Cleo's) puppies are looking quite impressive, with very nice heads. The pups are sired by Pavesi Five Card Stud, who is now over half way to his Australian Champion title. The pups will be PRA A or B. Whilst this litter has no WP blood we would not have used Cleo if we were not happy with her temperament. She is a bright, happy girl that fit in very well. We have our eye on 2 puppies in the litter to retain, so there will be a few puppies looking for homes. If you are interested and would like a pup PRA tested please let us know.
Cleo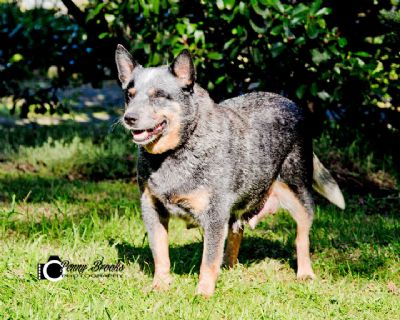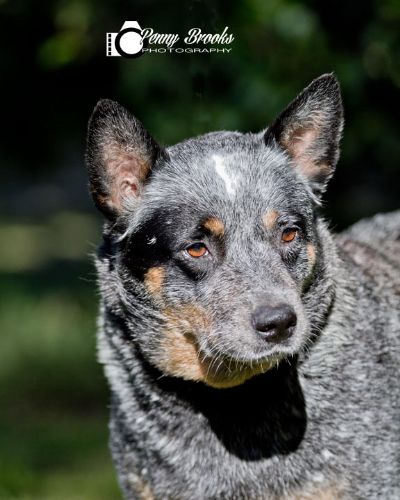 Stud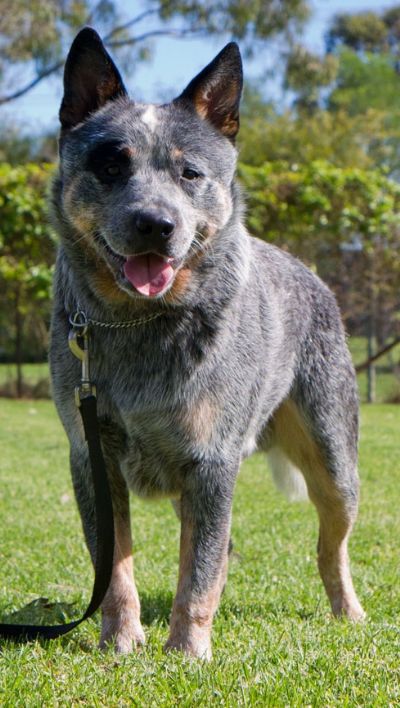 August 1, 2013
For those lucky new homes the Annie x Stud litter are going to, here is a photo shoot done with the whole litter, scroll down to see the puppies. These photos are available to purchase from Penny Brooks Photography.
http://www.facebook.com/media/set/?set=a.614199345280886.1073741904.241950439172447&type=1

July 30, 2013

Class in group photos from Kempsey & Macleay Valley Championship show.

WP Bush Tribute - Minor in Group WP Blue Breeze HT - Open in Group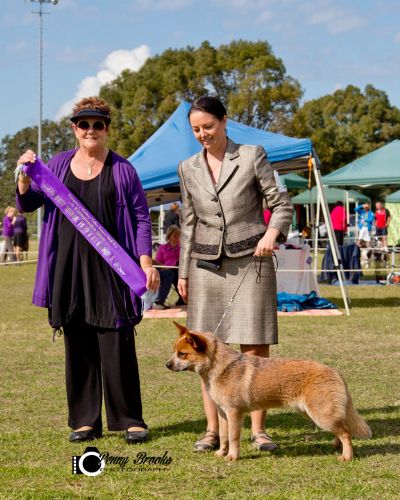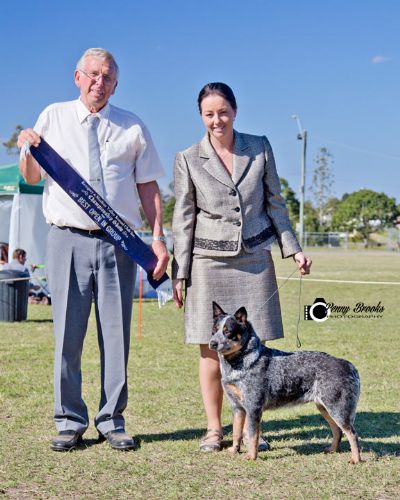 July 28, 2013
WP Bush Tribute (Ted) in his first time in the minor puppy class wins Minor Puppy in Group. The judge commenting that he is a really lovely puppy. He is such a happy boy, wagging his tail while free stacking and has such balance in his movement for a growing baby. He really is a dude with rock solid nerves and an air of independence. He goes back to herding this coming weekend in preparation for some upcoming competitions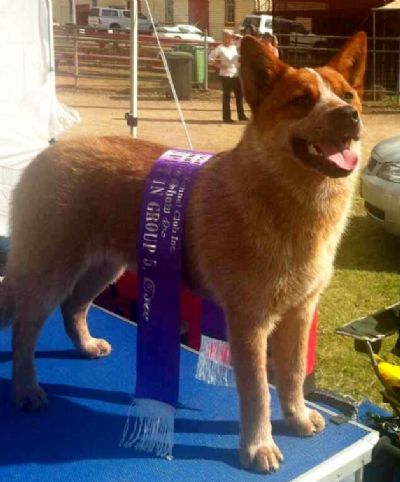 July 27, 2013
Willowpark has a new Australian show Champion with WP Custom Made (Zac) getting his final points today at Kempsey & Macleay Valley Championship show. WP Blue Breeze (Breeze) also wins Best Open dog in Working Group! Show photos to follow, but here is a beautiful photo of Zac working with one of the great trainers from the US. Jen Martin has captured his presence so well.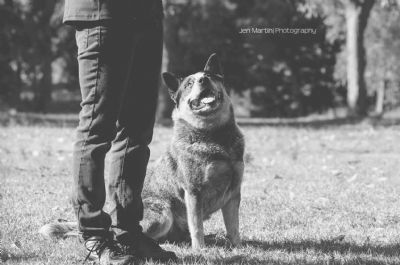 Here is a photo of WP Eternal Flame (Meg), she is litter sister to Zac and the quality of the heads Levi is throwing is really evident. Meg is yet to turn 2 in this photo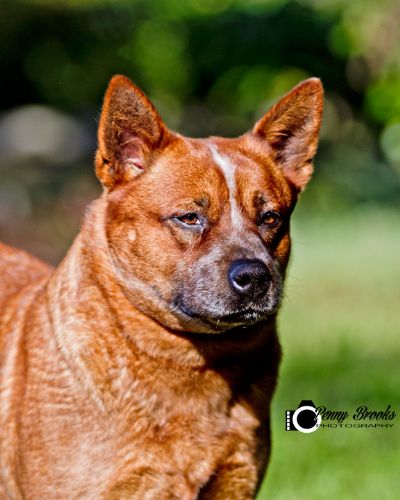 July 24, 2013
Our Stud x Annie pups at 5 weeks old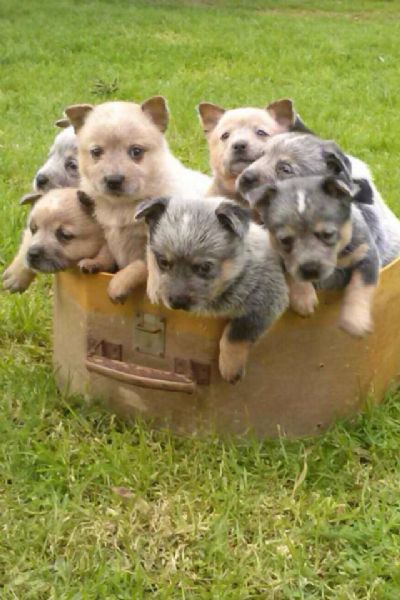 We were so lucky to have the very talented Penny Brooks, from Penny Brooks Photography spend most of the day with us taking all sorts of photos, including individual photos, fun photos, swimming in the dam photos, working cattle photos, and group photos. Here is a sneak peak while Penny goes through the hundreds of photos she took. Thank you so much Penny for your patience, talent and time. You should be charging more!!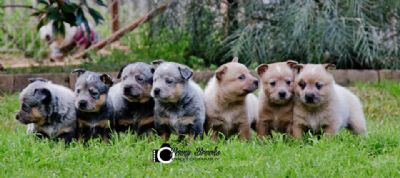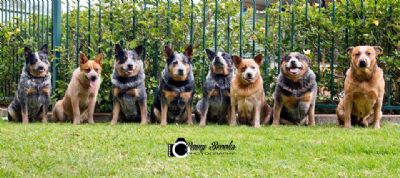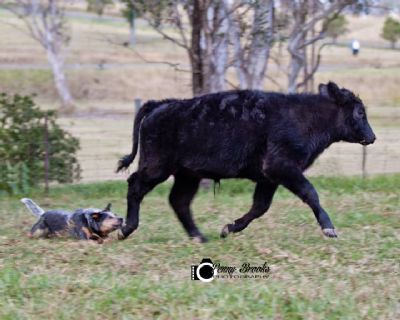 And the feistiest dog at our place, our young Chihuahua Ava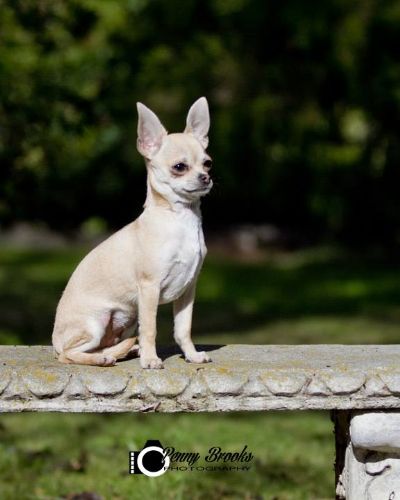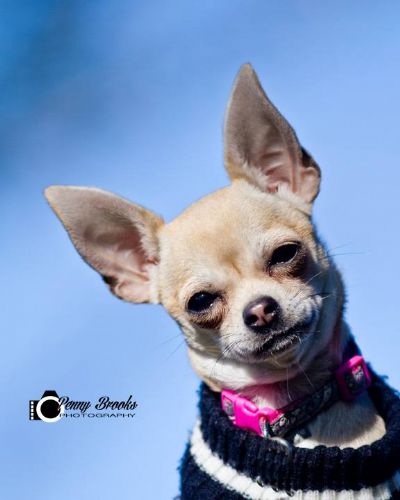 July 20, 2013
We have been asked quite a bit why we keep using one particular dog as our outcross. We have tested a few crosses but only this cross we have been happy with. We are actually more than happy with it!!

We have been keeping some stunning girls so we can cross our own Levi and Ted, plus WP Inevitablue's son Erudite Tee Rex, back over. Alice, Kate and Sophie are the girls we have kept so far, another pup, Bree, went on to be Puppy of Breed at 2013 Sydney Royal. Stud has leveled out our toplines, lengthened them through the gaskin and increased the turn of stifle. We haven't lost our fronts which we are very happy with, and the cross has maintained friendly, confident puppies. Stud has probably made these puppies even more energetic than what Jellevada Soldiers Blade or WP Blue Anzac were producing. The current Annie litter is one of the best we have ever produced. We are yet to test the working ability of this cross.
2014 will be the year we back cross to our own line. We cannot wait to see what this produces! We were planning on no more puppies for this year but at the last minute we have decided to send Meg (WP Eternal Flame) to Stud. The bitches we have sent to Stud so far have been WP Blue Anzac daughters. Meg is the first Levi daughter to go to Pavesi Five Card Stud.
July 18, 2013
Thought we would share some of the rich reds we have bred over the years. Using the ideas taught to us by Val Kirk on how to get a rich red colour, these are some of the dogs and bitches we have produced.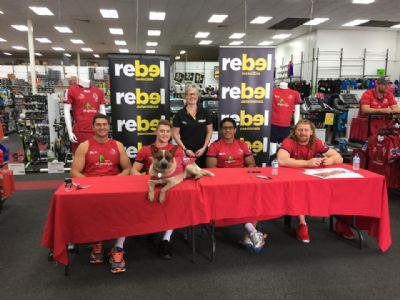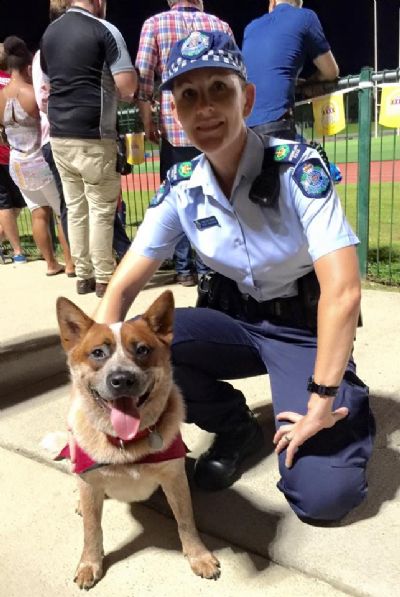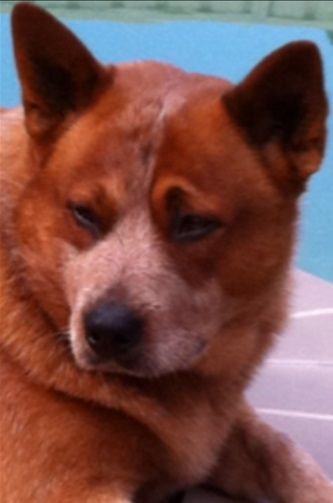 July 16, 2013

John and Anna have sent us more video of the talented Archie at 12 months old.

Look at Archie getting John a drink from the fridge https://vimeo.com/70235592

July 15, 2013
Over the past 3 days WP Blue Yarni (Yani), WP Inevitablue (Tess) and WP Custom Made (Zac) flew the flag for ACD's at an obedience seminar with the highly talented trainer from America, Denise Fenzi. She is a recognized expert in developing drive, motivation and focus in competition dogs, and is known worldwide as an expert in no force training for sport dogs. She has consistently demonstrated the ability to train and compete with dogs using motivational methods in sports where compulsion is the norm. Dogs with nobility, intelligence and a sense of fairness absolutely shine with Denise's ideas and methods - a perfect trainer for ACD's. She commented that Tess was a lovely little bitch, Yani certainly impressed with her calm, highly focused work ethic and Zac, well he received many comments about his bouncy, eager to please attitude. Denise making comment that for a 1yo entire male he worked very well under distractions. Everyone is behind Megan and Yani hitting the competition ring soon. Yani is working most of the UD exercises so will fly through the lower classes. Megan is wisely holding back such a talented young dog.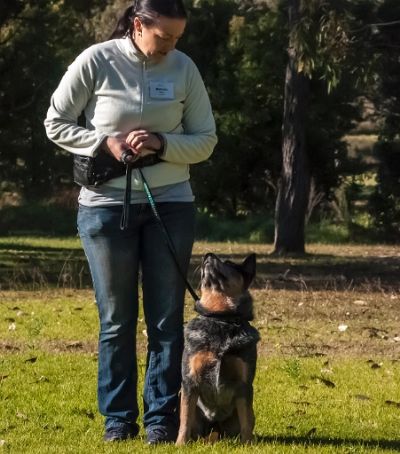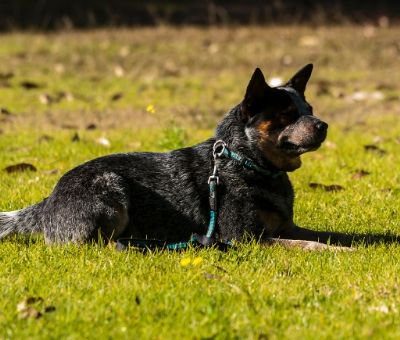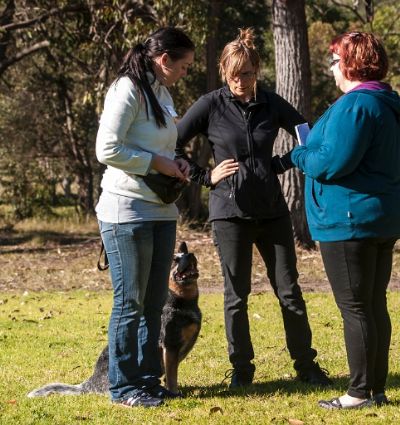 June 30, 2013
This is Alice (WP Wind Song), she is by Pavesi Five Card Stud out of WP Blue Breeze HT. This is at her first show where the judge commented that she is a lovely type but was beaten for baby of breed by our own Ted (WP Bush Tribute). Very much like her mother with that suspicious glint in her eye. All of these puppies have had jaw dropping movement, Flynn (WP Come in Spina), Bree (WP Poker Face), Sophie (WP Queen of Hearts) and now Alice have received great comments from the judges who have seen them.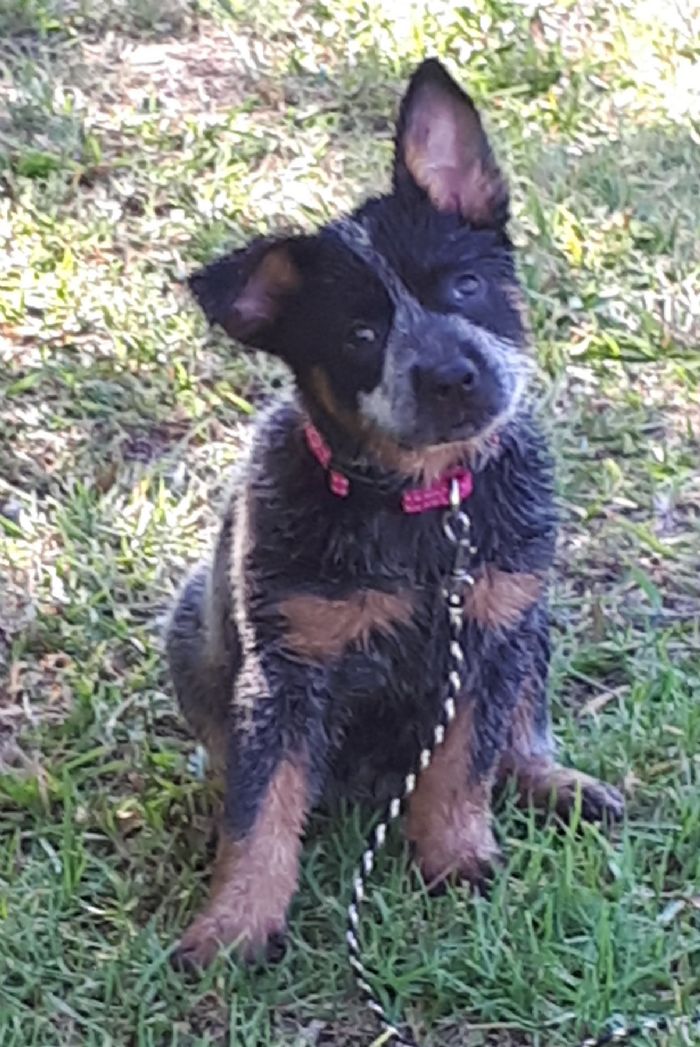 June 29, 2013

One our favourite girls Breeze (WP Blue Breeze HT) is now almost halfway to her Ch show title after her second weekend of showing, Breeze has lived in our kennels and has never had formal show training, she is just such an intelligent gem of a dog that she just seems to work everything out. She was exactly the same when she did her Herding Instinct Certificate and her Herding Test title. Very little training but worked out what she needed to do. She is a fantastic brood bitch as well, her daughter being awarded Best Puppy of Breed at Sydney Royal this year. Breeze is the first dog to give you a cuddle if your sad, to say we are delighted with her is an understatement,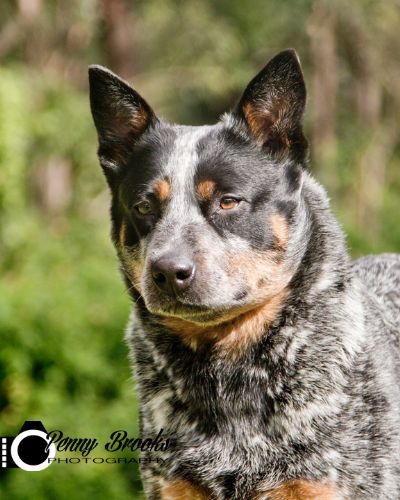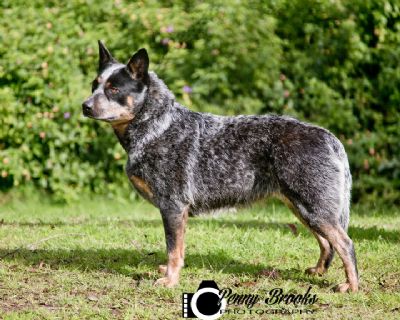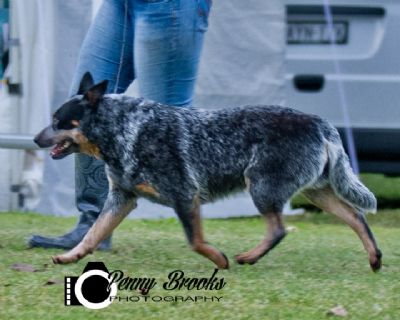 June 27, 2013

Willowpark ACD's would like to say a huge thank you to Belinda Carter,not only has she made a huge impact with her two Willowpark ACD's Tess and Zac, taking on huge tasks with these dogs and doing it with flying colours. She has also handled dogs she had never handled before an taken them on for many wins in herding and conformation classes. We believe she really has so much to offer not only with this breed but with all breeds. She has never thought that anything was to hard for our dogs. Belinda comes and takes the dogs off to herding and shows, and all the dogs adore her.
We believe we need more young people like Belinda and we should all welcome her with open arms at our clubs and shows and not feel threatened by her knowledge but embrace it. We have learnt so much from her. We believe she really has the right foresight to take our breed into the future.

Thankyou again Belinda
We think you are great.

June 15, 2013

WP Custom Made (Zac) does such a great job at the NSW Sporting Committee Herding Trial finishing off the final leg for his HSAs title. What makes this title even more special is Zac is still only 1 year old. We have had countless people say 'cattle dogs cant work sheep' and our answer to that is 'if they are smart enough and trainable enough they can'. Adjusting his speed and distance to the flight zone of the sheep we drew, he showed much maturity. Some lost points on the cross drive when the sheep retreated but overall a neat,controlled run for 89/100.

June 14, 2013
Due shortly is WP Hot 'n Steamy (Annie) to Pavesi Five Card Stud. This will most likely be our last time using Stud as we have achieved some beautiful bitches to cross back to Levi. Annie is the first red we have sent to a Pavesi dog and with a strong red bitch line behind her we really do have our fingers crossed for some lovely reds. Also pregnant to Pavesi Five Card Stud is a bitch who could produce us another full outcross dog or bitch to run on - Queblue Tanloch Bride. She is a lovely, outgoing girl. If these blood lines interest you (Willowpark x Pavesi and Queblue x Pavesi) please send us an email detailing what you are looking for and what you would like to do with your new puppy. All will be unaffected by PRA and on limit registration unless otherwise discussed.

June 8, 2013
Success for WP dogs at Newcastle & Merewether Canine Club shows. After having 2 stunning litters, and producing the Puppy of Breed winner at this years Sydney Royal, WP Blue Breeze HT (Breeze) enters the showring and picks up 25 points on her first weekend away. She wins 2 bitch challenges and a Best of Breed.
WP Custom Made RN PT (Zac) is awarded one Best of Breed and a dog challenge.
Our new boy WP Bush Tribute (Ted) wins a Baby in Group from a super competitive line up. Here are some photos taken of him at 18 weeks old.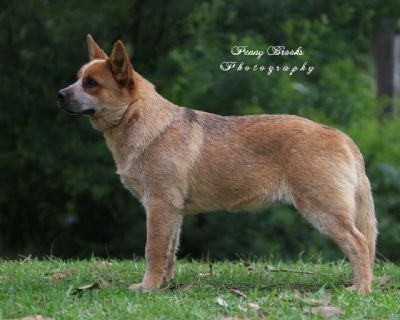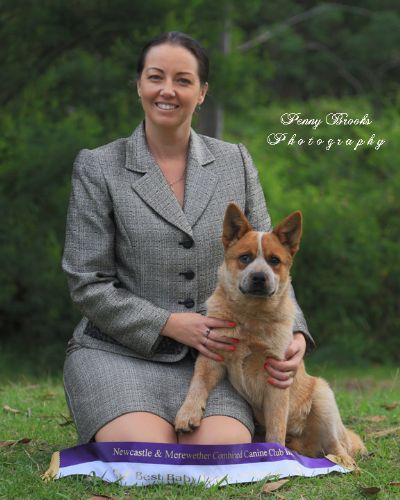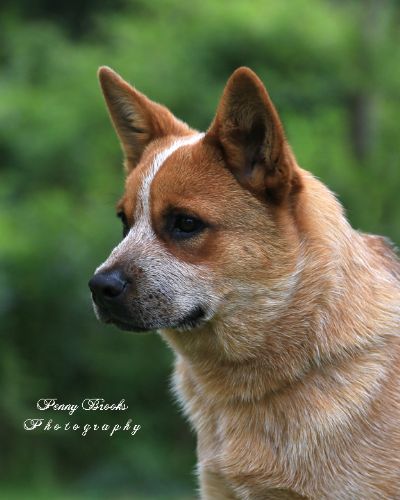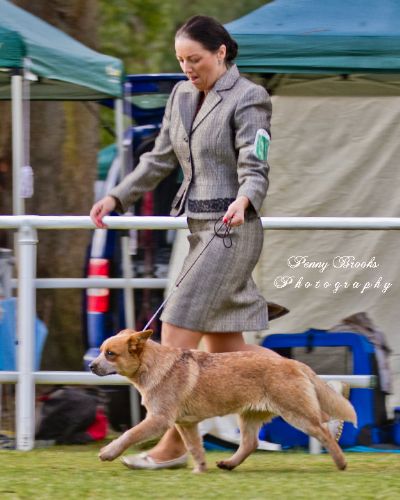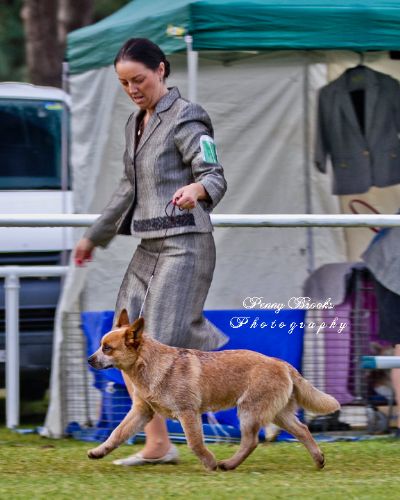 May 10, 2013

WP dogs are just not pretty faces! Some of them working cattle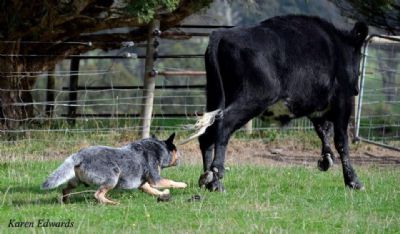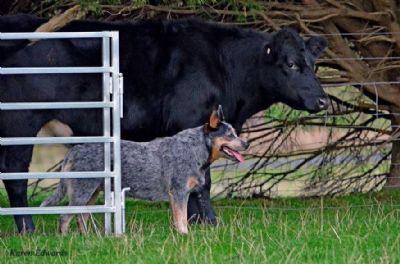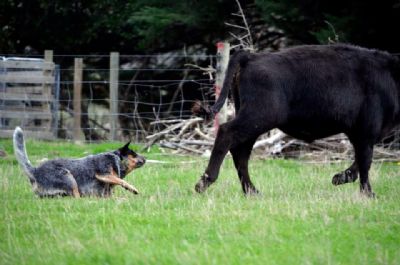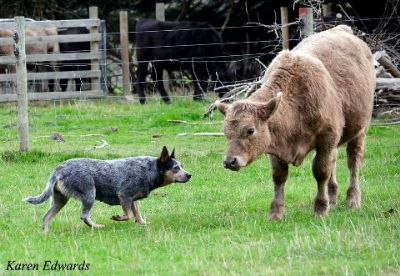 May 2, 2013
We are really excited about some opportunities which have arisen to continue the Jellendore bloodline and to test another outcross. Maintaining our first priority of breeding for temperament and trainability influences our choice of sires. The Pavesi outcross produced intelligent, drivey puppies.
Tilly, the litter sister to WP River Dance and WP Blue Breeze HT is currently in Adelaide visiting Am/Aus Ch DuWest Say No More. Tilly left her home in beautiful Cape Tribulation and hopefully returns with a positive pregnancy. Du West Say No More was chosen due to his substance and his long pedigree of show, obedience and herding titled dogs. As we know from our own training dogs need to have brains, nerve and and a biddable nature to excel in the dog sports. We are really excited to see what Tuffy and Tilly produce.
Preserving the Jellendore line is very important to us and for the past year we have been searching all over Australia to locate as many as possible. Staying with us for awhile is a stunning 7yo dog, Loftysblue Buddy (Franko). He is a combination of Mageela, a West Australian line which produce good workers, and Jellendore. Franko is PRA A. We will decide which girl is most compatible for him.

April 27, 2013
WP Custom Made (Zac) earns his first Herding Started A Course sheep pass at the Australian Shepherd Club of Victoria trial. Such an impressive effort after competing in two A Course cattle trials earlier in the morning. Both he and WP Inevitablue (Tess) competed in their first cattle trials and did so well considering they only worked cattle for the first time 2 days earlier. Every run saw them improve greatly. Both managed the Y chute, Z chute, panels, cross drive and penning, just need more experience to understand and work out how cattle behave. Tess learnt the hard way to avoid being kicked, but she rallied and showed even more tenacity to control the cattle. For a 21 month old Zac showed a huge amount of trainability and intelligence, being asked in the morning to throw every bit of tenacity, boldness and willingness to bite the heels of the cattle to then come back to the controlled finesse of sheep herding a few hours later. A massive ask for any novice dog, let alone one so young.

April 25, 2013

WP Custom Made (Zac) and WP Inevitablue (Tess) work cattle for the first time. Both did really well, and improved in their understanding of how cattle behave each time they worked them.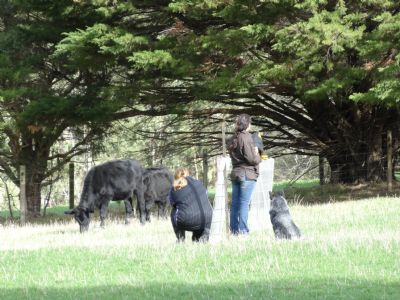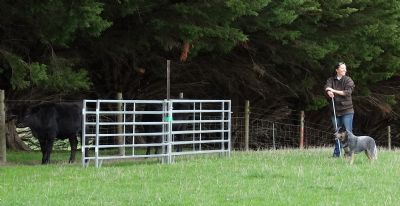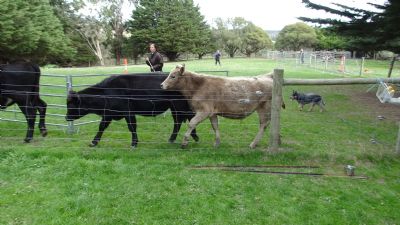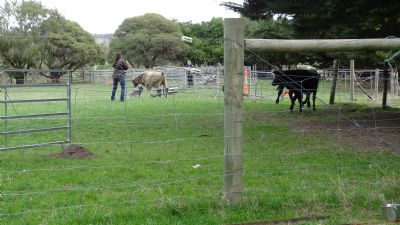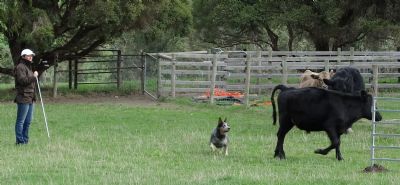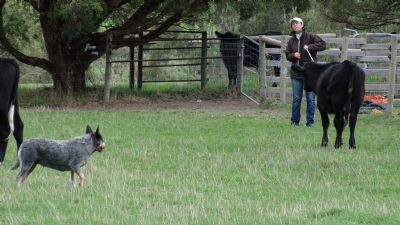 April 16, 2013

We are pleased to say that WP Inevitablue (Tess) and WP Custom Made (Zac) have become part of the Responsible Pet Ownership team run by the Department of Primary Industries. They will be visiting primary schools to teach pet ownership and dog safety to children. They passed the suitability testing which was very tough..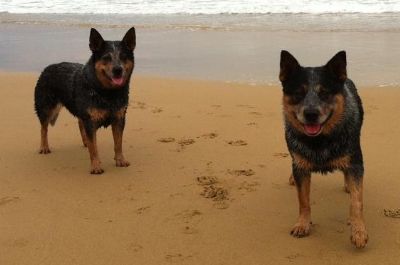 April 15, 2013
More photos of WP Poker Face (Bree) at Sydney Royal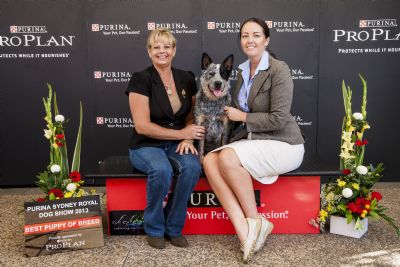 March 25, 2013

WP Poker Face (Bree) wins the Puppy bitch class at Sydney Royal, then goes on to be Puppy of Breed. She showed like a dream, alert, ears pricked, stacked perfect, and showed the same movement all the Stud and River or Breeze puppies are all showing. She had a brand new handler for the day so her maturity and poise was even more impressive! Official photos to come.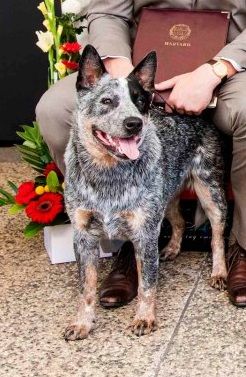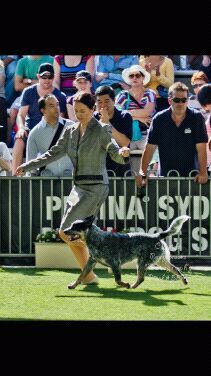 March 21, 2013

These are stunning photos taken by Sydney photographer Carla Ghysels. Father and son photos - Burrenjup Hot Coals (Levi) and Willowpark Custom Made RN PT (Zac). They were so well behaved in the studio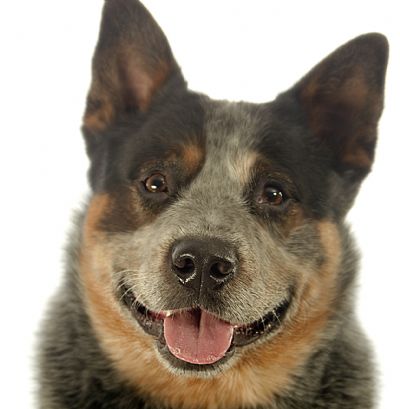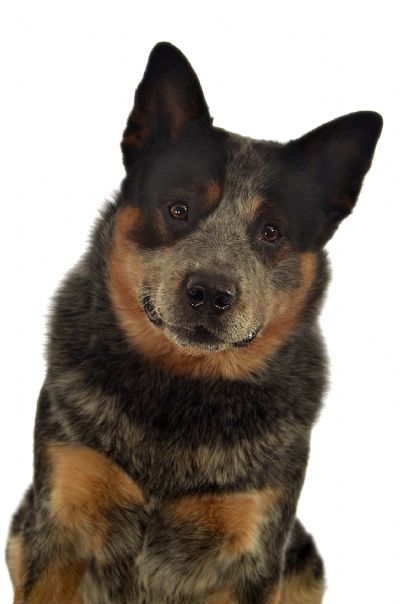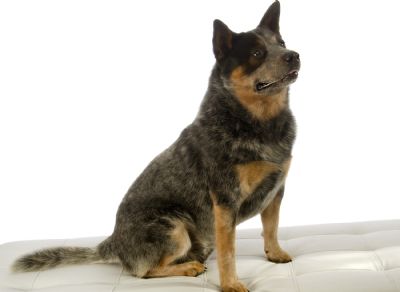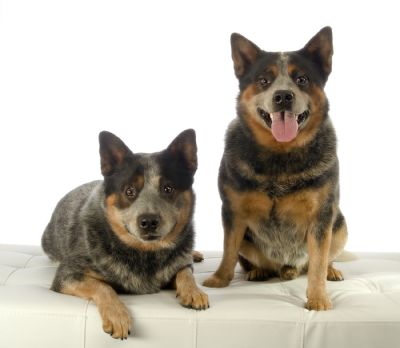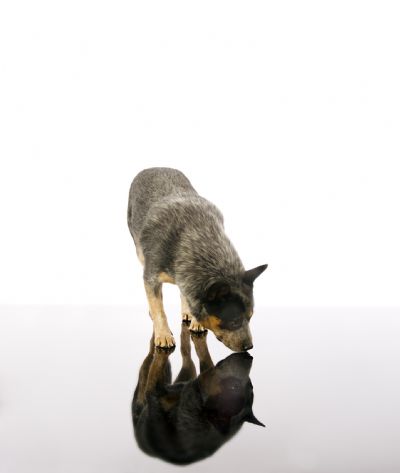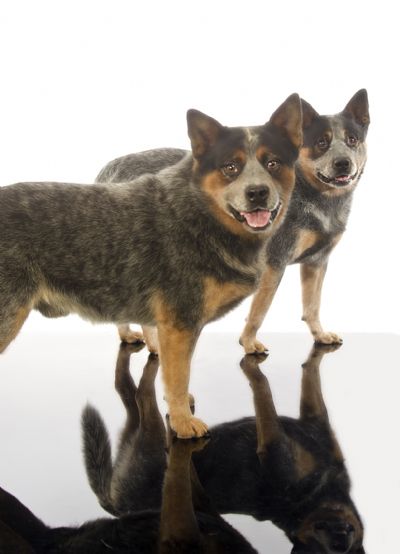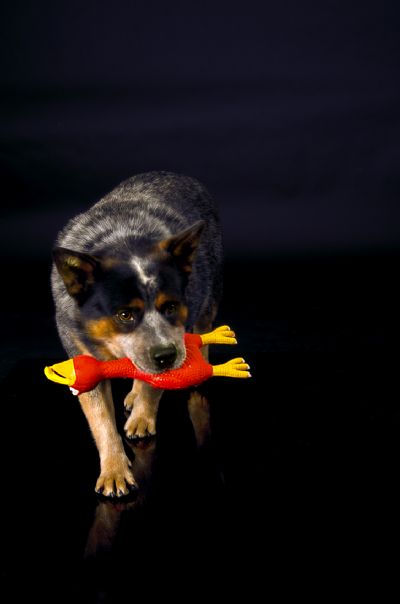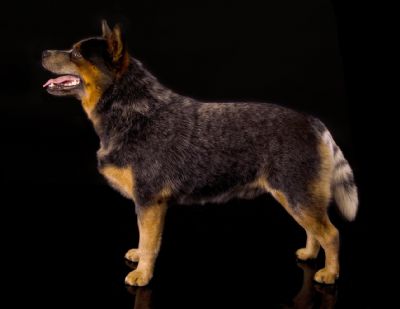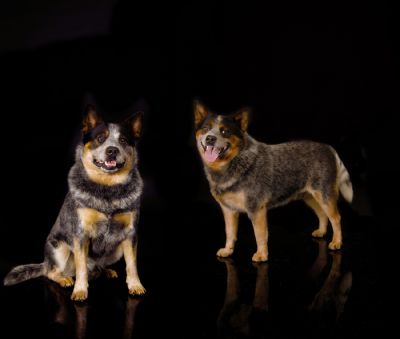 March 18, 2013

We have no doubt as to the home Holly has gone to in Mackay, QLD. These photos are so beautiful. Holly is one our Pavesi outcross puppies and has so far impressed everyone who has met her.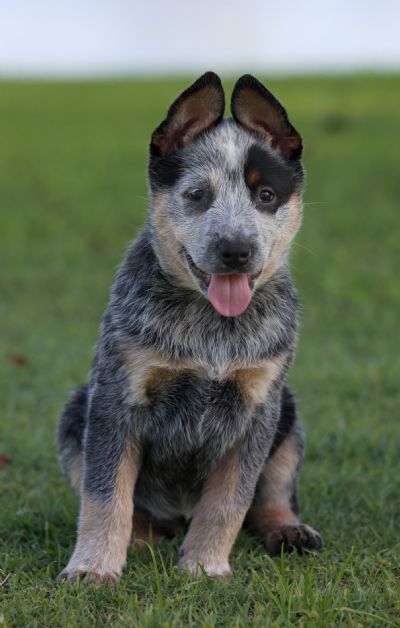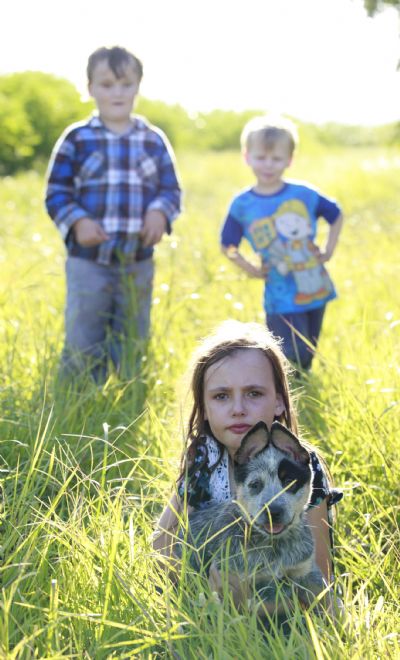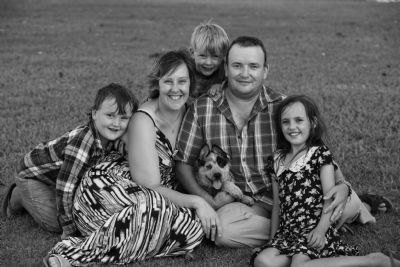 Bentley in his new home as a tradie's assistant, living the life on Bondi Beach. Bentley is another Pavesi outcross pup.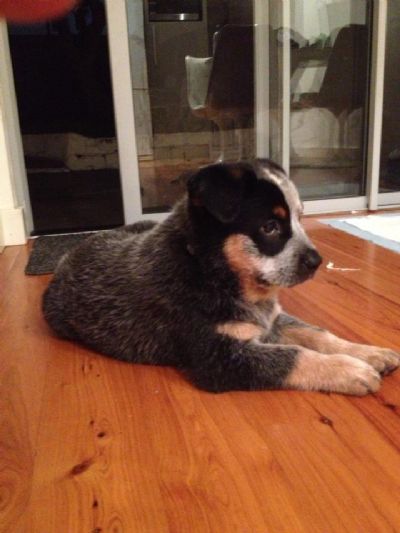 March 17, 2013
This is our new little male Ted, who features some old Willowpark bloodlines which predate our main stud dog WP Blue Anzac, with some Rediron blood as well. We look forward to running him on to see how he grows. Here he is with Burrenjup Hot Coals (Levi)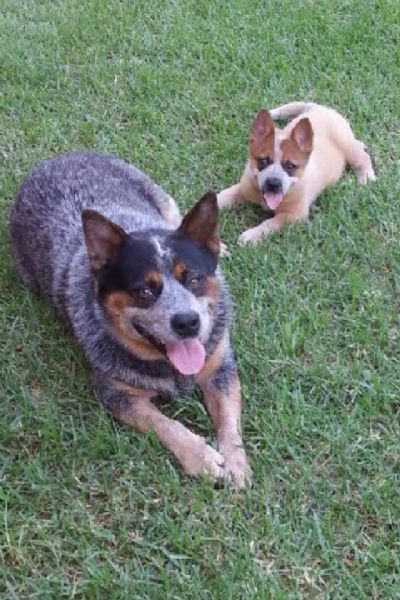 March 1, 2013
Aust Ch WP Inevitablue CCD RN PT HSAs (Tess) has two healthy pups to WP Blue Shade. We would love these puppies to go to working or competition homes. They should be ideal cattle dogs for anything you want to do with them. Perfect for obedience, agility, herding, or working.
Girl pup with mum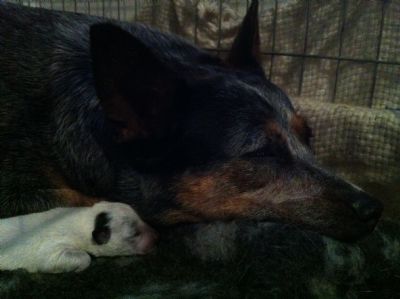 Boy pup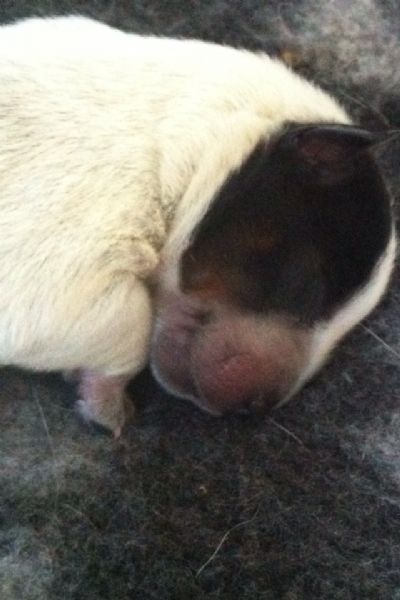 February 27, 2013
Some of our super cute puppies. This is a girl from the Pavesi Five Card Stud/ WP Blue Breeze HT litter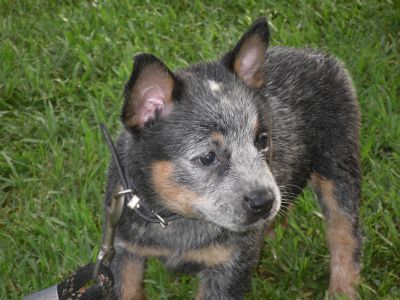 These are some red puppies from the WP Blue Shade/ WP Eternal Flame litter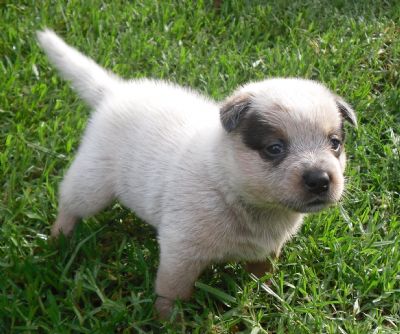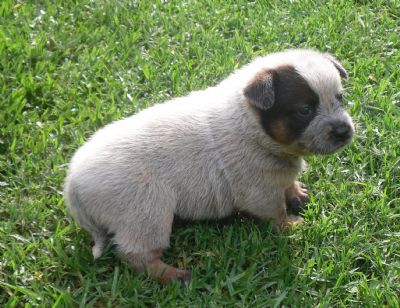 February 17, 2013

The wonderfully talented Melissa Turoczy made this photo of Aust Ch WP Inevitablue CCD RN PT HSAs (Tess), we just love it. This talented girl is expecting her first litter in a weeks time.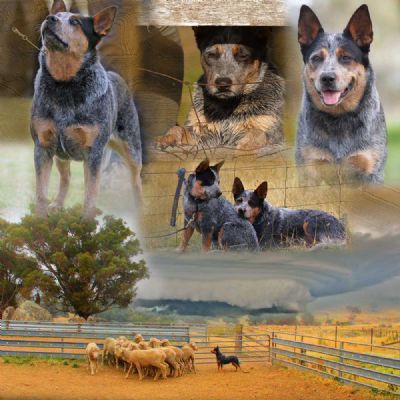 February 16, 2013
What a wonderful email and video of Archie, from the Levi/Rain litter
Hi Sandra,
Sorry for not getting in touch with you sooner to let you know how Archie is going but we wanted to make a video so you could see for yourself!
First of all, we'd like to thank you for giving us such a wonderful dog. He has such a loving, friendly and calm demeanour. He was also confident and bold as a young puppy with a steady nerve, which made everything a lot easier. He's extremely smart and I've done a lot of training with him, teaching him many tricks and commands.
He's got lots of fans at the dog parks, as he'll go up to people wagging his tail with his ears pinned back and sit at their feet, waiting for a pat. He also loves playing with other dogs and is so gentle, adjusting his playing style to match the size and energy of the other dog. We've even helped teach a few scared puppies how to play because he's so gentle, calm and patient.
Needless to say, he's like velcro and sticks to me closely wherever we go, whether it's just around the backyard or out in the park. The bond between us has just grown and grown, to the point where he knows exactly what I'm thinking and will act accordingly. I've spent a lot more time, walking and training him than Anna, so his loyalties definitely sit with me, but Anna's a close second.
He's seven months now and we know the next year will be the toughest as his teenage spirit really kicks in. But we're confident that we've laid the platform to tackle it. We've been very strict with his training and what we expect from him and he's responded brilliantly. He's just such a happy, responsive dog.
We did have him de-sexed at 6 months, just for health/lifestyle reasons, but it didn't affect him in any way.
It's been really hard to write this email, because words don't do justice to express how happy we are to have Archie in our lives. We know he feels the same way too.
Once again, thank you so much for giving us the chance to own such a beautiful dog.
We hope you like the video (the link is below) and feel free to post it on your website or share with others.
Love,
February 12, 2013
We received this lovely email - its always nice to hear how our puppies are going in their new homes. Dusty is from the Levi/Summer litter

"Dear Sandra,
Just a small update on our delightful, playful female puppy "Dusty". Just on 12 weeks old she is so responsive to learning a cheeky delight. We would like to congratulate you on your breeding.
She has a lovely temperament and has fitted in our household without too much trouble.
Have included some photo's of her first time at the beach with her male playmate.
Nurelle"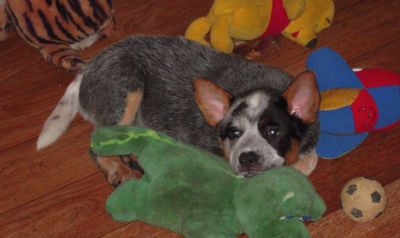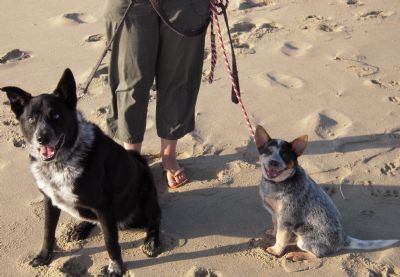 February 9, 2013
WP Poker Face is doing so well in the show ring. In her first time in Minor Puppy she picks up 17 points in 2 shows winning Best of Breed both times. Much like her brother WP Come in Spina she moves effortlessly around the ring, and has that real sparkle from their dam, WP Blue Breeze.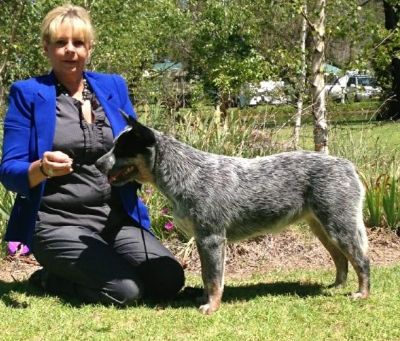 February 9, 2013

These are our two favourite puppies from the Pavesi Five Card Stud/WP Blue Breeze HT litter.
The male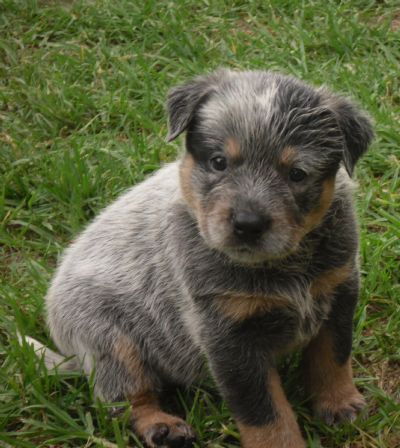 The female pup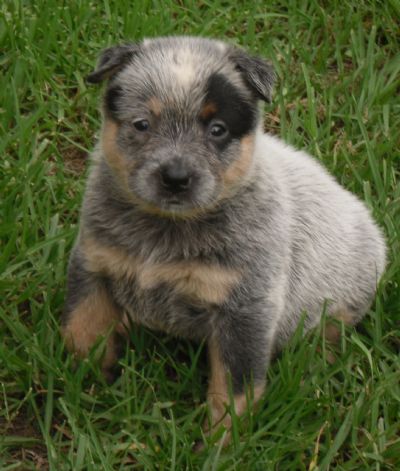 February 6, 2013
Aust Ch Willowpark Inevitablue CCD RN PT HSAs is due on March 1st. She is already showing!
Tess achieved 6 titles in 4 disciplines before her 2nd birthday, and Shade has consistently produced exceptional working dogs. At the age of 9 he is still working cattle. He is highly intelligent with solid nerves. Both dogs have genetic mental soundness and cognitive abilities.
Tess has won Baby Puppy in Show at specialty level, been awarded a Runner Up in Group, won and placed in Obedience and Rally O competitions and is the youngest dog of any breed to earn her PT herding title. She can be worked safely on sheep and cattle. Tess is a wonderful companion, so easy to live with. She gets along with everyone. Shade is very similar.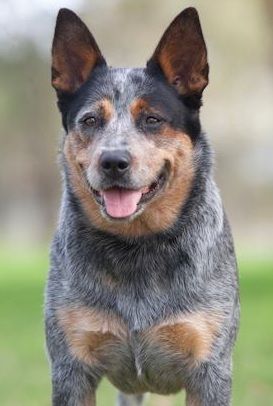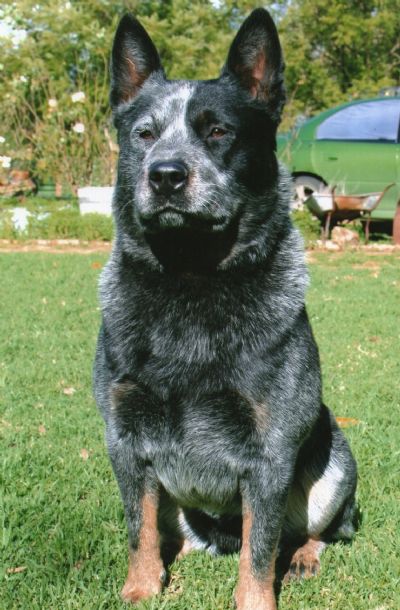 February 5, 2013

This is Gypsy, from the Levi/Molly litter with her best mate Grampus, When Grampus lost his last friend Alison contacted us looking for a really good natured new friend for him. Turns out to be a great match.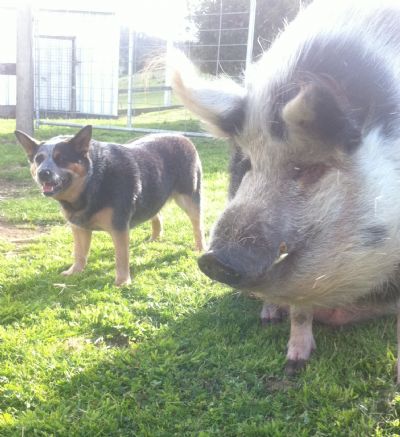 January 16, 2013
We received some great photos from a lovely friend Gail. Gail bought Ellie (WP Bush Ellie) from us as a pup and then brought her back to be mated to Jellevada Soldiers Blade. Gail kept Wheatley from the litter and has done nursing home visits with the two dogs. Gail tells us they have brought so many smiles to patients and have just been a delight to live with.
This is Wheatley as a pup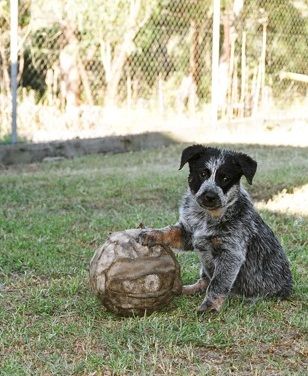 And Ellie with Gail and enjoying the surf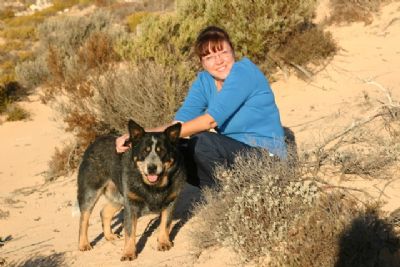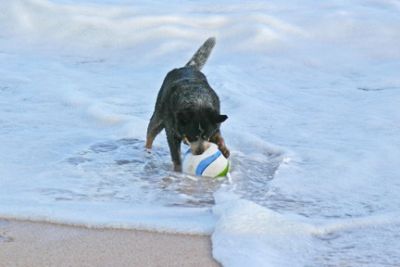 January 8, 2013
Breeze and her 10 pups stretching out under cooling fans in the 43 degree heat. Luckily our kennels are double brick, and with the help of fans and ice blocks the dogs did very well. We had to take the ice bricks from Breeze though as she kept trying to lay the ice bricks on her puppies. Not quite how we saw them being used!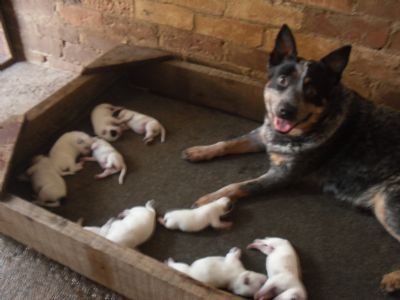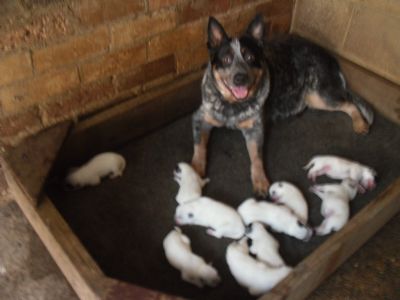 January 6, 2013
WP Blue Breeze HT (Breeze) has her puppies to Pavesi Five Card Stud. This is a repeat mating after the two stunning puppies we were blessed with last time. Breeze will be having a long break from motherhood now after producing 10 live, healthy puppies by C Section this morning. Sadly one little guy didn't make it - but 11 puppies! we are so happy that 10 are healthy and alive. 8 girls and 2 boys. We have been very happy with our 3rd outcross to Pavesi, running on pups from the previous 2 litters. We cant wait to see how the girls from this 2nd Breeze litter develop. The first Breeze/Stud litter produced two puppies - WP Come in Spina (Flynn) and WP Poker Face (Bree) - both who have been successful in the ring in the Baby Puppy class.
January 2, 2013
These are our River and Summer puppies at 7 weeks old.
By Pavesi Five Card Stud out of WP River Dance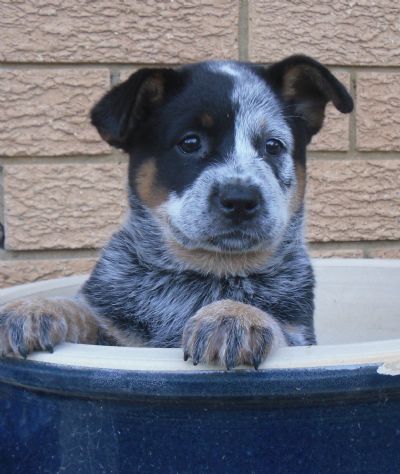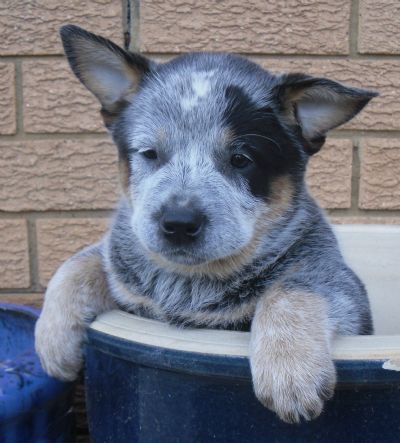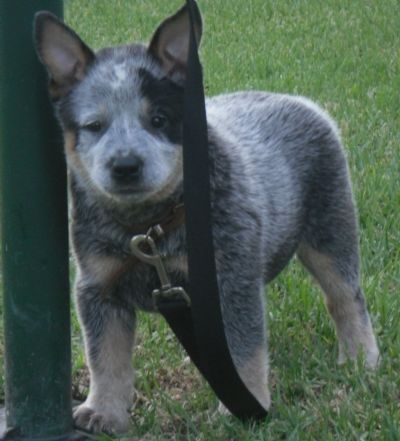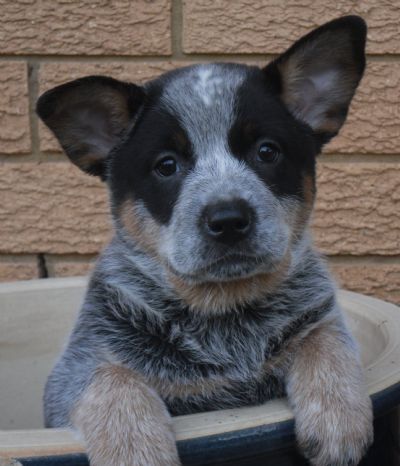 By Burrenjup Hot Coals out of Barkingpines One of A Kind

Summer is full Jellendore breeding