Latest News
8TH DECEMBER 2019
Well its been quite an eventful few months. Can't say its been all great.
What with the drought and those horrendous Bushfires coming to close for comfort to us, we were lucky where a lot where not unfortunately.
In amongst all this, May (CH WP Tequila Sunrise) had a litter of 5 babies, one baby did not make it, but the other four thrived and are going to their new families this week. We also managed to get WP Kakadu Dusk mated to WP Rocket Man, so fingers crossed.
I have put a mixture of pics, May and her babies and some of the fires that have Played havoc on our beautiful region. So mush of our beautiful Fauna have been lost.
As I write this, the fires are burning all over our State, and we are just coming into our Summer, with no rain in sight. We are all praying for rain right now. Lets hope that We see some very soon.
On a good note Our Beatiful boy Brew ( WP Crocodile Roc) has been to a couple of shows and won baby in group and a very nice minor in group and gaining his first points. Brew is just a delight to handle and own.
Mays blue girl 6weeks old.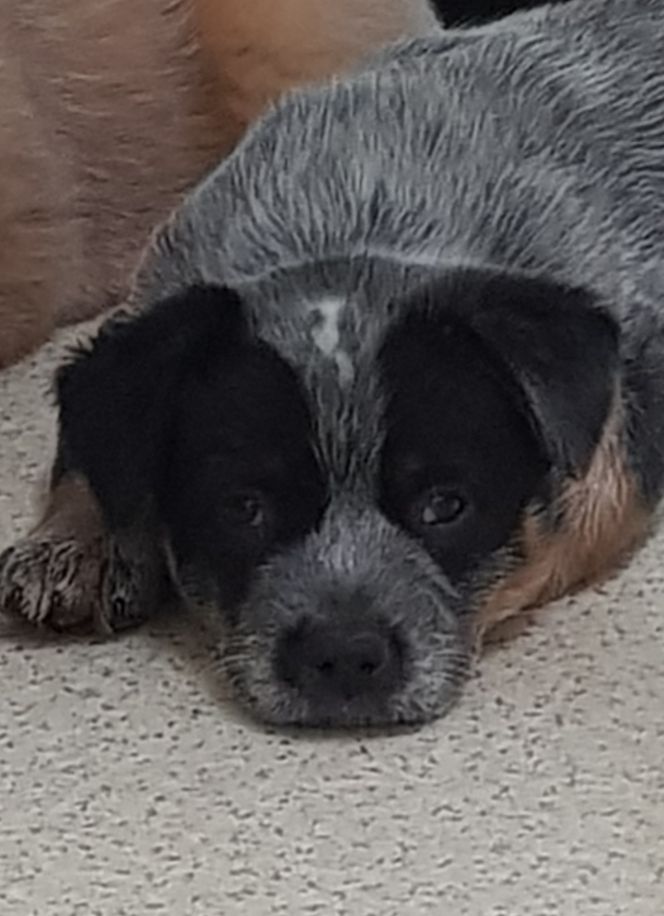 Mays blue boy 6weeks old.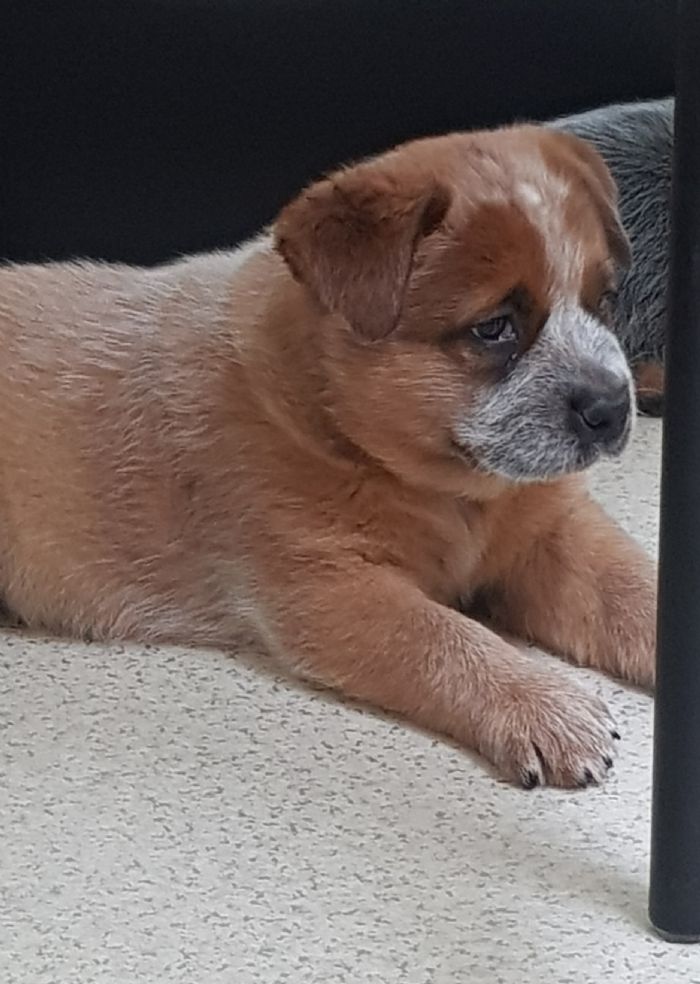 Mays Red girl 6 weeks old.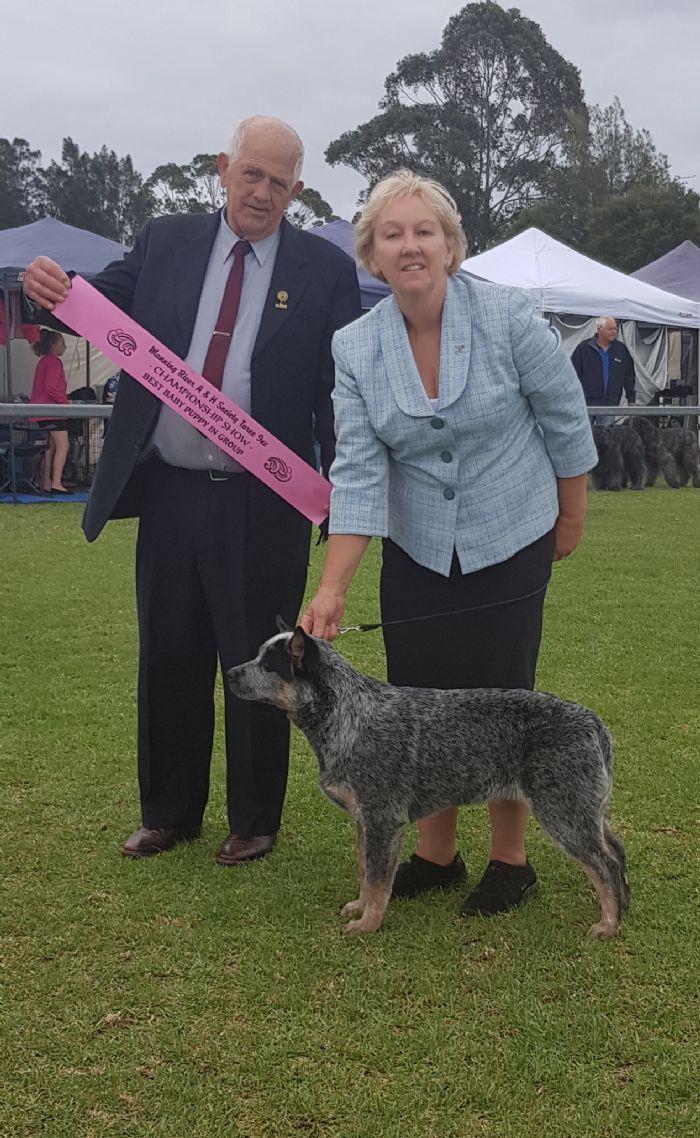 BREW 6 and 7 mths old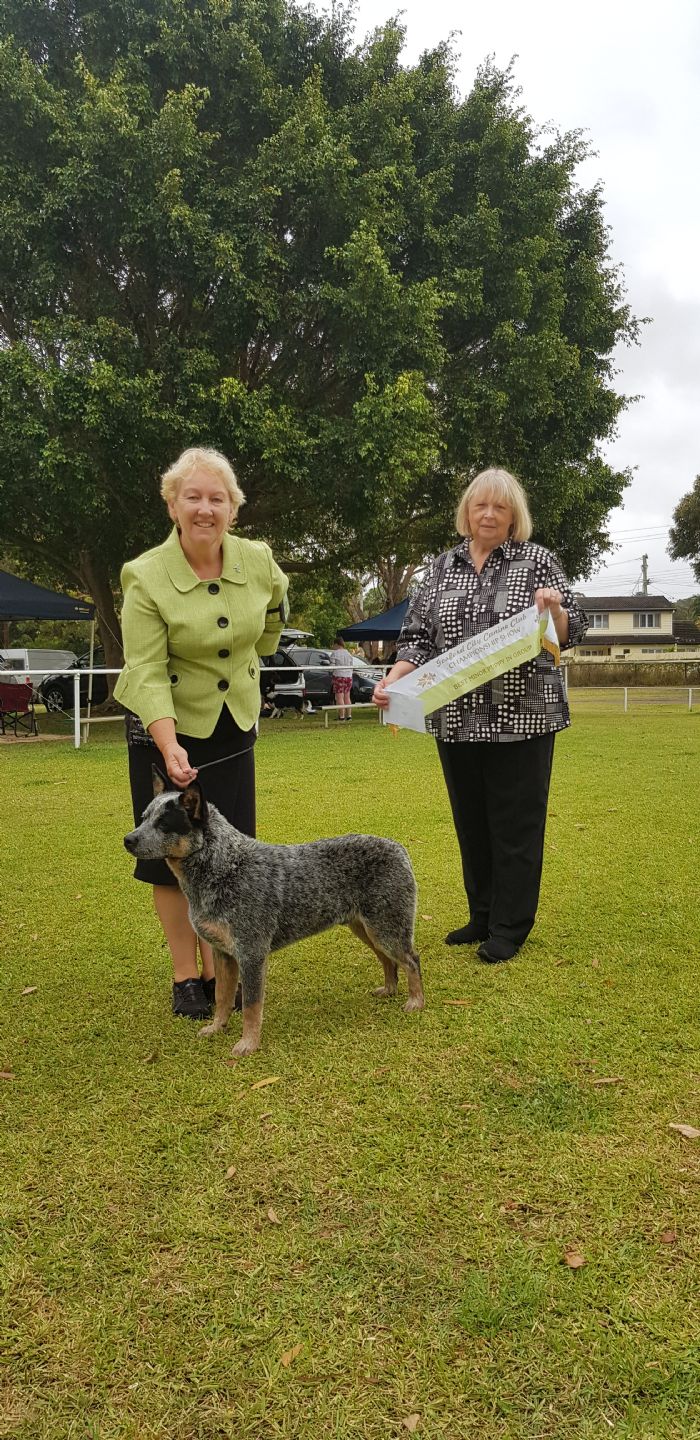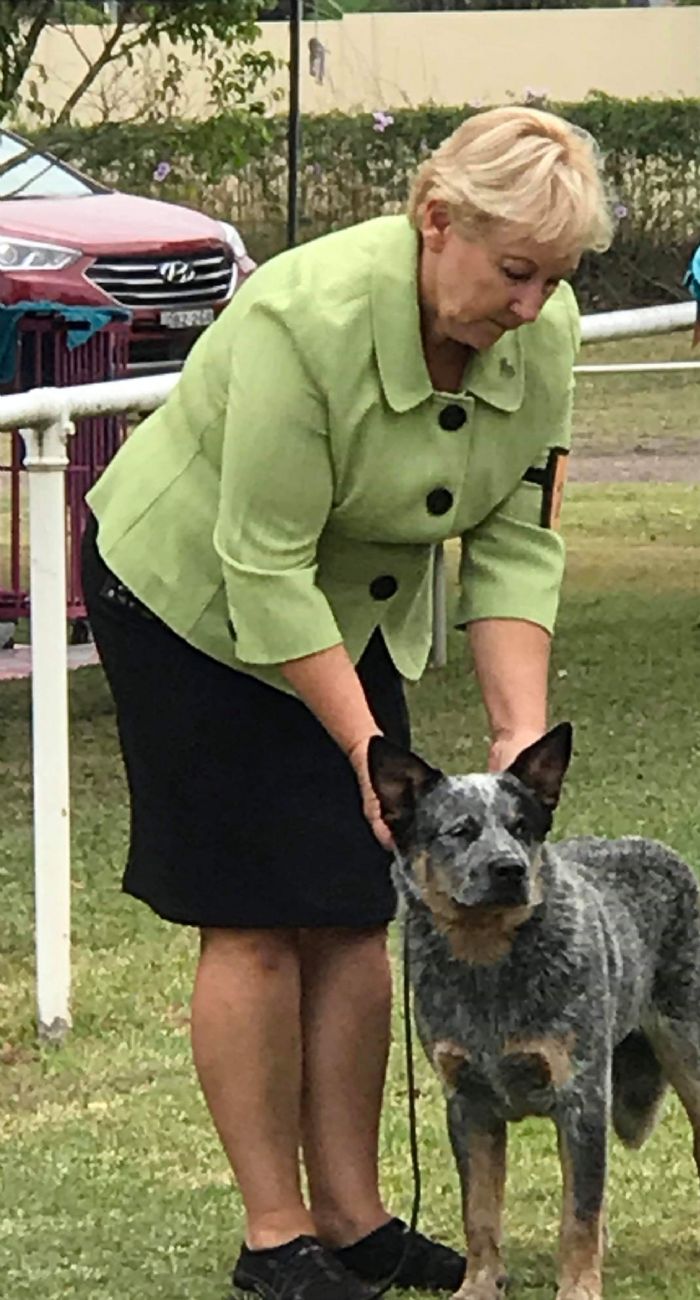 The Fires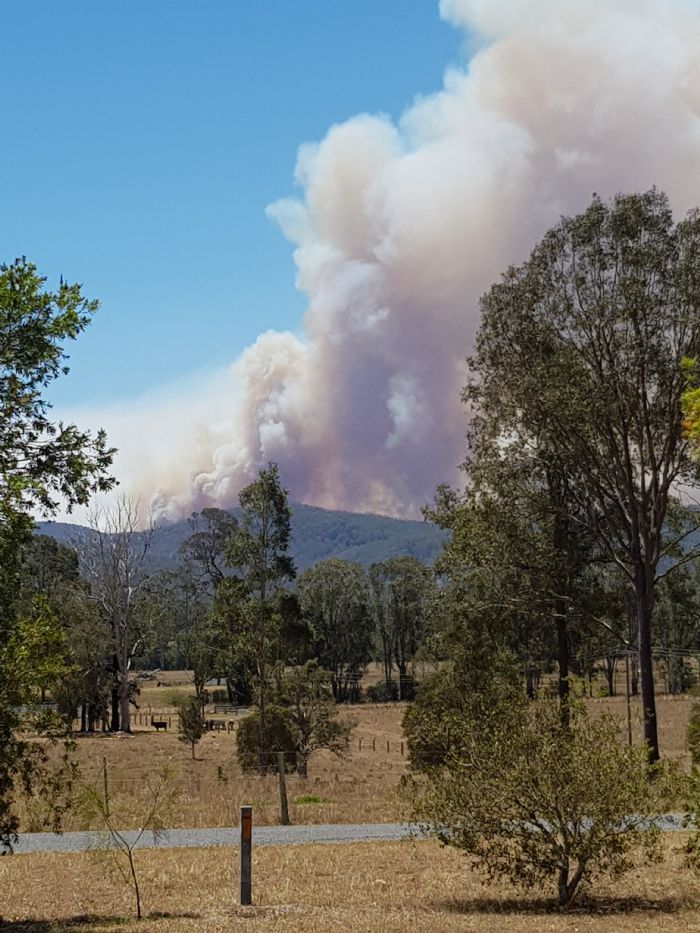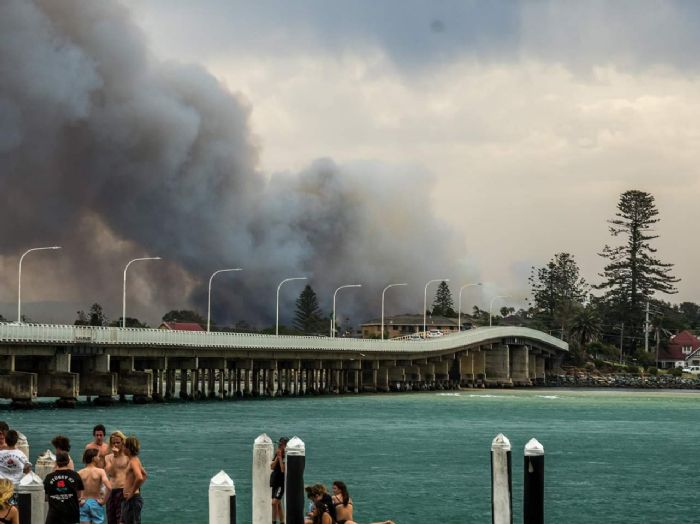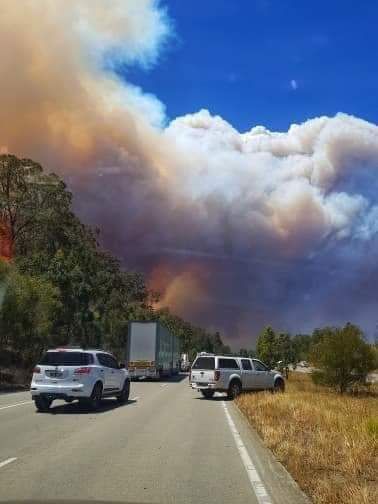 5TH OCTOBER 2019
Well Aprils litter have all been placed in their lovely new homes. Gosh that time just flew. Has been great getting updates on all the puppies and i will put more pics up as i get them.
This little one is Bella, and looks like she has fitted right in with her new family.
Thanks Jason for the lovely pics.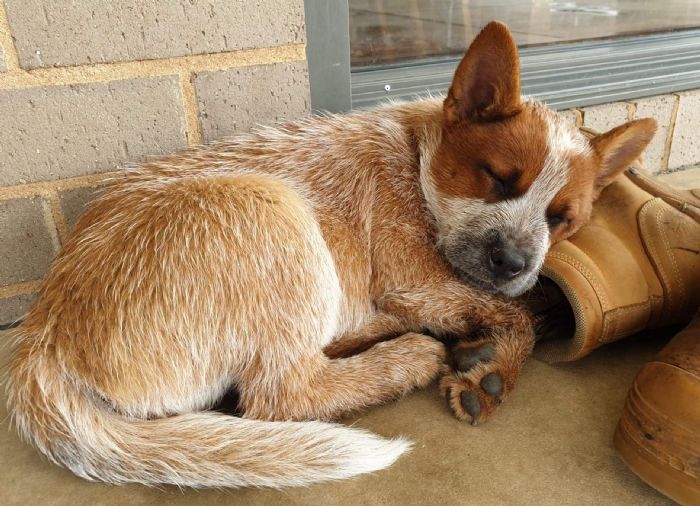 21st September 2019
We ventured out to Coffs Harbour show today. We took Both WP Cocodile Roc (Brew) and his sister WP Gossip girl (KD) this was their first show. They were both little super stars. Very happy with their outgoing, confident attitude. Brew beating his sister for Baby of breed.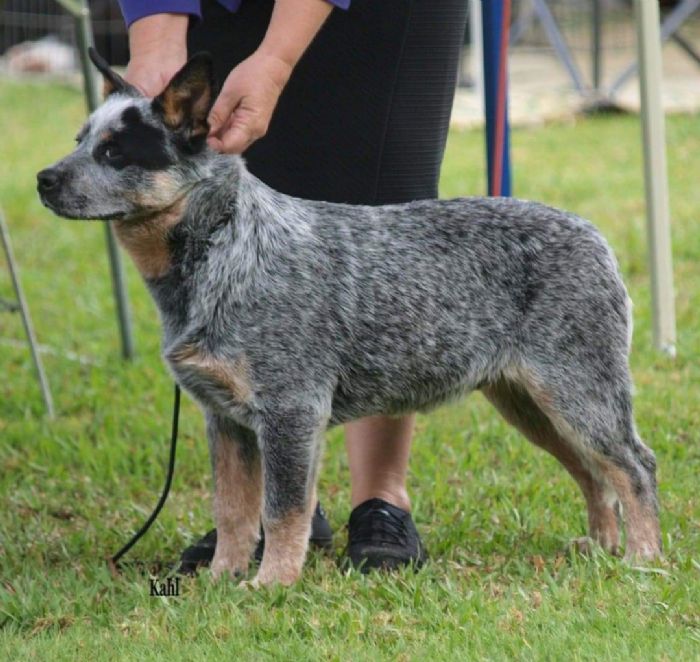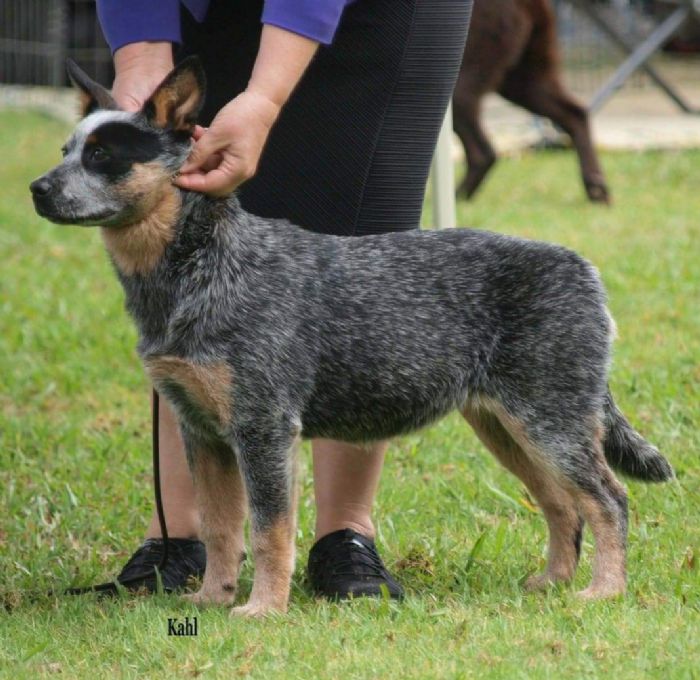 28th July 2019
In the early hours of this morning, 8 gorgeous puppies were born to WP Lady Marmalade, 6 boys and 3 girls. April is an amazing mum.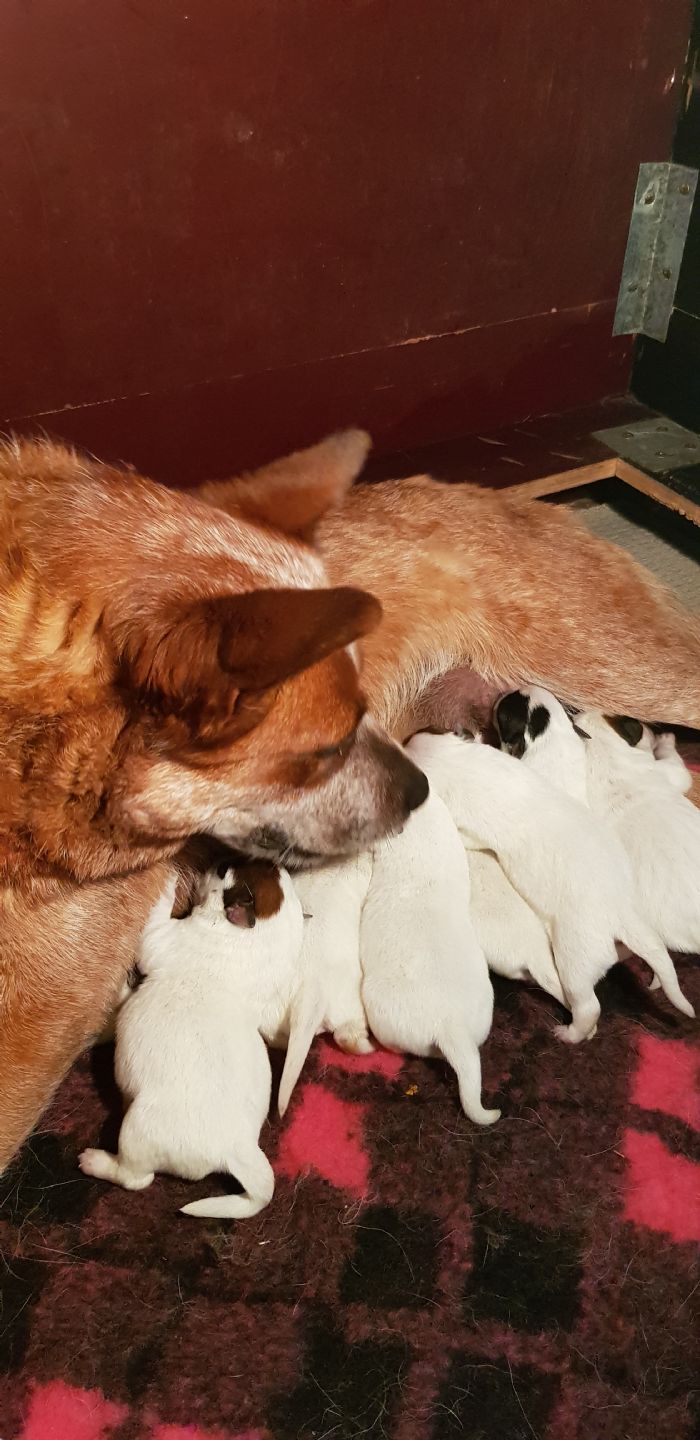 15th July 2019
WP Spirit of the Bush ( Cloudy) winning best Minor in show at Kempsey.
Congratulations to Vera, Marcus and Cloudy, well done. Great Win.
18th May 2019
CH WP Shooting Star went to live with her new family today. A few tears shed, but needless to say, Star will have a wonderful life with Charles and Claire who have said she settled in quickly and she is everything they wanted from their new friend. They love her to bits. Thankyou so much guys,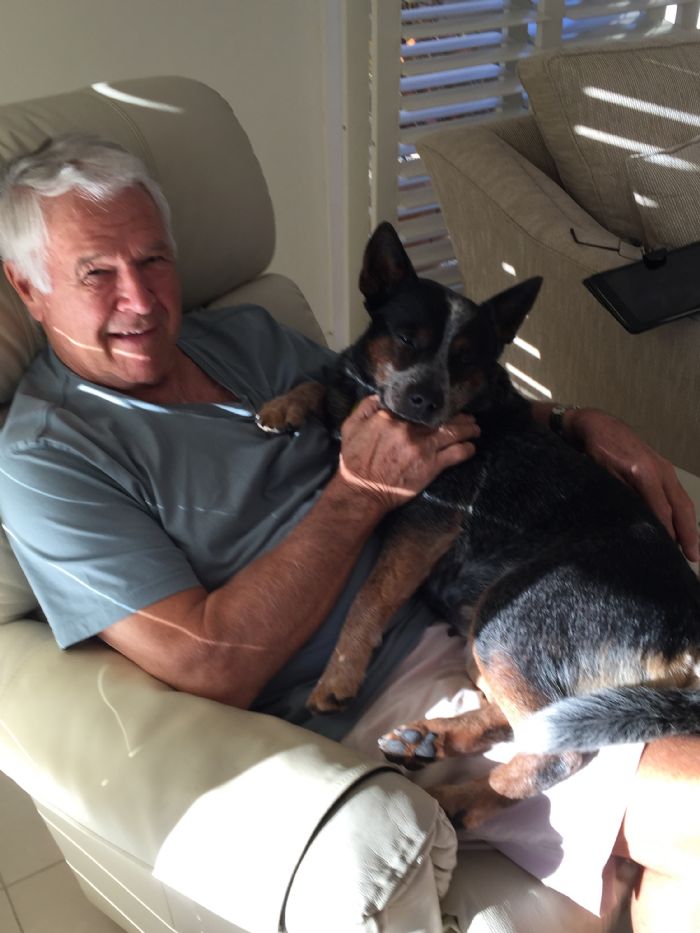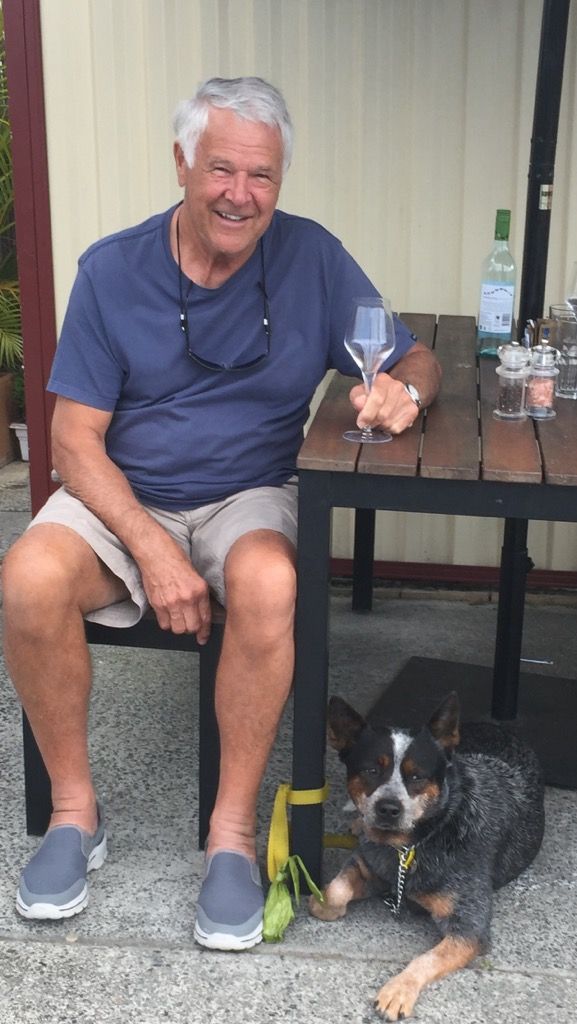 5th MAY 2019
Abbeys (CH WP Burn For You ) and Boss (WP Rocket Man) babies are now five weeks old. Loved this Combination,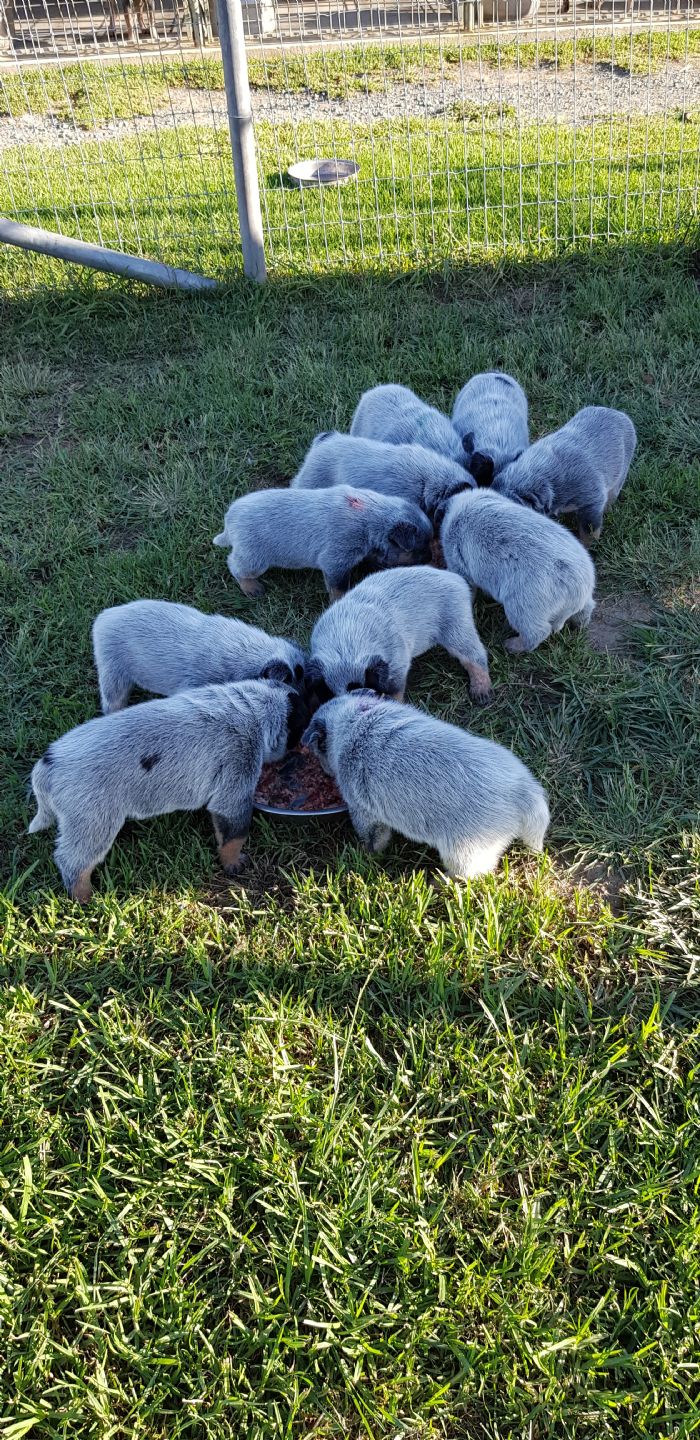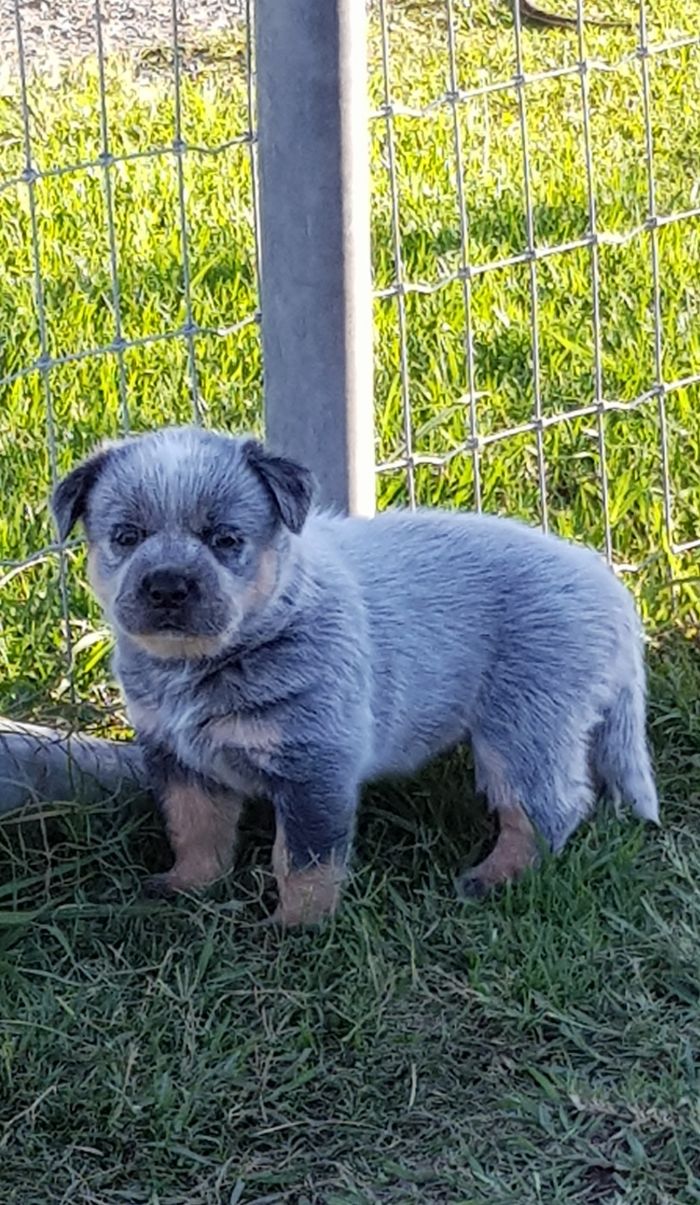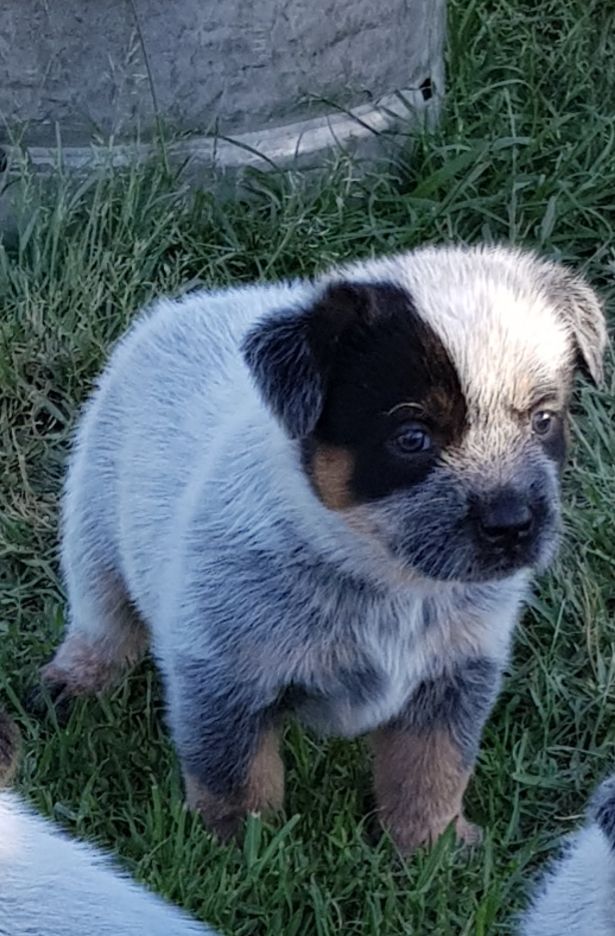 5th MAY 2019
Wow how the year has flown, thought it was time for some updates.
So here goes.
We ventured up to a three day show at Coffs Harbour for a bit of fun and a get away with some of the dogs.
WP Spirit of The Bush ( Cloudie) took out baby in group at two of the three shows, and was a very well behaved baby.
Mick was BOB at two of the shows and one two Aus Bred in Groups.
Veras Bindi Was BOB at one of the shows and finished her title, well done guys.
Raphy (WP Bohemian Rhapsody) was the star of the group and with limit showing and at only 7,5mths old took out three Best Puppy in show and two Runner up in Groups, What a great effort for this young girl.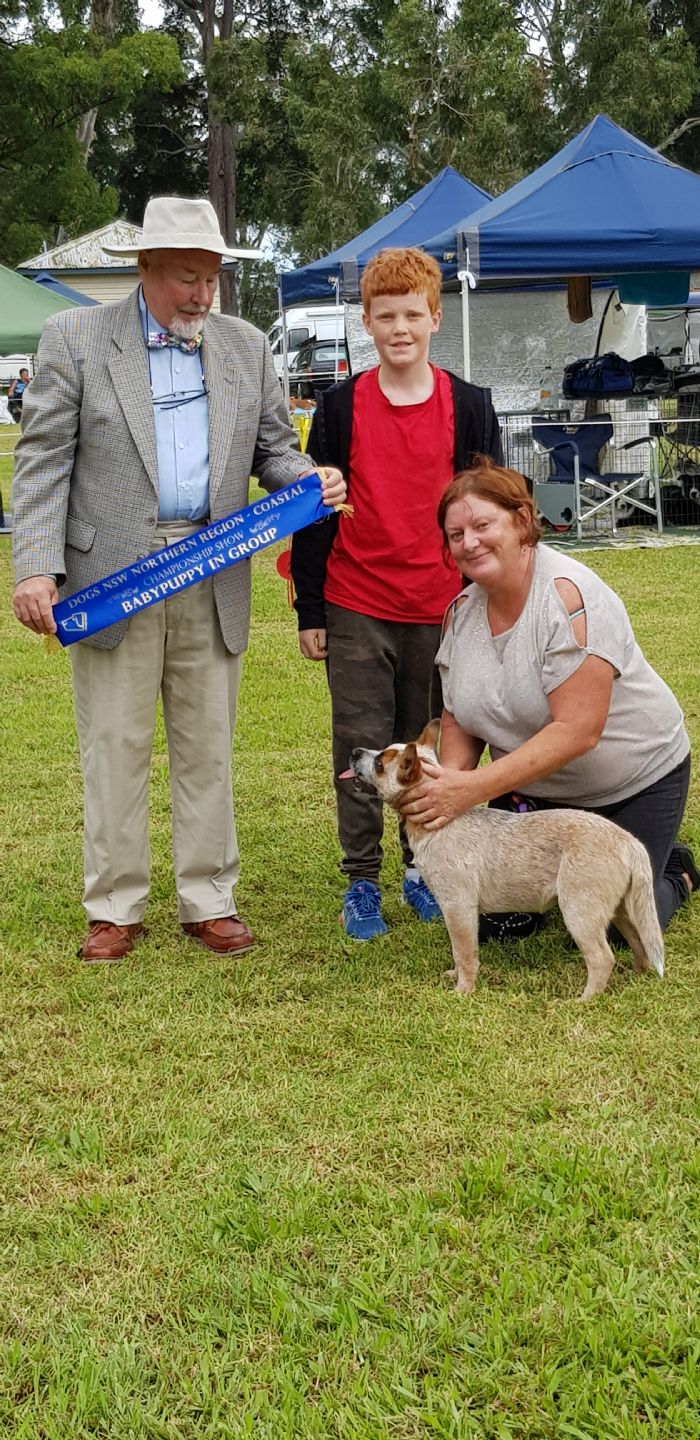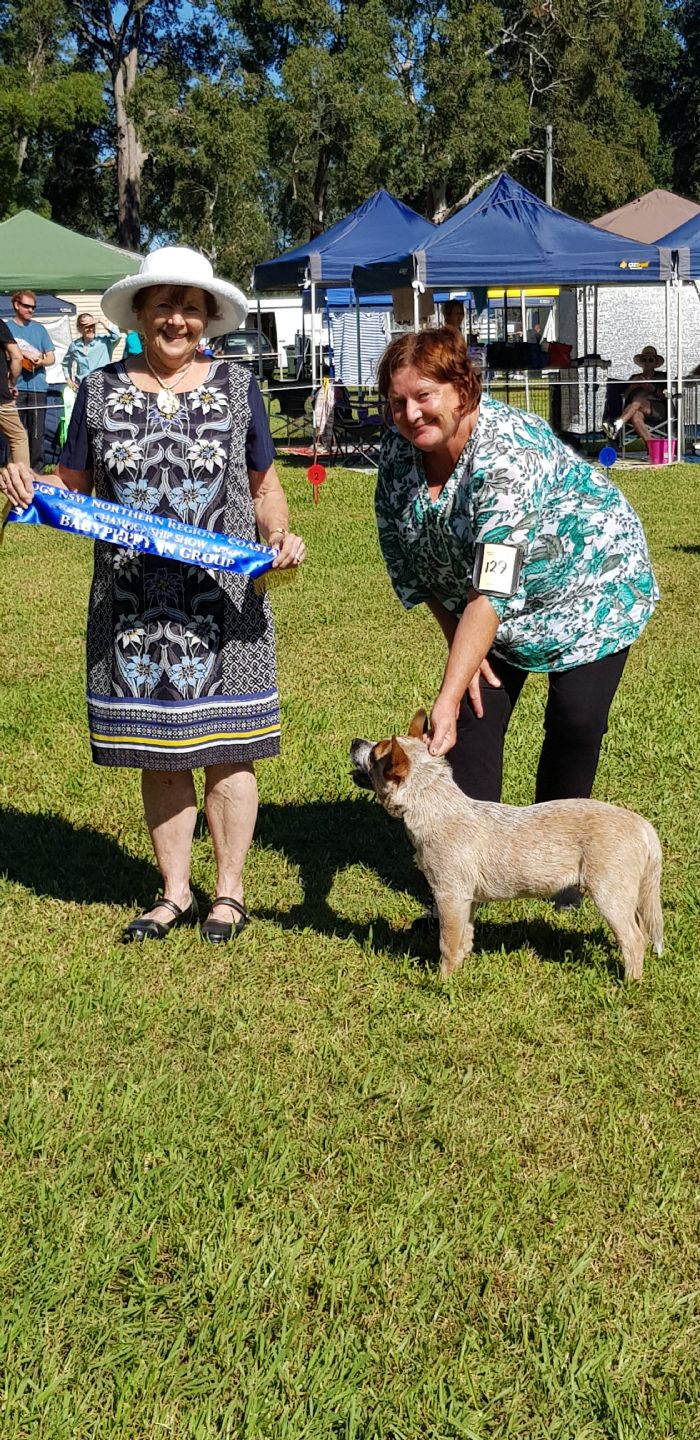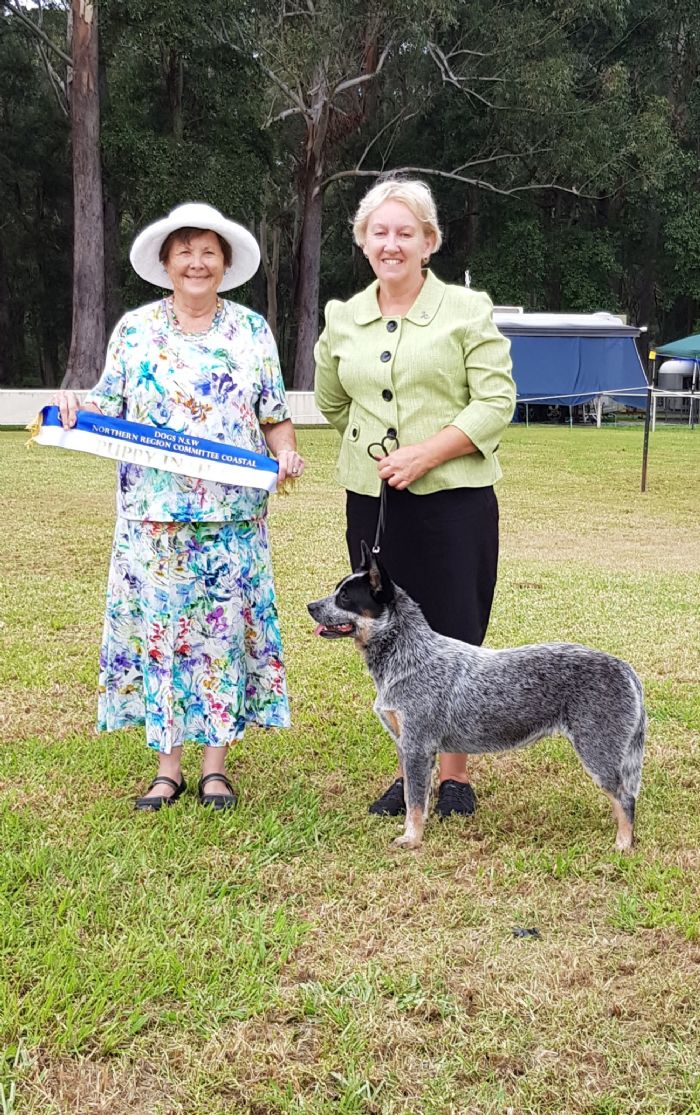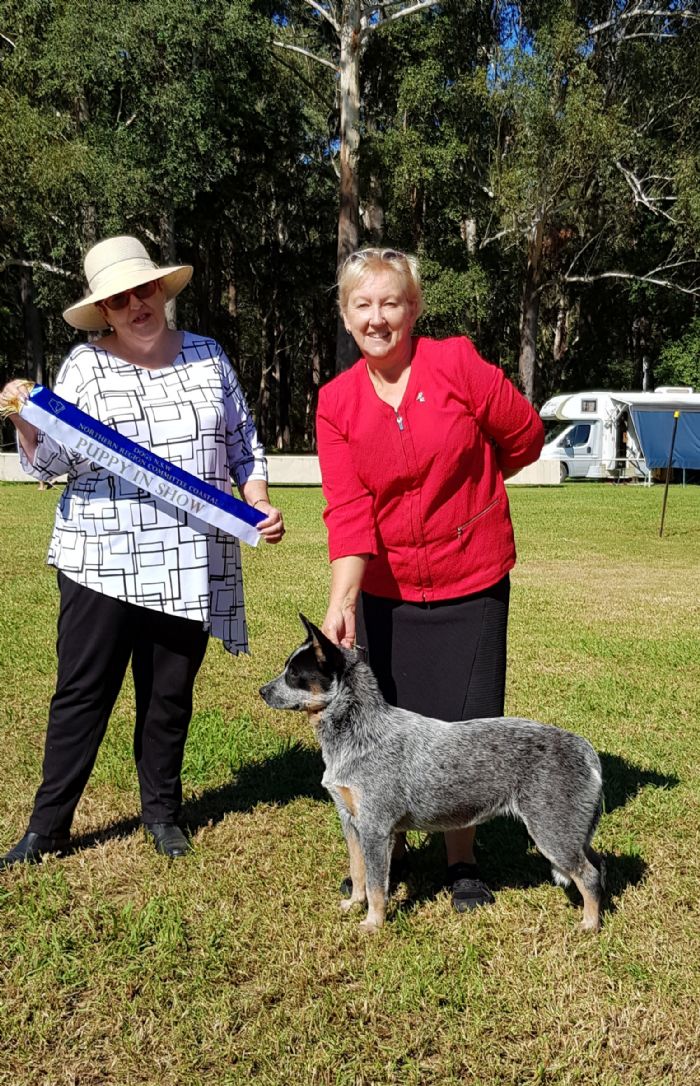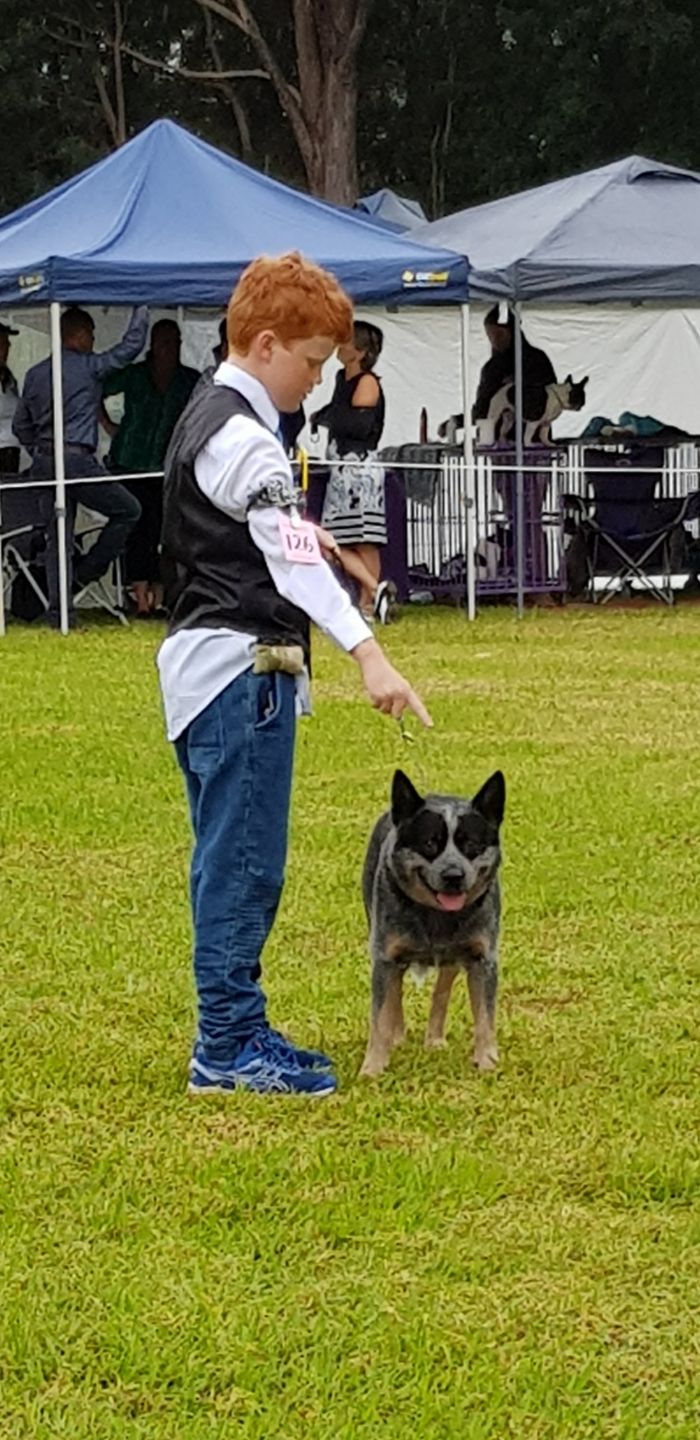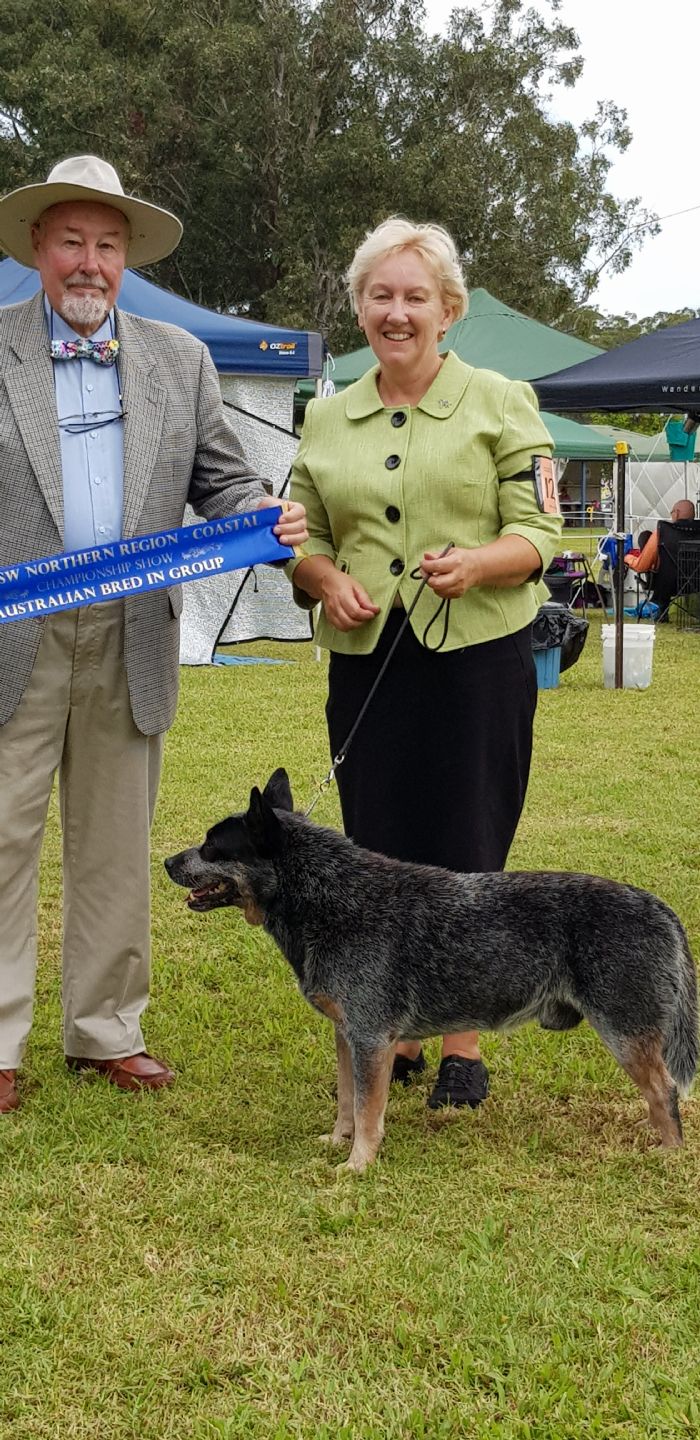 24TH JANUARY 2019
Raphy enjoying the hose today, and who can blame her in this heat.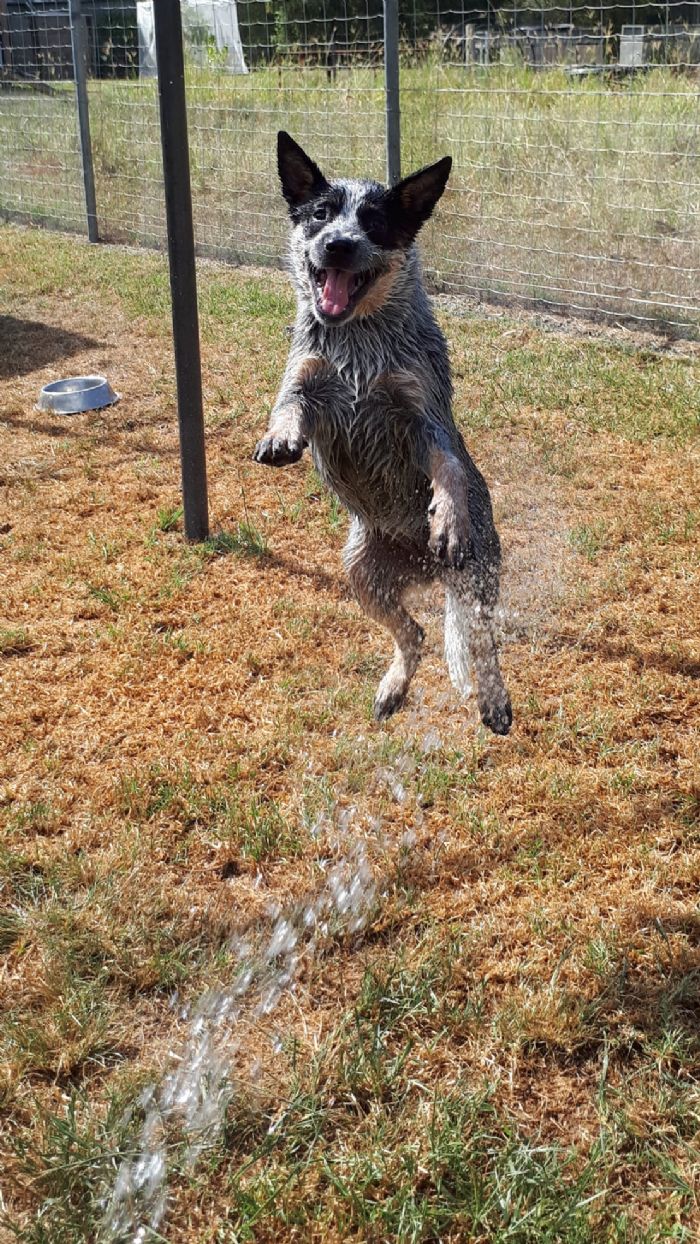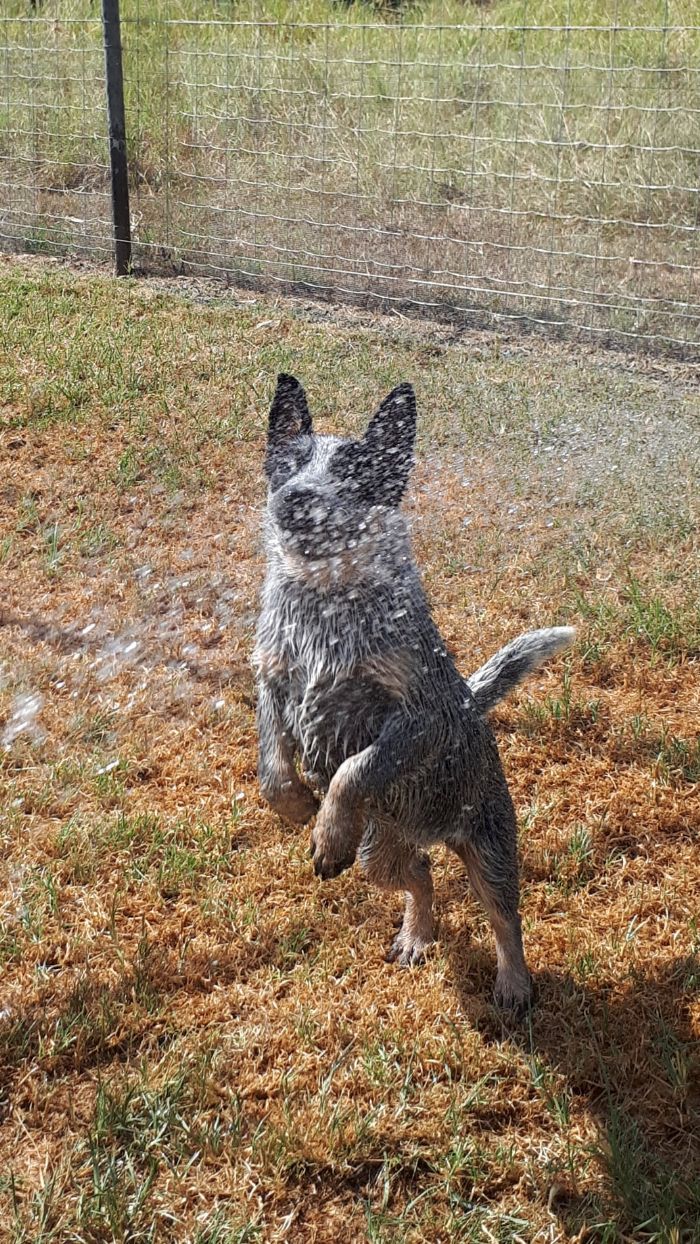 JANUARY 2019
January was Raphey's first show and she wins baby in group at Taree from a big class of lovely babies.
Judge Ken Hammond giving Raphy some lovely compliments.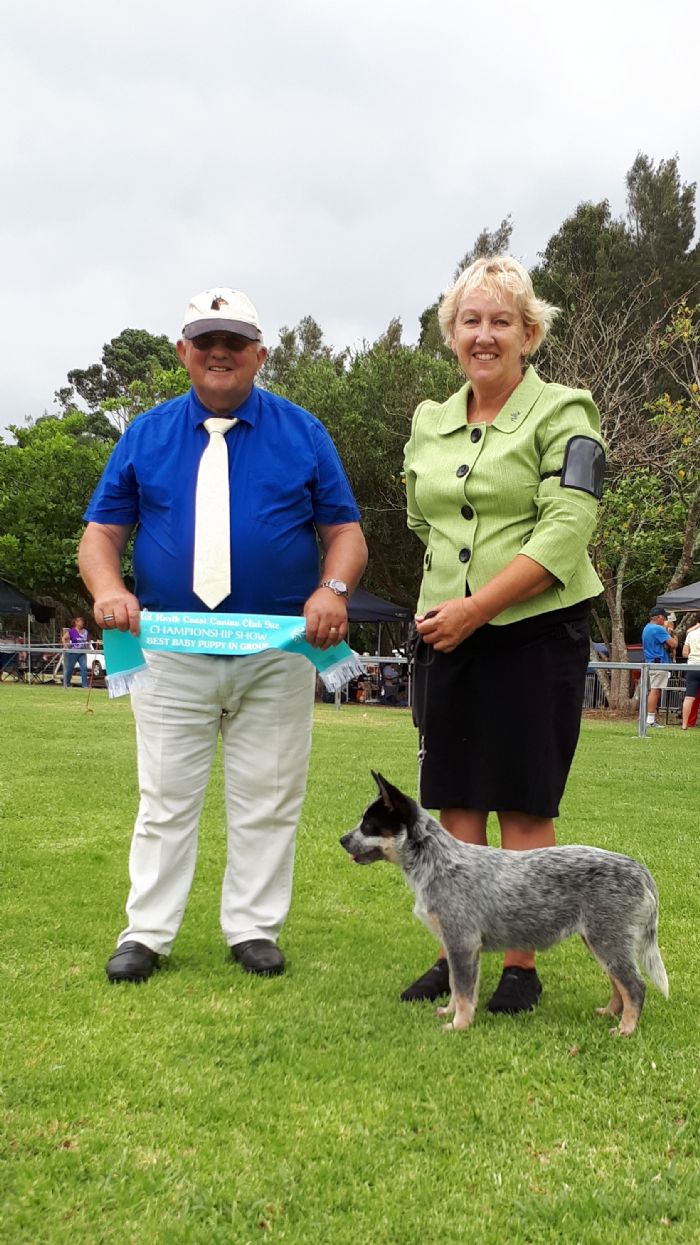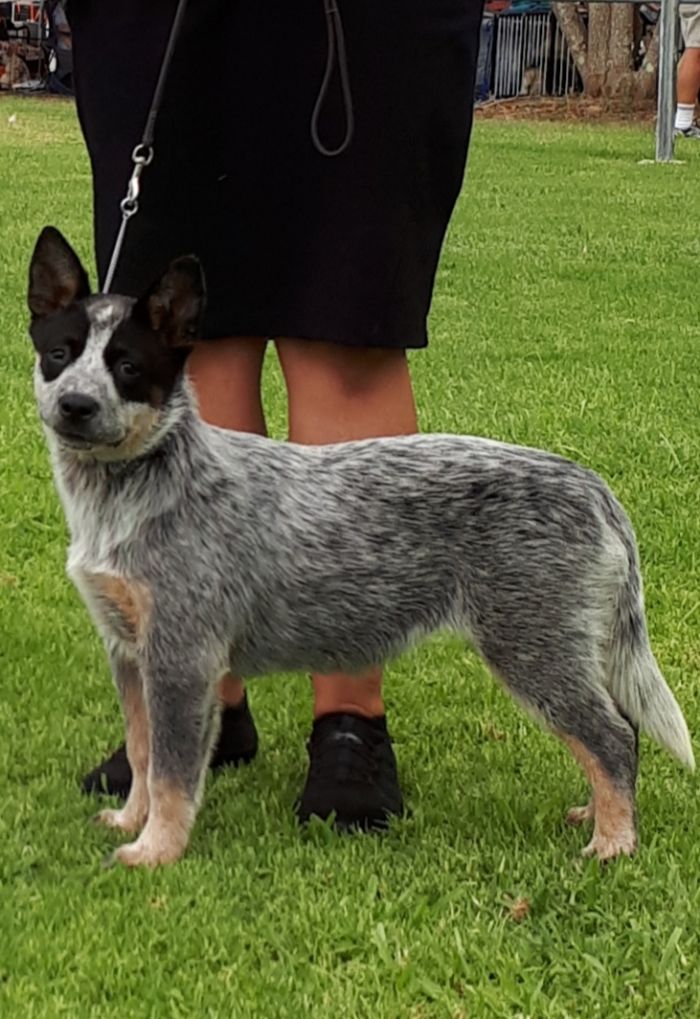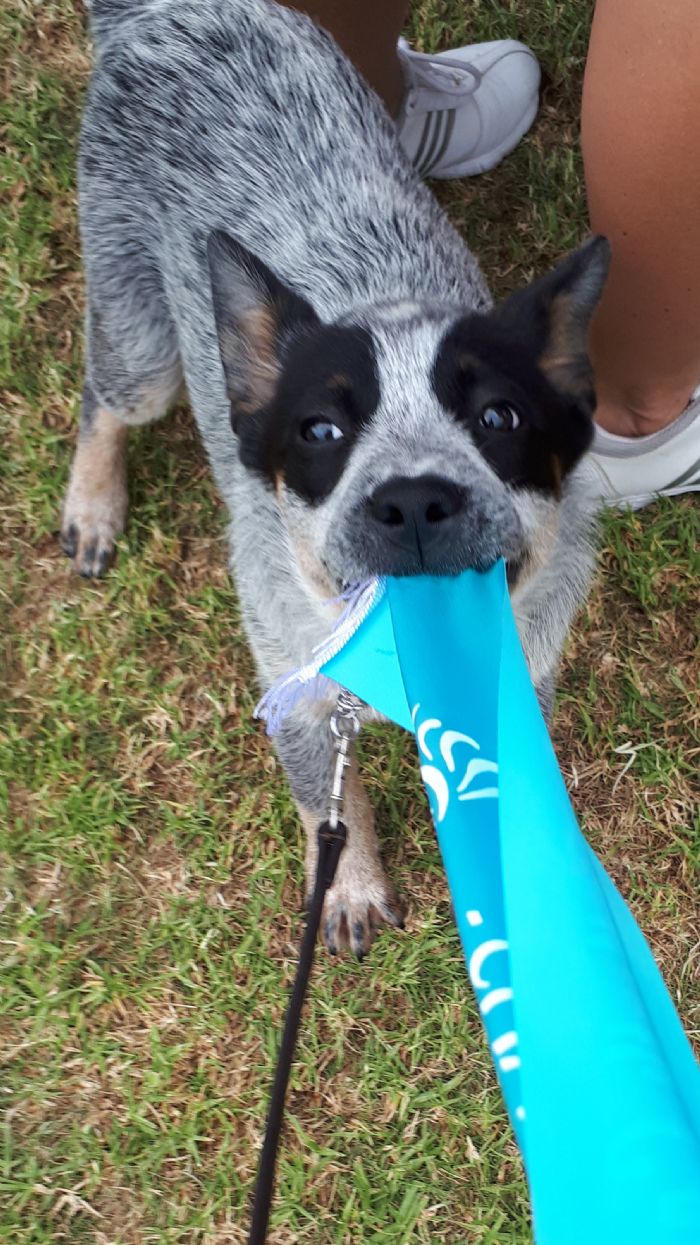 DECEMBER 2018
A very busy month it was for us and the dogs. All of Anna's puppies now in their new homes and Raphy staying here at WP.
My son is just loving his pup from Reece and Mick, Lira has a very laid back personality like her dad and smart as a whip.
The pups loved have sometime at the beach.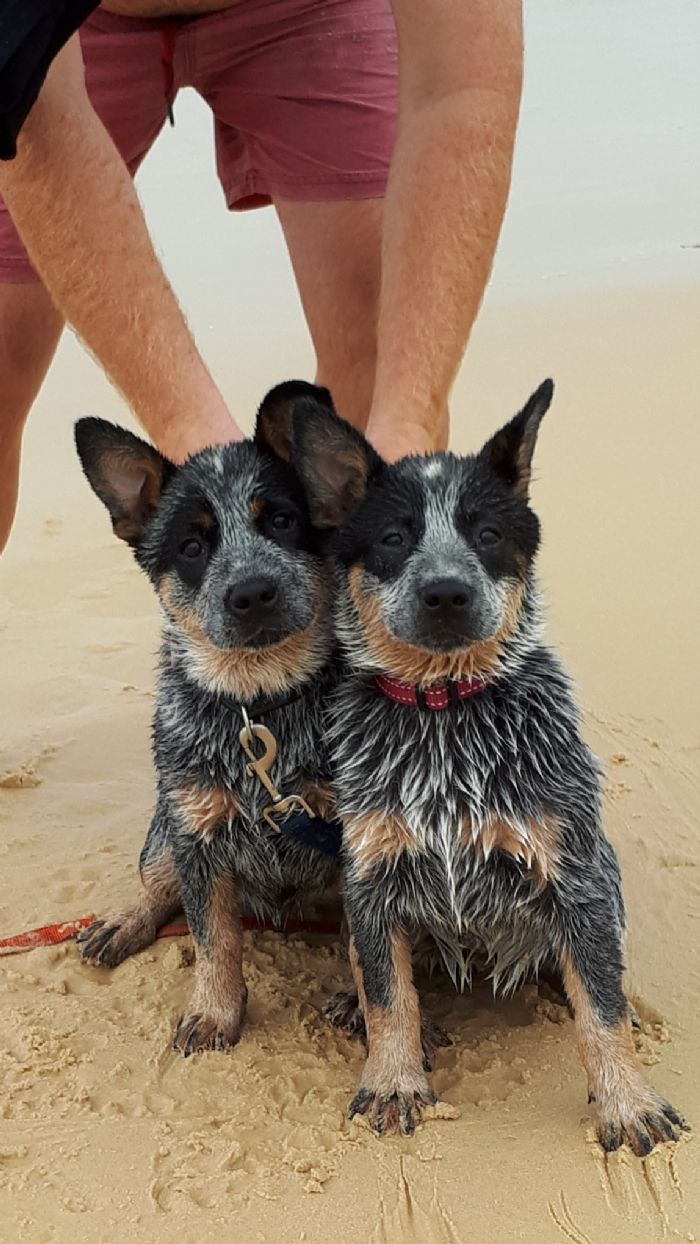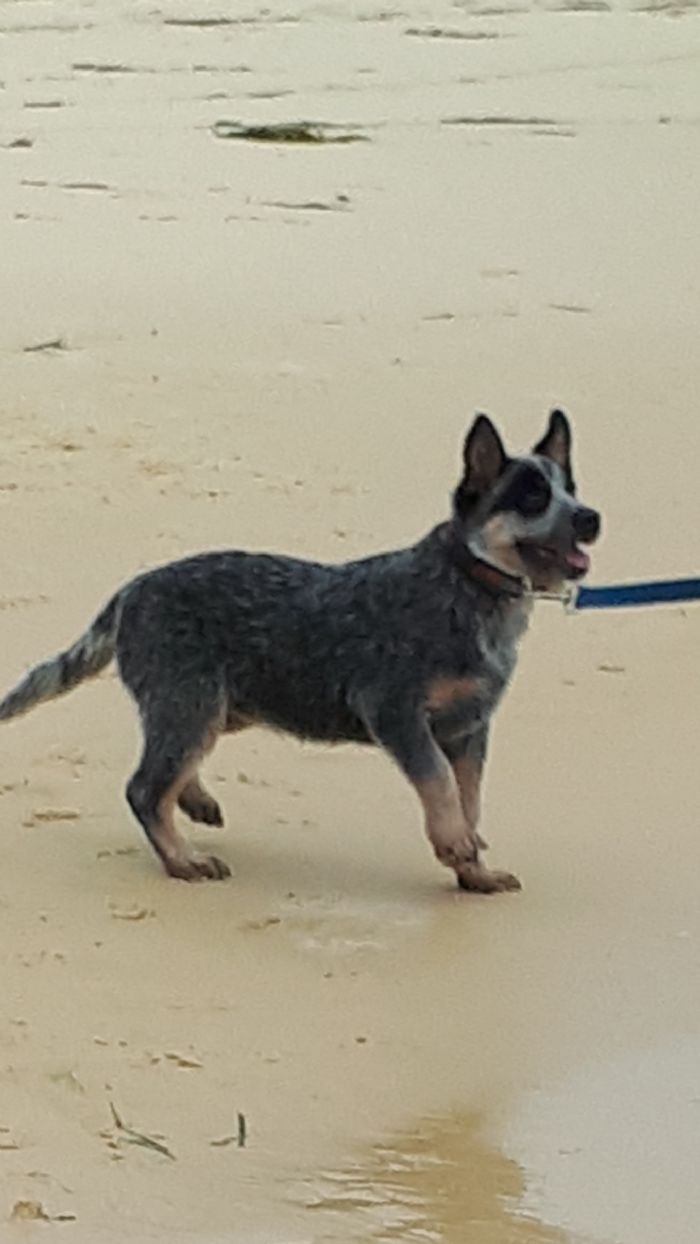 20TH OCTOBER 2018
Today we had a wonderful day showing at Port Maquarie show with Vera and Marcus. Mick winning a BOB and Marcus and Mick picking up a second in junior handlers from a large class.
Mick was amazing with Marcus, and Marcus did a wonderful job handling Mick.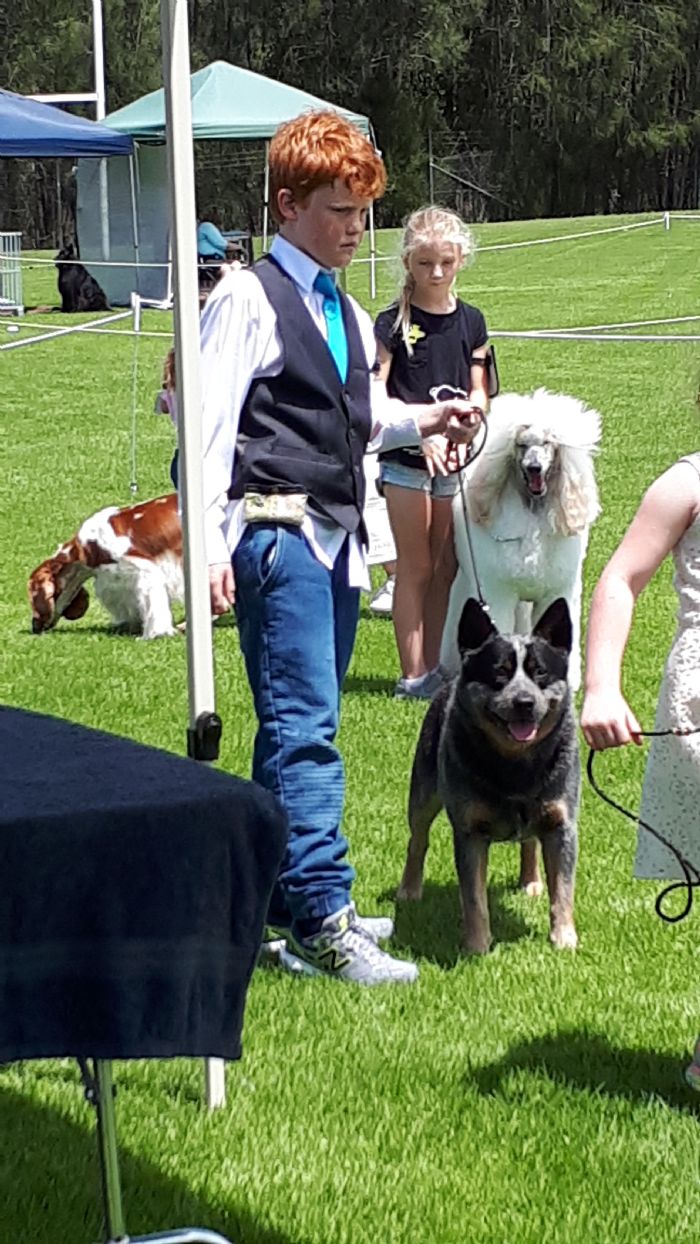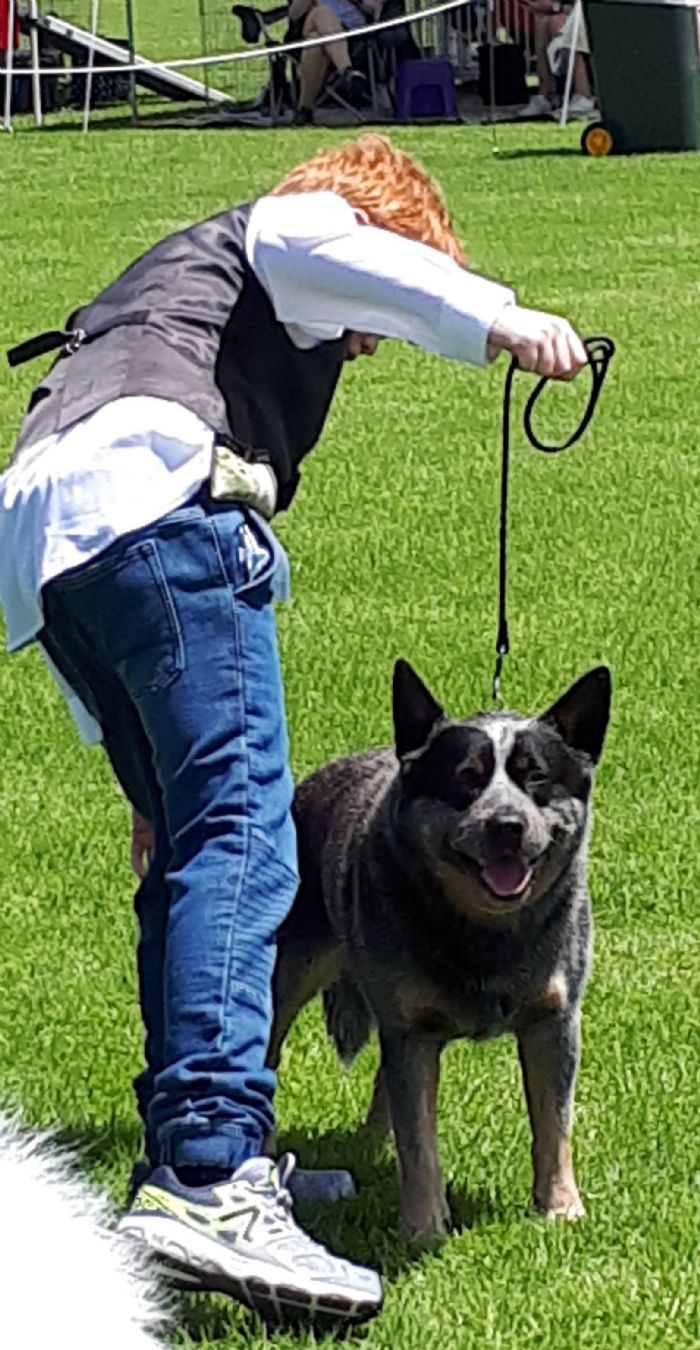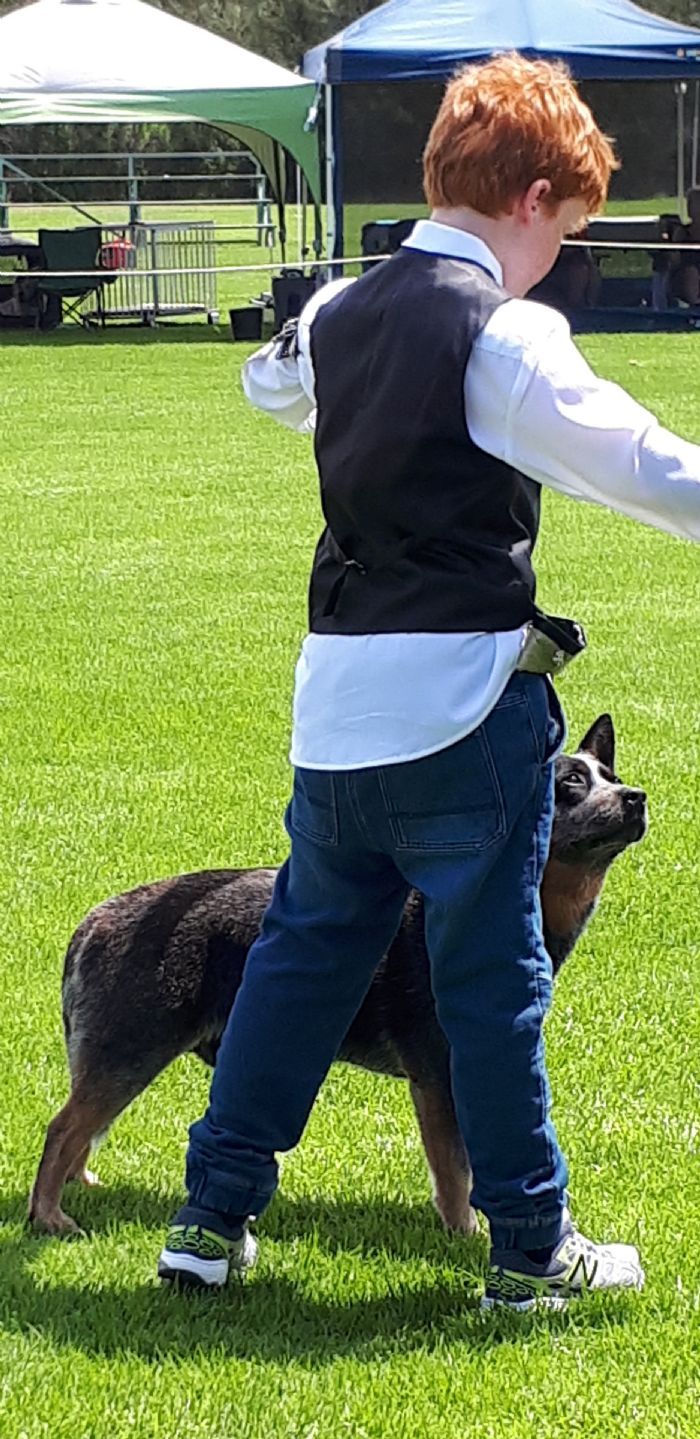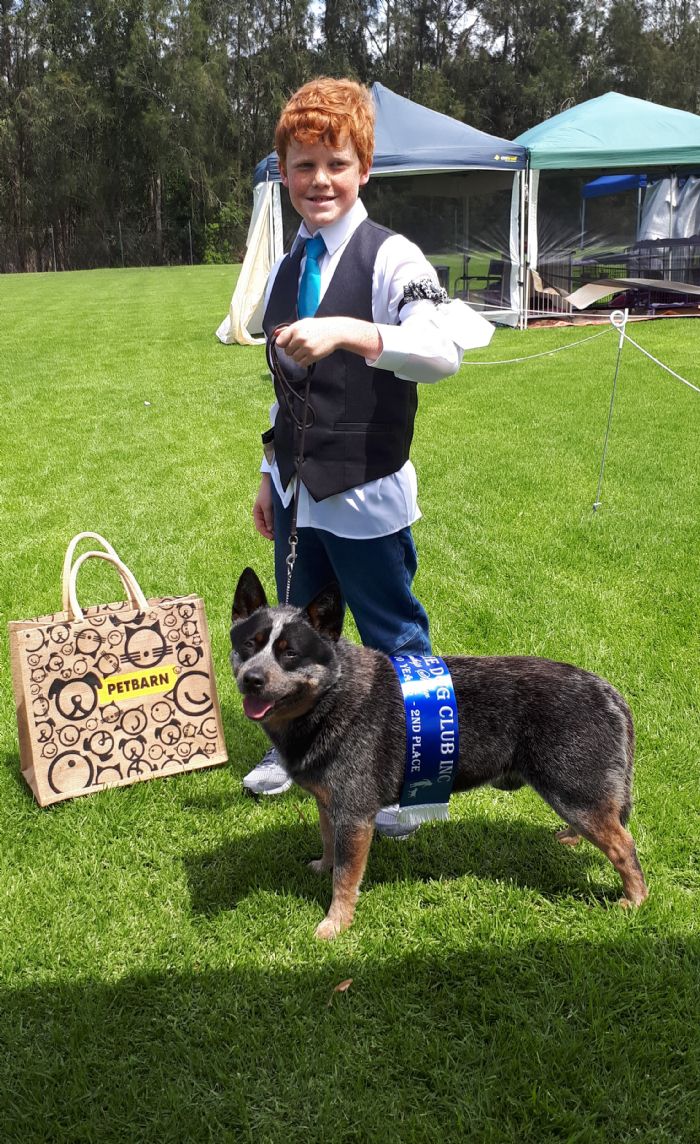 10th 0CTOBER 2018
Ella's puppies today 3 weeks old.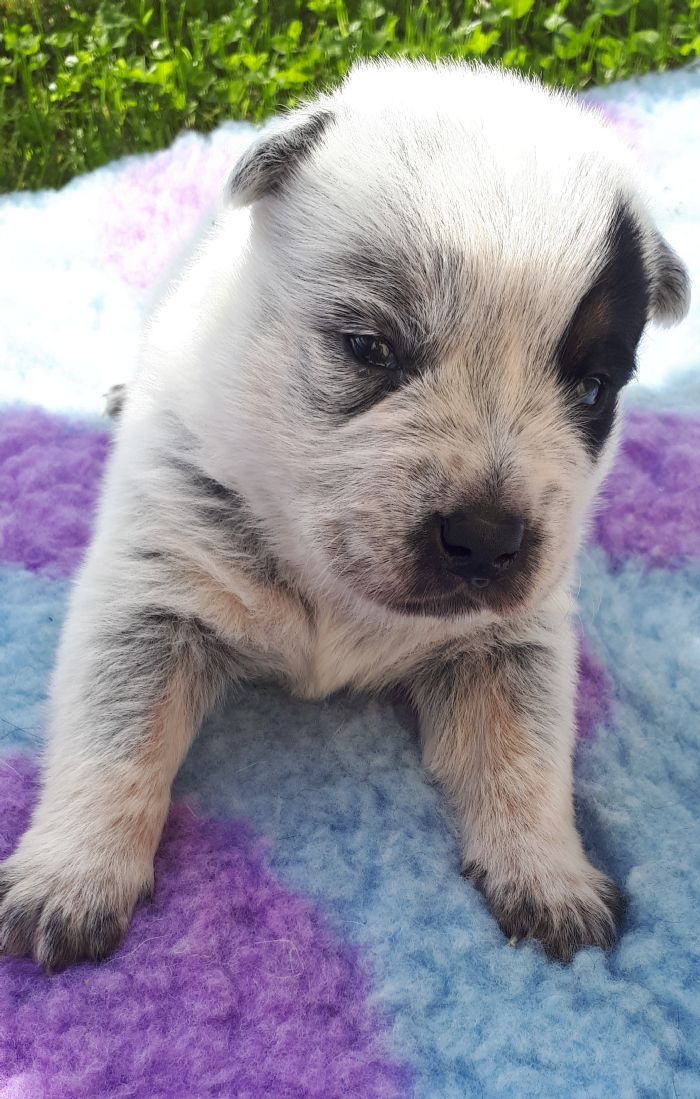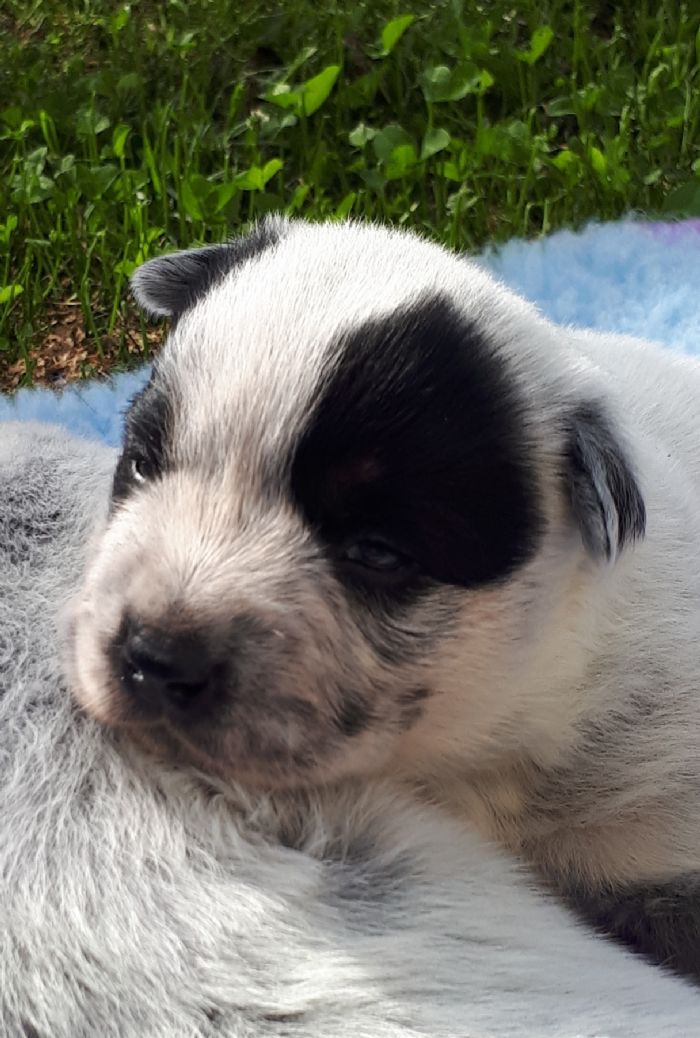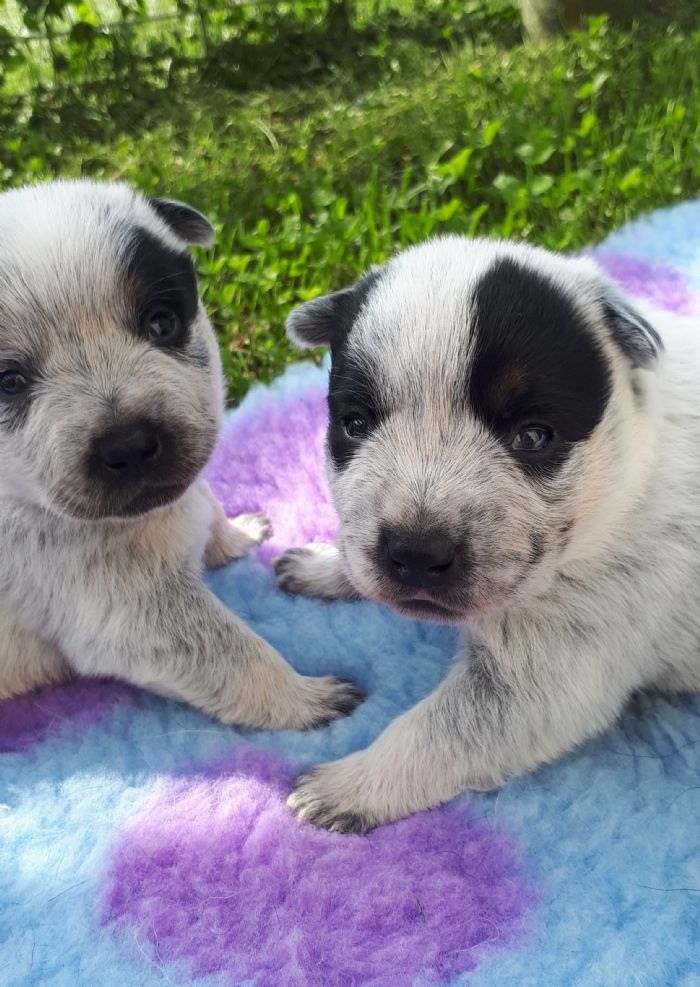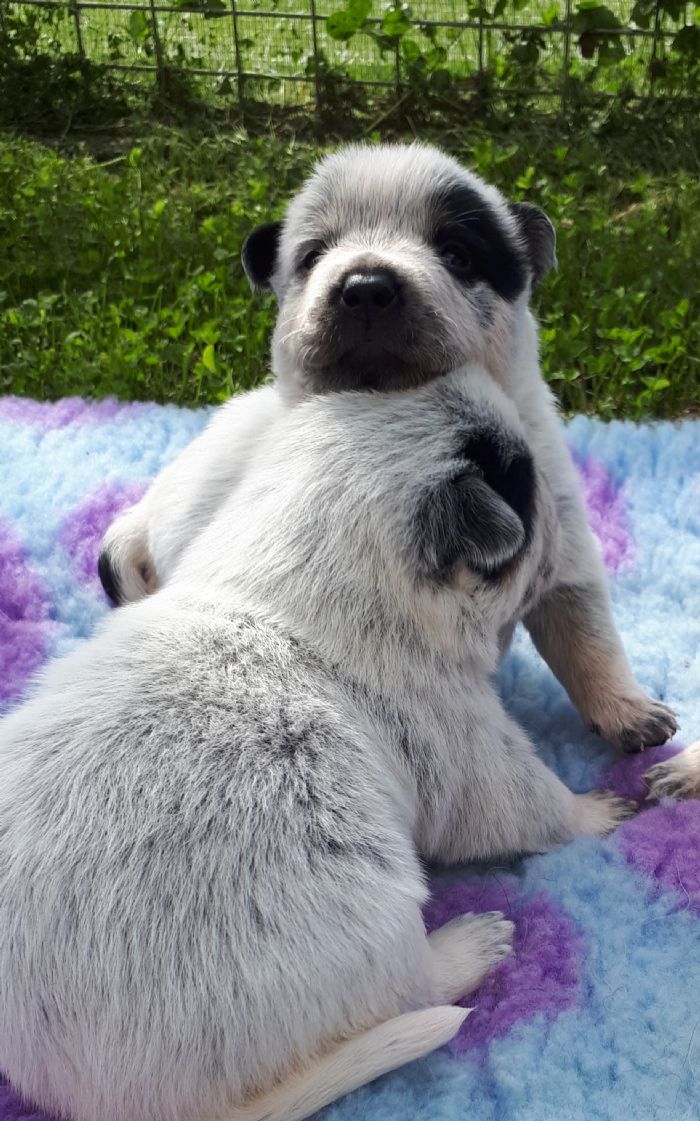 6TH OCTOBER 2018
Taree Show and WP Tribute to Me, owned by Vera Bamblett wins Puppy sweepstakes, from a lovely line up of puppies. Bindi goes on to win 8 Point BCC and Puppy in Group.
Mick Wins a 10 BOB and is short listed for Group, then goes on to win Open in Group.
Maragret and WP Chase n Dreams, Bailey win Neuter at Rylstone Show.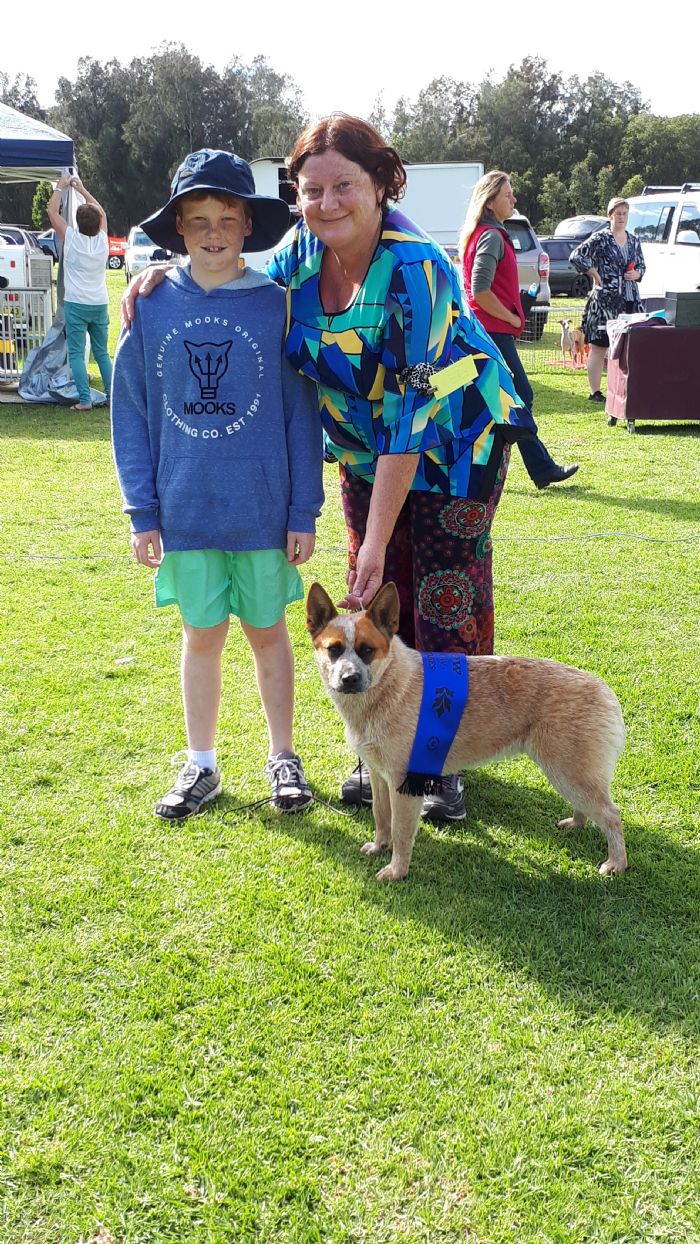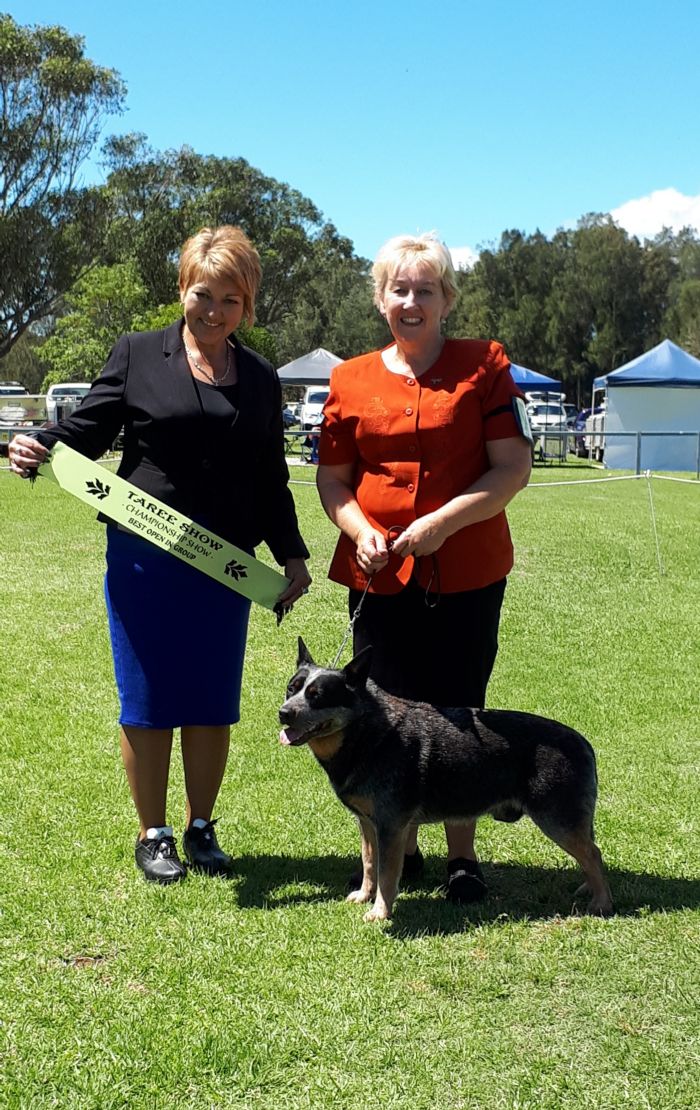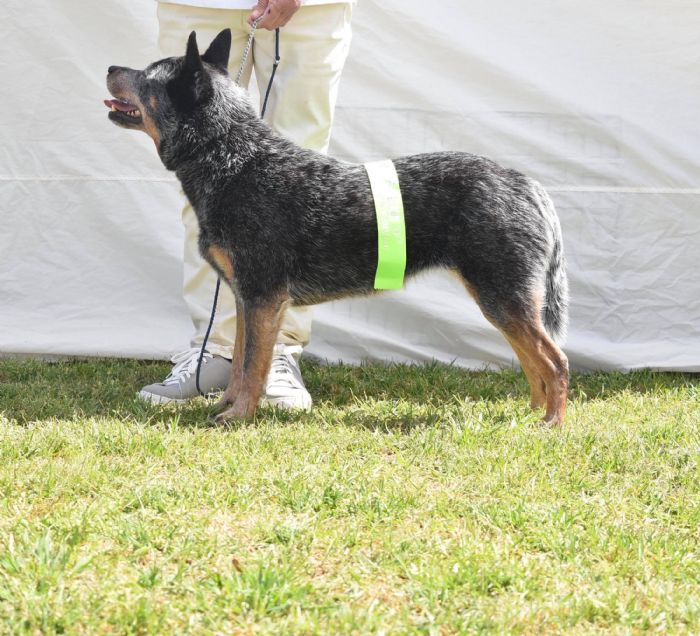 21ST SEPTEMBER 2018
Well we ventured up to Coffs Harbour shows this weekend with Tucker and Mick in tow.
Tuckers third show and he wins Best Baby puppy in show.
Mick came home with two BOBs and 23 points.
Had a great two days showing.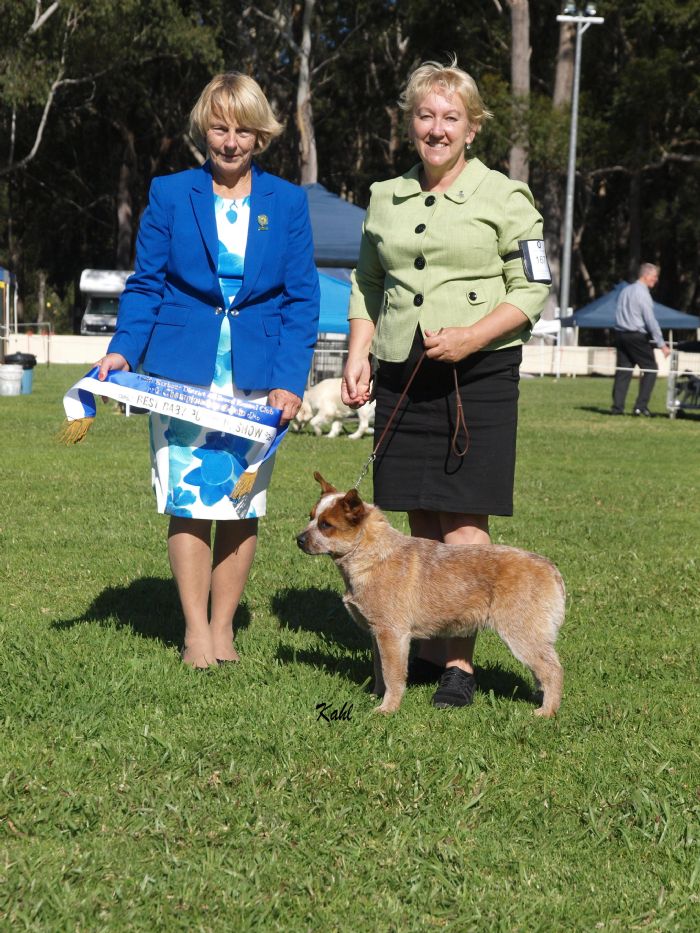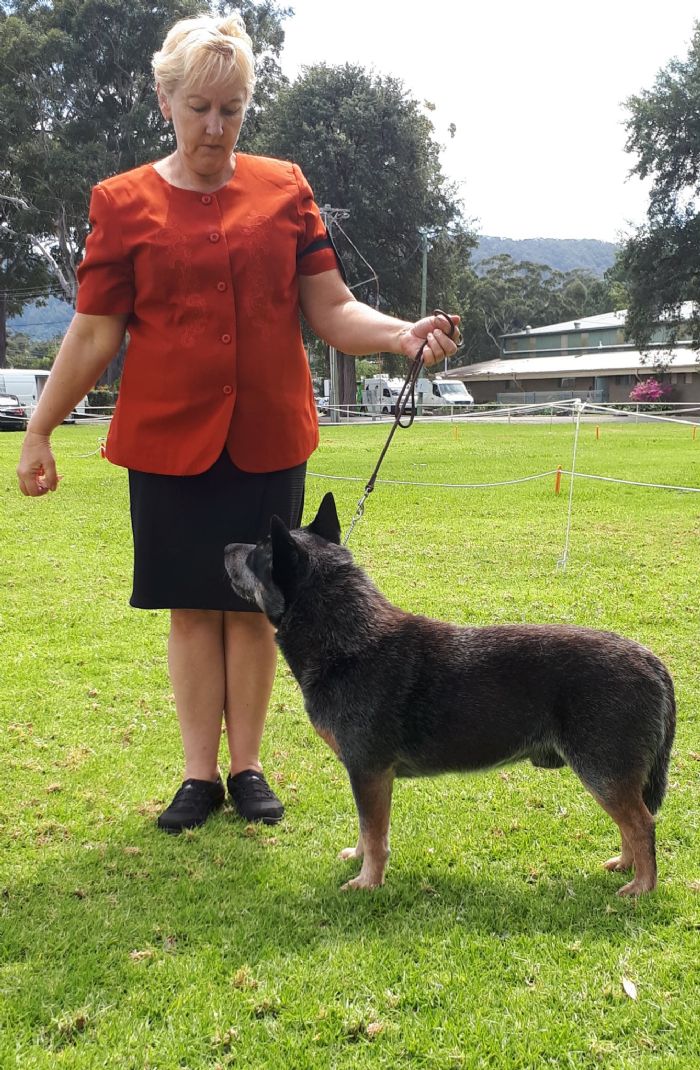 16TH AUGUST 2018
We have had Noonga ( WP Code Red) come and stay with us for the week.
Hopefully we will have some little Noongs running around in a few months.
We have bred Noonga to April ( WP Lady Marmalade) and they should have some lovely puppies, really looking forward to this litter.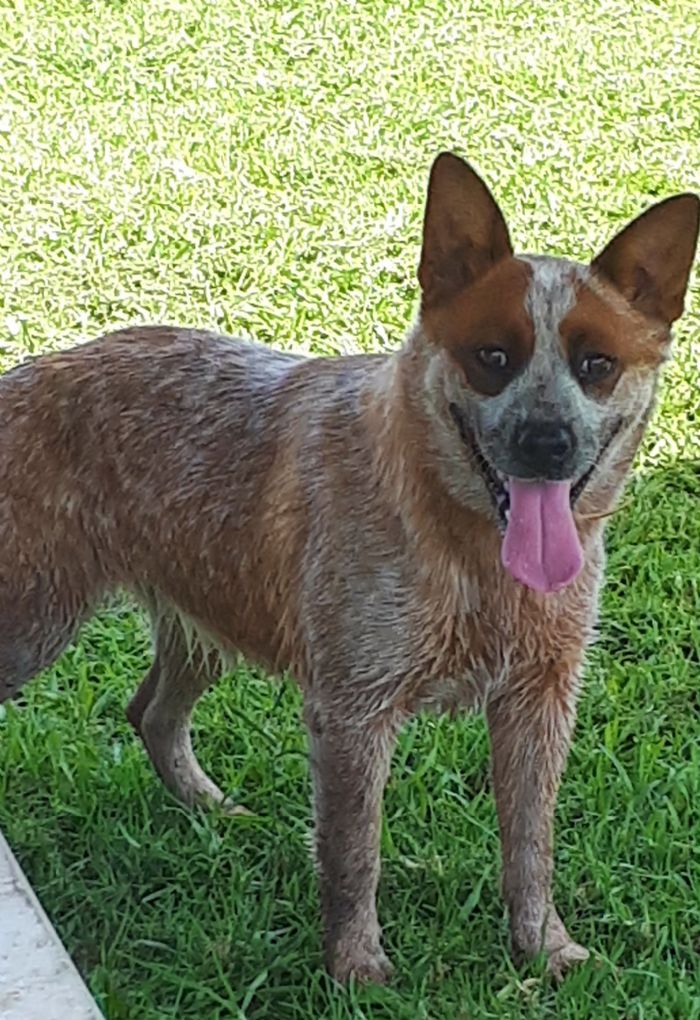 April, at 8mths old.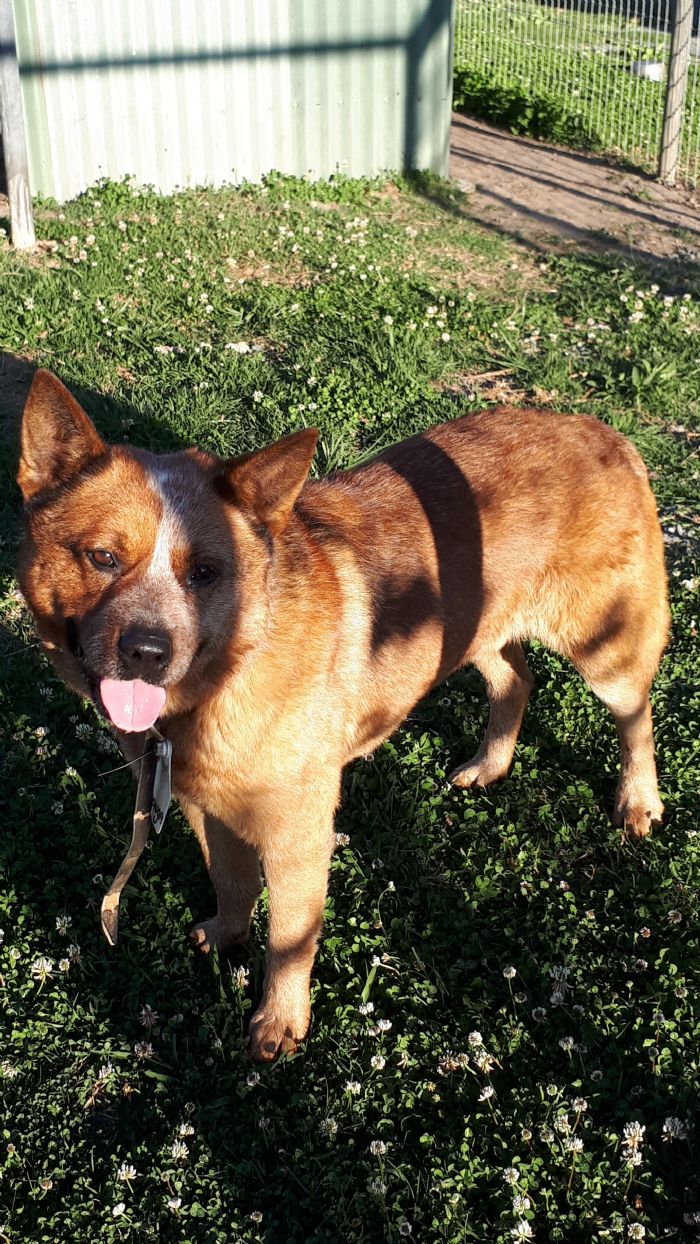 Noonga, WP Code Red.
12TH AUGUST 2018
Received a fabulous update from Melisa, Indi's owner. Indi is from Mick and Reece and is just over 18mths old. Melisa says she has admirers wherever she goes and has lots of Doggie and human friends. Indi is doing nose work and is now proficient in Birch and Anise, and have recently started clove. She Loves nose work!!!
Indi has also started Treiball classes which Melisa says is fun for both of them.
Thanks Melisa for the update on your lovely Indi.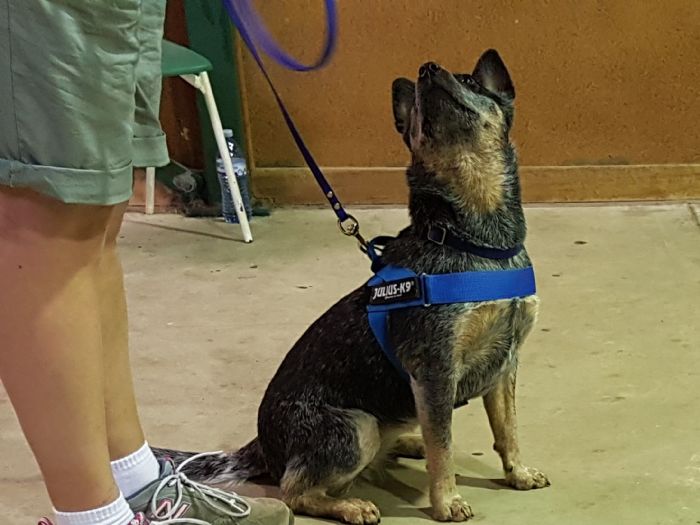 11TH AUGUST 2018
Alice and Tucker venture out to the Bay City show at Newcastle today.
Tuckers first show and he just loved it. He made lots of new friends both two legged and four legged. Such a happy fun loving puppy.
Tucker wins baby puppy of breed today from both shows.
Alice strutted her stuff like she does and won a BC and a RBC also a nice Minor in Group.
Extremely happy with both of these youngsters.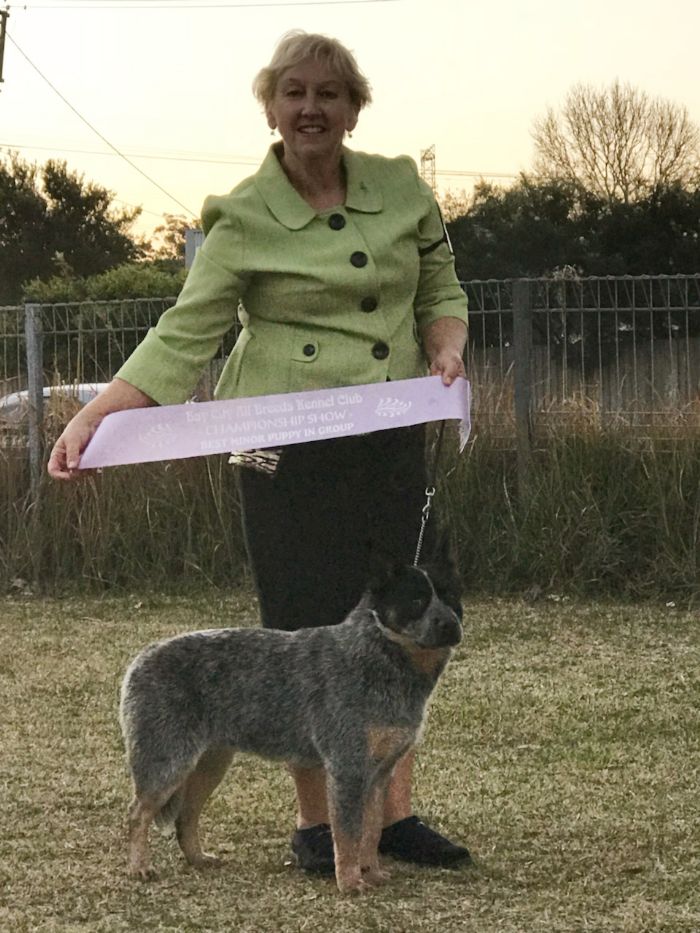 29TH JULY 2018
Tucker (WP Bush Tucker Man) is now 12 weeks old and looking great. He will go to his first show next month. Really looking forward to getting this little, or not so little guy out and about.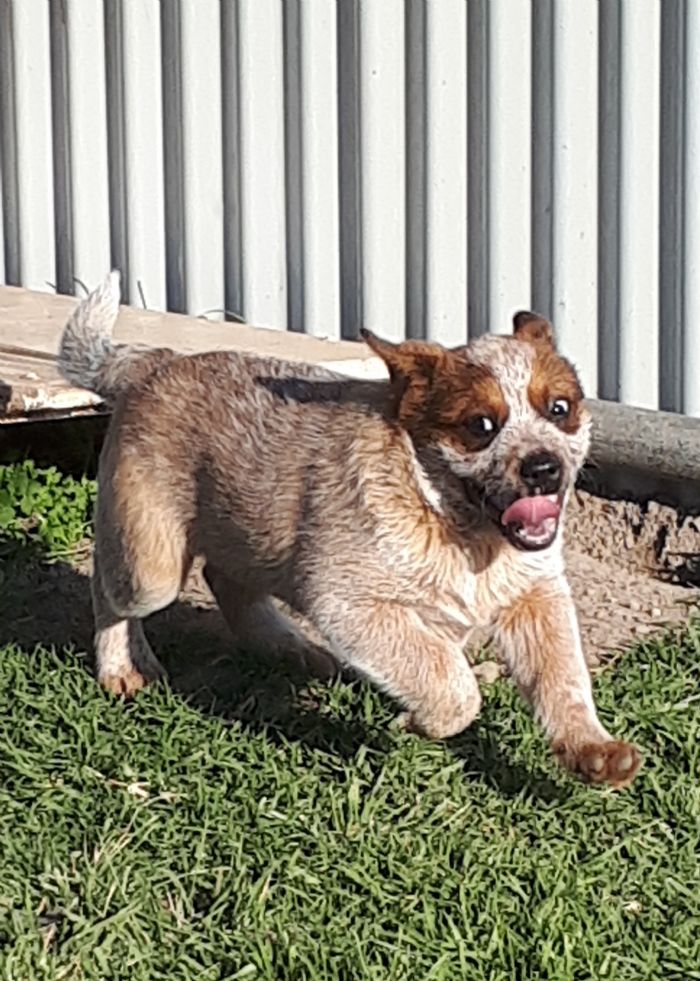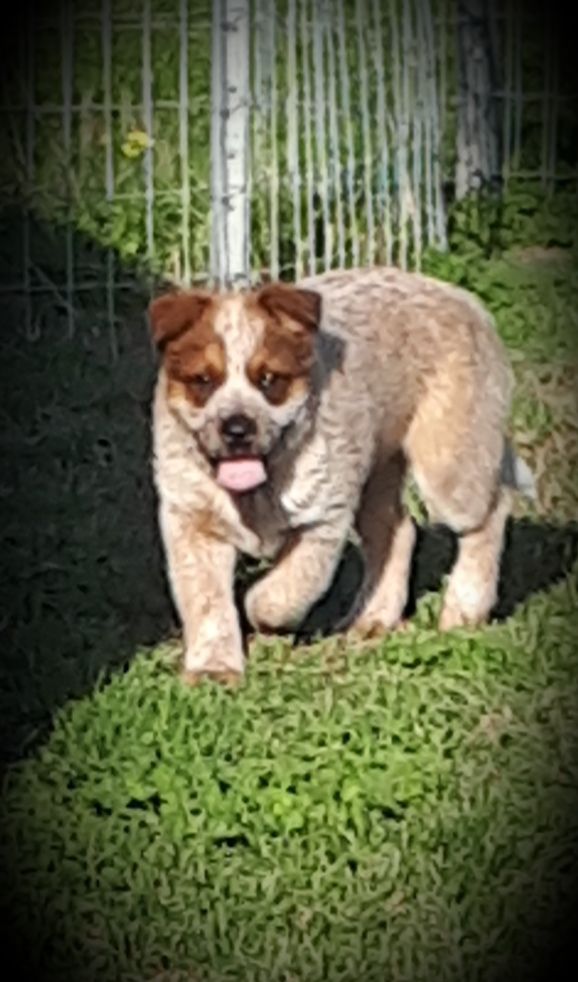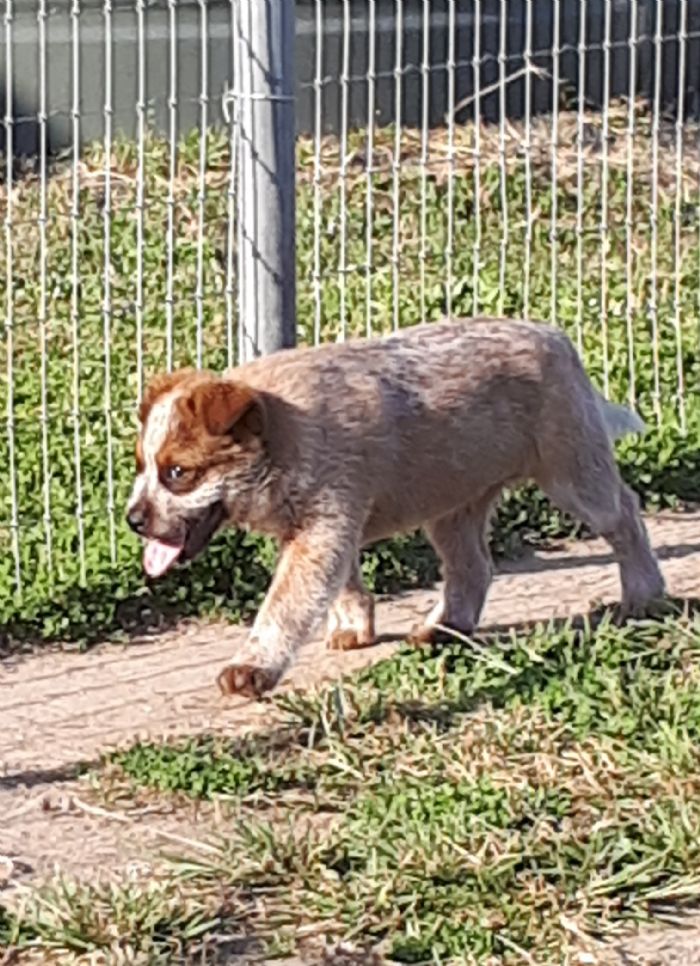 29TH JULY 2018
Lace x Mick babies now 4 weeks old and looking great. Lace has now been de-sexed and will live my son Chris, she will be his hiking and camping buddy.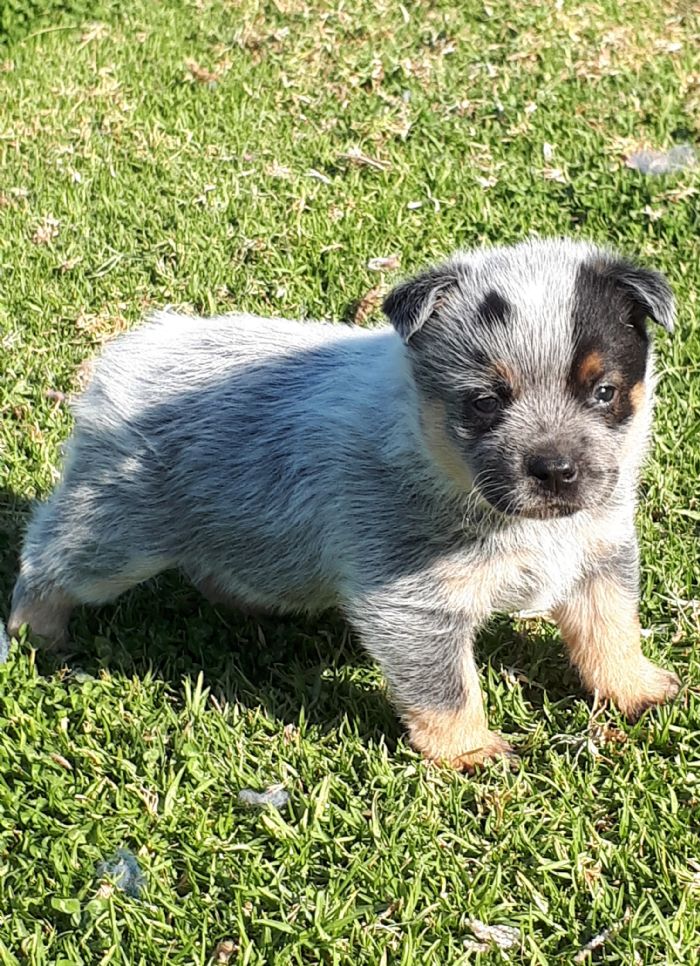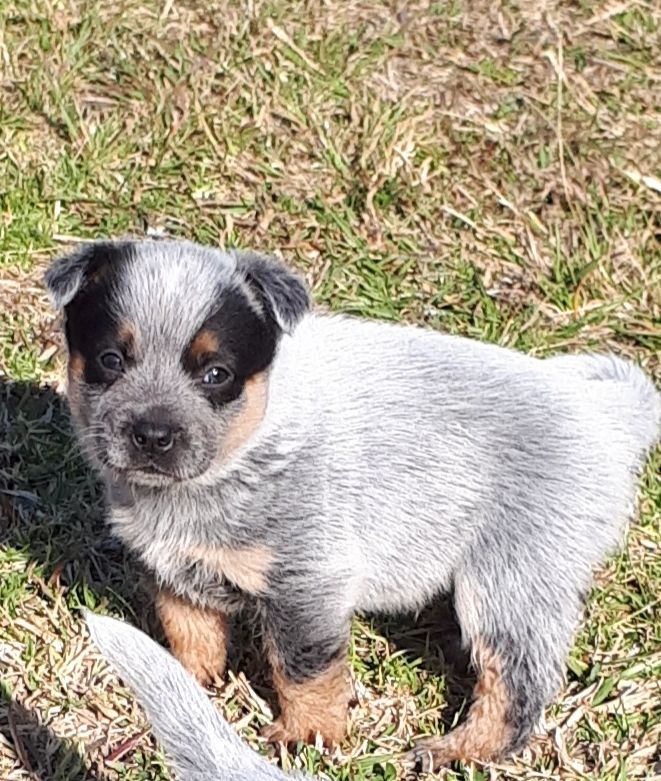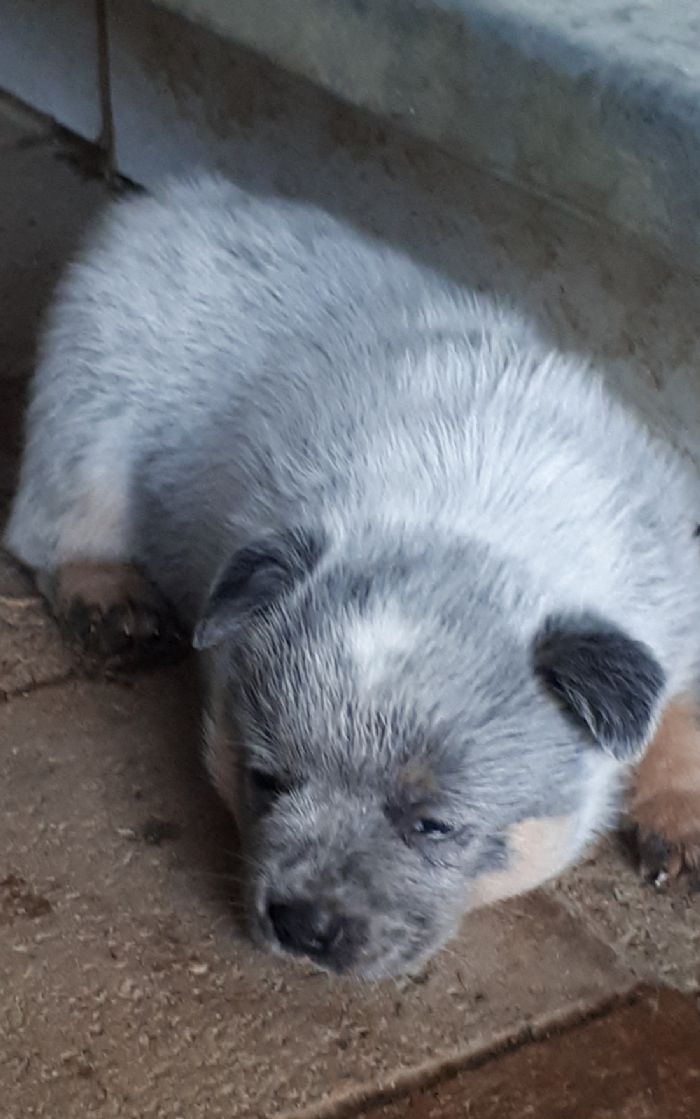 IST JULY 2018
Ted, Hope and Mate are going great in their new home in Sth America.
All becoming Argentinian Champions. Mate now has earned enough points to be eligible for Crufts at just 13mths old. We are so very proud of them.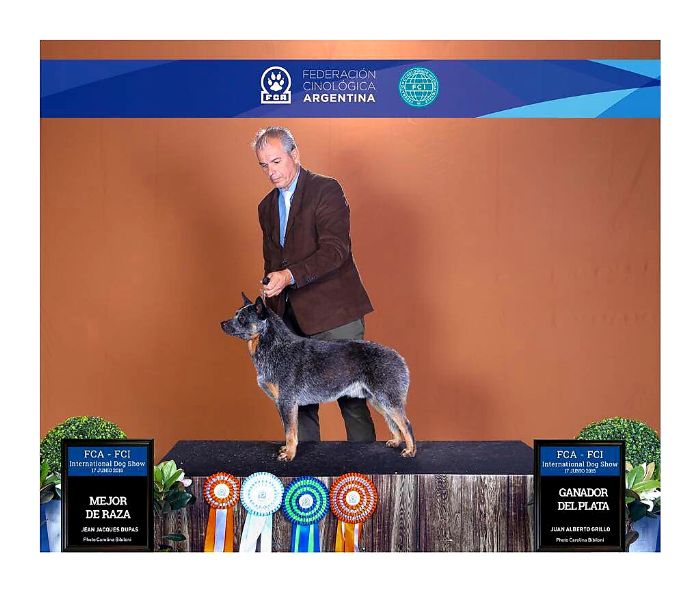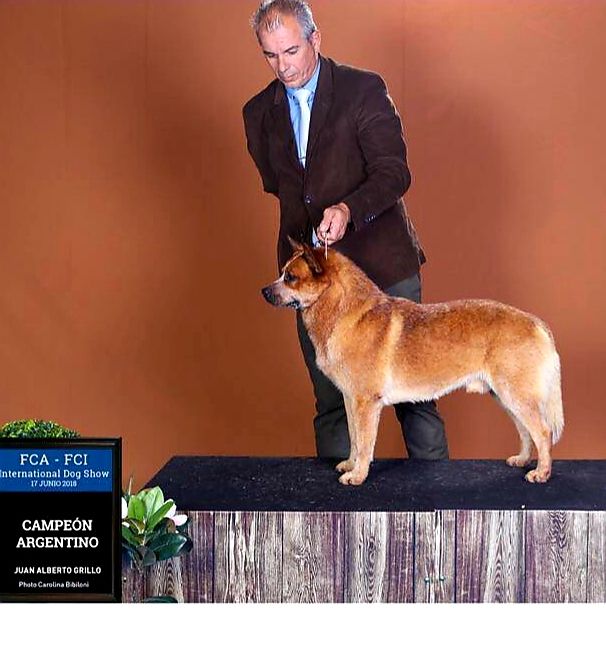 30TH JUNE 2018
June has been a busy month here at Willowpark, Abbey's babies growing and going, and Lace having her babies, all 7 of them. 6 x boys and just 1 x girl.
All the dogs enjoy their daily run to check cattle, and are enjoying farm life.
Some pics of Abbey and Laces babies, also dogs having their daily run.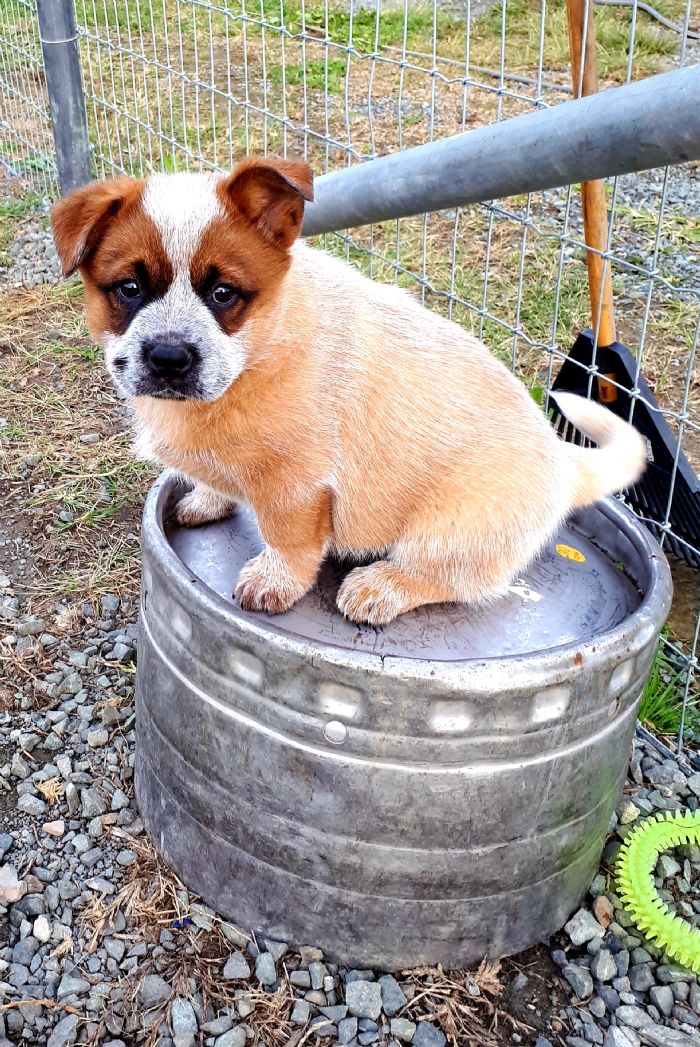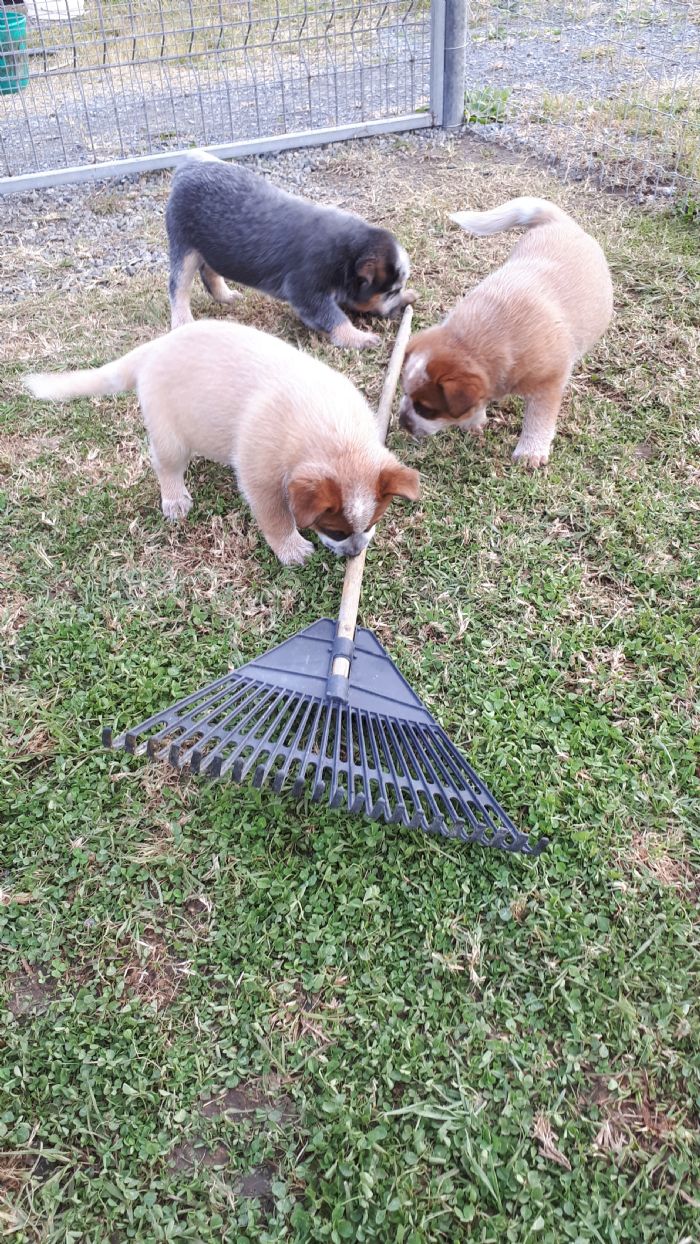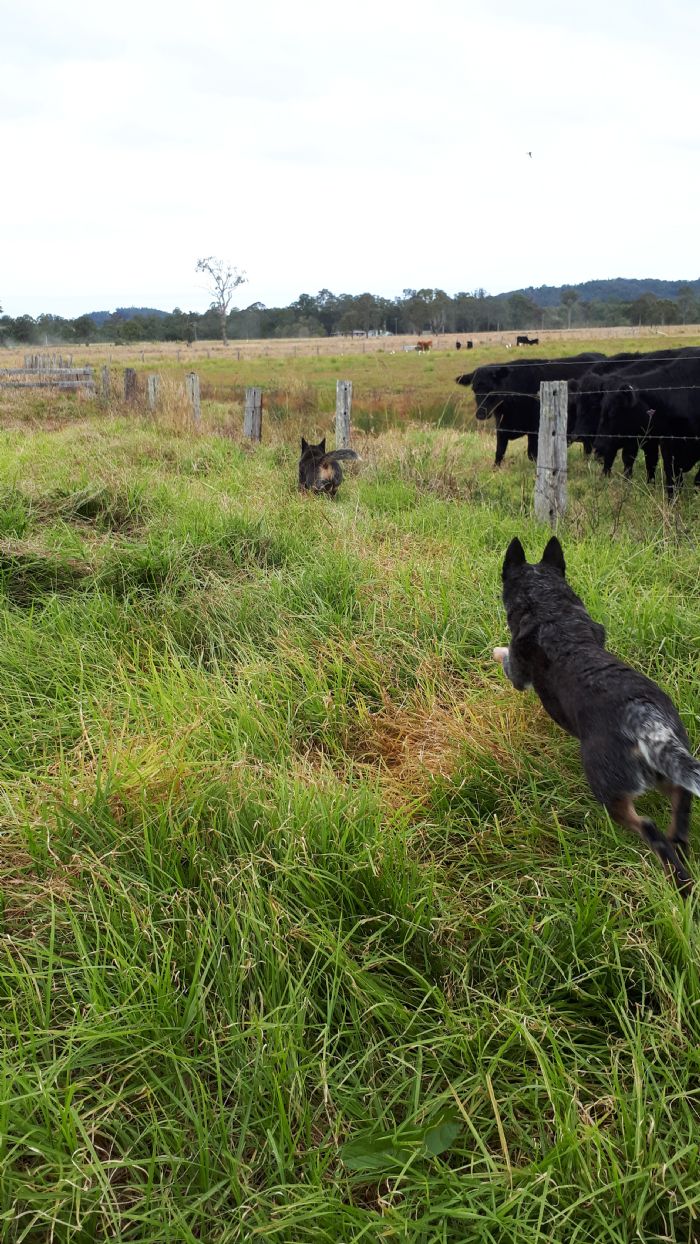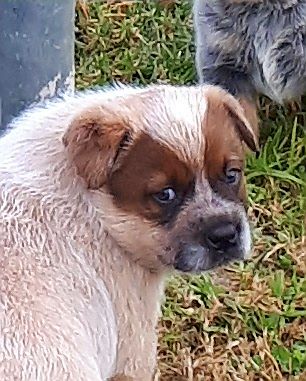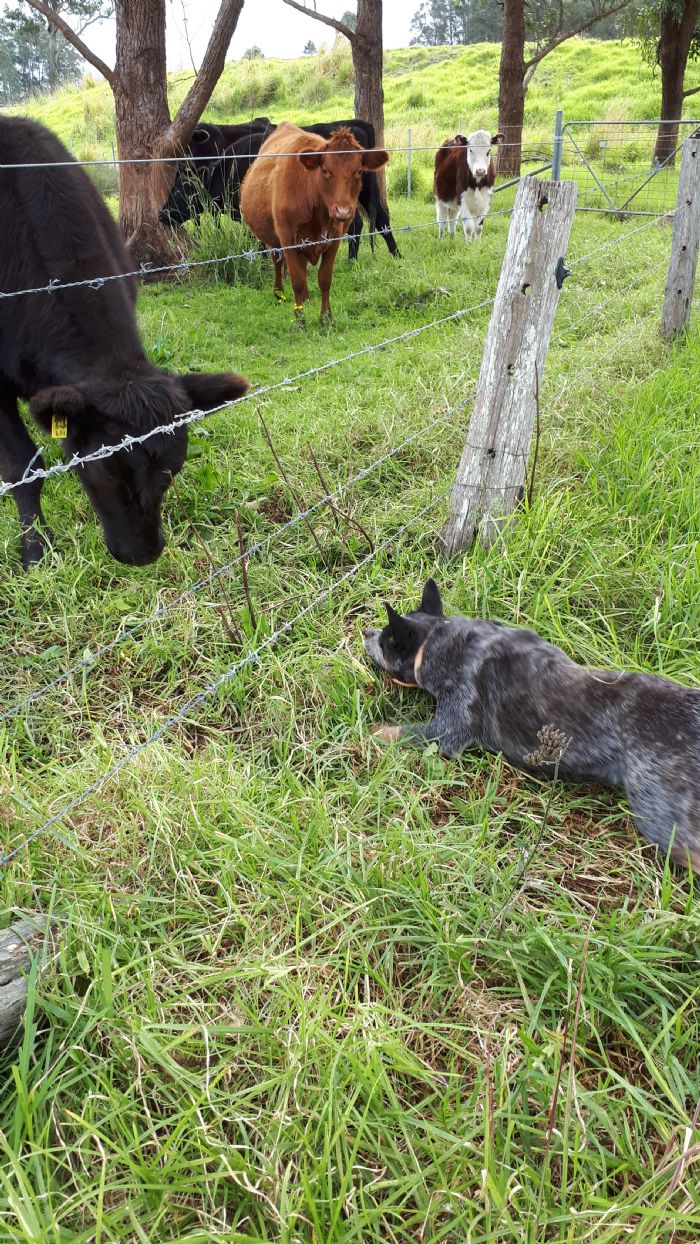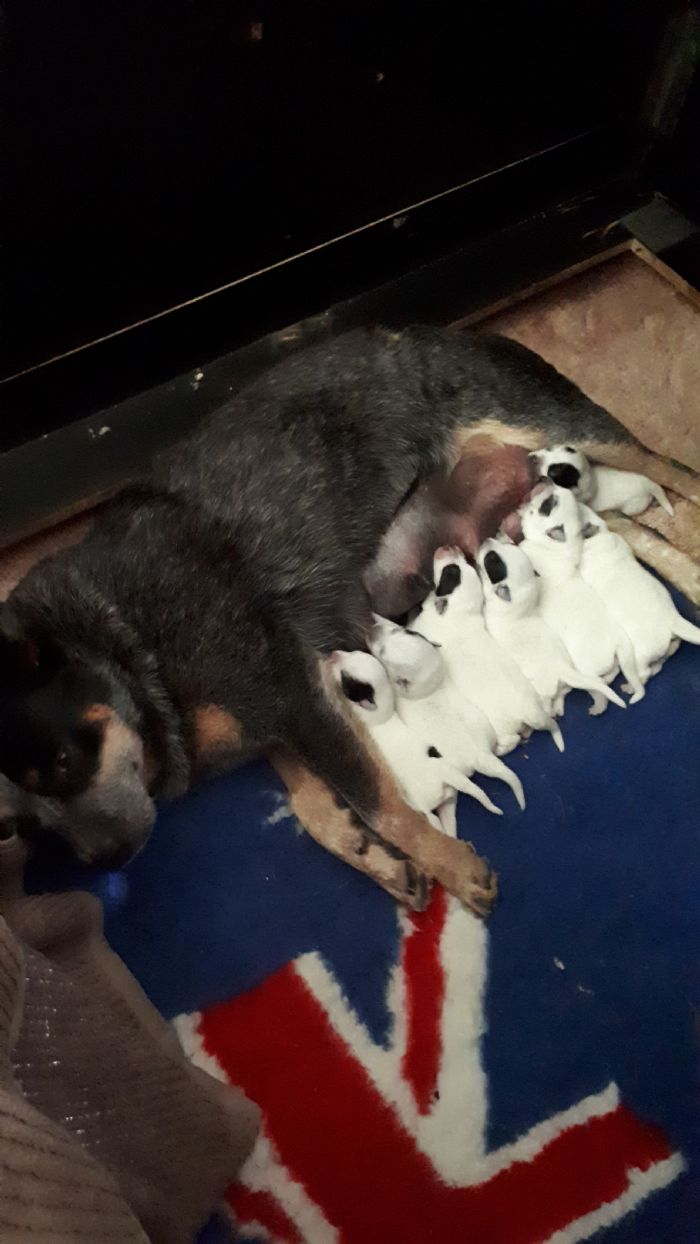 JUNE 14TH 2018
Some of Abbey's babies today, almost 6 weeks old.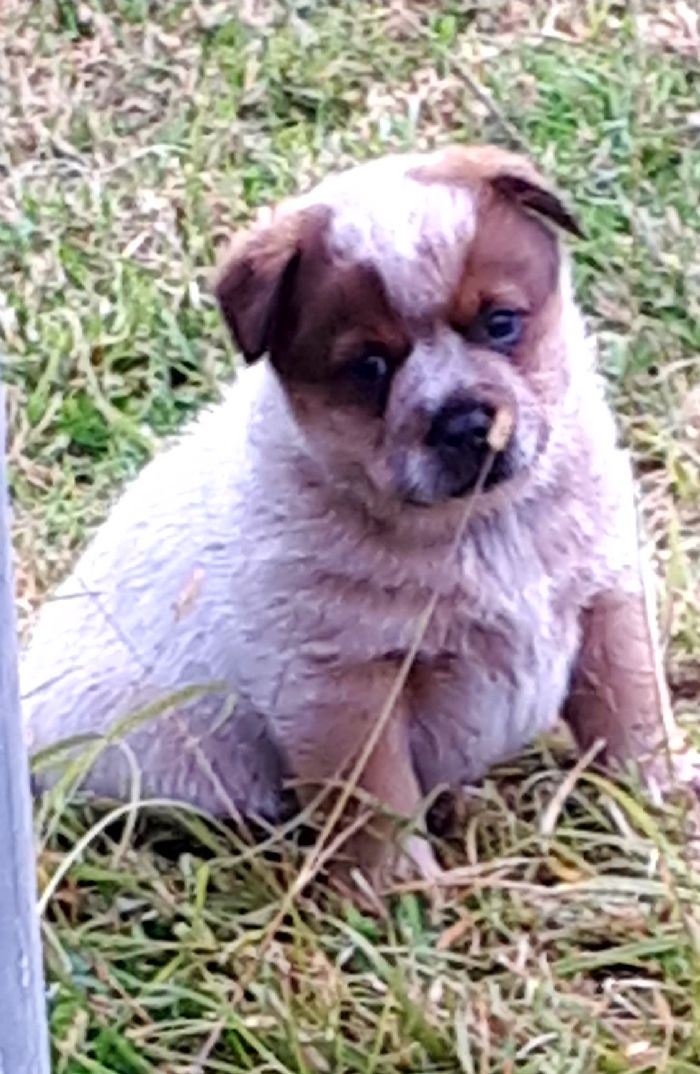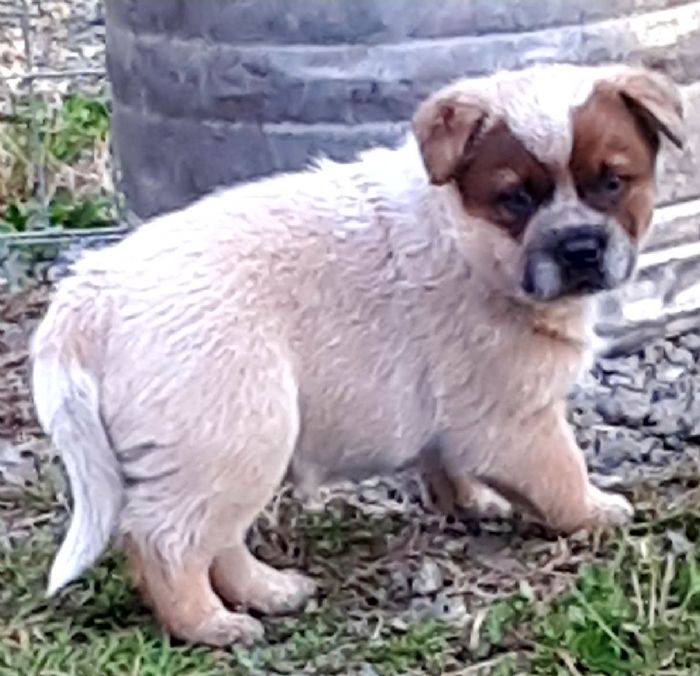 MAY 26TH 2018
Alice Continues on her winning ways this weekend, with a two Baby In groups and a Baby In show.
May also picking up 14 points and two BOB.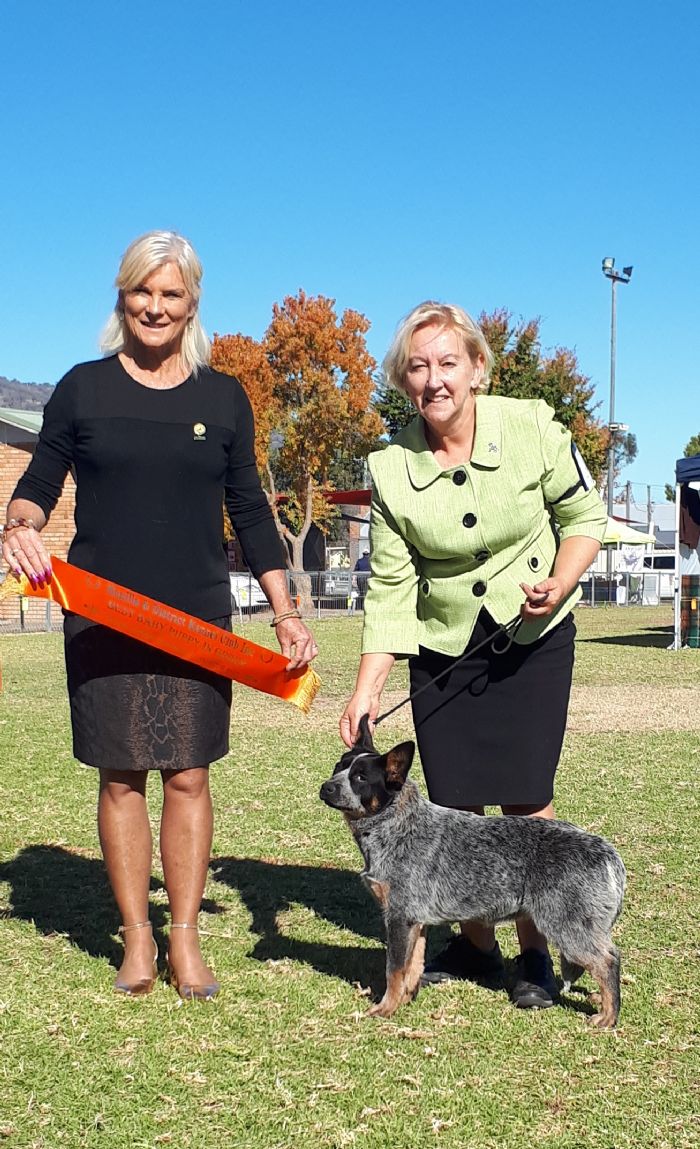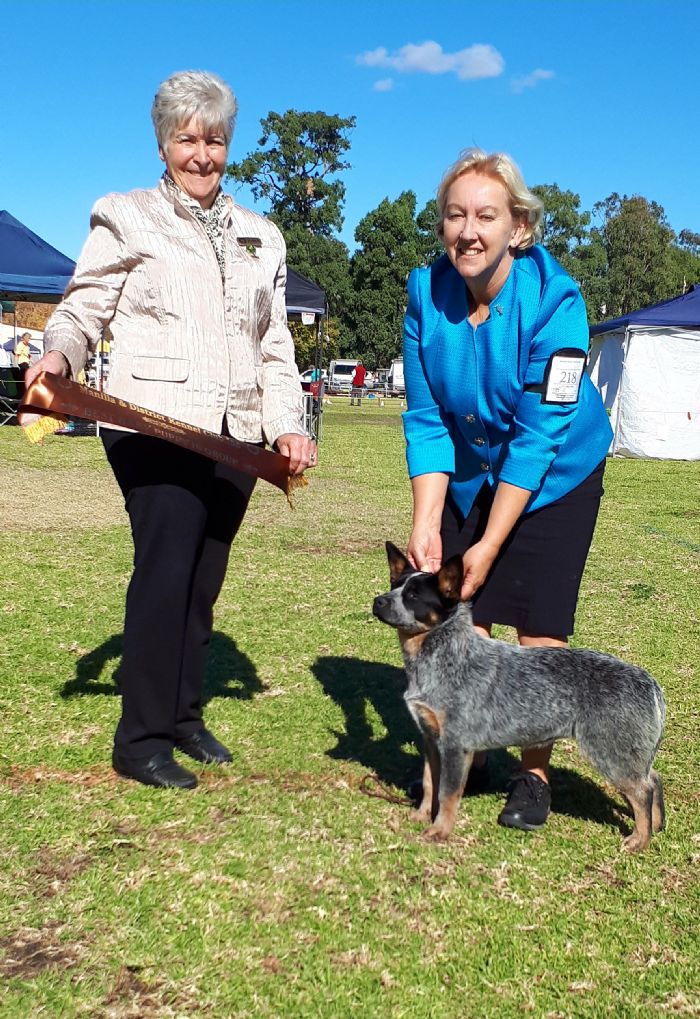 MAY 9TH 2018
Abbey's puppies were born on Saturday 5th of May. All nine babies and mum doing well.
Five blue girls, one red Girl, Three red boys.
Looking forward to watching them grow.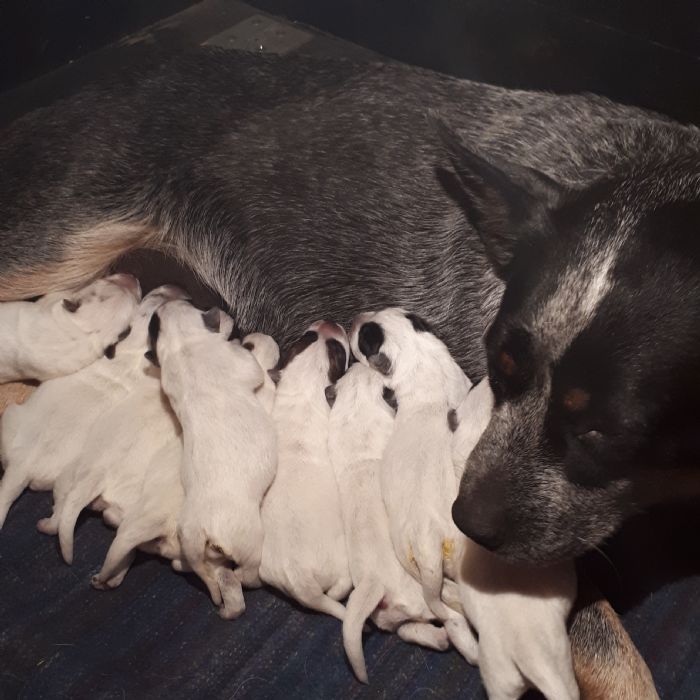 MAY 9TH 2018
We had a great couple of days showing in Grafton. Bindi WP Tribute To You placing a nice second in Baby sweepstakes from a lovely line up of babies for Vera, her owner.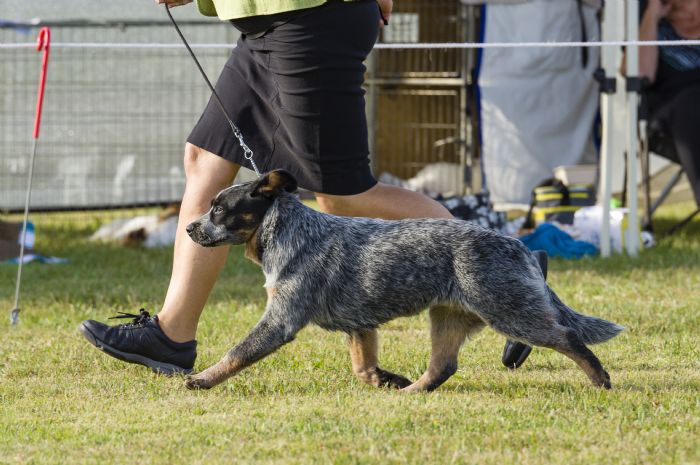 Alice WP Dream N Alice winning all 4 baby puppy in groups at all four shows with some beautiful babies in these classes.
May WP Tequila Sunrise brings home 22 points to add to her gaining her CH title. Not far to go now.
APRIL 18TH 2018
Ted and his Daughter Hope have been busy in Sth America,Ted winning Dog Challenge and Hope beating him for a BOB in Brazil over the weekend. Ted and Hope have fitted in just fine, and is a great testiment to their Temperament.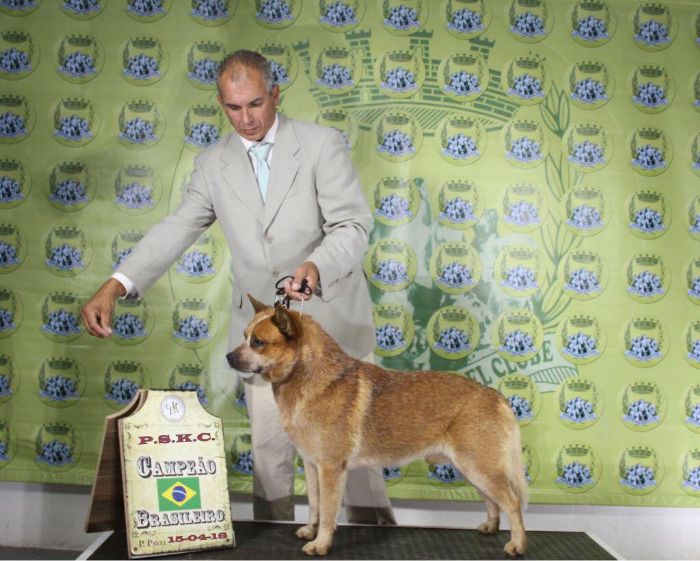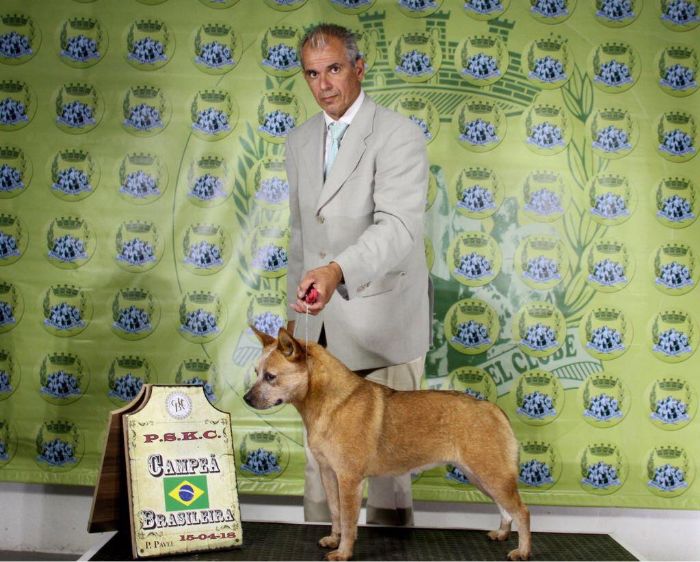 APRIL 17TH 2018
We have had some lovely pictures sent to us from families that own WP dogs this month. Diesel, 4mths old owned by Alan. Slopey Joe, with his Best friend, owned by Matt.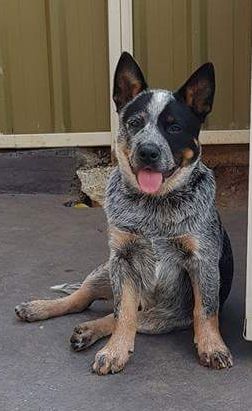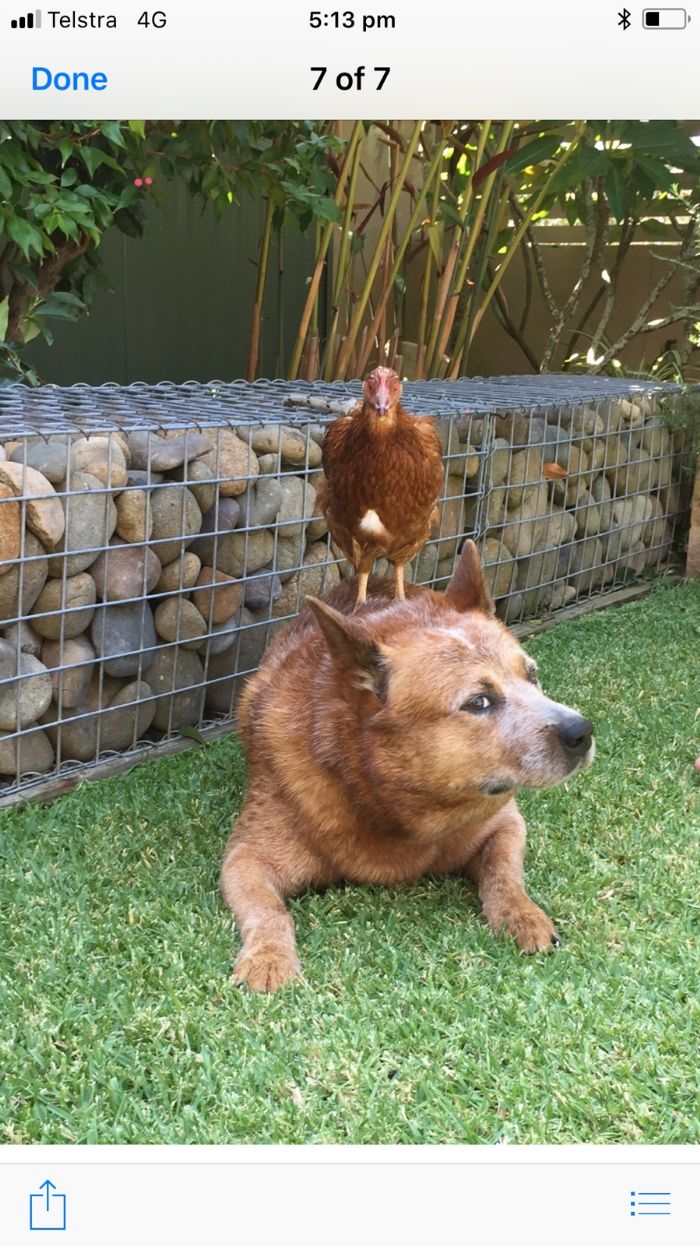 APRIL 16TH 2018
Well quite a bit has happened this month. The 6th of April saw May win an 13 point BOB and Puppy in group at Stroud Show.
The 14th of April saw May win another 11 point BOB and Puppy in Group.
Little Alice also wins Baby puppy of breed and Baby puppy in Group.
Alice's sister Bindi showed like a little proffesional also thanks to her owner Vera.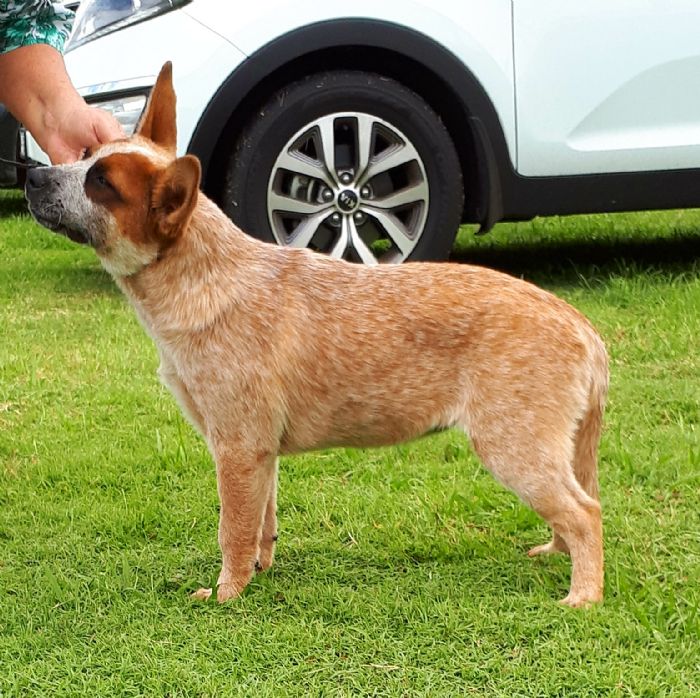 MARCH 11TH 2018
Well Abbey was a star today, only needing 2 points for her Championship and taking out a BIG at Wingham show today, picking up a nice 25 points.
What a great day. This Beautiful girl will now have a break from the show ring to hopefully have her first litter of puppies, due in 7 weeks.
Very excited to see what this gorgeous strong girl produces.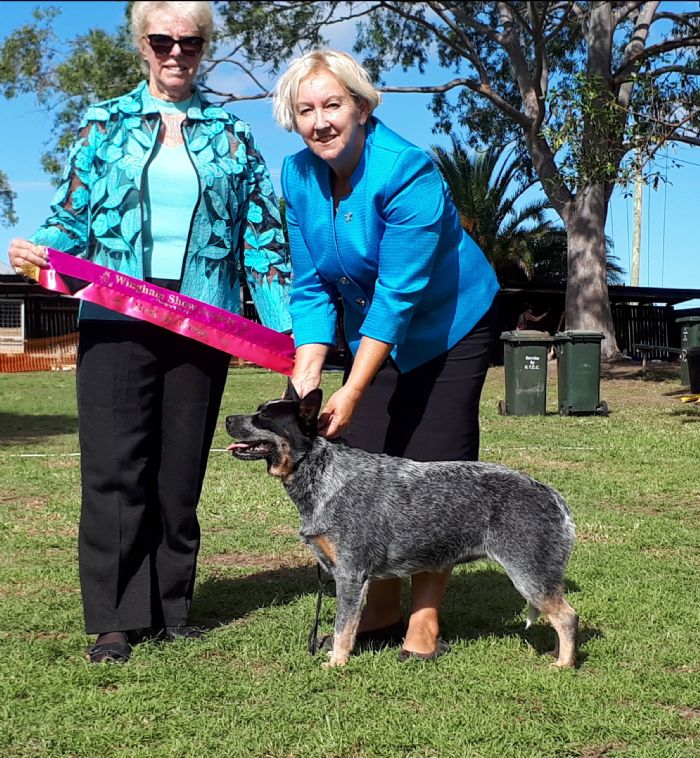 FEBRUARY 28TH 2018
The girls Abbey and May had a great weekend at Dorrigo shows.
Both May and Abbey winning a Runner up in Group, and May winning a nice Puppy in Show.
Was a great weekend away with some great company.
Ava came for some moral support:)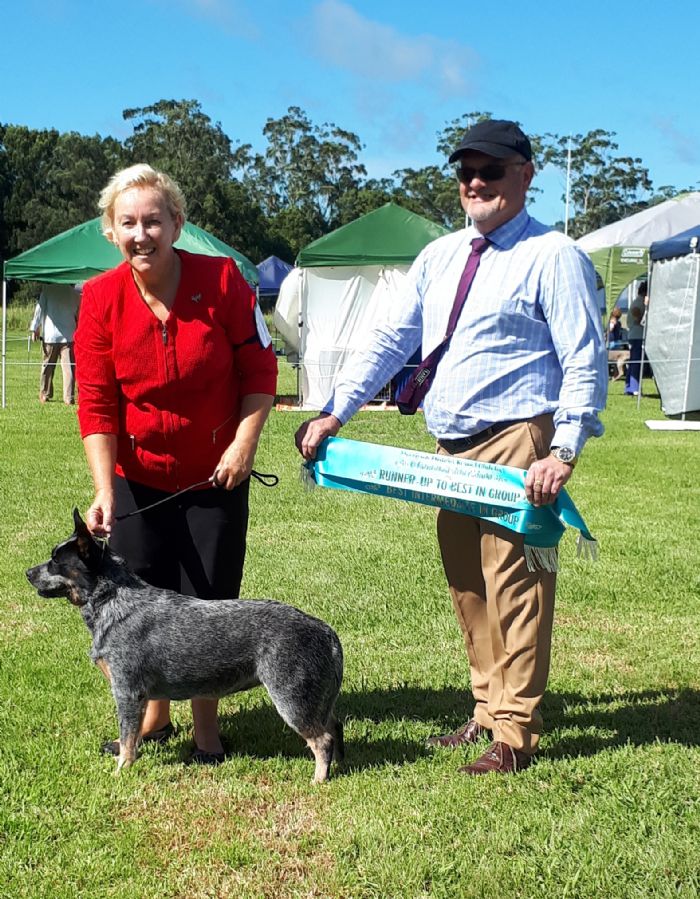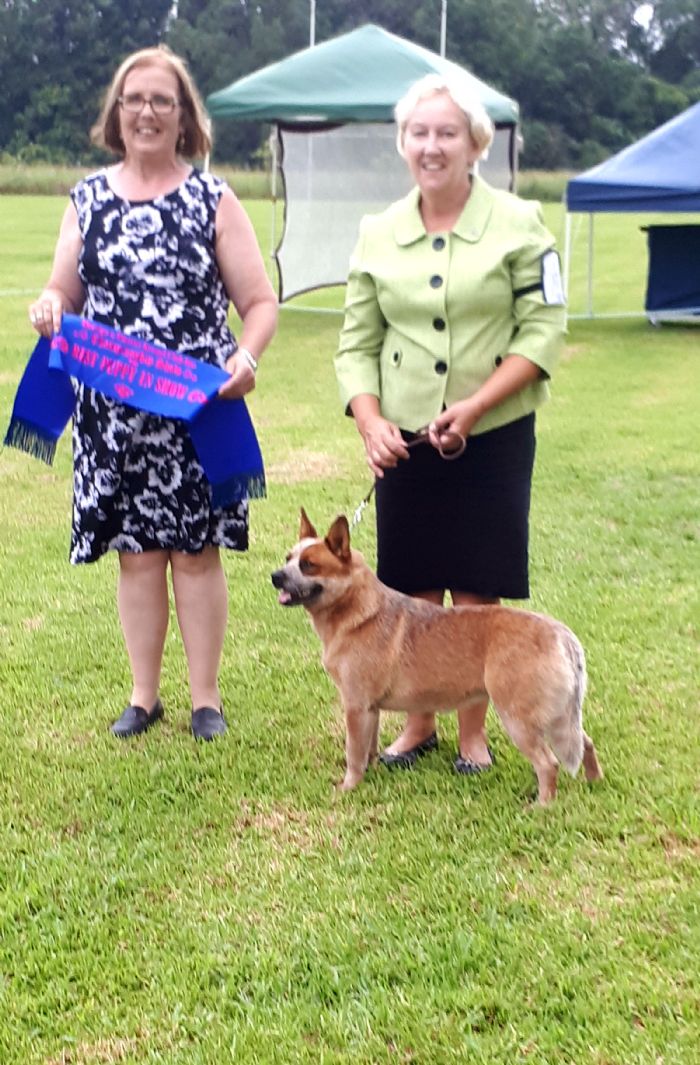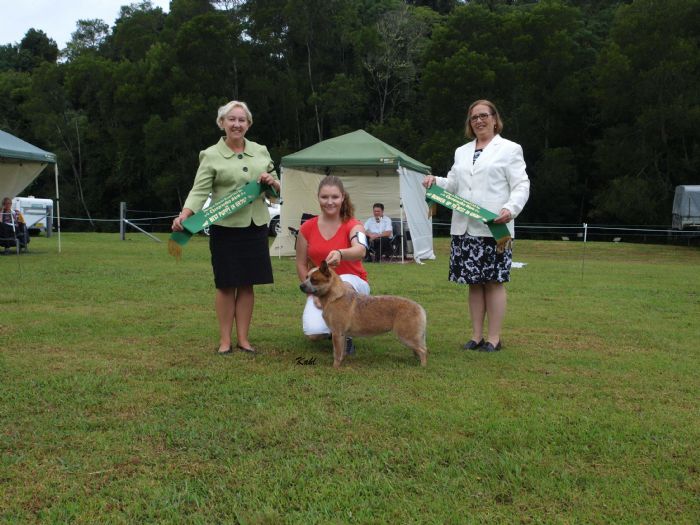 FEBRUARY 17TH 2018
May wins minor in Group today at Maitland and Abbey wins a BOB.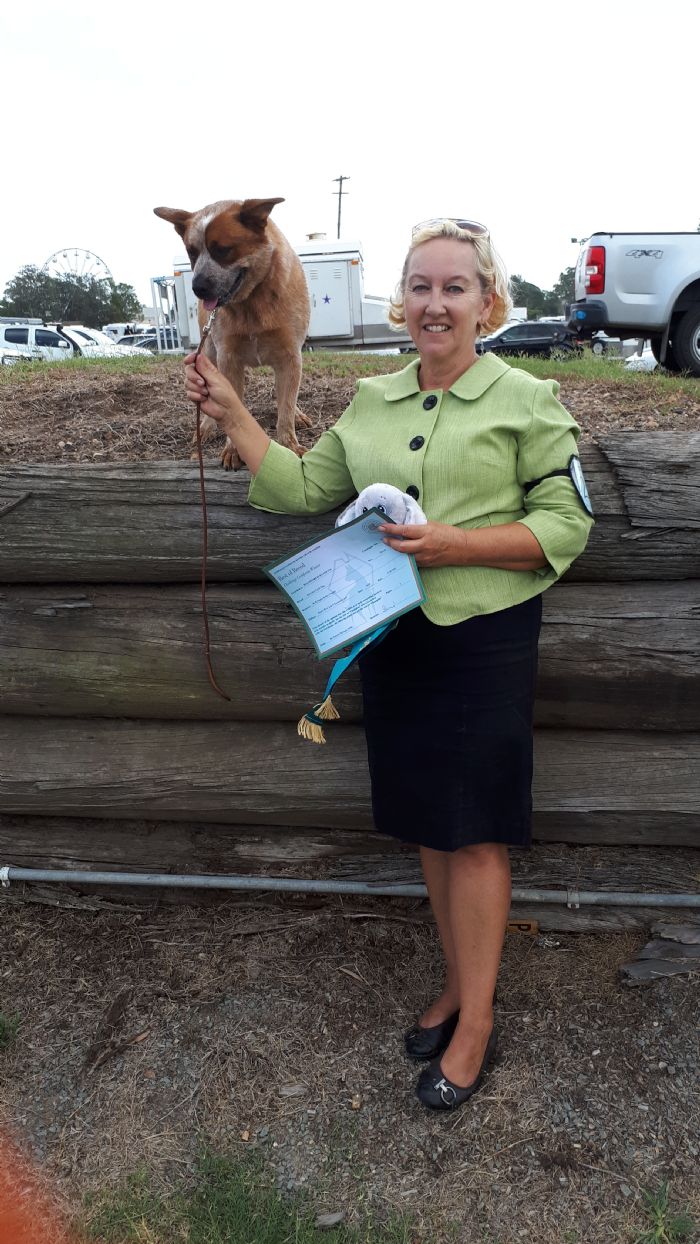 FEBRUARY 16TH 2018
Our Beautiful boy Mick Dundee today. Could not wish for a better boy.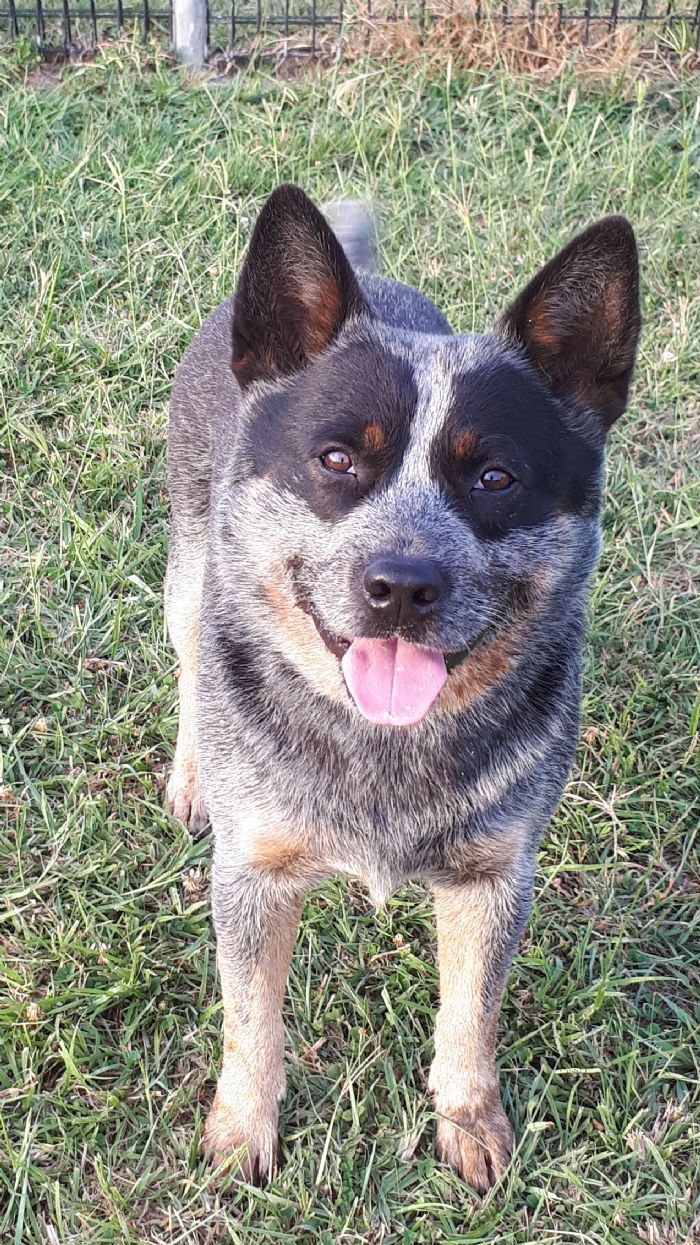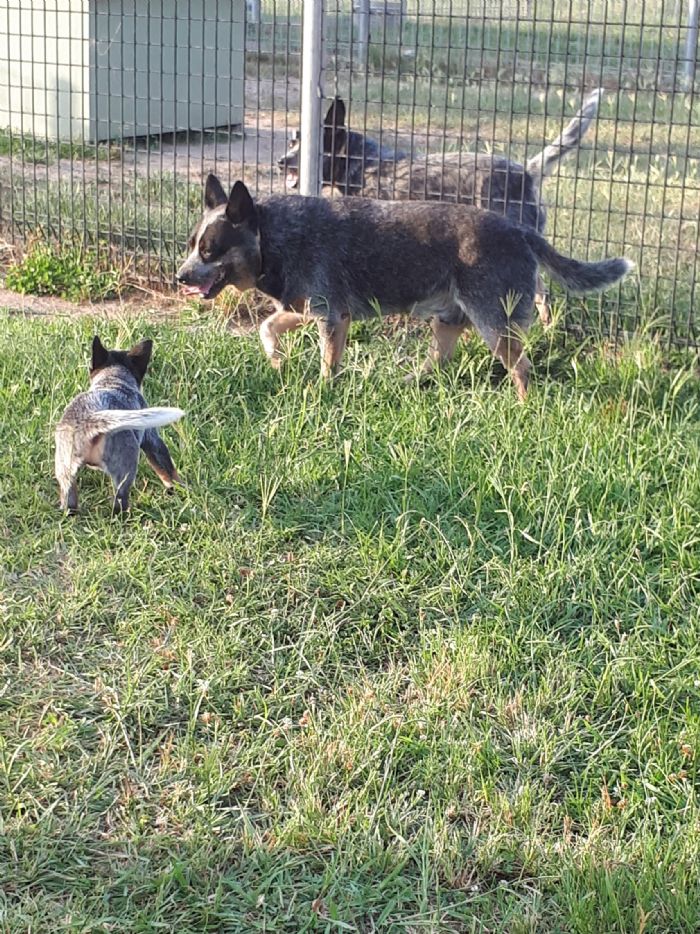 FEBRUARY 14TH 2018
Two Gorgeous girls from Ted and Summer, here 7weeks old. Retained blue girl ( Alice) Red girl has gone to show home and we wish her all the very best.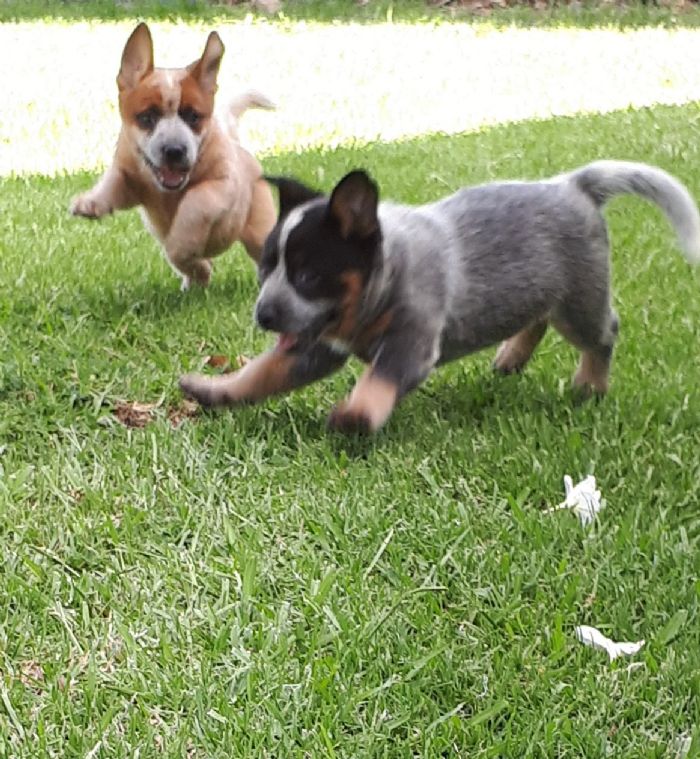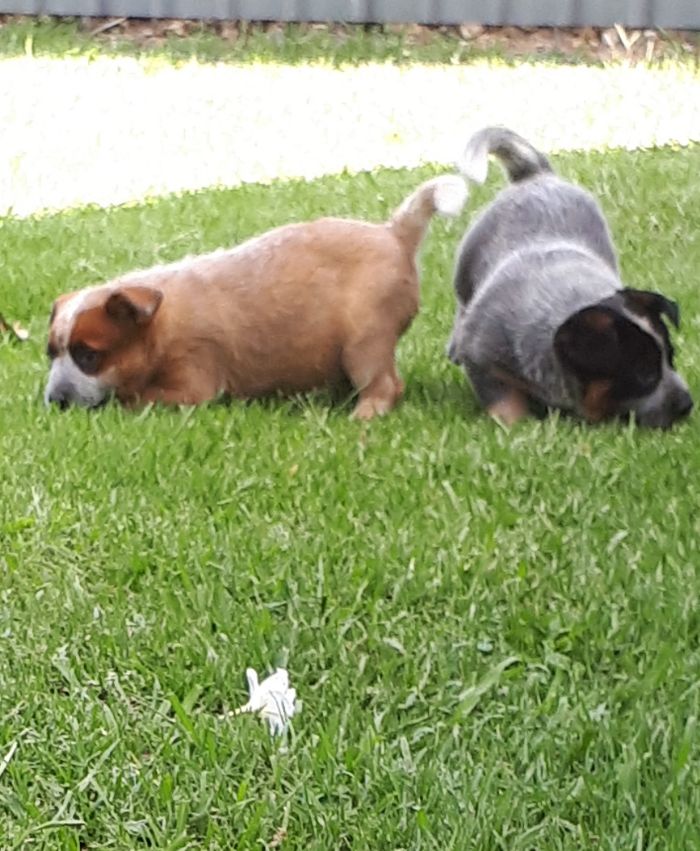 FEBRUARY 6TH 2018
WP Thunda Down Under, winning in Italy. Congratulations to llaria and Andrea.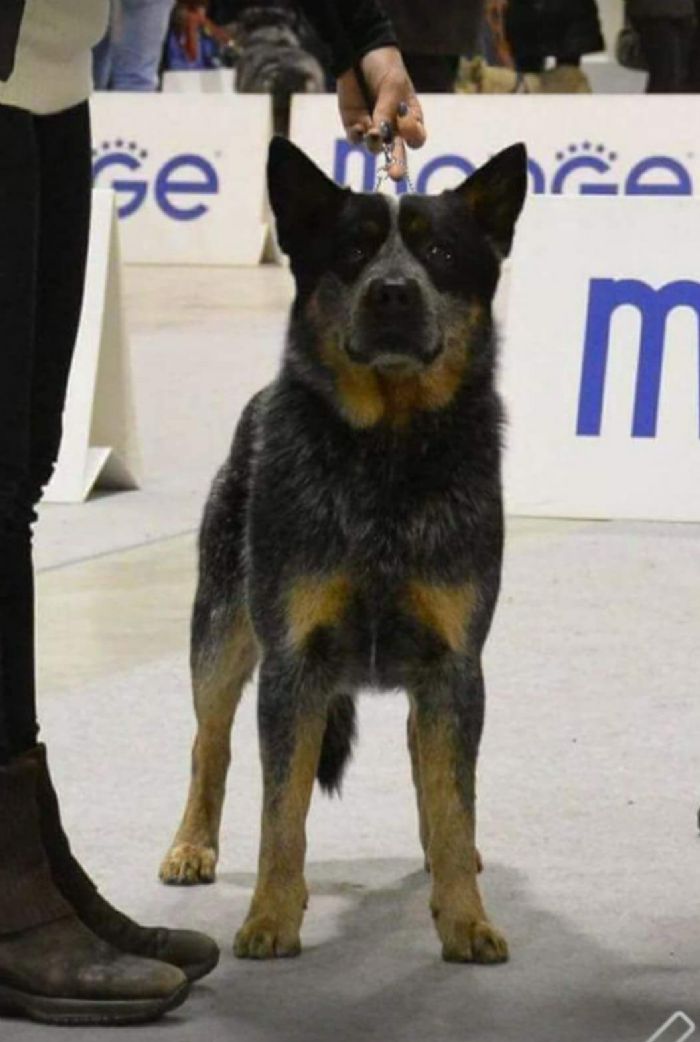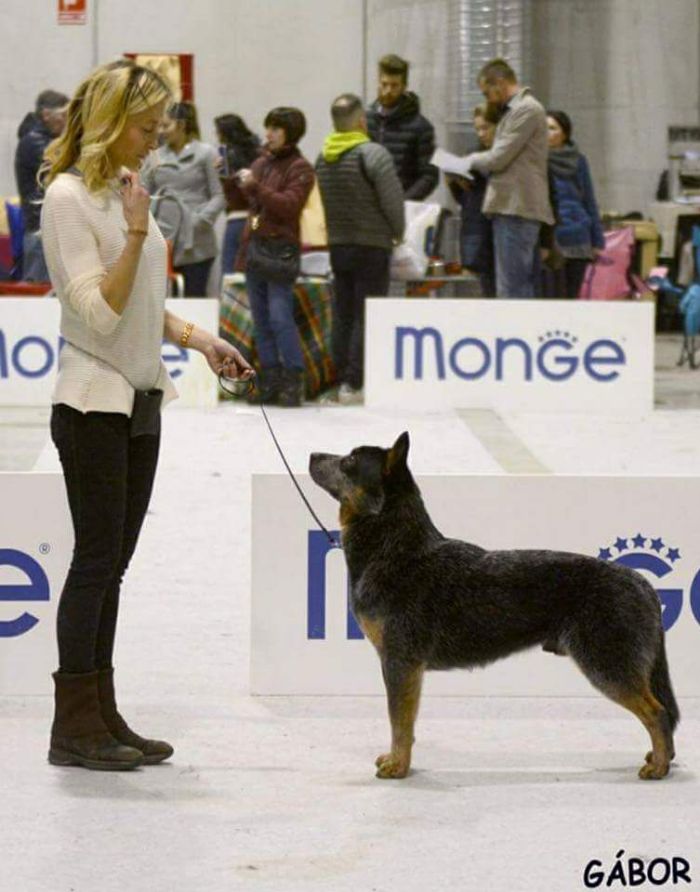 JANUARY 23RD 2018
Took these lovely pics of April and May today, they have grown and are now 8mths old. They are the most stunning reds and have the most easy, laidback temperaments.
Could not be happier with these two.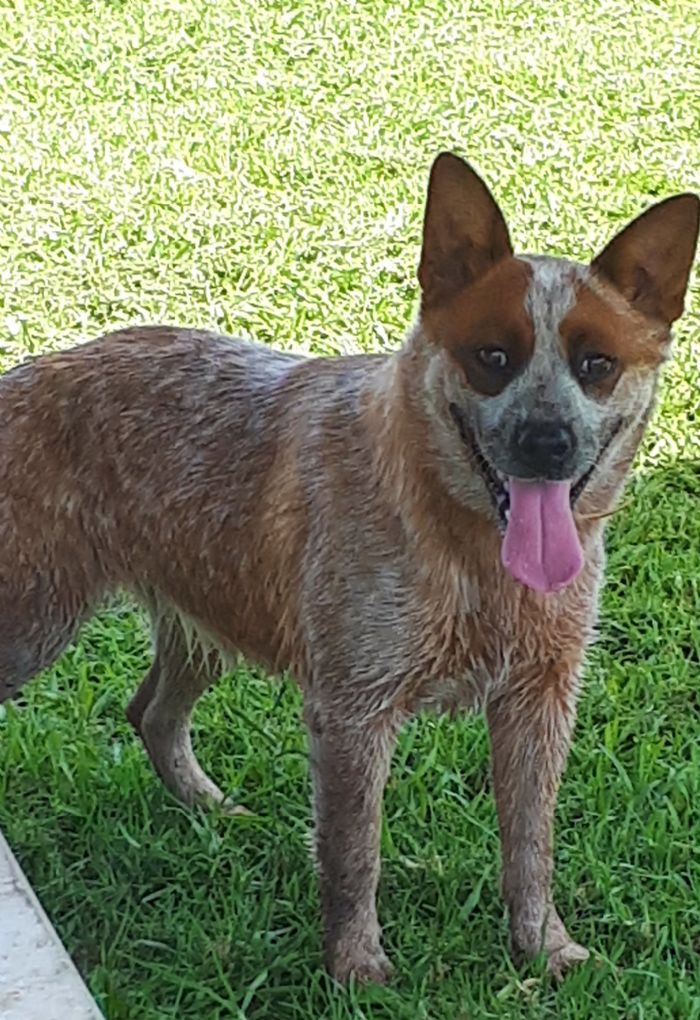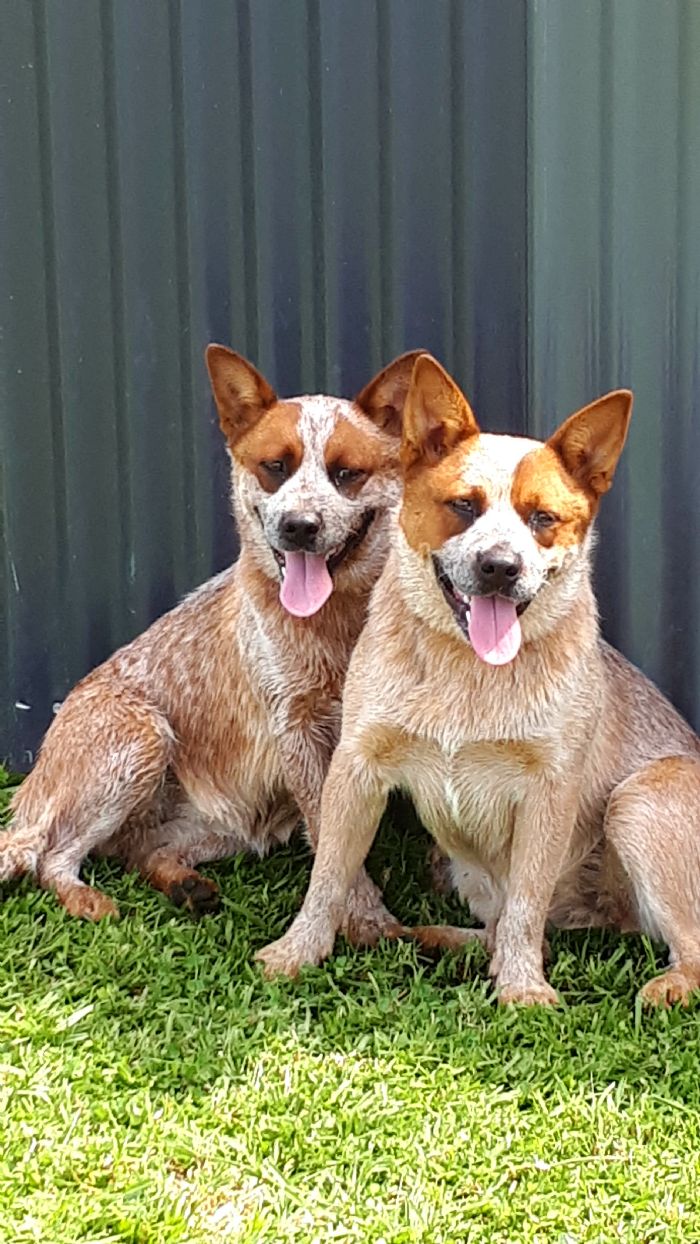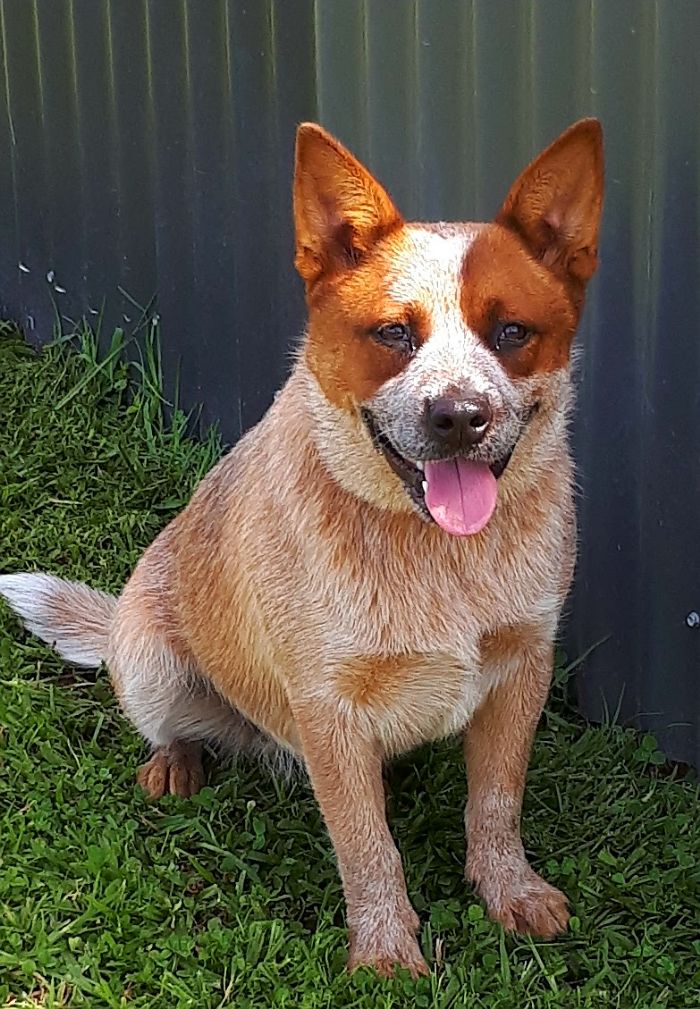 JANUARY 22ND 2018
We have had a very busy month with lots of puppies arriving in December.
Star had her lovely litter of 5, Summer had her last litter of 8 and Reece having her litter of two.
Below are some random pics of some of the puppies.