Archived Latest News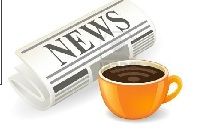 December 22, 2012
Flynn (WP Come in Spina) takes out Baby of Breed at the DogsNSW PR Christmas Show, his first show! He gaited like an old pro around the ring and beat some high quality puppies. He is destined to be one very nice show dog.

December 9, 2012
Aust Ch Willowpark Inevitablue CCD RN PT HSAs is Hunter Valley bound to visit WP Blue Shade.
We anticipate this will be an exceptionally trainable litter, and would be perfect for any dog sport. Tess achieved 6 titles in 4 disciplines before her 2nd birthday, and Shade has consistently produced exceptional working dogs. At the age of 9 he is still working cattle. He is highly intelligent with solid nerves. Both dogs have genetic mental soundness and cognitive abilities.
Tess has won Baby Puppy in Show at specialty level, been awarded a Runner Up in Group, won and placed in Obedience and Rally O competitions and is the youngest dog of any breed to earn her PT herding title. She can be worked safely on sheep and cattle. This litter will be produced with dog sports in mind. .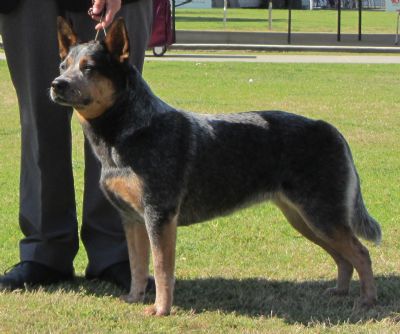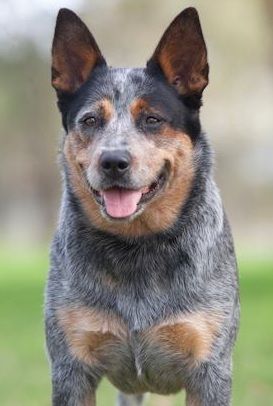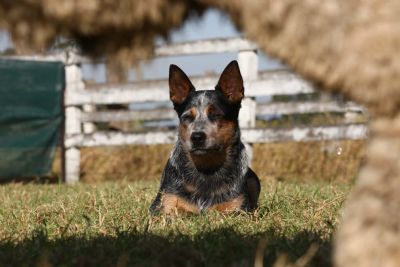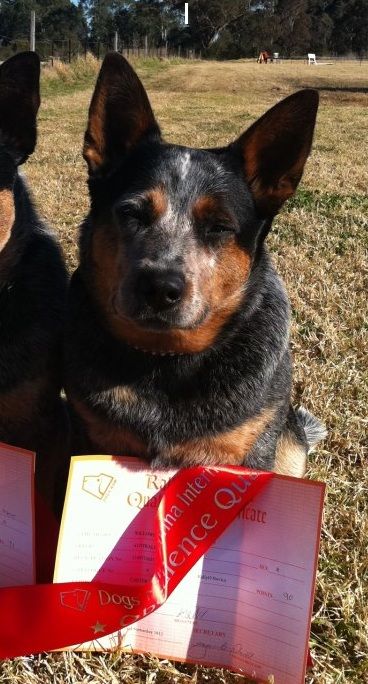 November 26, 2012
WP Eternal Flame (Meg) - full sister to WP Custom Made RN HT PT is currently in the Hunter Valley being mated to WP Blue Shade. Shade is something special, his owners saying he is by far the best working dog they have ever had.This is Meg's beautiful face - we have yet to meet a red cattle dog with such depth of colour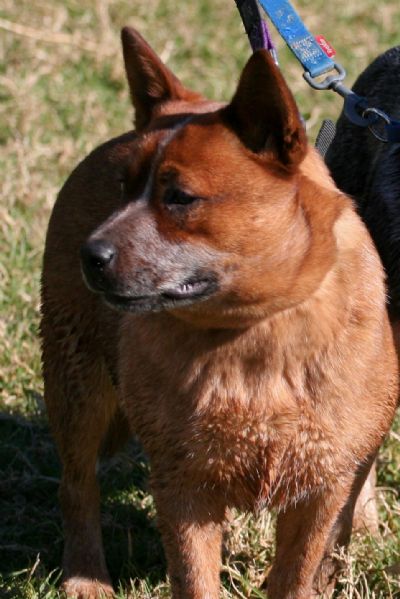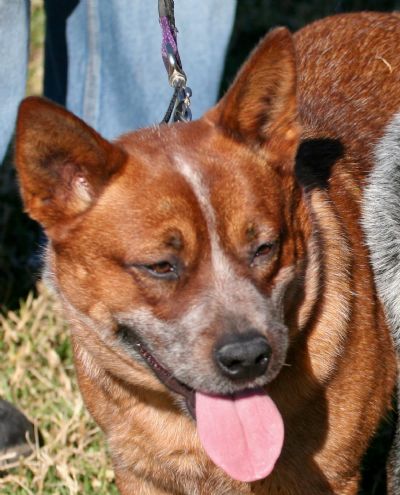 Here is Shade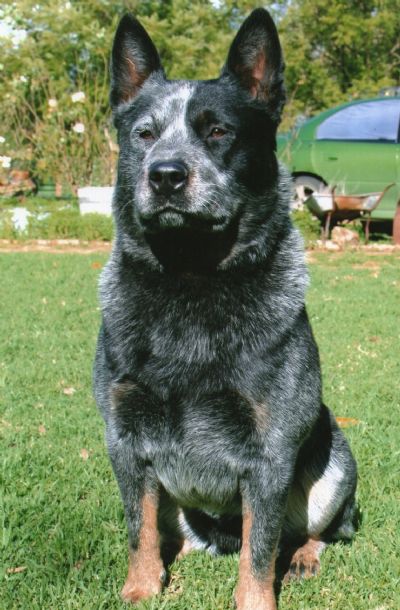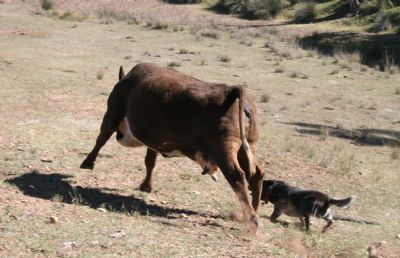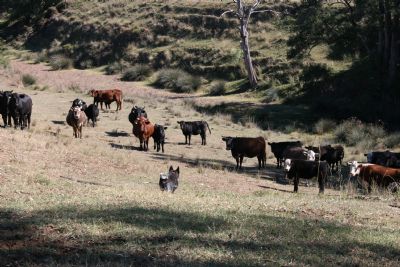 November 19, 2012

This is how our little Flynn is growing, WP Come in Spina. His sister Bree (WP Poker Face) has hit the show ring and Flynn will have his first show soon. He is 16 weeks old here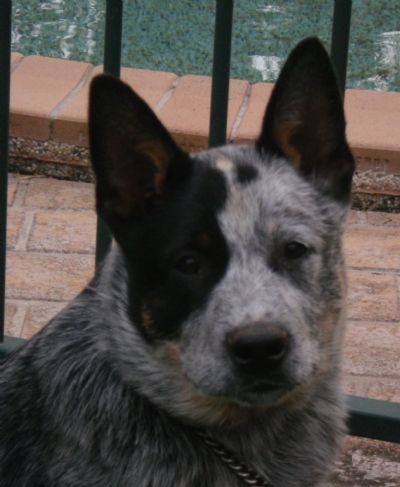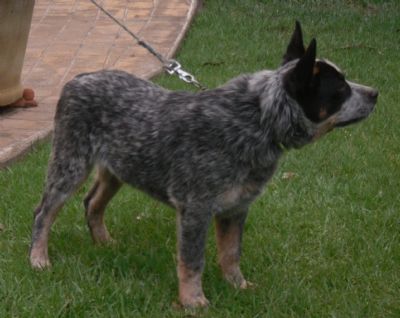 November 17, 2012
Willowpark Inevitablue becomes an Australian Show Champion, after winning Bitch Challenge at Bulahdelah Show. Such an exciting young bitch, 6 titles in 4 disciplines before her 2nd birthday! Next stop for Tess is motherhood, before tackling her Obedience and Herding Championships.
Willowpark Poker Face has started her show career with a bang, taking out Baby Puppy in Group at the Maitland & Kurri Kennel Club show. We think Bree is going to be a lovely bitch.
November 7, 2012
These are the beautiful 6 week old puppies from the visiting Matilda. The only female is being retained and the boys all have wonderful homes awaiting them. One is going to a very nice thoroughbred stud and we know he will be a great dog around livestock.
Levi has once again thrown exceptional heads.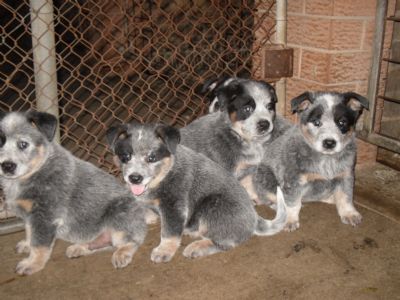 October 30, 2012
Today we went to visit some oldies we bred, Cody and Amy. Here are some pictures we took.
Amy - full sister to WP Red Amy (Molly) yes, Amy seems to be a popular name!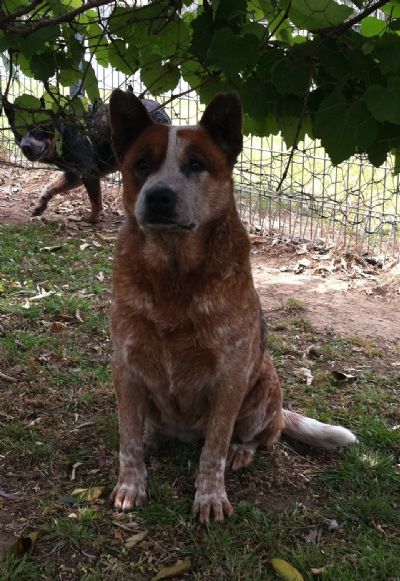 Amy on the left, and Cody on the right. A lovely old man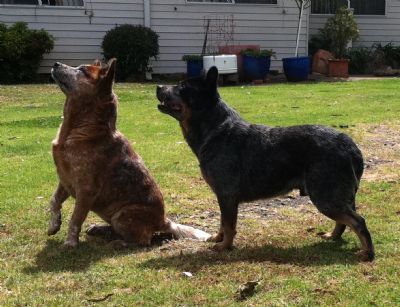 Cody has the classic Jellendore head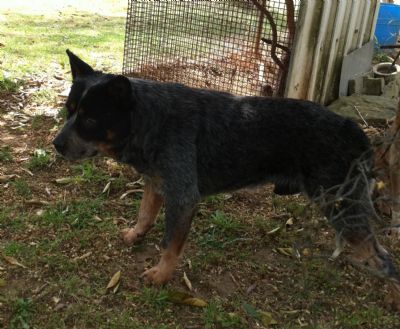 October 27, 2012
WP Custom Made RN PT (Zac) goes Junior in Show at the Port Macquarie & Hastings Kennel Club show. In the breed class he went runner up Best of Breed to his big half sister WP Inevitablue CCD RN PT HSAs (Tess) who won an 11 pt Best of Breed. Judge Mrs M Watson commenting that she was a lovely typey bitch.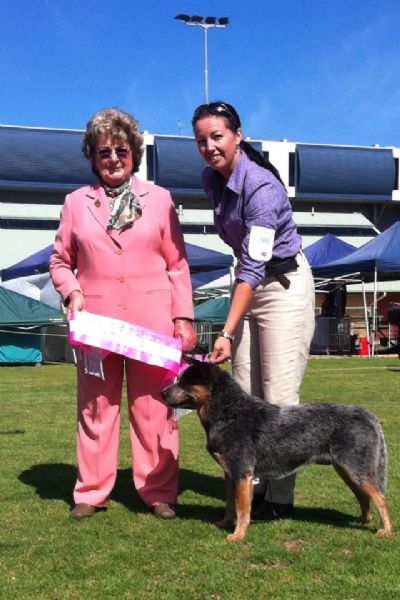 October 15, 2012
Matilda, who visited us in winter had her puppies. Levi is really passing on his head to all his puppies.
These guys are just on 3 weeks old. 3 of the pups -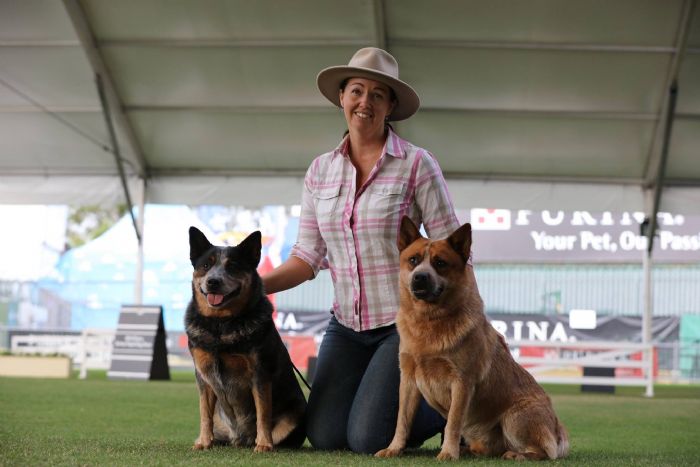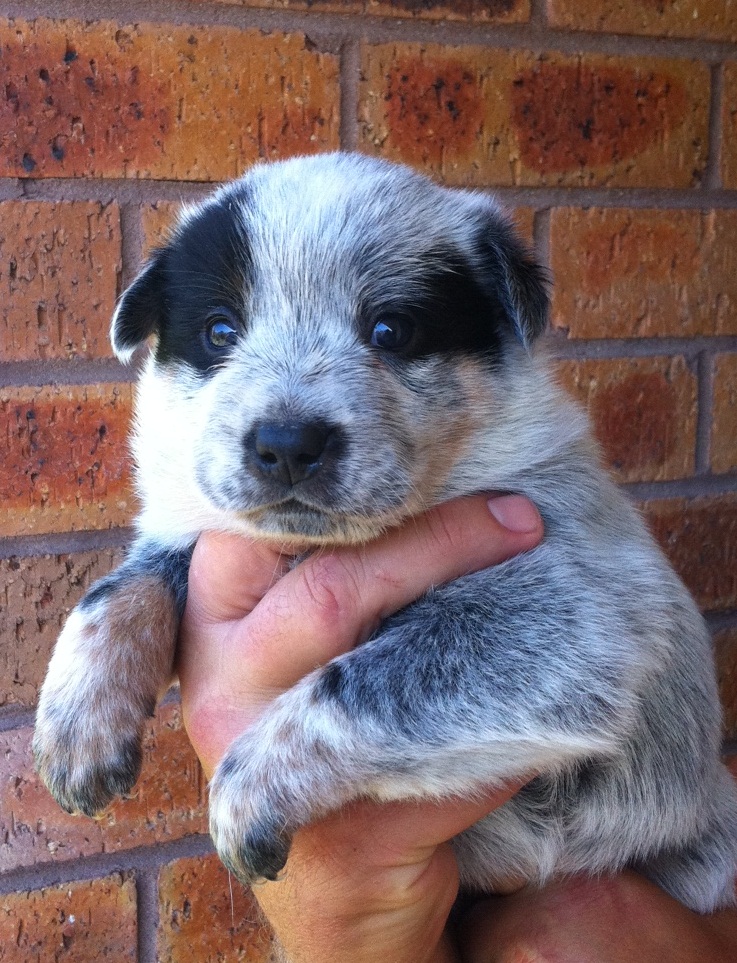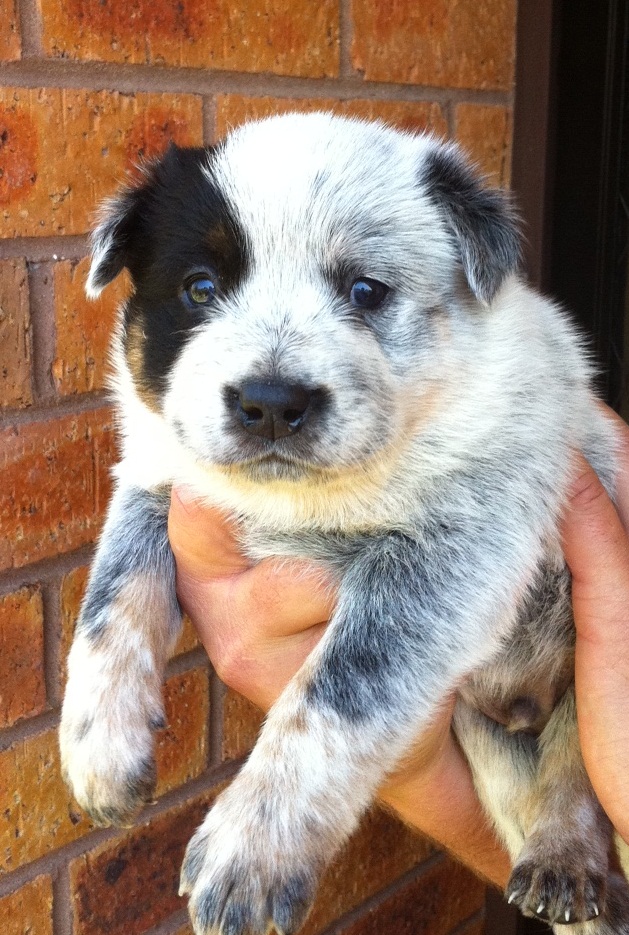 October 8, 2012
We can confirm WP River Dance is certainly in pup to Pavesi Five Card Stud, and by the size of her belly there are a few in there. We will be retaining possibly 2 females. Email is the best way to contact us so if you are interested please email us your details and what you would like from one of these pups. The pups will not be affected by PRA.

September 22, 2012
WP Inevitablue (Tess) and WP Custom Made (Zac) finish off their Rally O Novice titles at the double trial in Coffs Harbour, Both perform well in the morning trial but the evening trial they are both little superstars. Tess finishes 2nd (from over 40 entries) with a score of 99/100, and Zac finishes 6th with 94/100!! Zac knows his basic sit, stay, drop and heel position but he pulls it all together with a bright prancy heel to complete the whole course and only lose 6 points. They will both have RN after their names now, along with herding and obedience titles.
September 19, 2012

WP Inevitablue (Tess) has been used on numerous occasions in Junior Handlers competitions, and with one of her favourites, Adam, went in Junior Handlers at the recent NSW Specialty. She is a great dog for Junior Handlers as she is so reliable.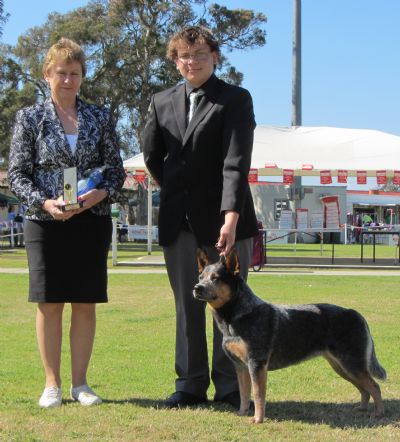 September 11, 2012
We tried to fix the video of Flynn on sheep. Here is a snippet
This pup becomes more exciting every week. His PRA prcd results have come back clear (A)

September 8, 2012
Our little 8 week old pup WP Come in Spinner (Flynn) - one of the WP Blue Breeze HT - Pavesi Five Card Stud has a play with 5 sheep today. Bold, confident and chasing the sheep. Very, very cute. We are so happy with this pup and he also has the two thumbs up from Alan and Julie Park - Five Card Studs owners. There is video on our Willowpark ACD youtube channel however,sadly, the quality is not 100%.

We are so delighted with this cross that plans changed for WP River Dance and she has spent a week with Alan and Julie being mated to Stud. Fingers crossed we get more than 2 puppies this time, so if your interested in this mating please email us.
September 2, 2012

We would like to share these two short videos of two Willowpark ACD's at play with other dogs. We believe ACD's should be defensive, not aggressive. In a non threatening situation they should not cause drama's. When farmers took their stock to market we doubt they would have tolerated dogs attacking other farmers prized working dogs.
Here you can see two entire dogs, one young 14 month old male and one female. The male has a huge amount of presence and masculinity but responds in appropriate ways to other entire males.
September 2, 2012
WP Inevitablue (Tess) & WP Custom Made (Zac) have their first go at Rally Obedience at the NSW Spring Fair. They both come home with qualifications!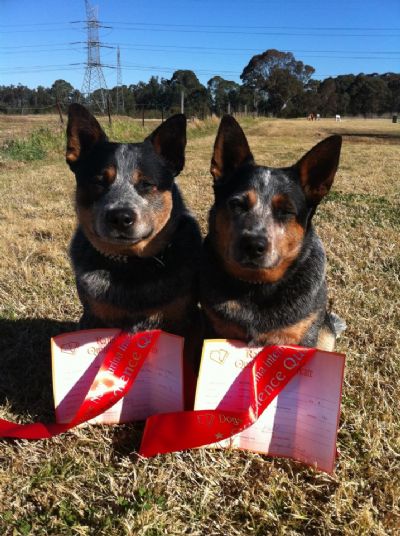 Showing her versatility Tess also competes that day in a sheep yard trial,her first time in the steel races with the sheep. She had to split 8 sheep from 100 and then put and push them through the yards and race - just like a Kelpie would. She did so well at her first attempt she won the encouragement award. The day previous she had her first trial in agility and jumping doing so well getting all her contact points, the 12 weaves but a few faults in each round kept her out of the quallies. In 48 hours she does so well in agility, obedience and herding.
September 1, 2012
Once again international photographer David Darcy comes to Willowpark to use our dogs in his books. Previously puppies including WP Blue Shade have made the cover. Last year David chose to shoot Tess and Levi playing in the dam like a pair of ferals!, plus some of Levi's puppies from last year. This is his 4th book which celebrates dogs right across Australia. You can see the photos on pages 2, 3, 11, 84, 85 & 89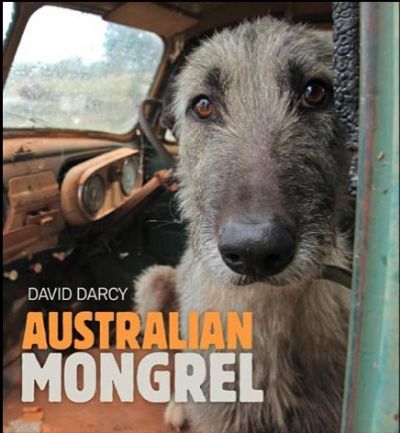 August 21, 2012
Look at the puppies Levi is producing! He has had limited use as he is busy learning agility but look at the heads! These guys are 6 weeks old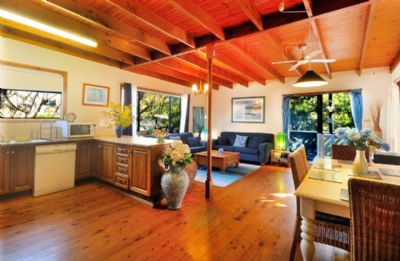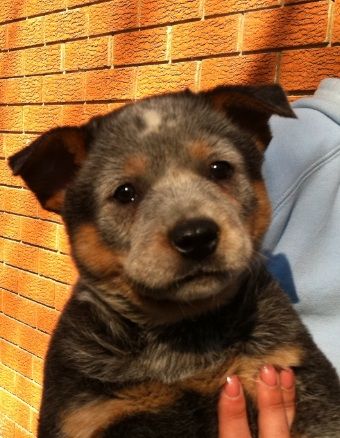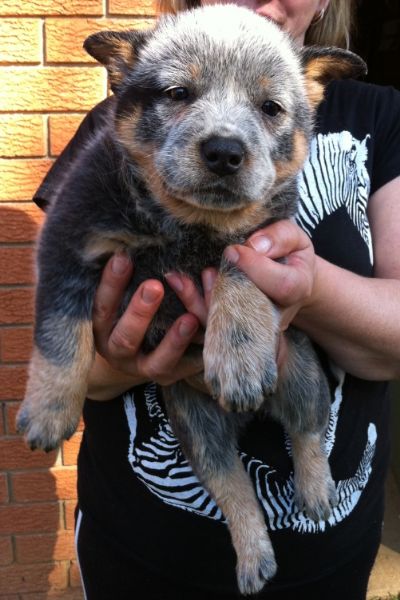 August 18, 2012
WP Custom Made HT (Zac) gets his final PT pass now making him WP Custom Made HT PT. Judge Ms K Finlayson commenting that he has huge amounts of ability and instinct and is a real dog for the future. Zac has so much enthusiasm and a natural ability to cover the stock, he can be bossy though and likes to tell his novice handler when she is holding things up! He has been handled by a very experienced cattle dog handler at training and under him he showed maturity and ability beyond his age. In the 2 weeks prior he has also won 2 Best of Breeds and a Junior in Group in the showring. He is very close to his Aust Champion title. It is nice to see judges appreciate his strength, bone and stunning head. Every inch of him conveys strength & agility. Zac has just had his first birthday.
August 5, 2012
WP Inevitablue (Tess) becomes one of only a few cattle dogs ever in Australia to gain her HSAs title (Herding Started A course sheep). Two more levels and a High Trial at Advanced level will see her with her Herding Champion title. The trialling focus is now on her cattle and duck titles, while she perfects her driving for Inter and Advanced. The B course is also next on her agenda.
WP Custom Made (Zac) gets his first Pre Trial Test pass (one more required for his PT title). He is a superstar in the making, only coming off lead with the sheep 6 weeks ago. In 6 weeks he has his HIC, HT and a PT pass.

July 23, 2012

The lovely Matilda (WP Bush Matilda) has been with us this week to be mated with Levi. Matilda is 4 years old and still under WP registration, so her puppies will carry the Willowpark prefix. She is a lovely, friendly girl who adjusted to the kennels very quickly (which from the couch can be a rude shock!!)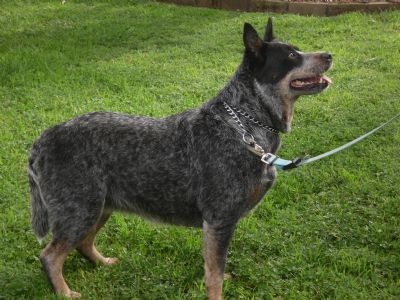 July 20, 2012
We have been truly overwhelmed by the amount of enquiries about our puppies. Sometimes over 50 in a single day. We know they are something special and we are very flattered with everyone recognizing this. Apologies if we are slow to reply to emails. The puppies are all spoken for, with some going to new homes in England and America. We are so excited that many have gone to show and competition homes, plus working ones as well. If you are interested in going on a waiting list please still email us with details about what you are looking for.

July 16, 2012

http://www.dogzonline.com.au/breeds/profile.asp?dog=40882
You can find some of Shades sons here -

http://www.dogzonline.com.au/breeds/profile.asp?dog=43808

http://www.dogzonline.com.au/breeds/profile.asp?dog=40925
July 15, 2012

Breeze had her much anticipated litter! However, unfortunately, she will disappoint many as she had 1 boy and 1 girl. Both blue with single eye patches. Not enough puppies for the level of interest this mating had.
Sadly we also lost Rain a week ago to complications following a C Section delivery. Her 3 puppies survived and are being raised by Molly. She is fantastic and happily took the puppies into her care. She holds her older 2 back with her front paws allowing the orphans to feed first. We certainly miss Rain's happy face in the kennels.

July 8,2012
All of our red puppies have fantastic homes awaiting them. We are still expecting the Breeze (WP Blue Breeze HT) - Pavesi Five Card Stud litter and the Jade (Barkingpines Jade) - Levi (Burrenjup Hot Coals) litter. With so much interest in the puppies we kindly request if you are interested in a puppy to please send us an email introducing yourself and what you would like/require in a puppy - working, show, pet or performance sports.
June 30, 2012
WP Custom Made (Zac) and WP Inevitablue compete at the first herding trial for the year. They both finish with outstanding results.
Tess has her first run in with the big boys - A course started level, and at 18 months old was brilliant. Apart from a hiccup on the initial cast, with 2 sheep moving off the peg, she finished her course on a score of 91.5 out of 100. 8 points being lost at the very beginning. So much promise for a young dog in her first real trial. She didn't lose a single point through the obstacles.

Zac had his first chance to trial since turning 6 months old and passed his preliminary Herding Instinct Test, then moving up to the Herding Test, where he got 2 out of 2 passes, under different judges, giving him his Herding Test Title. Judges comments were 'Lovely dog'. This young boy is a star in the making, always eager and with maturity will settle in his work.
June 25, 2012
WP Red Amy (Molly) has 2 simply stunning girls. Both are red with double masks. They are short coupled, solid little puppies. Their sire, Max, is one of the last full Jellendore dogs left. These girls are very exciting. These are the puppies to enquire about if your looking for a competition sport dog.
June 24, 2012
10 month old siblings WP Eternal Flame (Meg) & WP Custom Made (Zac) spend a day with the sheep.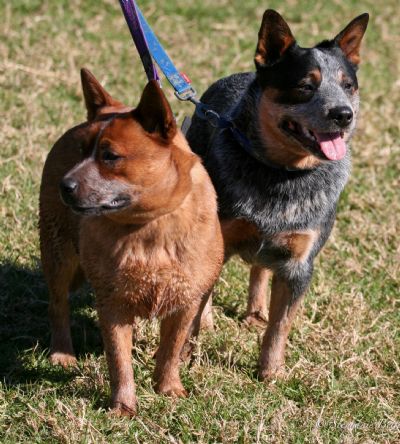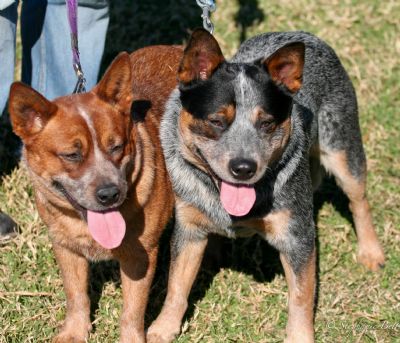 Zac (WP Custom Made) is making huge progress with his herding. Cattle Dogs can work sheep! All that's required is instinct, brains and a desire to follow directions. A good ACD can be worked on ducks.

Gathering the sheep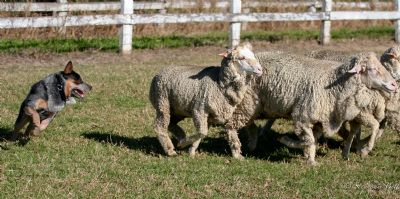 Learning to work like a Collie and give the stock some space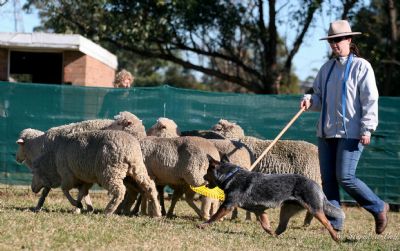 June 7, 2012

Annie has 5 good looking puppies. 1 red girl and 4 red males.

May 18, 2012
We have 3 blue puppies, currently 7 weeks old. Not bred by us but they do have Jellendore bloodlines. Ready for their new homes on May 25.

May 16, 2012
Go to our Future Litters page to see who is expecting and who has been mated.

We are trying some new blood to see how these out crosses can complement our line. The stud dogs were chosen firstly for a stable temperament, relaxed & intelligent, then for conformation which would marry well with each bitch.

These will be the only puppies for Willowpark in 2012. There should be some spectacular puppies produced.

April 9, 2012
WP Red Amy at the age of 6 goes to her first ever show - Sydney Royal! Her strong nerve and unbelievable temperament were amazing. She met many of the public and loved eating everyone's treats. With only a week in 'suburbia' as preparation and no show classes at all she was perfectly behaved for the judge. She came home with a 3rd place ribbon. iPhone photos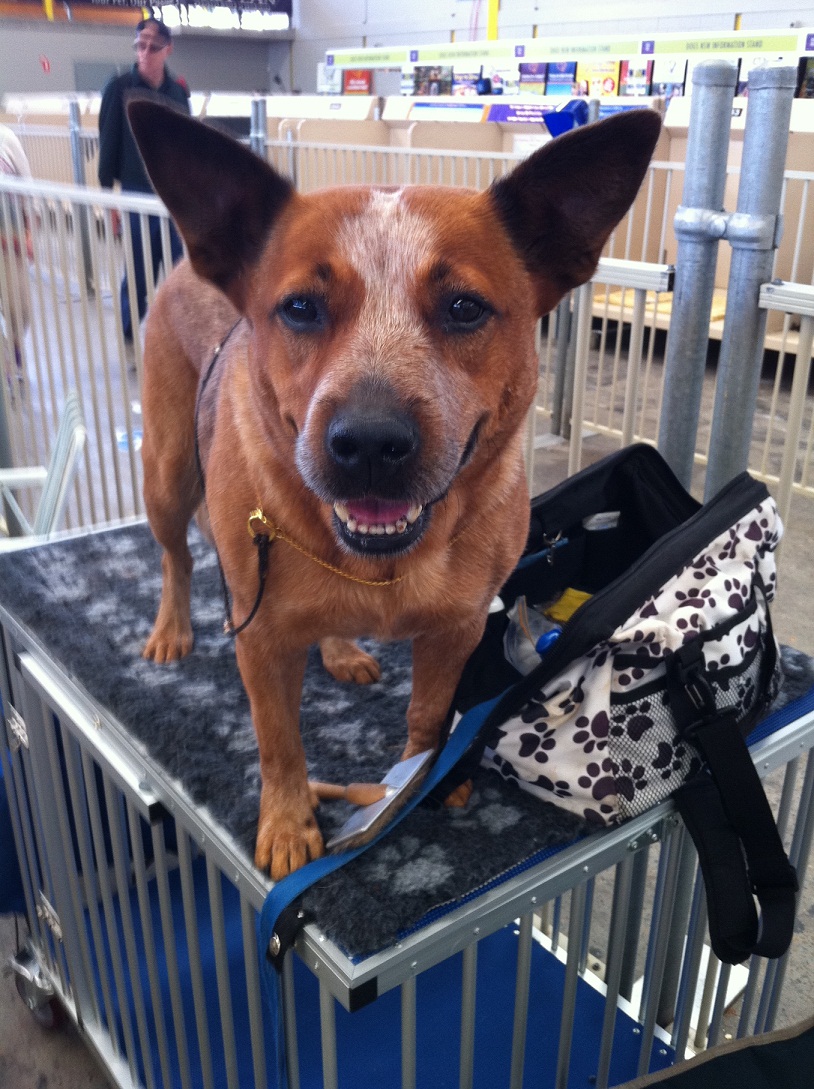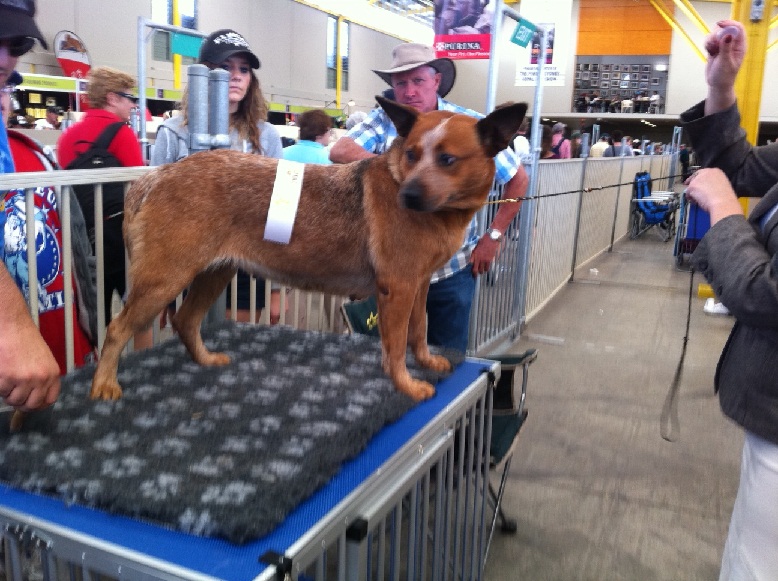 March 24, 2012
WP Inevitablue wins Best of Breed at Goulburn A P & I Show, then wins Runner Up In Group.
February 24 & 25, 2012

WP Custom Made wins a 10pt Best of Breed at Newcastle. He then wins an 8pt Dog Challenge, only beaten by a Grand Champion. WP Custom Made is on 30 points at 6 months and 3 weeks old.

February 19, 2012
WP Inevitablue finishes off her CCD title by winning the competition. 2 days after turning 15 months old!

February 11, 2012
WP Inevitablue places 3rd out of an entry of 20 in her 2nd obedience competition, scoring 91 out of 100. At 13 months old she was the youngest dog in the competition.

February 2012

Very sadly we decided to send our grand old man WP Blue Anzac over the rainbow bridge. He was a wonderful dog for our family and we will miss him dearly.
January 5, 2012
We currently have 2 puppies available. Whilst they were not bred by us, they are from a combination of Jellendore and Willowpark lines.

Within 24 hours of the litter being advertised over half the litter has been sold. Be quick if the old Jellendore line interests you!