Archived news -2014
December 31, 2014

Finishing off the year is Flame (WP Royal Flush) gaining her Rally Novice title in Armidale.

December 24, 2014
Our gorgeous old girl Molly (WP Red Amy). She has been the dog which helps out the most moving and loading cattle, and now we thought we might try for some herding titles with her in 2015.
December 23, 2014
The talented Pan, a daughter of Tess (WP Inevitablue) and Bentley (WP Two Up Tiger). Pan lives in Kununurra, Western Australia.

December 22, 2014
Merry Christmas from all the team at Willowpark. We hope everyone has a safe, enjoyable time with all their friends and family, both 2 and 4 legged.


Sandra, Ava the Chihuahua, Pria and Mick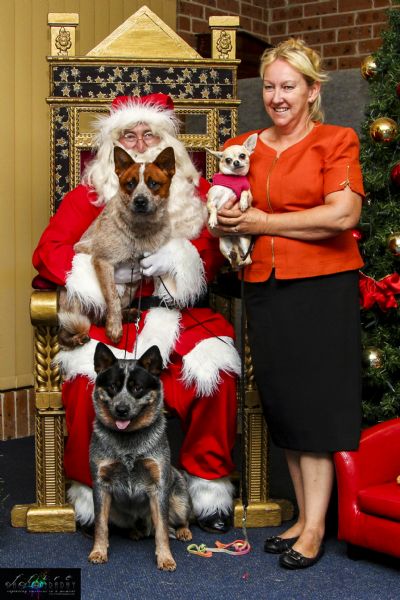 Some of our puppies in new homes sharing the Christmas spirit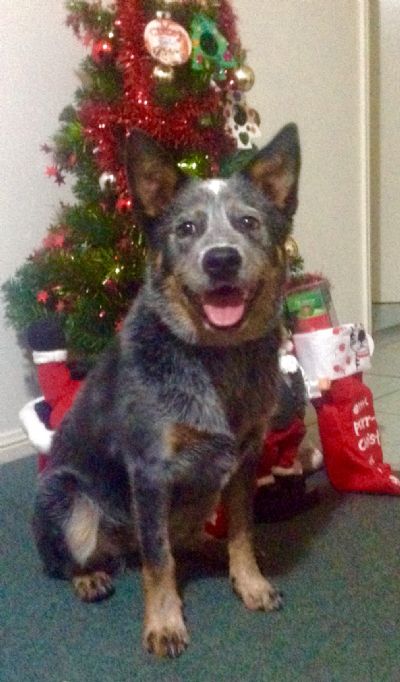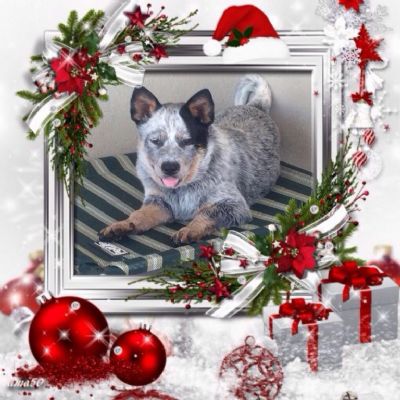 December 20, 2014
We took 5 of the dogs to the DogsNSW Christmas Show, and we had a great time with them. Bree (WP Poker Face), Lace(WP Denim & Lace), Pria (WP Whiz Kid), Mick (WP Mick Dundee) and Lou (WP Outta Tha Blu). With 18 dogs entered Mick won Reserve Dog Challenge and Runner Up Best of Breed and little Pria at only her second show wins a lovely Bitch Challenge. Bree and Lace were in the festive spirit and were a little too jovial in the ring! Lou was bold, happy and very well behaved at her first outing.

December 15, 2014
Now that the sheep have settled in we have given a few dogs a run. Ted (WP Bush Tribute) has all the instinct in the world but he needs to work on impulse control and following instructions. A short clip of him working on his 'stops'
Pria (WP Whiz Kid) has her first time working on sheep. She is a daughter of Ted, so she was taught her 'stops' before she even saw sheep. We are super happy with her first time working them.

December 13, 2014
More videos, fun in the dam and dog paddock for Ted, Zac, Mick, Tess, Pria, Meg, Summer, Lace, Kate, Ella, Breeze, River, Star, Mindi and Lou.

December 9, 2014
Play time with the puppies. 8 month old Pria (WP Whiz Kid), 3 month old Lou (WP Outta Tha Blu) and some of Megs (WP Eternal Flame) puppies.
December 7, 2014

Willowpark's new residents are 6 lovely Merino wethers. These gorgeous guys have taken over one of our horse paddocks and will help with the herding training of our dogs. Up until now our trialling dogs have achieved all their herding success with sporadic exposure to stock. We are really looking forward to advancing our dogs talents with more regular and systematic training.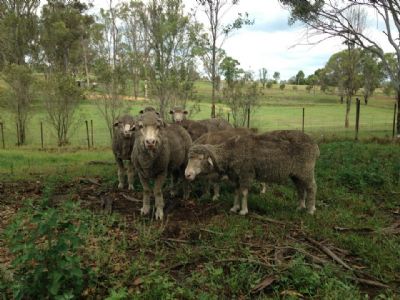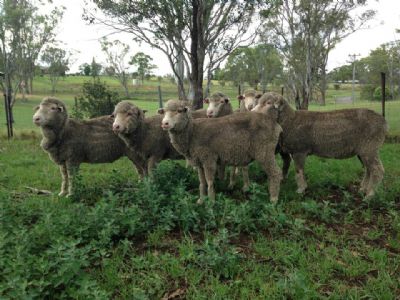 December 6, 2014
Mick (WP Mick Dundee) is a very laid back dog, much preferring to lay about sun baking rather than power around the show ring, but we've found his little addiction - tennis balls. Mick struts his stuff beautifully to win a 10 point Best of Breed at the St George Championship Red show.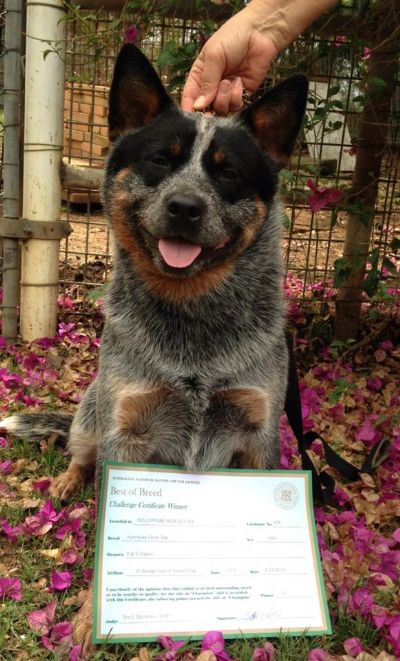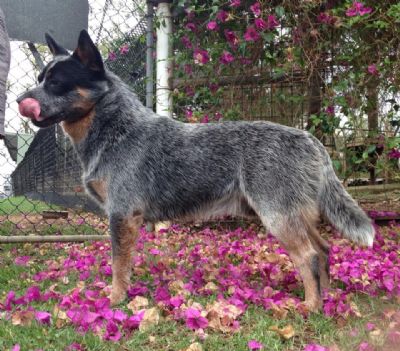 Lace (WP Denim & Lace) wins Bitch Challenge at the Red Show also. Bree (WP Poker Face) wins Bitch Challenge at the White Show later in the day.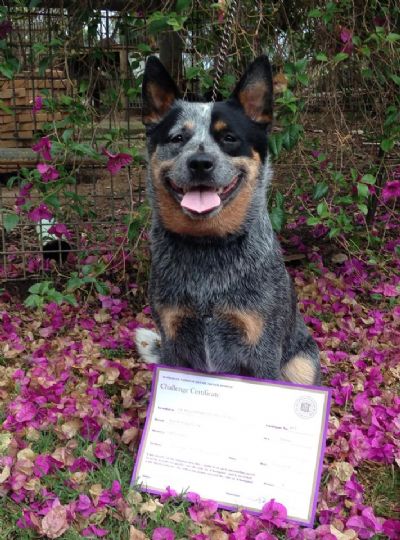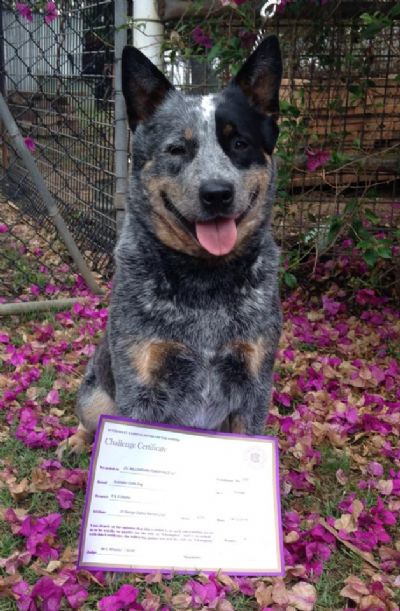 December 3, 2014
Tess (WP Inevitablue) is on set for the filming of an Optus commercial. Zac (WP Custom Made) tags along as well. Tess was a great actress wearing her reindeer costume with no complaints and doing her scene in 1 take. Here they are waiting around on set with their feathery co stars.
November 29, 2014

Ella (WP Heart Breaker) scored herself another class in group today, winning Puppy in Group at the Hills District Championship show, she also nudged closer to her Aust Champion title with a lovely 10 point Best of Breed over nice adult males.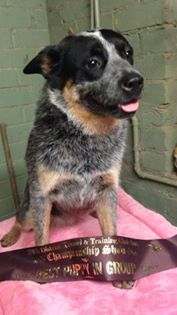 November 17, 2014
This photo was published today - if you look at the right hand side of the photo you will see Zac working very hard at The Dog Lovers Show last weekend. We think he was entitled to nanna naps considering he was patted by many of the 13 000 visitors.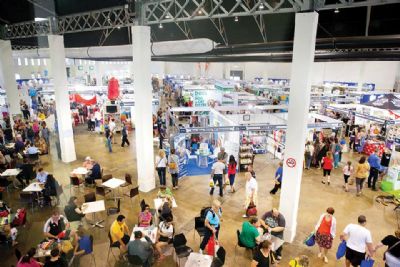 November 16, 2014
A big thankyou to Helen from Animal Equilibrium for treating Ella (WP Heartbreaker) on Saturday afternoon. She wasnt herself on Friday and we withdrew her from the show, she was still quiet and sore on Saturday so was absented for both shows. Helen spent 20 min with her and she was much better in the afternoon and on Sunday was back to her normal self. She came out on Sunday and with an entry of 18 cattle dogs won Runner Up Best of Breed in both shows from the puppy class, as well as a 12 point bitch challenge. We can't recommend her enough. People are so quick to take their dogs to a chiro, when often the problem can be soft tissue based. Ella had been rumbling too hard with Mick (WP Mick Dundee) and had some seriously painful knots under her shoulder blade.


November 9, 2014
Over the past 3 days 3 WP dogs worked on the Vets All Natural stand at the Sydney Dog Lovers show. With thousands of visitors over the show all 3 did so well and they were the only Aust Cattle Dogs at the show so they were great breed ambassadors.
Zac (WP Custom Made) worked the first 2 days as he is always such a crowd favourite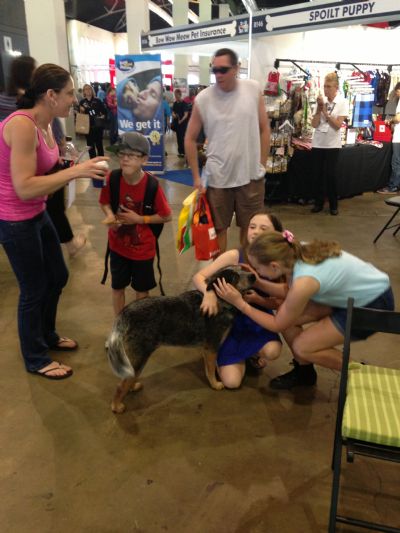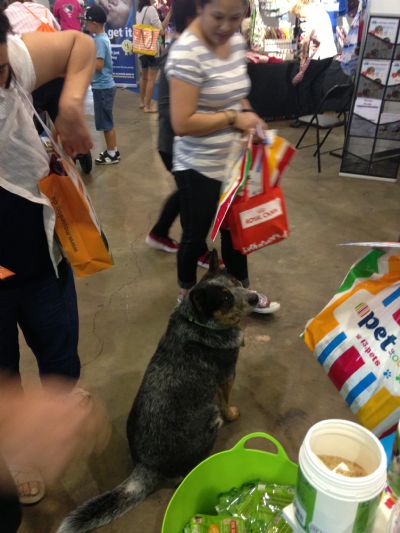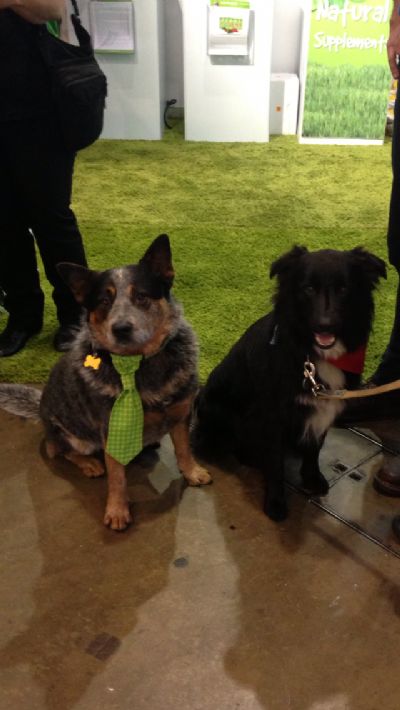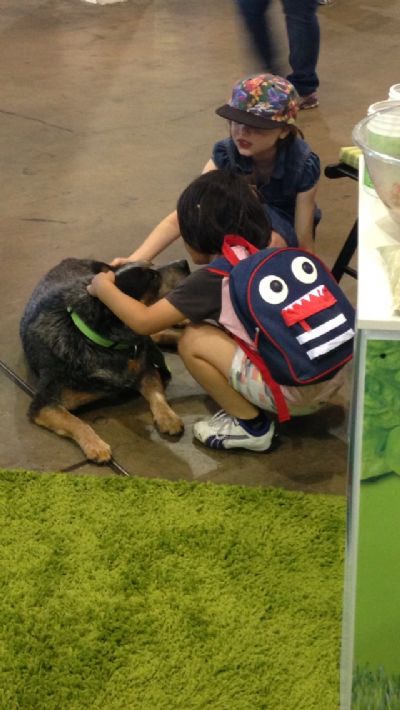 On the third day Tess (WP Inevitablue) and Pria (WP Whiz Kid) were on the stand. Little Pria at 6 months old did very well being offlead most of the day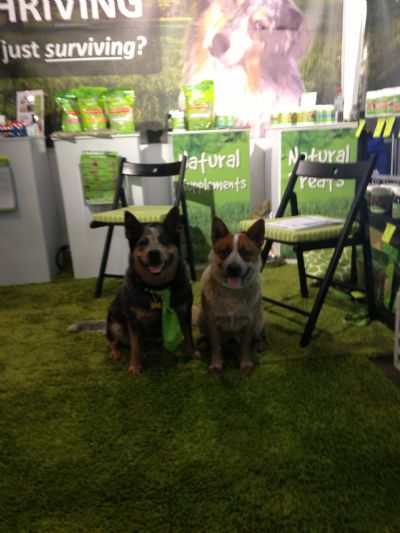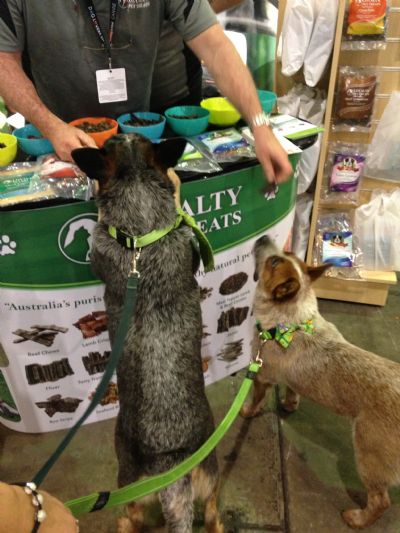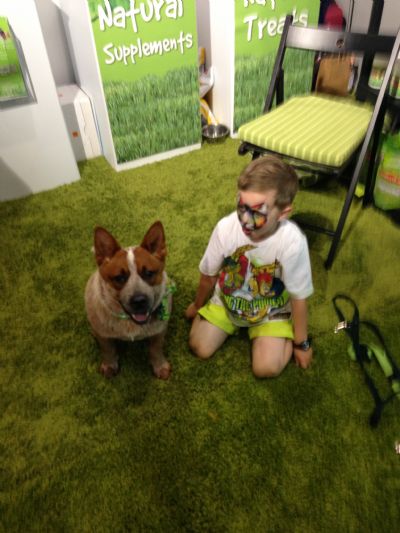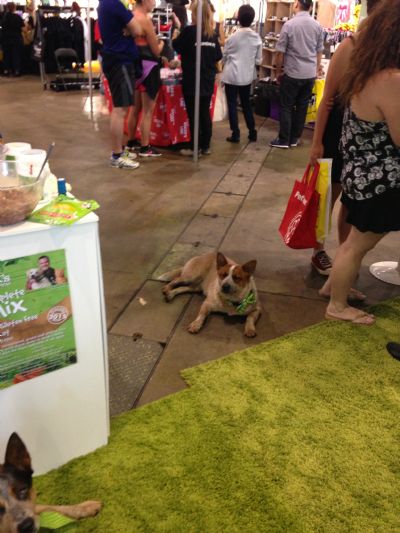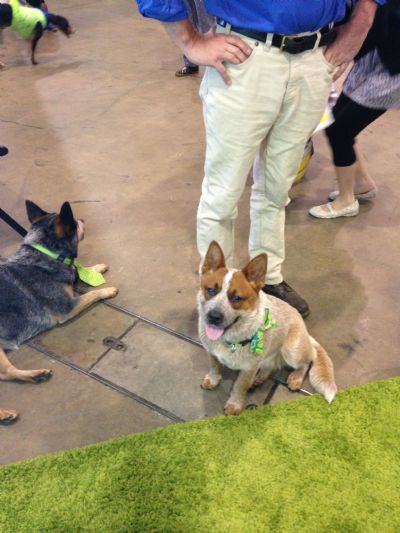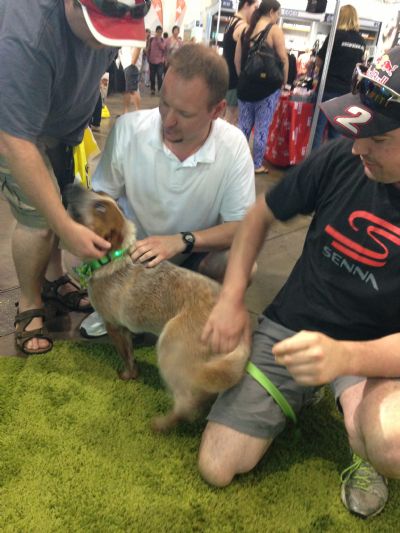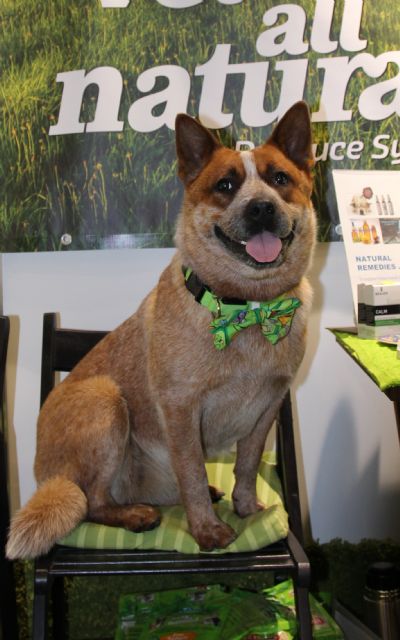 Tess found her photo at the Bayer stand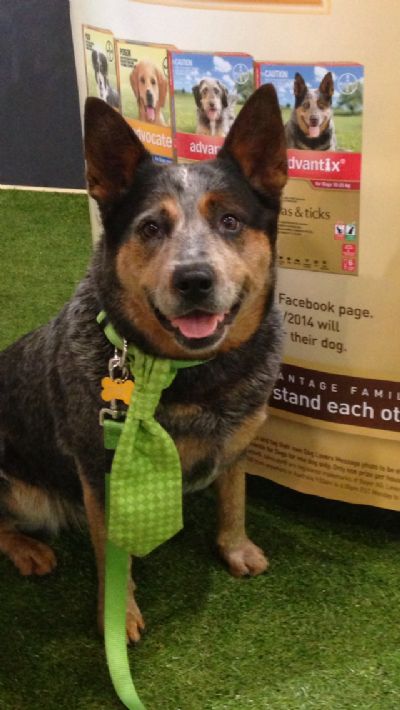 Mindy (WP Soul Sister) went to her 2nd show where she won best Baby ACD Puppy. We are so thrilled with her trainability and fun attitude. She beat 5 much older puppies.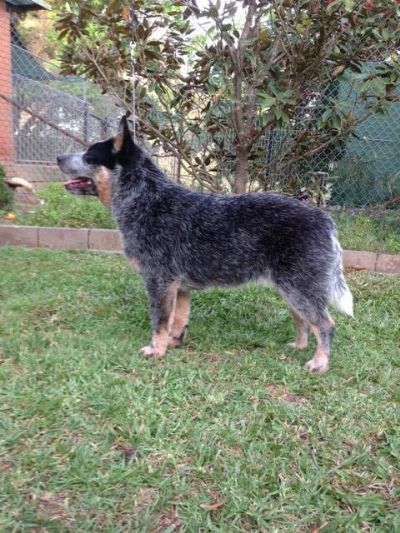 October 31, 2014
Busy day for WP dogs with Ted (WP Bush Tribute) and Ella (WP Heart Breaker) heading to Goulburn show. Ted winning Dog Challenge and Ella winning Bitch Challenge and beating Ted for Best of Breed.

Flame (WP Royal Flush) and her owner Stephanie finish off Flame's Rally Novice title in northern NSW.
Red (WP Rugby Red) is back out in front of the media in the build up to the NRC Grand Final between Brisbane and Perth. He is always a huge crowd favourite and is maturing so nicely. He is now 10 months old.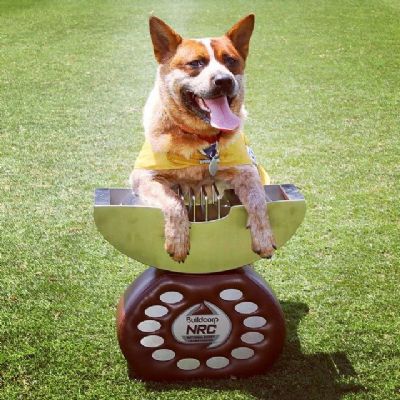 October 28, 2014

Gorgeous, sweet Meg (WP Eternal Flame) has 10 puppies this morning. 7 girls and 3 boys.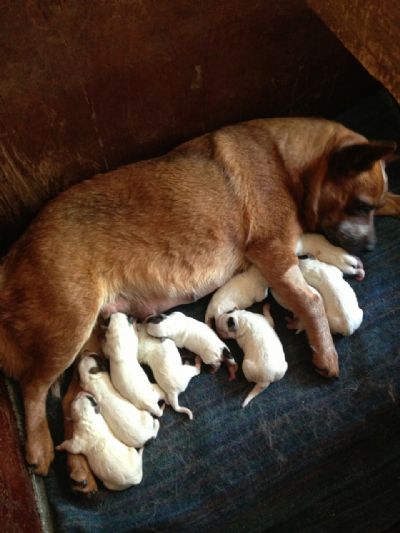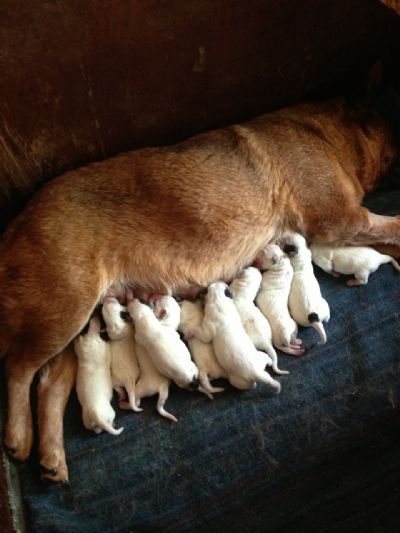 October 20, 2014
We are really excited to see how this girl works out. Such a playful and intelligent puppy she has gone to Adelaide to Brooksvale Kennels, known for their working line German Shepherds and Belgian Malinois. If she proves to have the 'right stuff' she will train in the sport of IPO alongside the GSDs and Malinois, as well as helping out on the farm. Sharon her new owner describes her first meeting -

Just a quick line to thank you for our wonderful new puppy. On picking her up from the airport she bounced out of her crate tail wagging and ready for a game, she is super confident, cheeky and full of life, exactly what I was looking for, I will keep you updated with how her training progresses.
Thank you again
October 18, 2014

Ella (WP Heart Breaker) places 3rd again in 6 - 12 month Sweepstakes under a different judge at the 2nd day of the Southern Highlands show. She also wins a 13 point Bitch Challenge.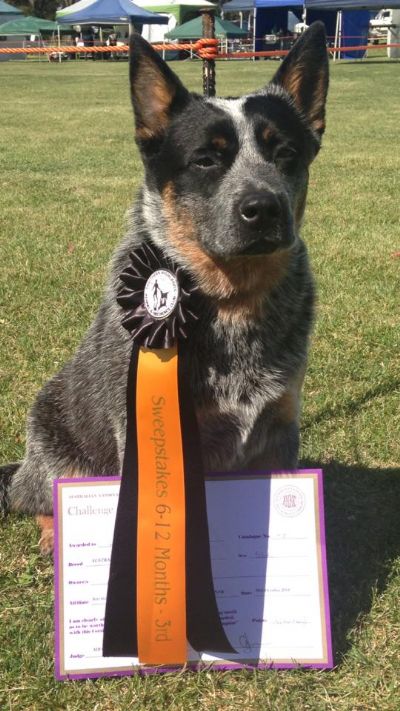 October 17, 2014

Ella (WP Heart Breaker) did a great job in her first ever 6 - 12 month Sweepstakes at the Southern Highlands show,being awarded 3rd place.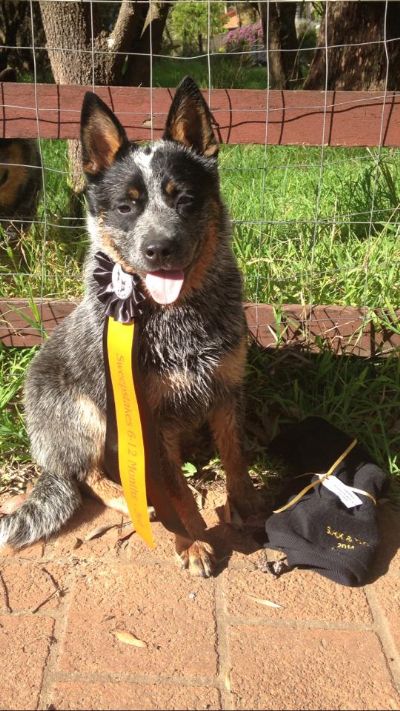 October 16, 2014
Oscar is off to live with his new family, and how lucky are they to get such a stunningly cute and handsome pup. WP Bush Tribute RN HSAs x Ch WP Blue Breeze HT ET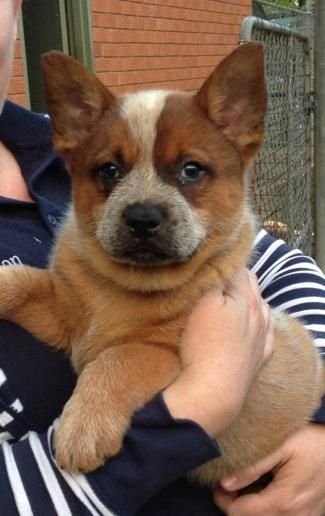 October 12, 2014
Ella (WP Heart Breaker) continues on her Minor Puppy in Show success, with a win at the Australian Working Dog Club of NSW show.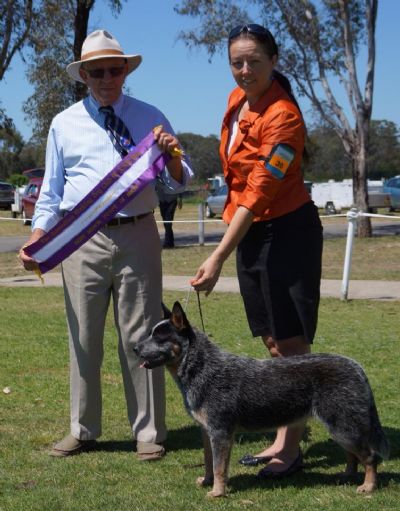 Mindi (WP Soul Sister) had her first show in the Baby Puppy class, finishing 3rd from 5. The judge commenting how nice she was considering she was the youngest in the class.
October 6, 2014

Willowpark gets its 17th title for the year with Tess (WP Inevitablue) earning her CD obedience title this weekend at the NSW State Obedience titles.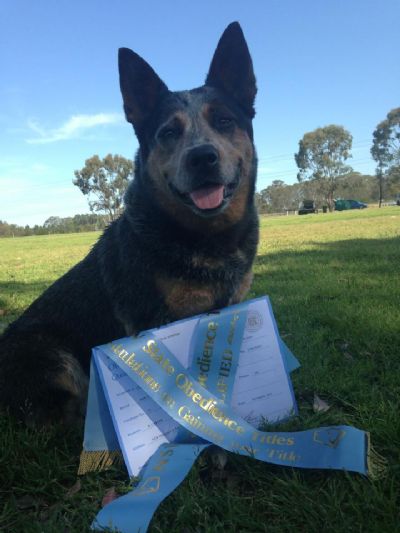 October 1, 2014

To celebrate currently being the number 1 ranked ACD breeder in Australia on the Dogzonline pointscore we had this lovely ad made and published in the October 2014 K9 Online magazine.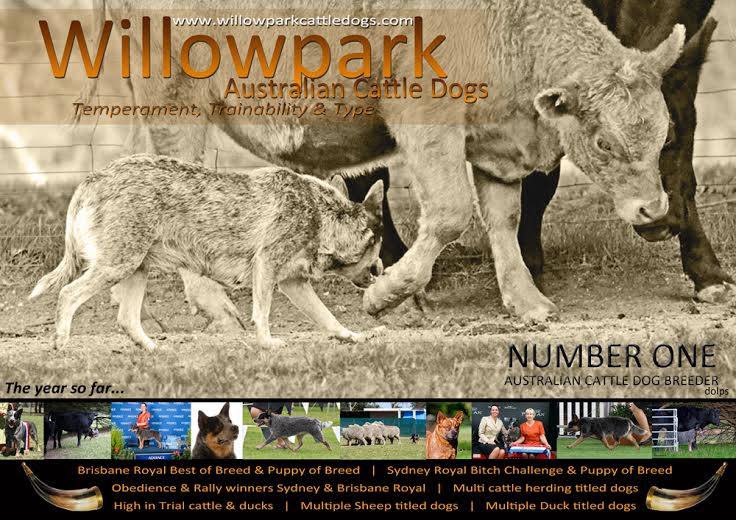 September 28, 2014
Our stunning Ella (WP Heart Breaker) continues her Class in Show success this weekend winning Best Minor Puppy in Show at the Hillsborough International Spring weekend. She also wins 3 of the 6 Bitch Challenges from the Minor class and a Best of Breed. As the weekend went on she learned so much and really started to shine.

Mick (WP Mick Dundee) also wins a Puppy in Group on the first day, almost naked as he is losing all his puppy coat at the moment. Pria (WP Whiz Kid) at her first show Baby of Breed.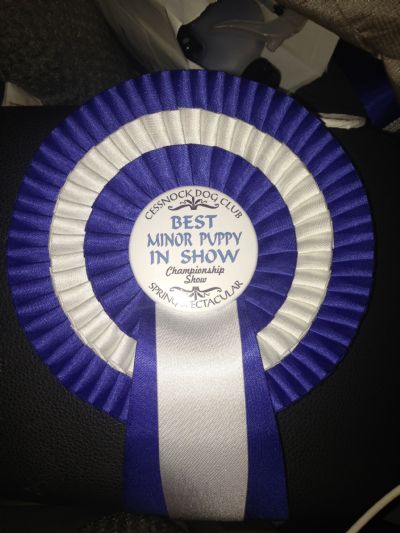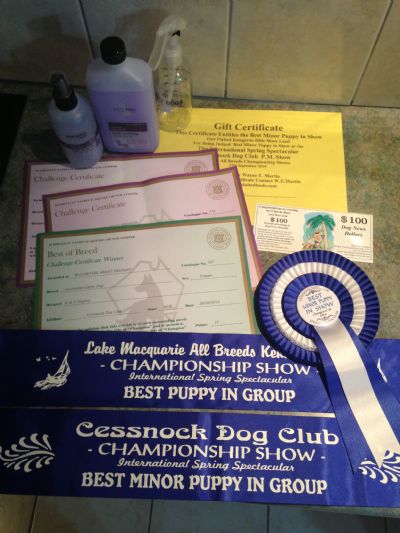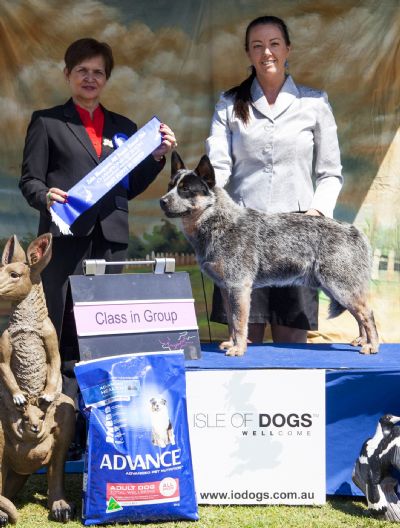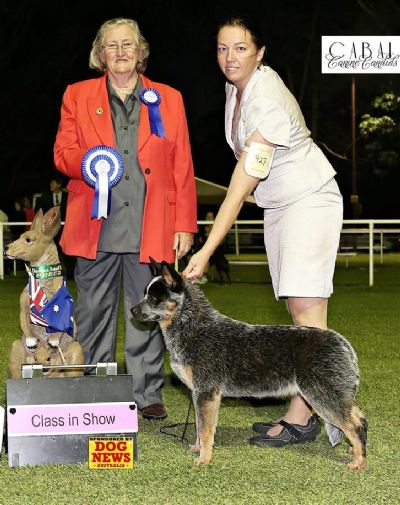 September 24, 2014

At the Metropolitan Mid Week Obedience Trial our gorgeous old girl Molly (WP Red Amy) earnt her Rally Obedience Novice title and 3rd place. In 4 days this girl has attained the 3 passes required for the RN title. Bree (WP Poker Face) also got a qualifying score and has 2 of the 3 passes needed for her RN title.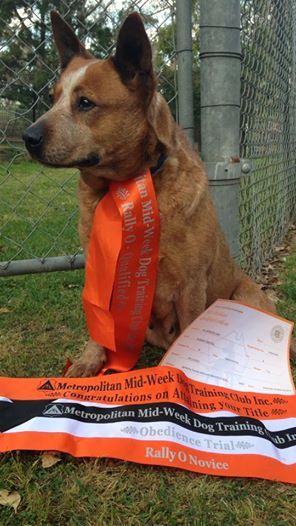 September 23, 2014
Megan and Yani (WP Blue Yarni) have graduated from Noseworks. This sport simulates sniffer/detector dogs and requires the dogs to seek and identify various scents.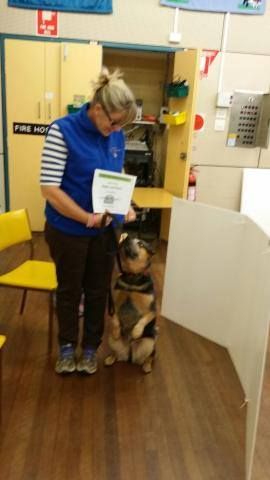 September 21, 2014

Three girls went to the Blacktown Kennel & Training Club double Rally Obedience trial today, Tess (WP Inevitablue), Bree (WP Poker Face) and Molly (WP Red Amy). They had a really successful day. Tess was only entered in the morning trial and she won the Advanced Rally O (with 24 dogs entered) with a score of 98/100. Molly, at the age of 9 and her first ever competition, gets a qualifying score of 82/100.

In the afternoon trial, Bree earns her first qualification and Molly amazingly gets second place on 98/100 in the Novice class! What a trainable girl she is. Pictured above is mother and daughter.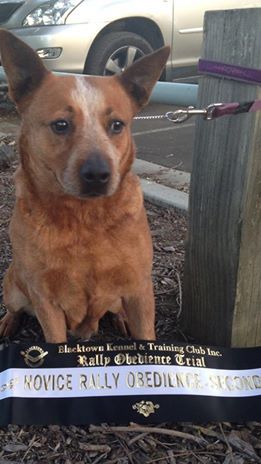 September 15, 2014

What a weekend for Team Willowpark! Zac (WP Custom Made) and Tess (WP Inevitablue) earn their Herding Started A course Duck titles. This most likely makes them the first ACD's in Australia to earn a duck herding title. Yes they are Australian 'Cattle' Dogs but the working breed standard does call for an intelligent, trainable dog who can rate stock. They worked the ducks less than an hour after working cattle, but reduced their strength and pressure for the ducks accordingly. We are so proud as it truly shows how trainable our dogs are.

Not only did they earn the titles Zac also won High in Trial on Ducks. From 21 individual runs he got the highest overall score from the whole weekend. We were already heading back to Sydney when we found out he was HIT after the B course runs on Sunday.

Zac also was High in Trial on Cattle, and earned his Herding Novice A course Cattle title.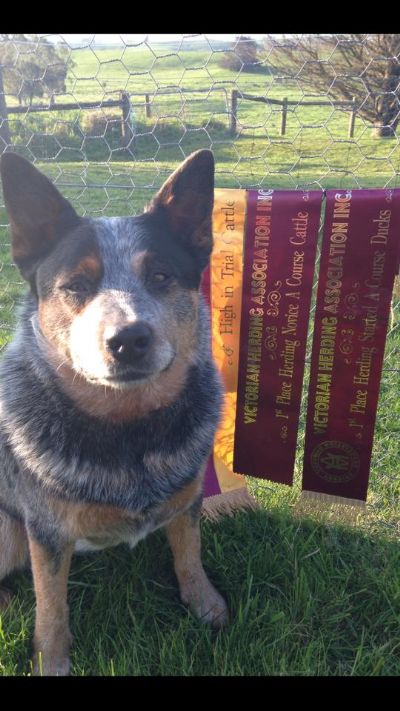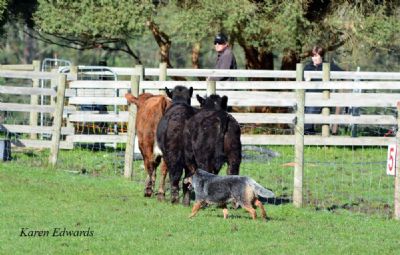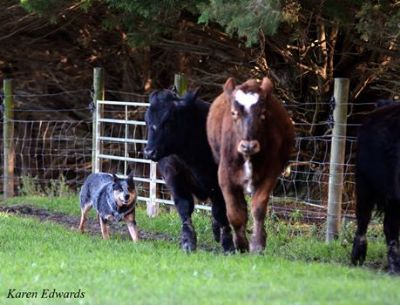 Tess in her cattle runs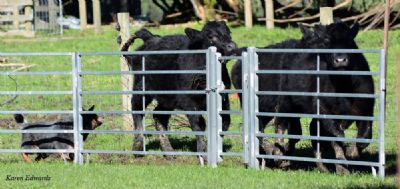 Ted (WP Bush Tribute) earned his final 2 passes for his Herding Started A course Sheep title. At 20 months old and with bucket loads of instinct the future looks bright for this athletic young boy. Still very immature and no where near ready to start drive training we are really looking forward to the future with him, although he thinks he knows everything compared to much more compliant Zac.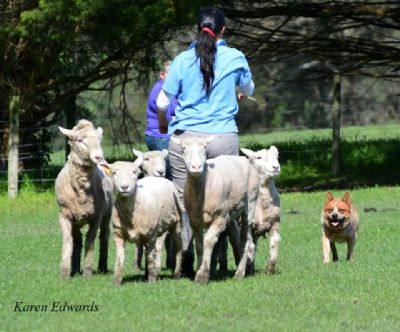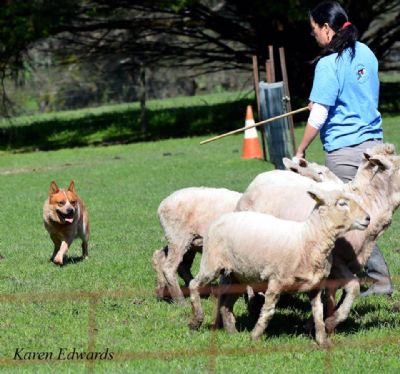 September 9, 2014
For the past 2 weeks Ted (WP Bush Tribute) has been in Victoria with his 'Aunty Karen' honing his stock skills. He just fits in anywhere he lives, gets on with everyone and is such a happy dog. He has been running with his friends Drifter and Stella the Aussie Shepherds and Fleck the Coolie.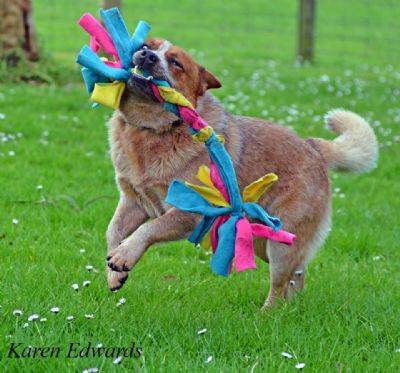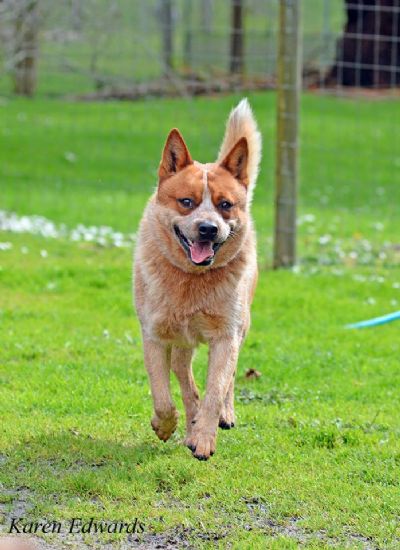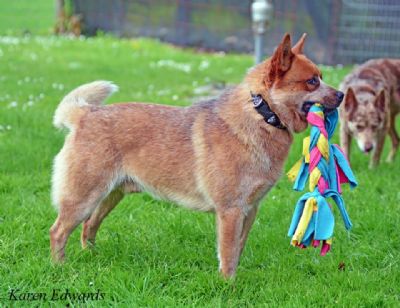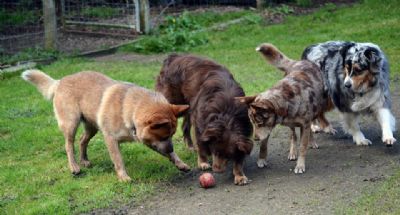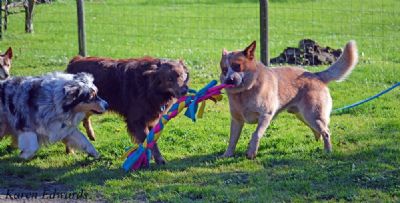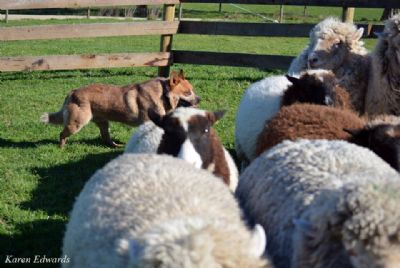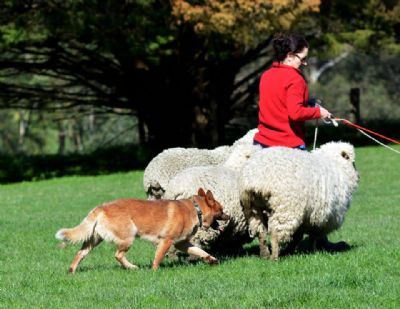 August 30, 2014

What a star! Red (WP Rugby Red) walked the red carpet for the Annual QLD Red's Gala Ball.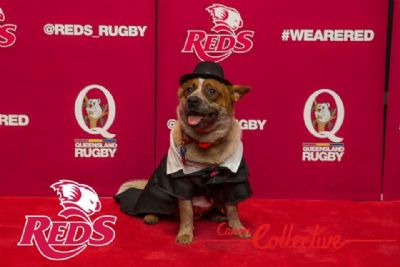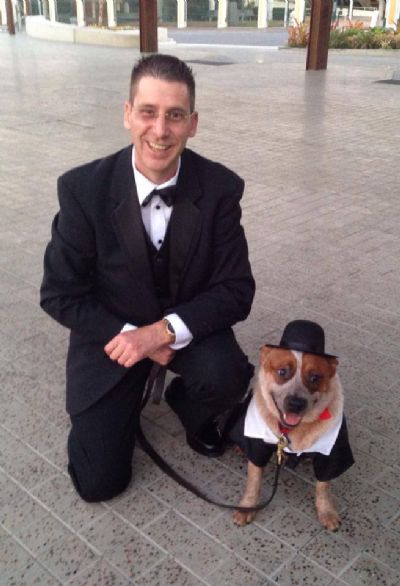 August 26, 2014
Last weekend Tess (WP Inevitablue), Zac (WP Custom Made), Ted (WP Bush Tribute) and Pria (WP Whiz Kid) were in Nyora, Victoria for the Australian Shepherd Club of Victoria herding trial.
Tess and Zac were entered in the cattle and duck trials and Ted in the sheep trials. Pria came for the ride and to have a lesson on sheep where she showed lots of desire to do the job - she should be a little firecracker!
The dogs once again proved the versatility of a WP cattle dog with Tess getting 3 passes from 3 runs in the cattle trials and 2 from 2 runs in the duck trials. The cattle had only been worked by dogs 2 days before the trial so the dogs did very well with the flighty cattle which would challenge the dogs. Ducks require lots of self control from the dogs and need to listen and take instruction from the handler. This is where the biddable nature of WP dogs and ability to contextualize situations became obvious. Both dogs went straight from the cattle trial to working ducks 30 min later.

Zac was in a higher class than Tess and he passed on his first attempt but the 2nd run he didnt cover the heads enough and we lost too many points on retreats. He still did really well, and was the first time he has ever been asked to cast the full length of the course. He certainly has no problem lifting the cattle on the cast. Metabolically challenged Zac (aka Fat Zac) was quite tired going into the duck trials but he rallied well and also scraped through with 2 duck passes.

Ted is still a baby at 19 months old and we retired him at the y chute in his first sheep run as his intense desire to bring stock to the handler saw him squeezing into the y chute and turning heads whilst they were in the chute! He needs to work on his ability to walk a straight line onto his stock and push them away from him. His 2nd run was much better with some well positioned stops he began to understand the object was to move sheep thru the obstacles. Ted is a very unique ACD with elements of a fetching dog (like a kelpie or border collie) just as strong as his desire to drive stock. This makes him a very useful farm dog.

The 3 dogs are currently working A course which involves a cast (outrun), lift and fetch to the handler. They then need to move the stock through a variety of obstacles, both against the fence line, and in the middle of the paddock. The final task is to take the stock to a pen, hold them off the pen while the handler opens the gate, and then pen the stock.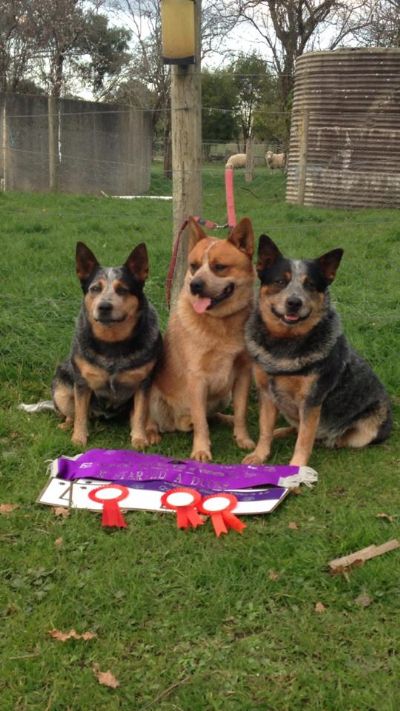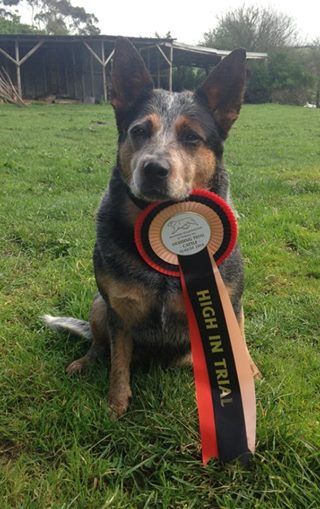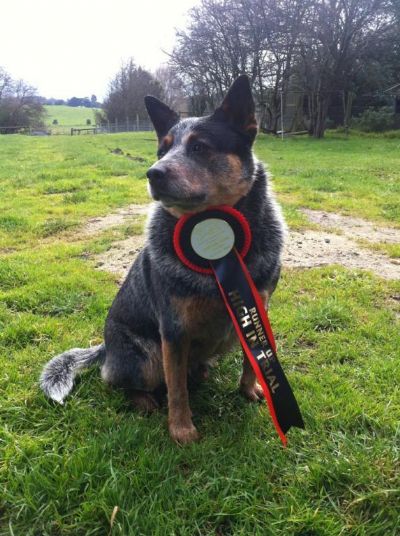 The dogs ended up with Tess winning both Started A course duck classes, and High in Trial on cattle, with Zac Runner Up High in Trial on cattle.

Tess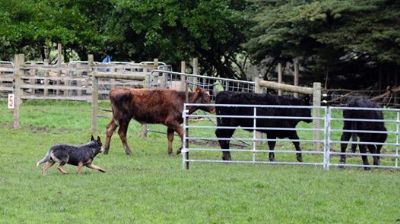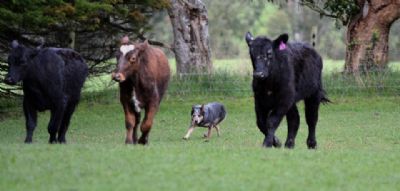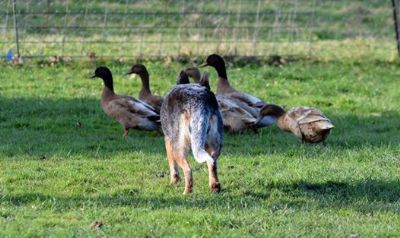 Zac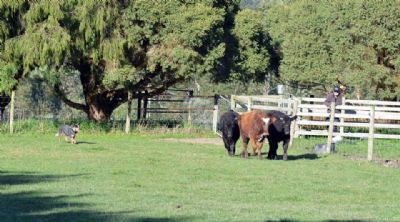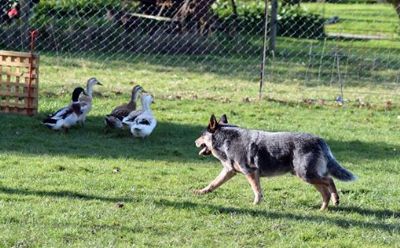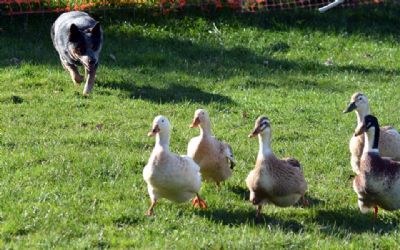 Ted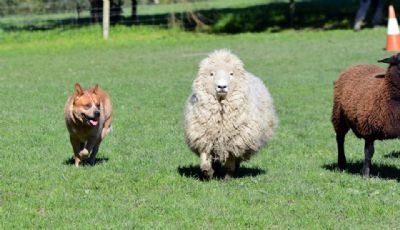 Pria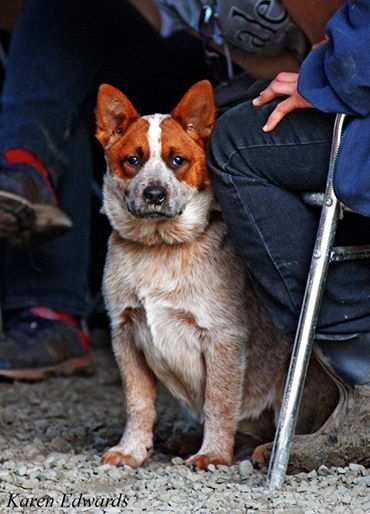 After the trial all 4 dogs went for a big swim as a reward and these are the photos we are most proud of, our dogs being able to run with all and any other dogs.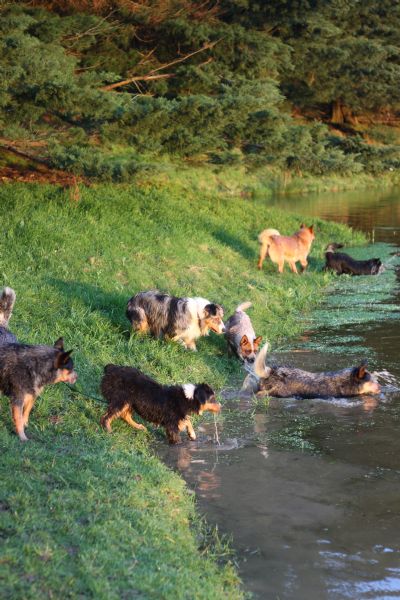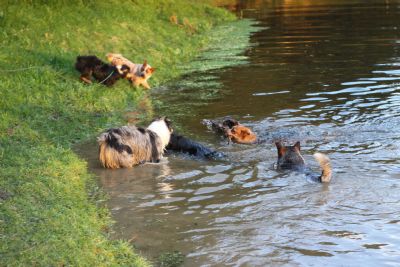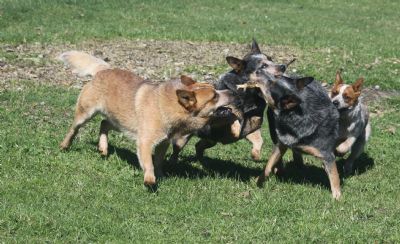 August 25, 2014

Ted (WP Bush Tribute RN PT) yet again produces some stunning puppies, this time to Annie (WP Hot n Steamy)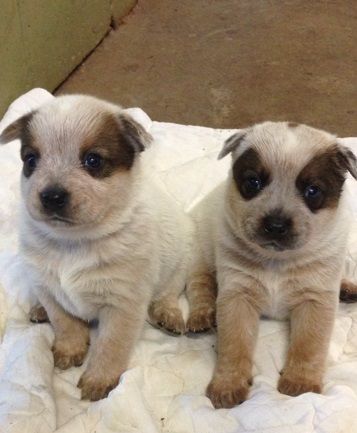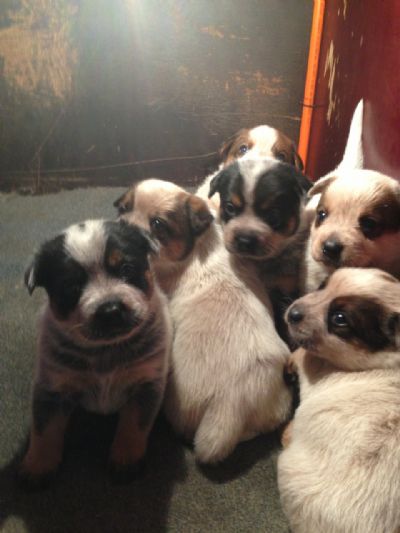 August 24, 2014
Flame (WP Royal Flush) and her owner Steph had their first try at Rally Obedience and placed forth in Novice with 89/100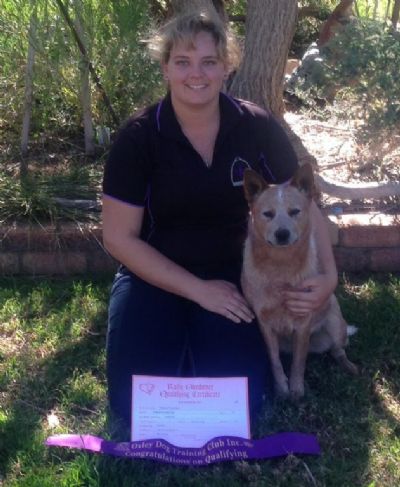 August 19, 2014

Official photos from Queensland Royal.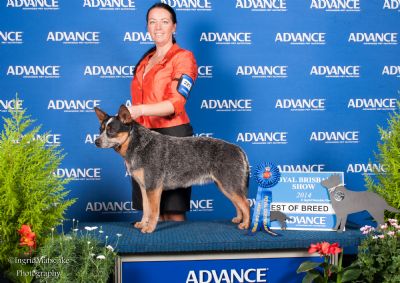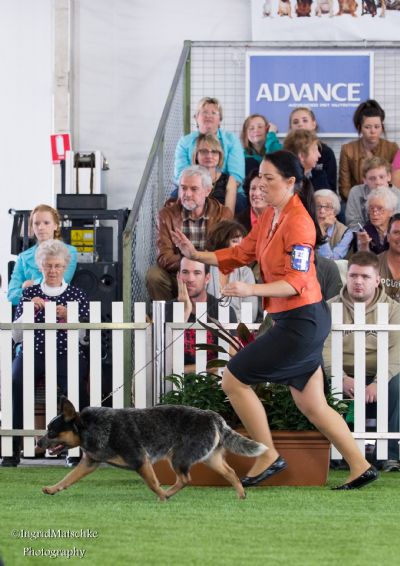 Each won their class. Mick (WP Mick Dundee) 1st in Minor Puppy Dog and best Male Puppy of Breed

Lace (WP Denim & Lace) 1st Junior Bitch
Star (WP Shooting Star) 1st Puppy Bitch, Bitch Challenge, Best of Breed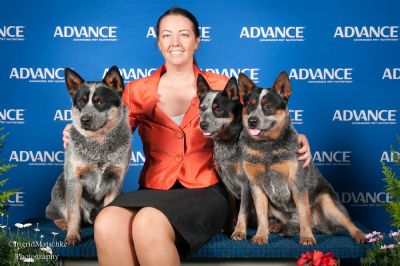 August 17, 2014
Tess (WP Inevitablue) wins the Novice Obedience at Queensland Royal show in exceedingly trying conditions. At the last minute the RNS decided to move the novice dogs into the benching area. The dogs were expected to work on concrete (with drops from fast pace), with the crowds leaning over the fence, loud speaker commentary and some rude people actively trying to distract the dogs. Tess was the only dog to finish with a qualifying score.

Tess also finishes 3rd in the Advanced A Rally class.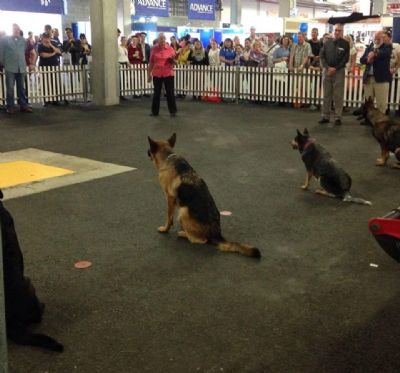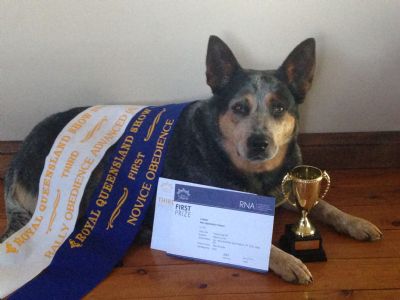 Both Tess and Zac finished the day off with some smooching with the general public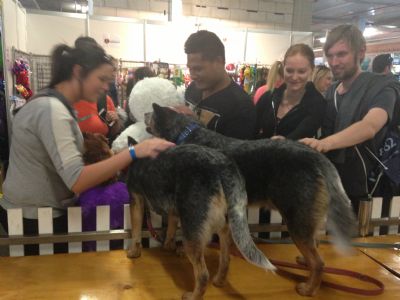 August 15, 2014
Litter brothers Mick (WP Mick Dundee) and Red (WP Rugby Red) met up since leaving each other at 8 weeks old. Red is the Mascot for the QLD Reds rugby team so what better place for a reunion than at Ballymore Stadium. They are both still only 8 months old and both not desexed, but had a great time running amok on the hallowed turf.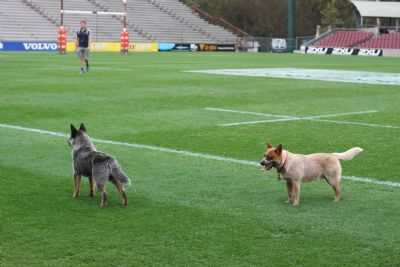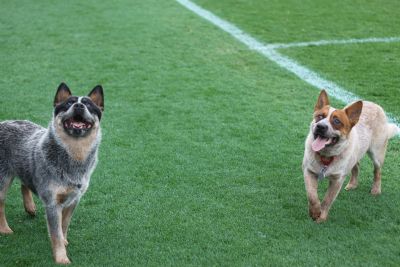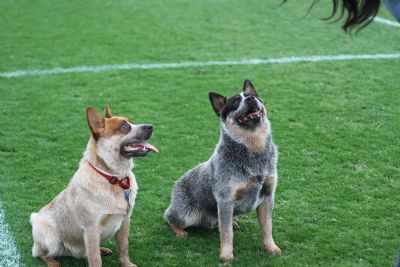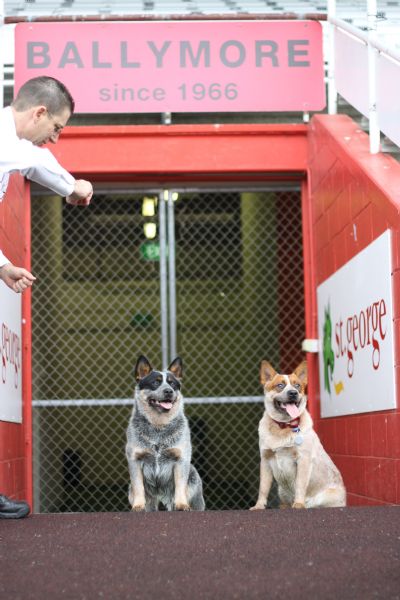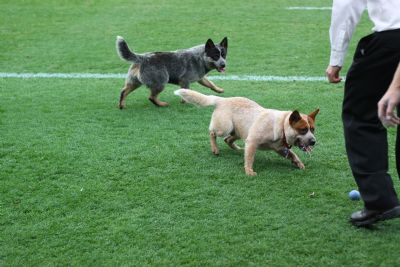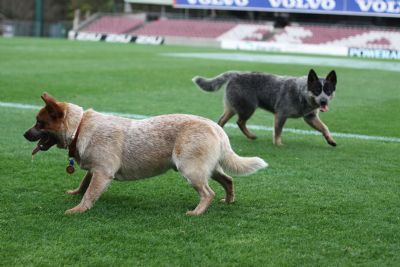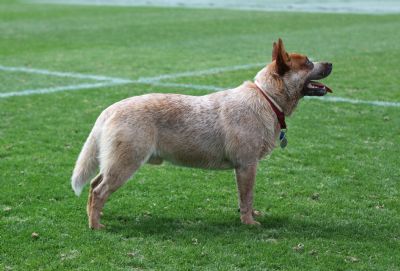 As 5 week old puppies together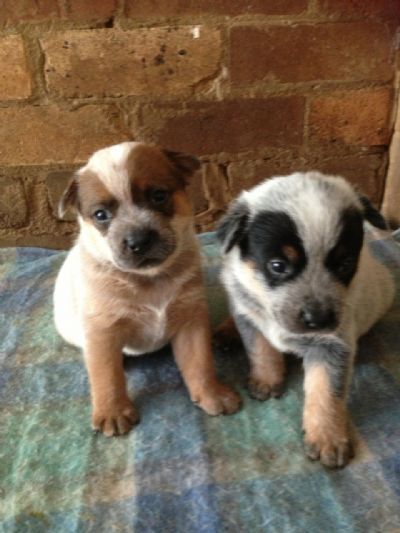 August 14, 2014

Whilst in QLD Zac (WP Custom Made) and Tess (WP Inevitablue) had their first try at herding ducks. Even though they are 'cattle dogs' a good working dog should be able to exert self control and only apply the appropriate force required for the particular stock they are controlling. Both dogs are going to have a try at duck herding in a trial situation soon.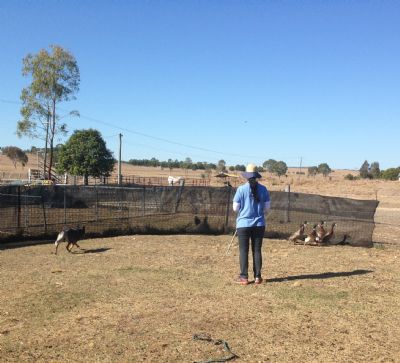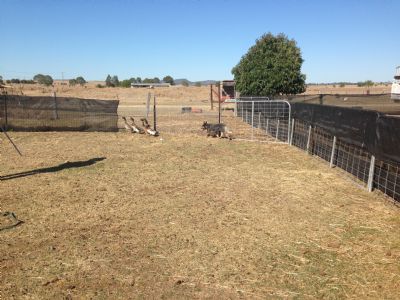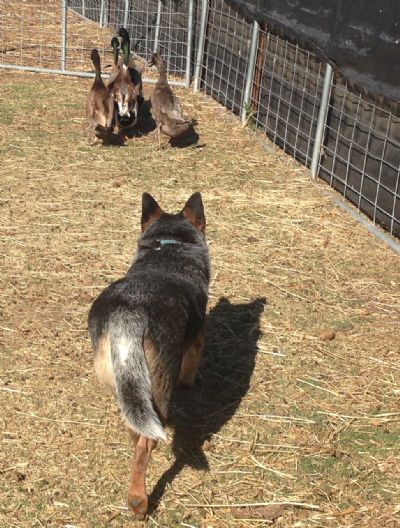 August 13, 2014
Red (WP Rugby Red) has been working the crowds at Queensland Royal for both the QLD Reds Rugby team and Coca Cola. Here is the perfect photo that sums up a Willowpark cattle dog - genetically sound minded dogs which have the capability of anything with time and training.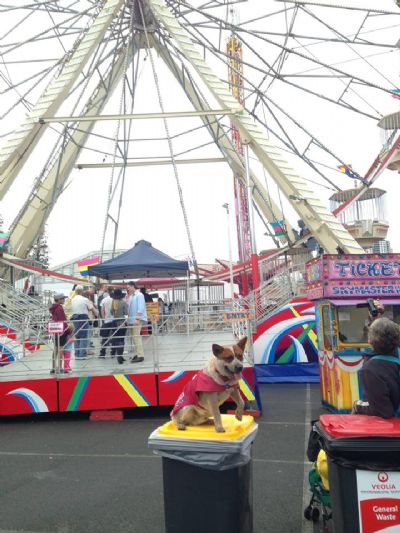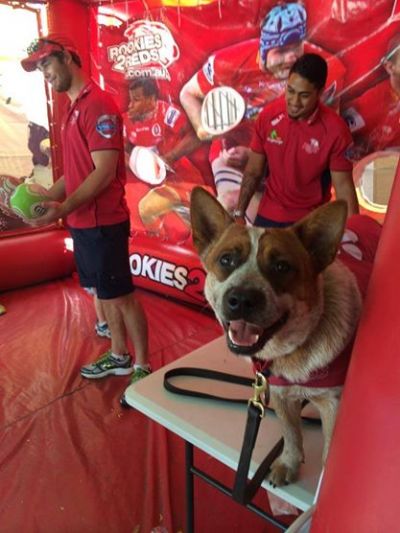 August 10, 2014

Harlie (WP Cover Girl) and Rachel at only their 2nd weekend showing win Puppy in Group at the Murray Valley show, and also bitch challenge, taking Harlie to 30 points 9 days after their first show! We are so proud of Rachel and Harlie.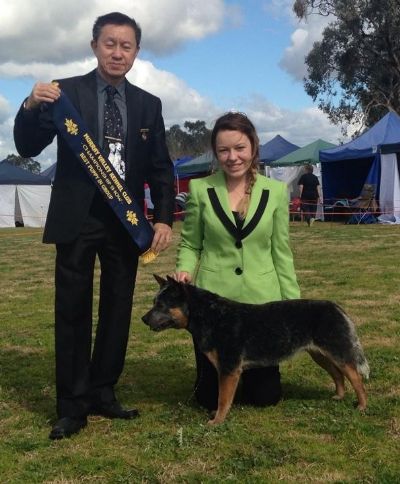 August 9, 2014
What an amazing day at Brisbane Royal show, with Mick (WP Mick Dundee) winning the Minor Dog Class, and being moved up the Challenge line to 3rd, behind the Aus Bred and Open dogs.

Star (WP Shooting Star) then wins her Puppy Bitch class, joining Lace (WP Denim & Lace) in the Bitch Challenge line up. Star moved like a dream and was awarded Challenge Bitch, and then went onto Best of Breed!!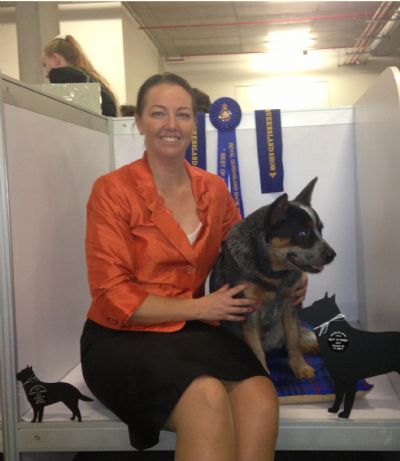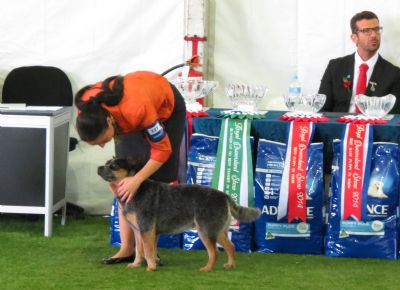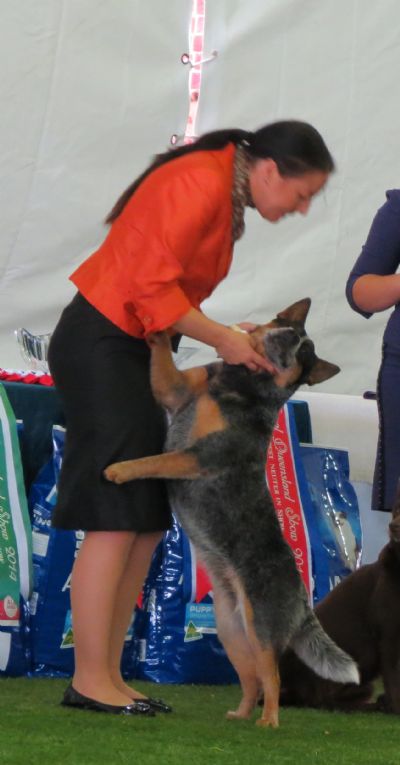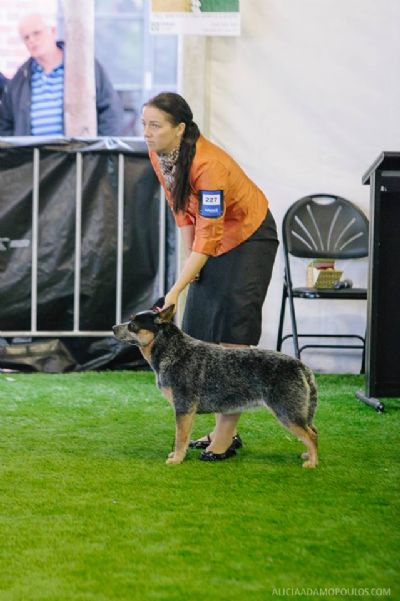 A big thanks to Kath from Austrax Australian Cattle Dogs for her wonderful hospitality for the 5 Willowpark dogs who have trekked to QLD with Belinda. Star goes back for Group Specials next Saturday and then Zac (WP Custom Made) and Tess (WP Inevitablue) compete in the obedience and rally at Brisbane Royal.

Later in the week Mick gets to meet his brother Red at Ballymore Stadium.

August 5, 2014
Proving just how versatile a WP dog is both Tess (Ch WP Inevitablue) and Zac (Ch & Neut Ch WP Custom Made) both got clear rounds and passes at the Hawkesbury Dog Agility Club night trial. Zac has only been involved in agility for 3 weeks, having 2 lessons prior to the trial to understand the equipment.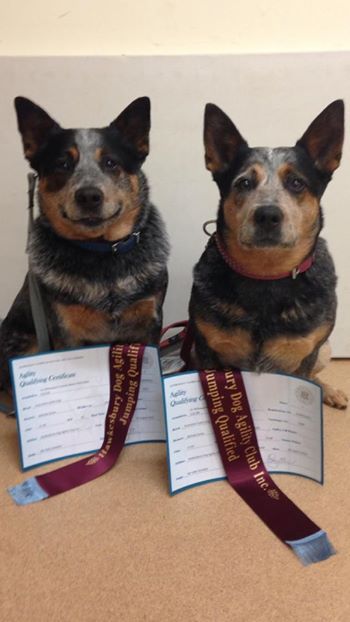 August 3, 2014
Our gorgeous Lace (Ch Willowpark Denim & Lace) participated in the NSW Junior Handlers State Final with the talented Skyla. They both did fantastic considering Lace was most likely the youngest dog.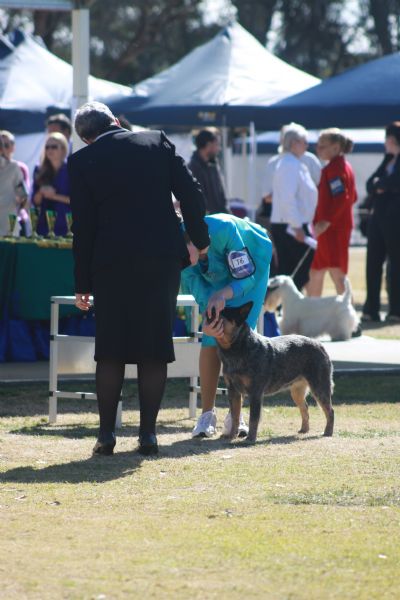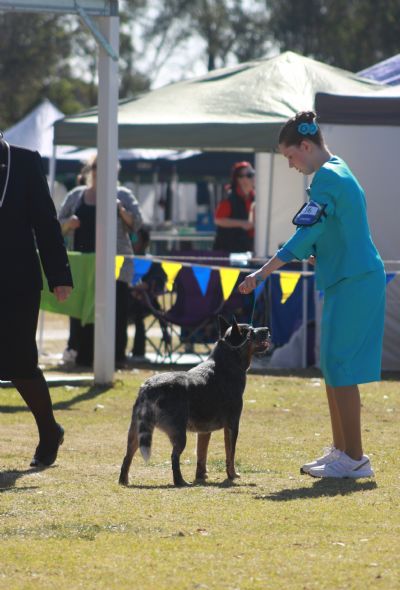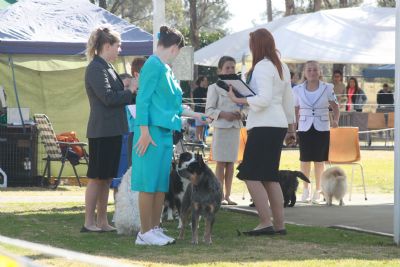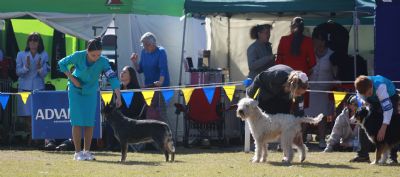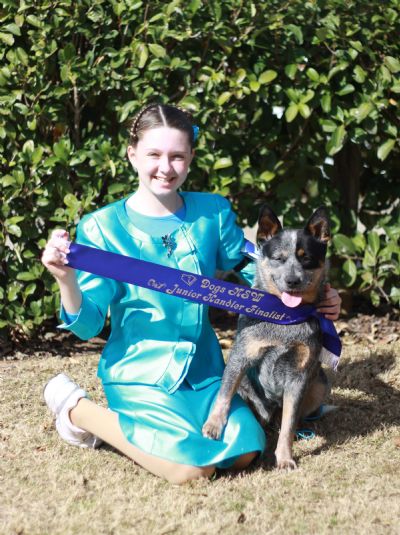 Also winning the Junior Handlers at Wagga Wagga All Breeds Kennel Club Show was Rachel and her very impressive Harlie (WP Cover Girl) at Rachels first ever show. If that was impressive, Rachel and Harlie also picked up 23 points winning all the bitch classes. Go Rachel!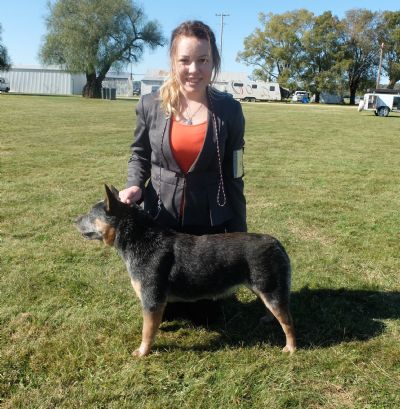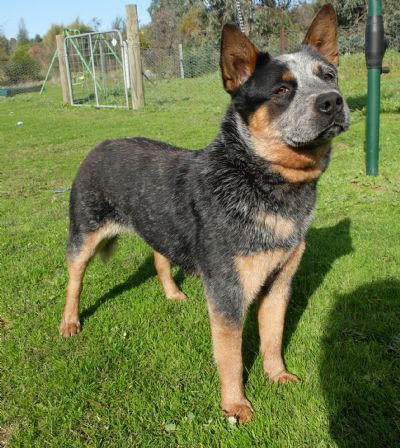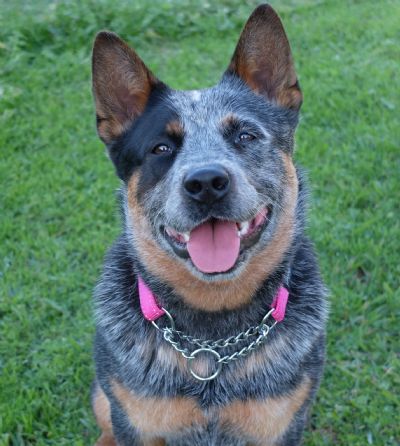 August 2, 2014
The super cute Levi (Burrenjup Hot Coals x Ch WP Poker Face HT) puppies.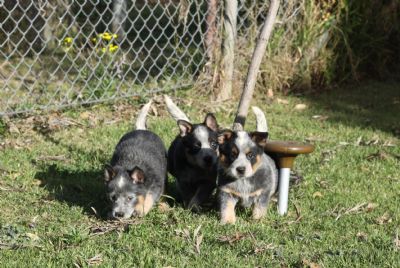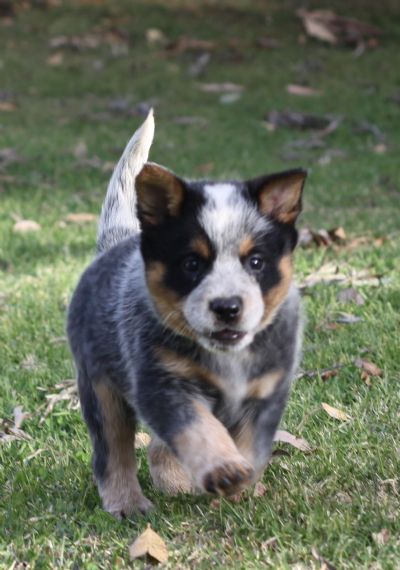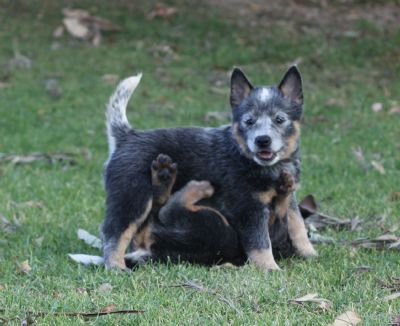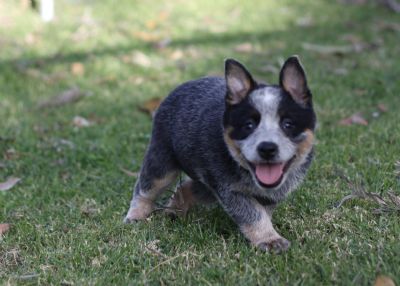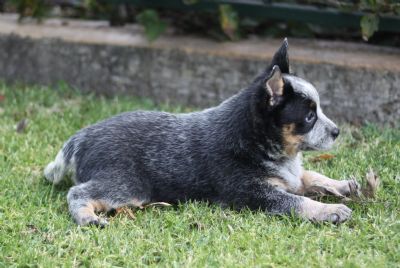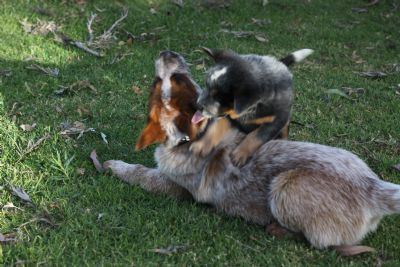 August 1, 2014

Little Ella (WP Heart Breaker) wins Best Baby Puppy in Show at the Sydney Kennel Club show today. It topped off a great day with Lace (Ch WP Denim & Lace) winning Best Junior in Group, Mick (WP Mick Dundee) winning Best of Breed from the Minor class, and then being shortlisted for Best in Group. Ted (WP Bush Tribute) was Reserve Dog Challenge to his son Mick.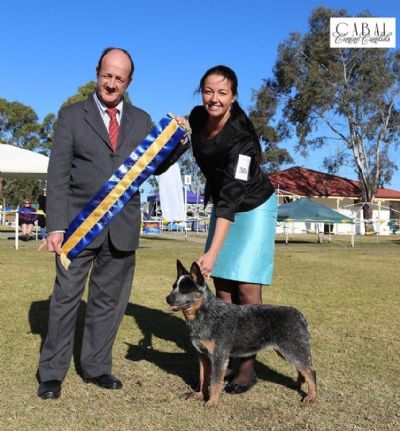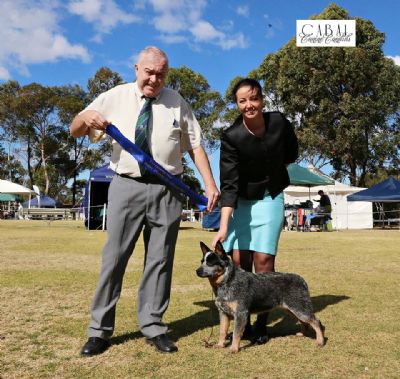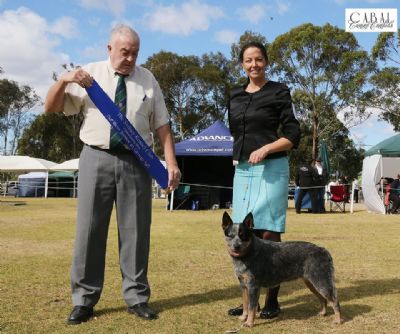 July 31, 2014
Pria (WP Whiz Kid) looks to be living up to her name. 14 weeks old and already learning many tricks and commands, and she does it with such enthusiasm. Hopefully she grows into a lovely competition dog.

July 22, 2014
This athletic photo was taken of Zac (Ch WP Custom Made) at his first agility trial from 1 week ago, the same day he won the Novice obedience class.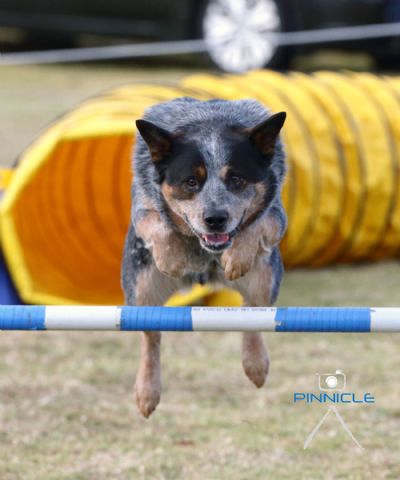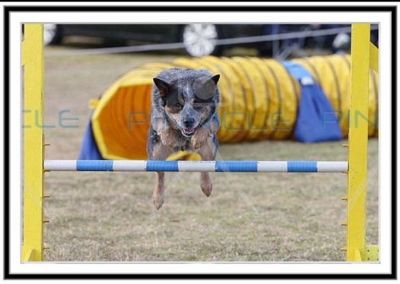 July 19, 2014
At the North of the Harbour Kennel Club show baby Ella (WP Heartbreaker) gets another Baby Puppy in Group and Mick (WP Mick Dundee) gets Minor Puppy in Group with 148 dogs entered in group.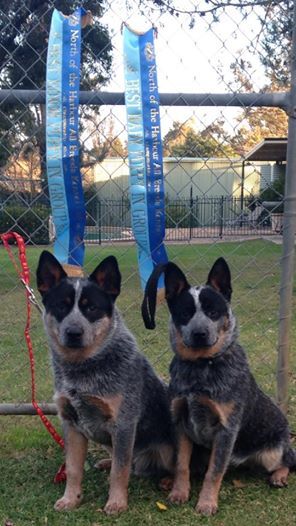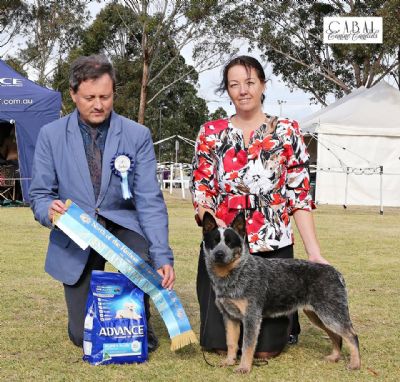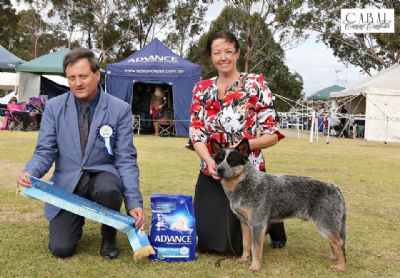 July 18, 2014
Today we had Alyse and Ziva (WP Red Poppy) join us at Erskine Park. Ziva is litter sister to Star (Ch WP Shooting Star). Ziva helps Alyse on their Limousin cattle stud. We took these photos of Ziva with her sister.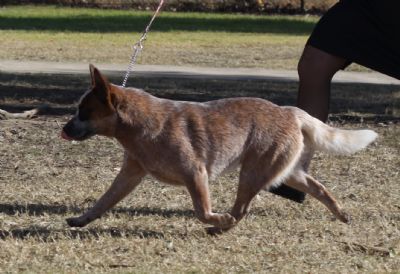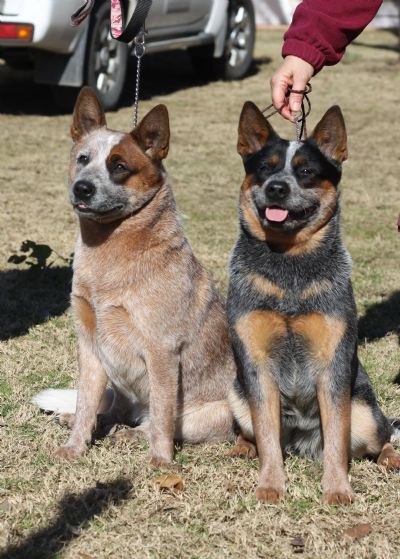 Little WP Whiz Kid is charming everyone who meets her and is proving to be a very smart little girl.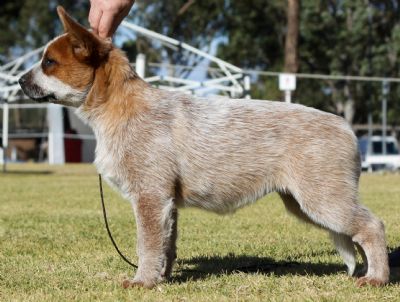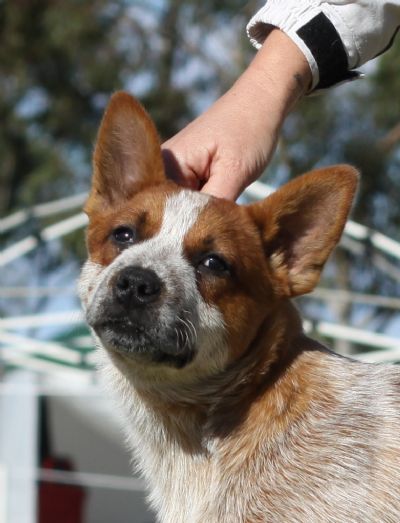 Pria at 11 weeks old learning the basics of reward based training.

July 15, 2014

Levi's first puppies in 2 years and we are thrilled with them. They are 4 weeks old at the moment and have very sweet soulful eyes,they very much remind us of Zac (WP Custom Made) at this age, and he has grown into a real sweetheart. Their mother is Bree (Ch WP Poker Face HT) so we anticipate there will be another little show star in here. We look forward to making a decision at 8 weeks.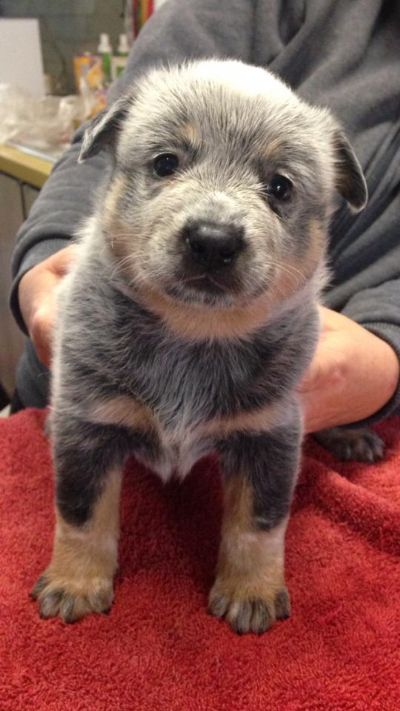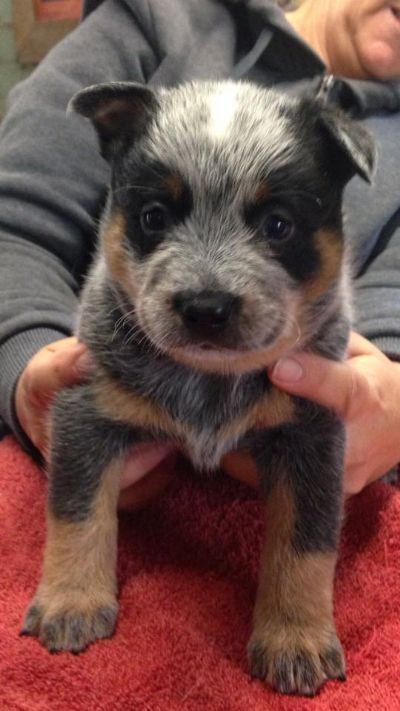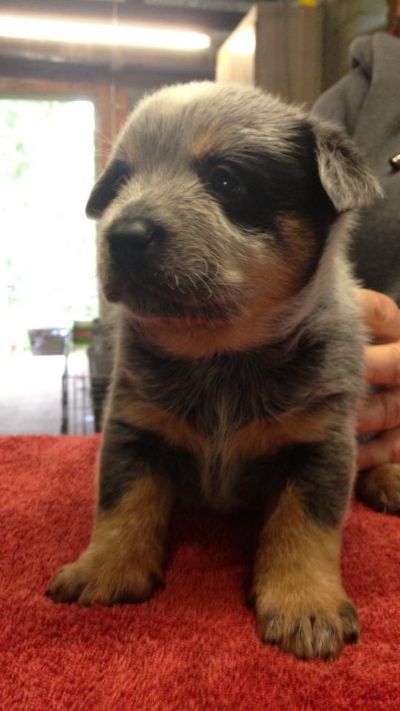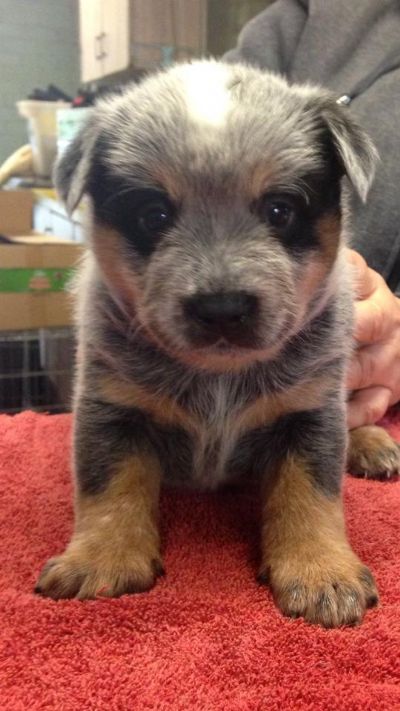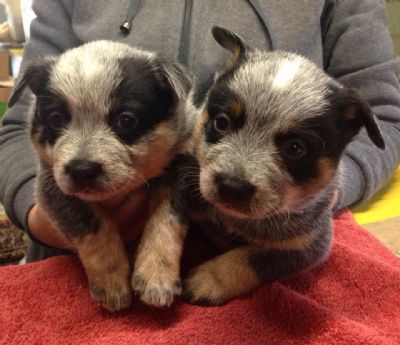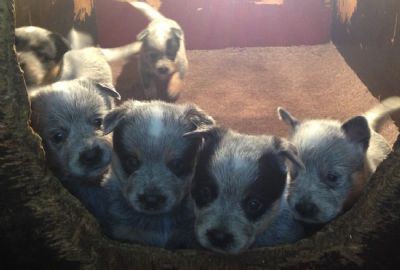 July 13, 2014

Penrith Kennel and Obedience Club had their obedience and rally o trial today, and with 29 dogs entered in the Novice class Zac (Ch WP Custom Made) finishes first, with Tess (Ch WP Inevitablue) finishing third. Both did really pleasing work.

Tess also gets a pass in advanced rally o.
Both also competed in the Aussie Shepherd Club of NSW Agility trial in the afternoon, getting a few faults each and having a ball in the process. They both had their first agility lesson with former NSW Agility Dog of the Year handler Vickie Priestly a few days ago. We look forward to competing in more agility trials in the future.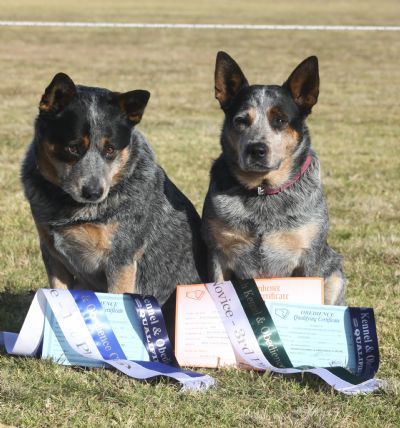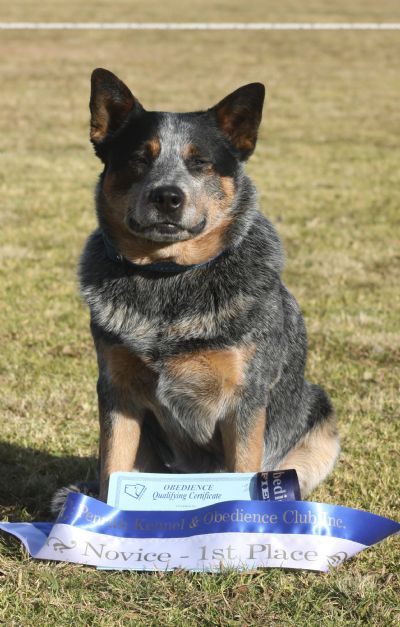 July 6, 2014
What an amazing weekend for the Willowpark Team. Yesterday Ted (WP Bush Tribute) earns his PT herding title, meaning he is up playing with the big boys now. With some pointers from Kate, one of our Victorian herding mentors, he has started to settle in his work and show real glimpses of his brilliance.
Today Star (WP Shooting Star) finishes off her Australian Champion title in style with a 25 point Best of Breed from an entry of 28 dogs. The judge loving her balance, strength and head shape. However as much as he liked Star he told us that he thought baby Ella (WP Heart Breaker) was an even better specimen. He awarded her Baby Puppy in Group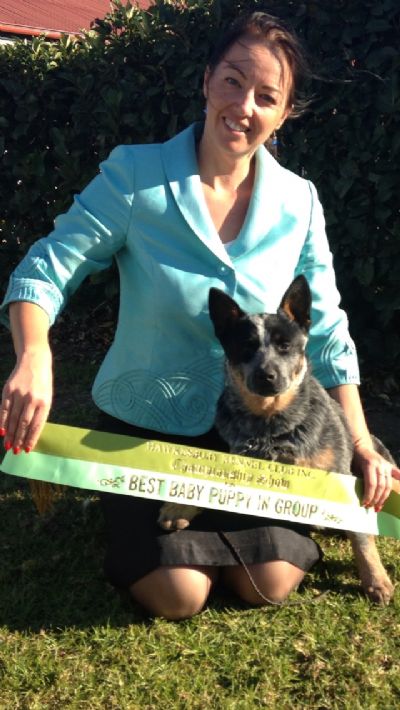 June 29, 2014

The young dogs did very well at the Warners Bay shows with Star (WP Shooting Star) winning 2 Bitch Challenges and 1 Reserve Bitch Challenge. She is only a few points off her Aust Champion title at 10 months old. She also wins a Puppy in Group.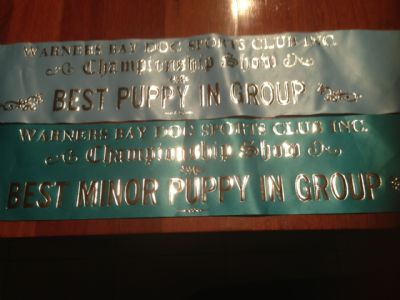 Mick (WP Mick Dundee) also does well at class in group level, winning a Minor Puppy in Group at 6 months old.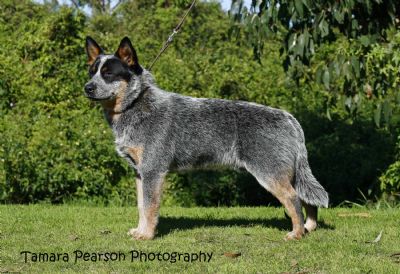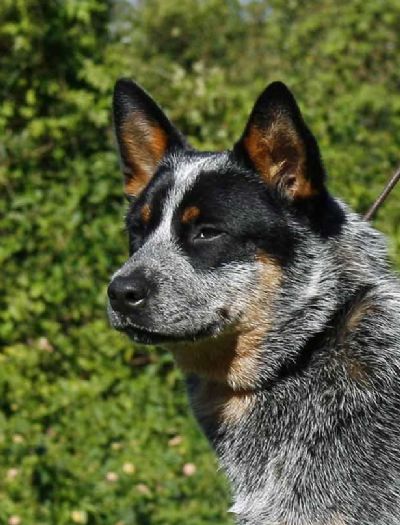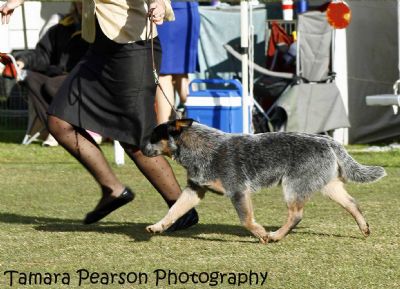 Ella (WP Heartbreaker) has her first weekend away and gains lots of fans. Here she is at 17 weeks old.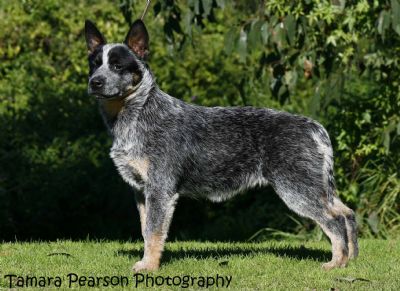 June 19, 2014
Red (WP Rugby Red) has a feature in the current Dogs Life Magazine.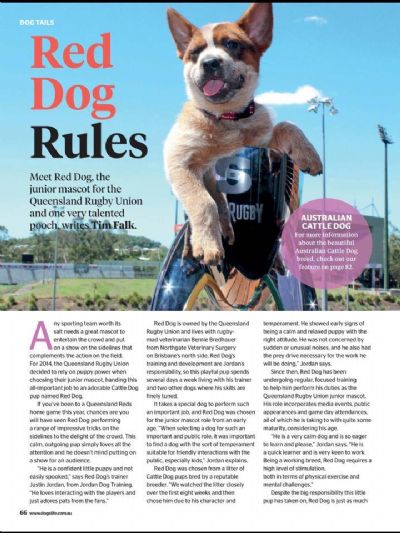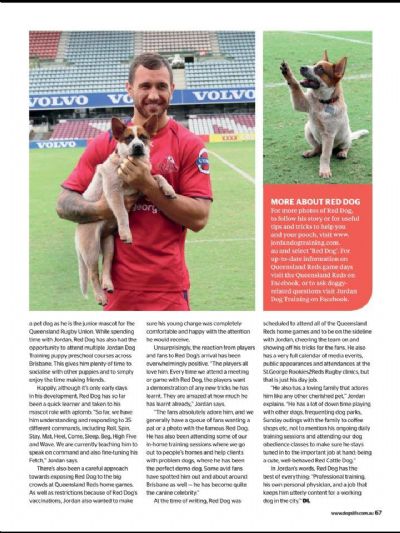 June 11, 2014

Red (WP Rugby Red) is starting to do more than just sit sideline at games now. At the recent Queensland Reds game the focus was on indigenous jerseys, and Red led out the players in his own indigenous jacket.

June 10, 2014
Rachel has sent us a before and after photo of her lovely Harlie (WP Cover Girl). Harlie is a litter sister to our Star (WP Shooting Star). We think she is a very pretty girl.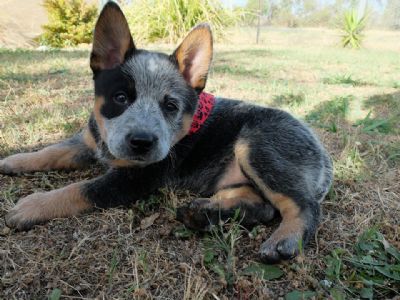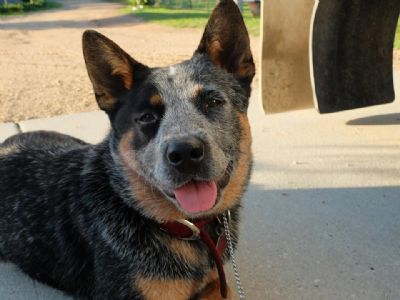 June 9, 2014
Ted (WP Bush Tribute RN HT) gets his first PT herding pass at the NSW Herding Association trial today. His immaturity and lack of experience showed, but his natural instinct got him through.

June 7, 2014
The gorgeous Star (WP Shooting Star) has a great weekend at the Newcastle Shows winning 3 Bitch Challenges, 2 Best of Breeds and a Puppy in Group. She brings home 23 points.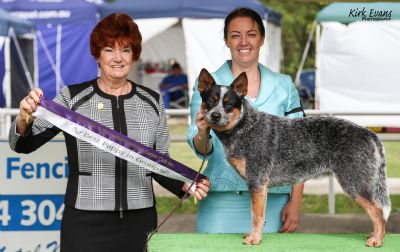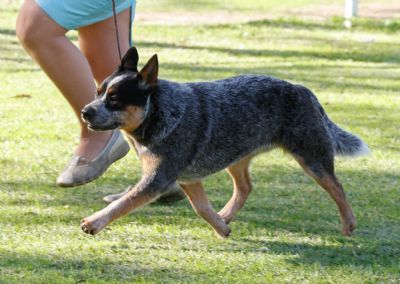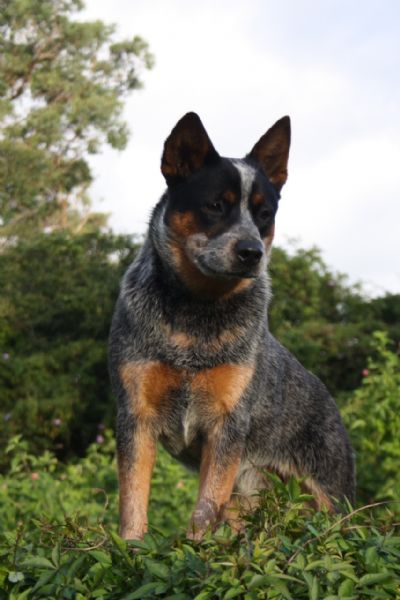 June 1, 2014
Ted (WP Bush Tribute RN HT) is starting to show some real talent in herding. This is his first time off the long lead, in the big paddock and walking straight lines. We are really enjoying his desire and commitment to the job, the cover he gives all the sheep and his balance - when he adjusts his position without being told so he pushes the sheep back towards the person. We also love the speed at which he chases breakaway sheep and how he then goes back to keeping the flock together.
May 31, 2014

The very pretty Star (WP Shooting Star) is picking up where Lace left off proving to be very competitive in the bitch classes. From 5 shows in Minor Puppy she has now picked up 1 Best of Breed and 2 Bitch Challenges to be 1/3 of the way to her title.

May 10, 2014
Willowpark has another Australian Champion with Lace (WP Denim & Lace) getting 28 points in 3 shows this weekend, taking her total to 107 at just 10 months of age.

May 9, 2014
Star (WP Shooting Star) is charming all the judges who see her, winning Minor in Group today at Hawkesbury Ag show, and being shortlisted for Minor in Show. She also is reserve bitch challenge from an entry of 17 ACD's. The future is so bright for this beautiful girl.

May 7, 2014
WP Rugby Red, aka Red from the Queensland Reds attended an open training session at Ballymore Stadium, sporting his new backpack so when he is fully grown he can carry water for the boys. This pup is still only 5 months old!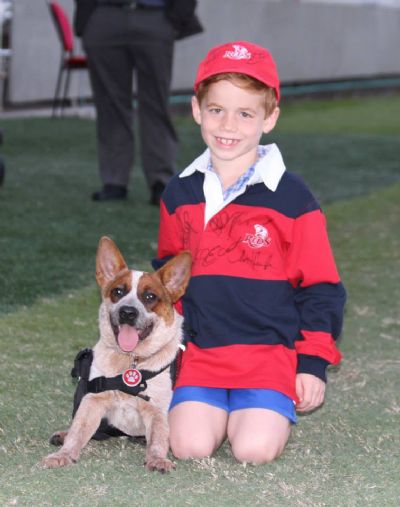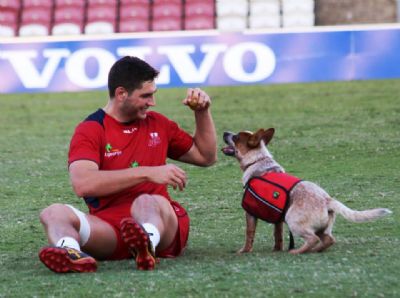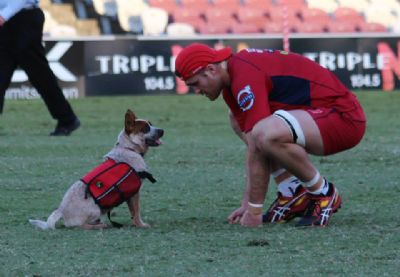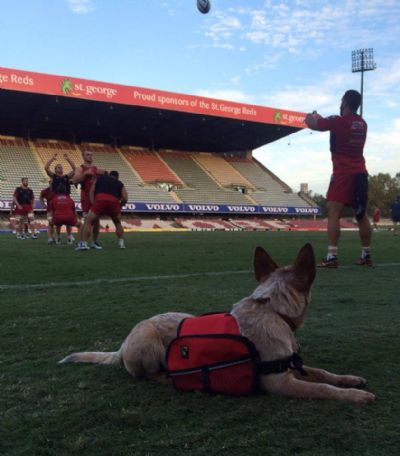 May 4, 2014
We took Mick, Star and Lace to the Working Dog Club of NSW show and all did really well, Mick (WP Mick Dundee) beat some nice babies to get Baby of Breed, Lace (WP Denim & Lace) was Puppy of Breed and Runner Up Bitch Challenge, but beating her in the bitch challenge line up was Star (WP Shooting Star) who went Bitch Challenge, then 16 point Best of Breed! The judge commenting that she has a very big future ahead of her, and then went and awarded her Minor Puppy in Show.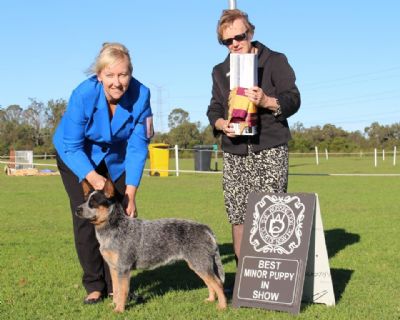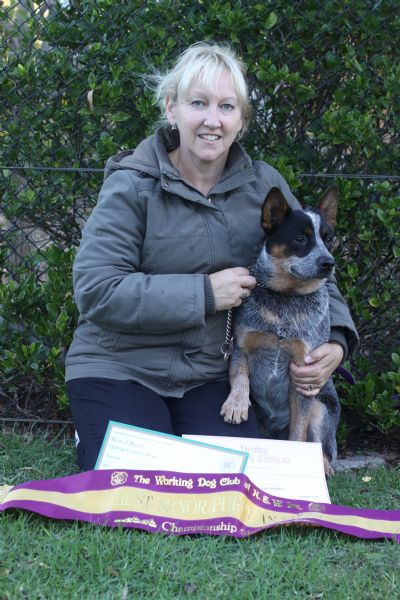 April 30, 2014
Zac (WP Custom Made) is on a roll. He traveled to Victoria to compete in the Australian Shepherd Club of Vic herding trial, and finished the weekend with his Herding Started A course Cattle title and a 1st place.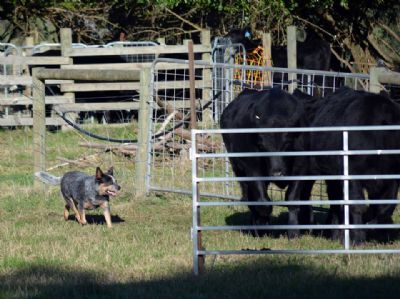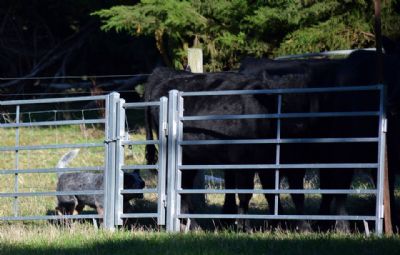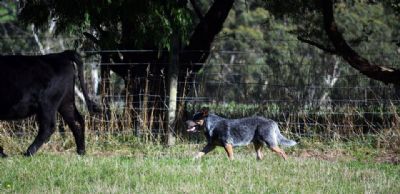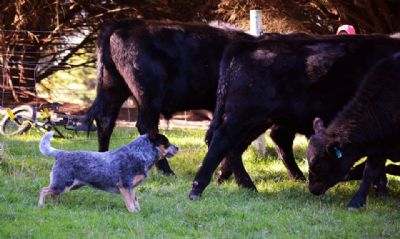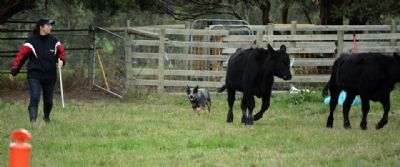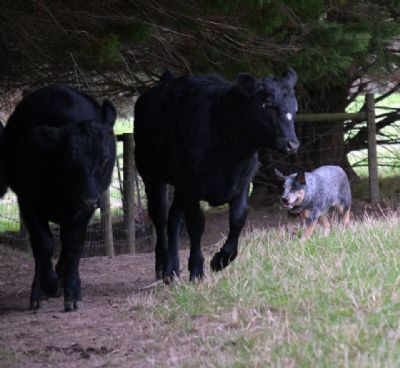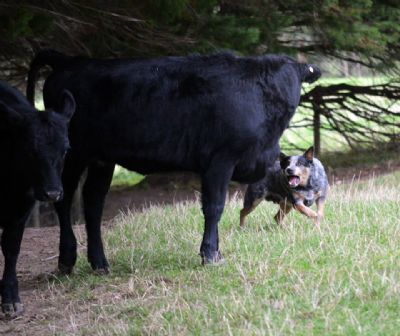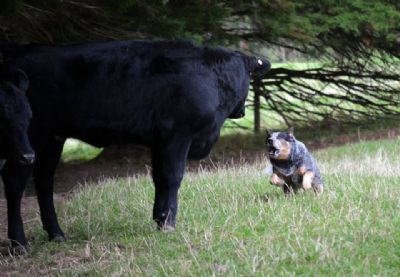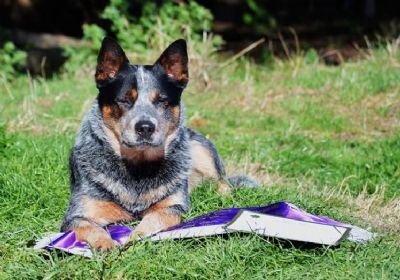 April 23, 2014
Chloe sent us photos of the next obedience star - Mila (WP Blue Melody) is 7 months old. She is litter sister to WP Shooting Star. Their mum Meg (WP Eternal Flame) is such a sweetheart and looks like Mila is just like her mum.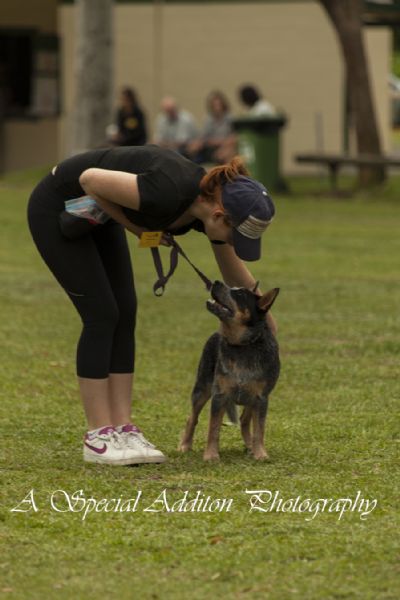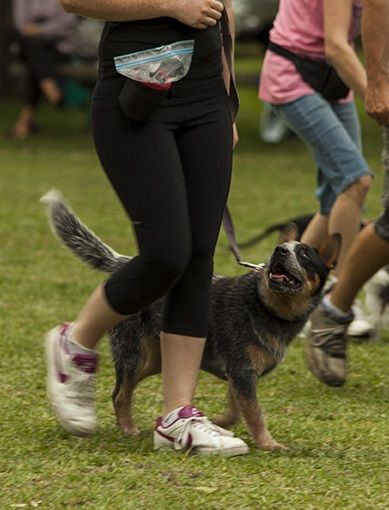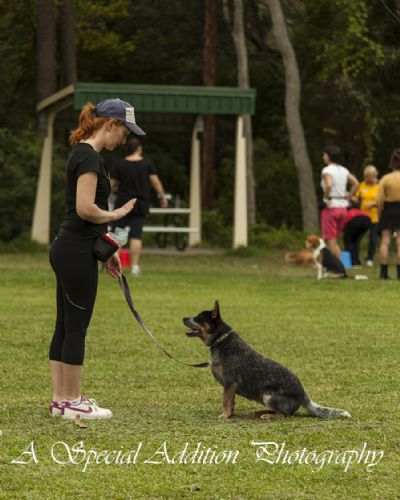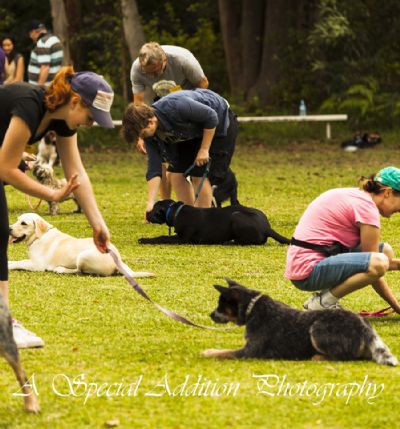 April 22, 2014
Zac (Ch WP Custom Made) wins the Advanced A Rally O at Sydney Royal.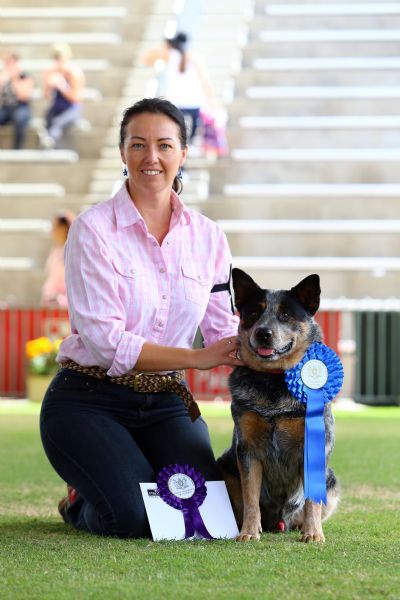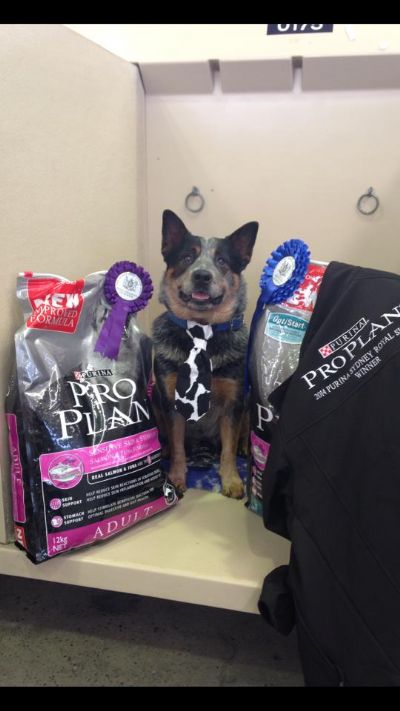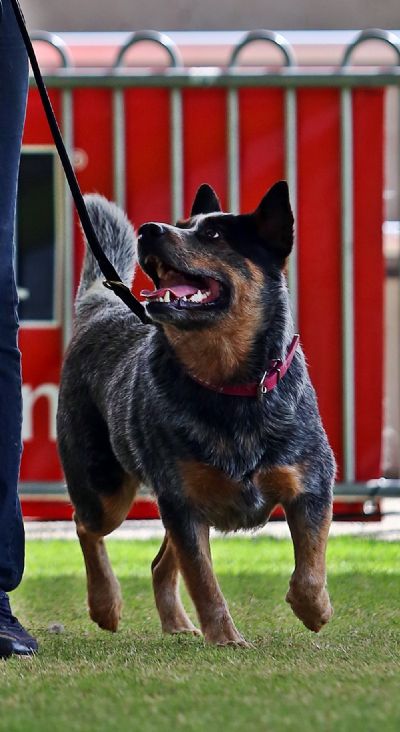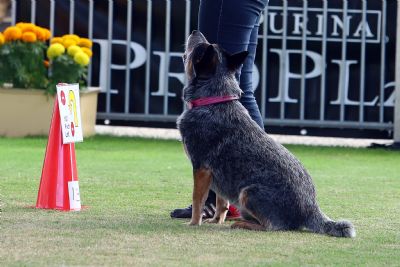 April 21, 2014
What a fantastic Sydney Royal show! Lace goes back for General Specials - Puppy in Group and makes it into the final 2, just beaten by a lovely border collie. This is her Challenge and Puppy of Breed photo.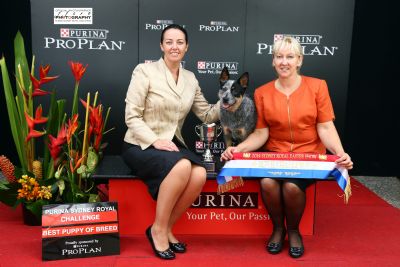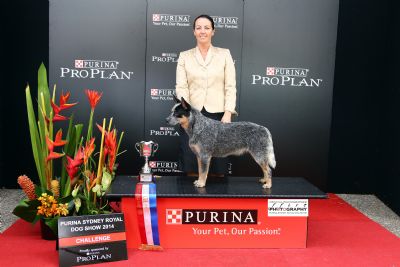 April 16, 2014

Tess' pups have their photos up - look for the Current Puppies page.

....................

Ted is now known as WP Bush Tribute RN HT after finishing 4th at the Metropolitan Mid Week Obedience trial in the Rally Novice class. This gives him his 3rd pass. He did really well with a 94/100 score. Ted is 14 months old and has had very basic obedience training, but that Willowpark intelligence and sensible attitude carried him through. He only needs to be shown something a few times before mastering it.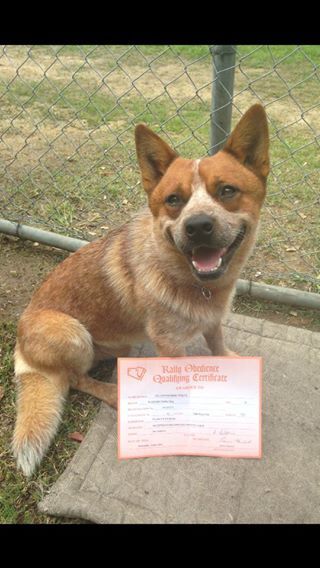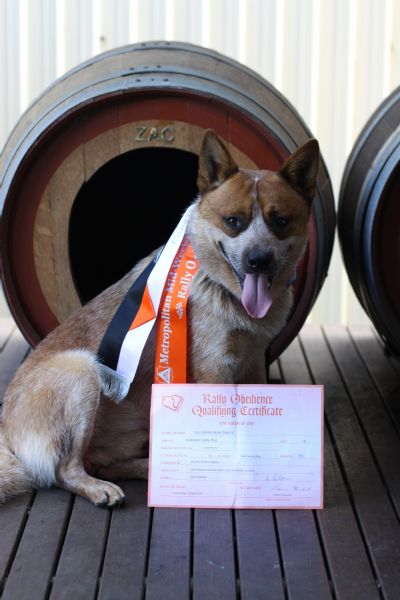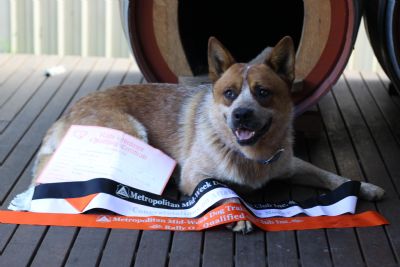 April 14, 2014

Sydney Royal day. We entered Ted (WP Bush Tribute HT), Star (WP Shooting Star), Lace (WP Denim & Lace) and Bree (WP Poker Face HT). Also a bitch we bred was also entered - WP Royal Flush (Flame)

Always a hectic and busy show we were so proud to have all of our dogs confident and relaxed. Star and Lace were crowd favourites giving out many cuddles and face licks.

Sandra with Star -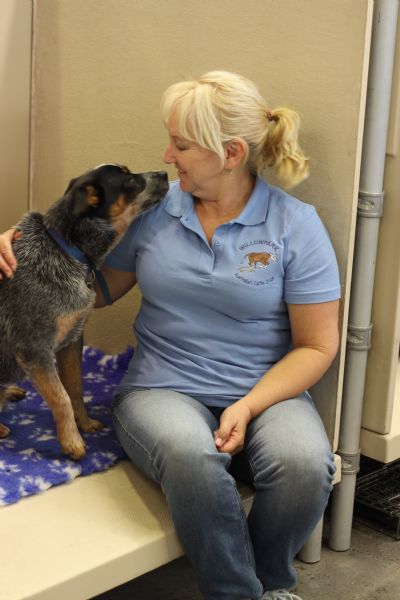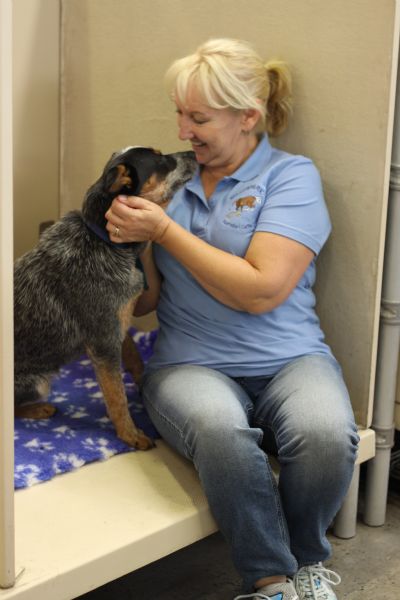 Sandra with Lace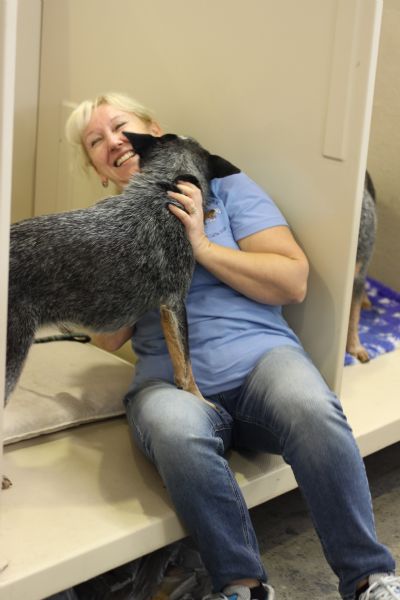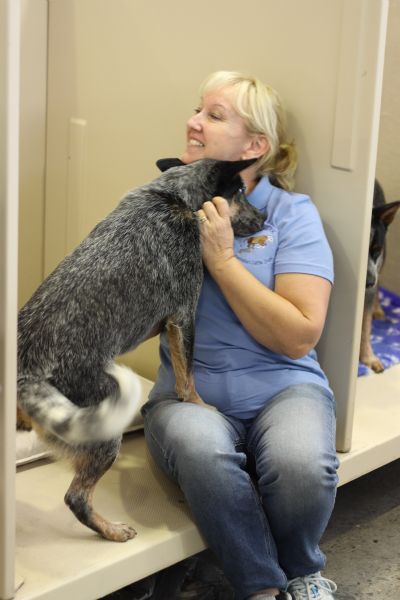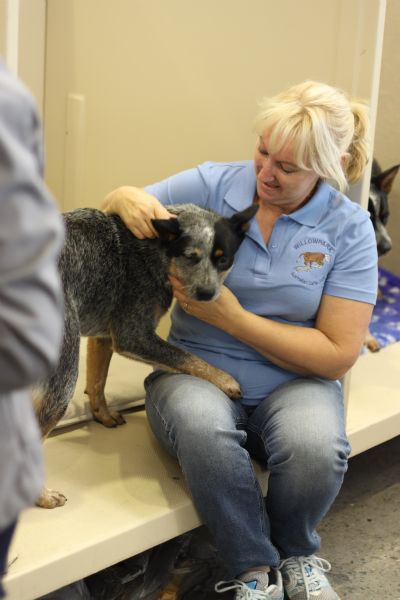 A total of 43 Aust Cattle Dogs were entered and our dogs finished -

WP Bush Tribute HT - 3rd place Junior Dog

WP Denim & Lace - 1st place Puppy Bitch, Puppy of Breed, BITCH CHALLENGE!!

WP Shooting Star - 2nd place Puppy Bitch

WP Royal Flush - 3rd place Puppy Bitch
Lace was her usual full of life self, she just loves the show ring and just loved the atmosphere at the show - she was twice the show off she normally is, but somehow managed to keep all 4 feet on the ground when it mattered. We were so proud, happy and glad that the judge rewarded this beautiful young bitch so highly and placing her above all the older bitches. We cant wait to see the official photos. This is the second year in a row Willowpark wins Puppy of Breed at Sydney Royal.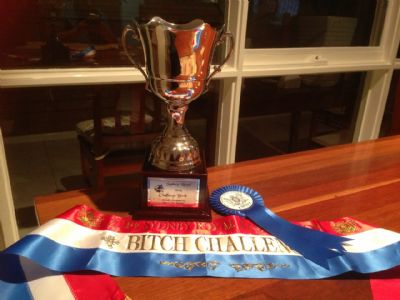 Many thanks to our very good friend Melanie Kirk who was entrusted with Ted at the last minute to handle him in the show ring. Melanie has previously handled Ted to Reserve Dog Challenge in a big line up so we knew she shows him well. Melanie presented Ted beautifully and couldn't have done a better job, winning 3rd place in his class.
April 13, 2014
We attended the Australian Cattle Dog Society of NSW Specialty show and finished up with-

WP Shooting Star - Best Opposite Minor Puppy in Show
WP Denim & Lace - Best Opposite Puppy in Show

Ch WP Poker Face HT - 2nd Best Headed Bitch
WP Royal Flush - 1st Best Coated

Ch WP Custom Made - 2nd 7 - under 10yo Junior Handlers

WP Denim & Lace - 1st 10 - under 14yo Junior Handlers and 2nd 14 to under 18yo Junior Handlers

WP Royal Flush, with her owner Stephanie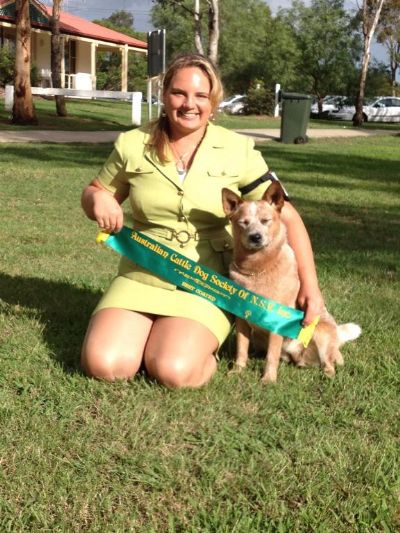 Tess has her puppies! This gorgeous girl easily gave birth to 9 puppies this morning, all blue, 6 girls and 3 boys. Most with eye patches.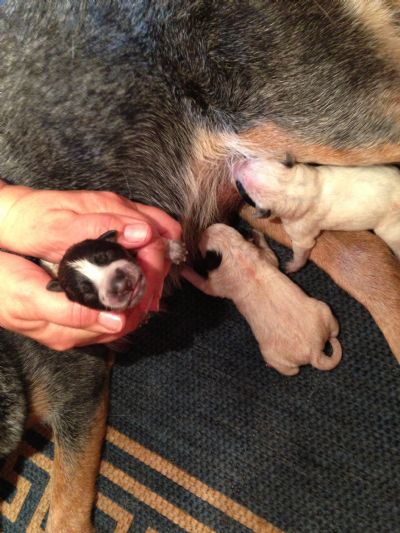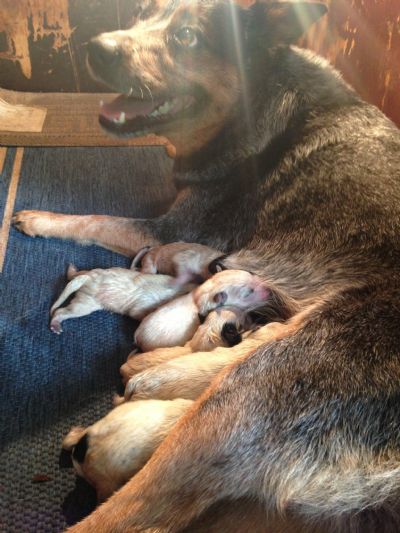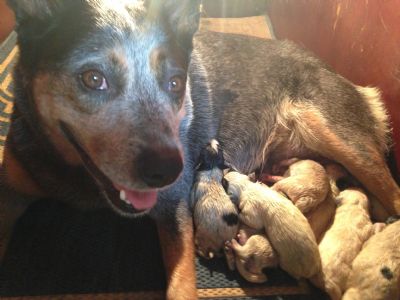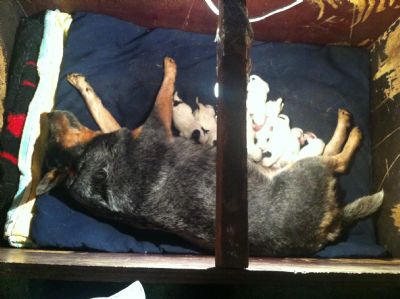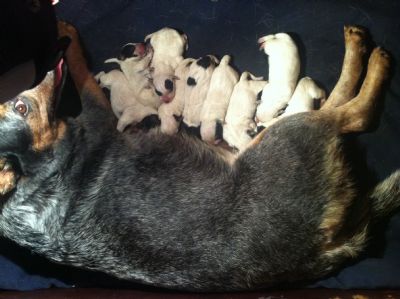 April 11, 2014
With a little bit of regret we have decided to sell the pup we have been calling Codey. He is 6 weeks at the moment, with just many young dogs at the moment we need to focus on them. He has a really outgoing personality.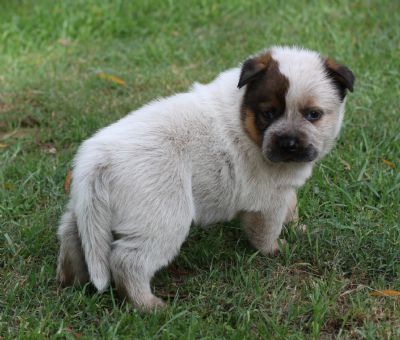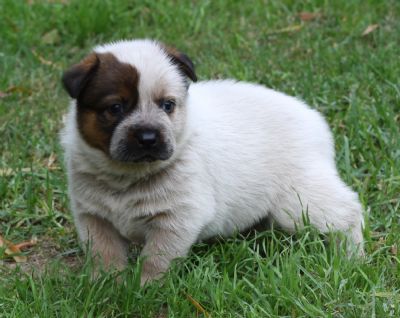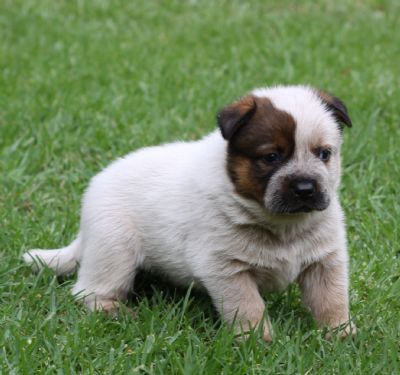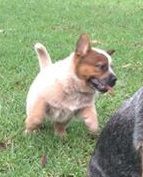 April 6, 2014
Bree (Ch WP Poker Face) can now be known as Ch WP Poker Face HT after earning her Herding Test title at the Border Collie Club of NSW trial today. She first passed her instinct test, then completed the test twice under 2 different judges. She was only worked on sheep for the first time a week ago, but instinct kicked in and she naturally wanted to round up the sheep and keep them together. What a weekend for her, beating 137 other dogs in the Working Group yesterday, then coming out and earning her Herding Test title today - beauty and brains.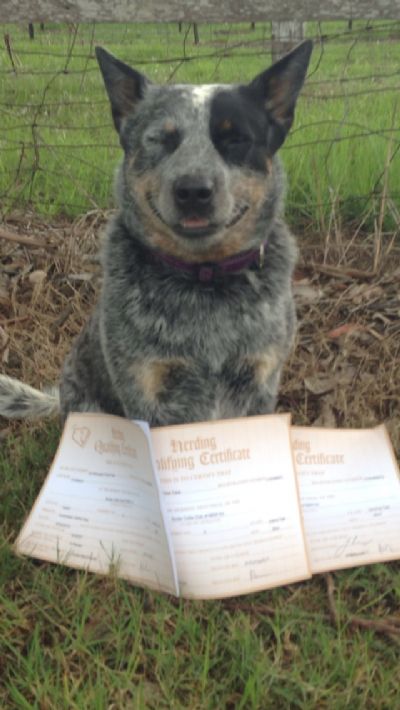 April 5, 2014
Four Willowpark dogs went to Camden Show today with 17 ACD's entered.
Bree (Ch WP Poker Face) has her first show in 6 months and gets Best of Breed and Runner Up to Best in Group!
Mick (WP Mick Dundee) has his first show and wins Best Baby Puppy of Breed (beating 2 other babies)

Star (WP Shooting Star) going into Minor Puppy for the first time and beats the male Minor for Best Minor Puppy of Breed.
Lace (WP Denim & Lace) is awarded Best Puppy of Breed, but she has the least brag as she was the only puppy entered.

Bree with her Runner Up Best in Group and Open in Group ribbons

April 1, 2014

Red is getting so much air time, so good to see the success he is becoming, his training is a credit to Justin Jordan who has taught him 35 commands by 14 weeks of age. We think Red is the perfect example of what the combination of good genetics and good training can achieve.
March 31, 2014

This gorgeous little red girl is 5 weeks old. She is from Sophie's (WP Queen of Hearts) first litter.and we have decided to keep her brother and sister, so she is now for sale. Her father is Ted (WP Bush Tribute HT).
She is perhaps too heavily marked for the show ring and does have a body spot but her conformation is really nice. She is a delightful puppy who follows you everywhere.
If you are interested please send us an email or phone Sandra. Photos at almost 4 weeks old.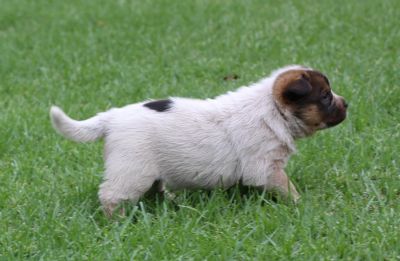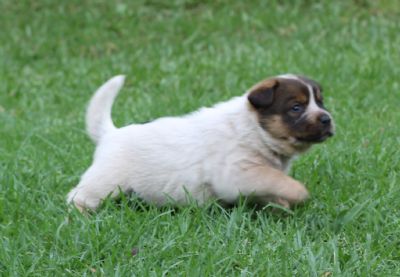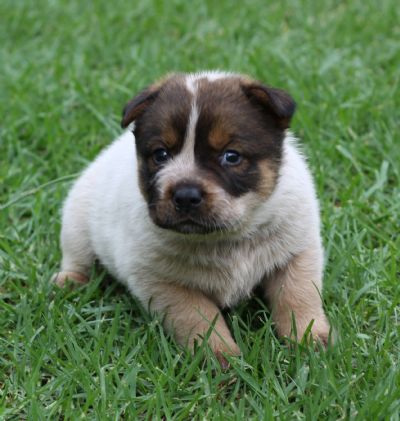 March 29, 2014

Mick (WP Mick Dundee) gets his first chance to see some sheep. He is very cute, very confident and quite a strong eye for such a young pup. He started off in the small yard with no corners to keep the sheep moving, and to keep any chasing to a minimum while we see what he does. He ended up in the big paddock later in the afternoon. A very clever young boy. Bree (Ch WP Poker Face) also had her first real chance to work sheep and she could have passed her HT title many times over. We will certainly continue with her herding work.

March 26, 2014
We are looking for new homes for 2 or 3 of our adult dogs, who are all around 3 years old, through absolute no fault of their own. They have beautiful natures and would love to live as spoilt pets keeping someone company. If you are interested in an adult dog please email us. The very best homes are important and will be sold for just the price of desexing.

March 23, 2014
Zac (Ch WP Custom Made) and Ted (WP Bush Tribute) have a great day at Brush Farm Dog Training Club Obedience and Rally O trial. Zac gets his final pass for his CCD obedience title, Ted gets his 2nd pass towards his Rally Novice title and Zac gets his Rally Advanced title and 3rd place!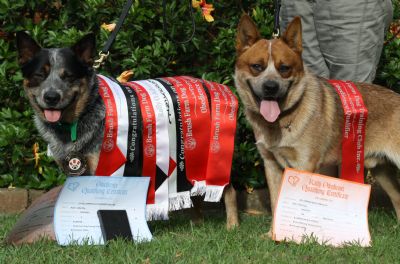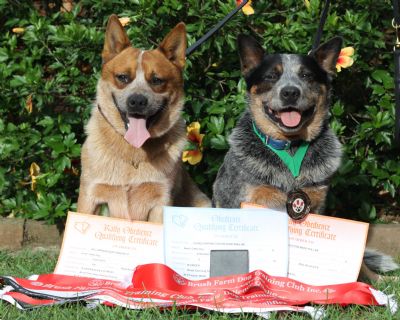 March 22, 2014

Sophie's (WP Queen of Hearts) pups to Ted (WP Bush Tribute HT) are 3 weeks and 5 days old here. Exactly like the other pups sired by Ted, they are just up and around much earlier than other puppies. This is their first time away from mum and with grass under their feet.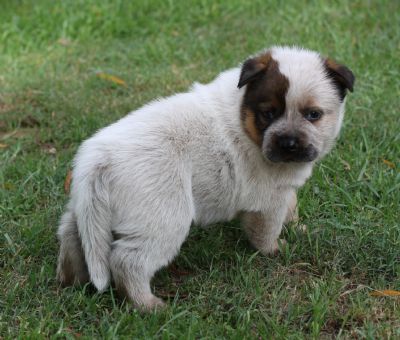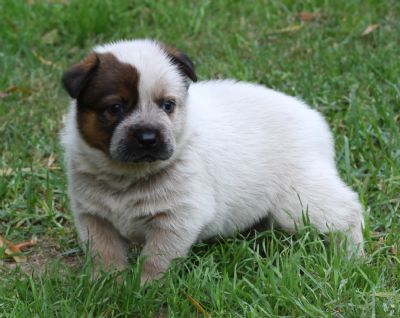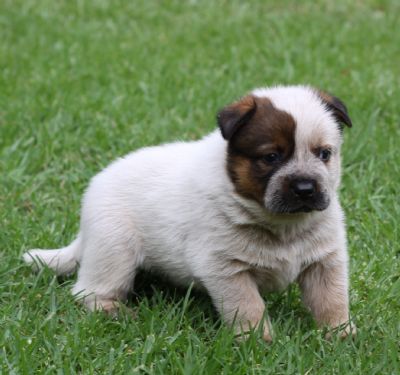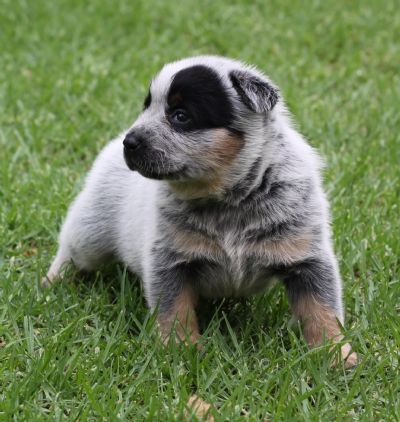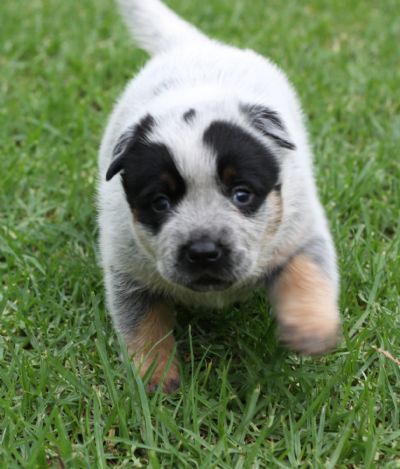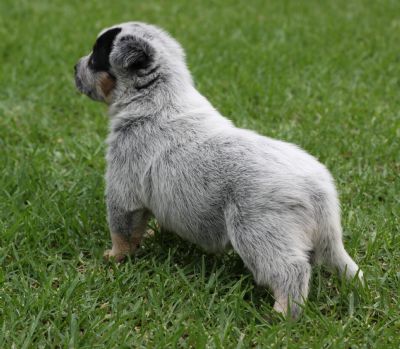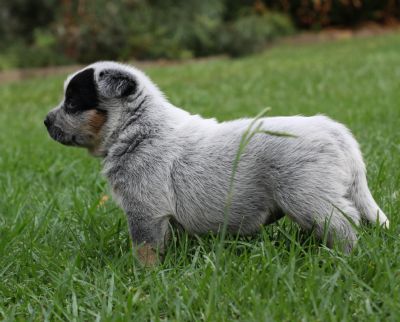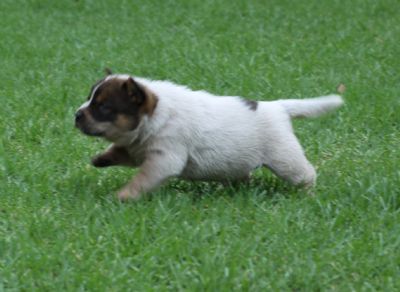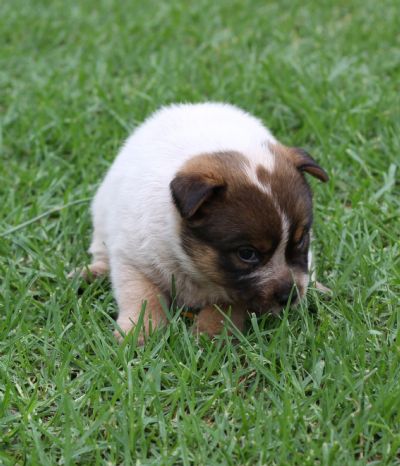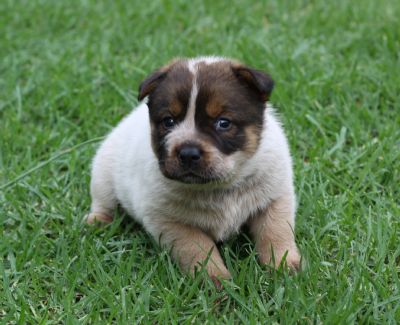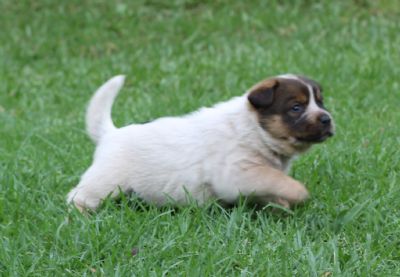 March 10, 2014
The boys! Levi, Zac,Ted and Mick, however we will redo these photos when we are not so tired and rushed. Levi and Zac - father and son. Ted and Mick - father and son.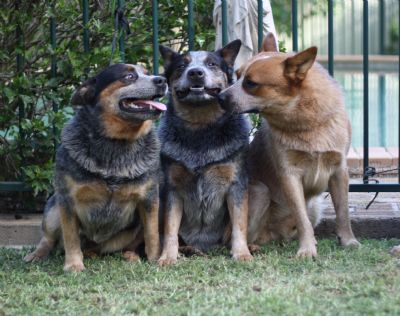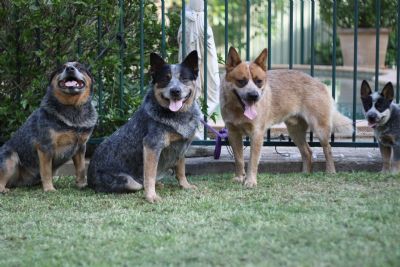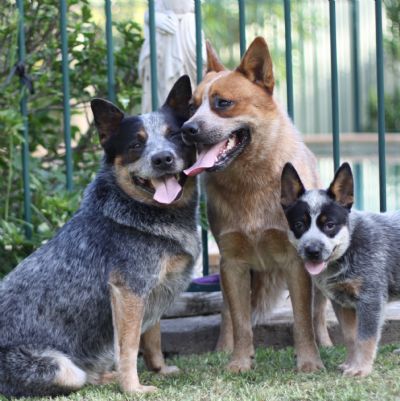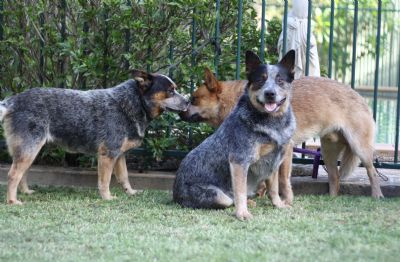 We also took photos of the 7 week old Ted (WP Bush Tribute HT) and River (WP River Dance) litter. Ted is an interesting dog, cut from a slightly different cloth but he offers so much and his puppies are really nice.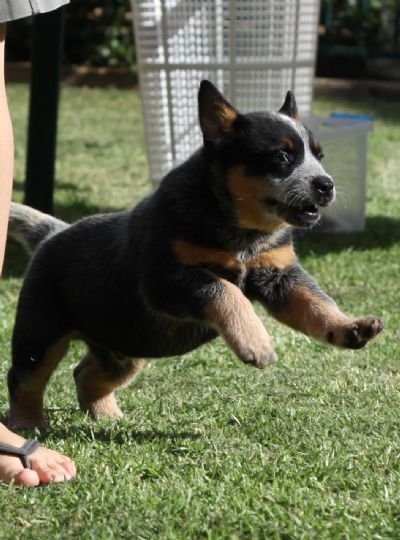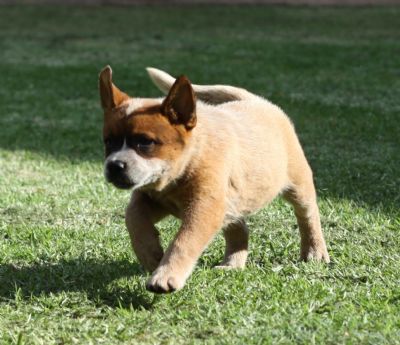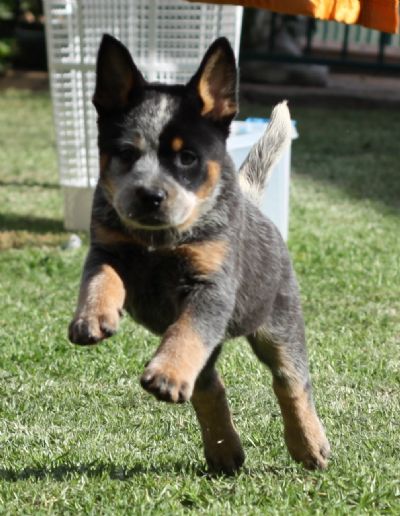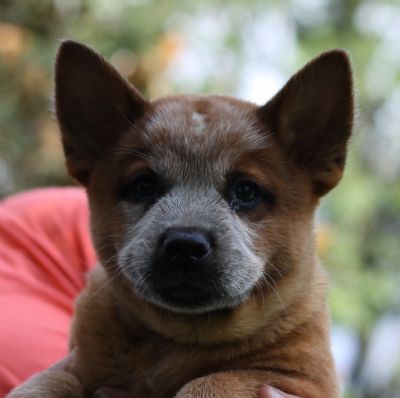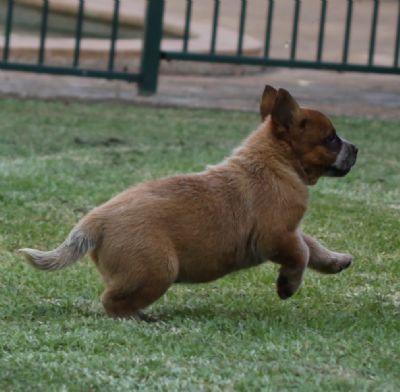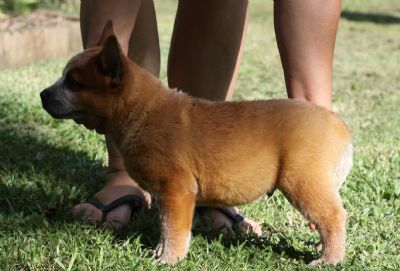 Sophie (WP Queen of Hearts HIC) has 3 puppies to Ted (WP Bush Tribute HT). These are really special puppies and will not be advertised. Sophie is really special, and will be entering the show ring once she regains her coat after this litter. We have had to be very patient with this girl, but she is worth the wait. The red male pup is very special.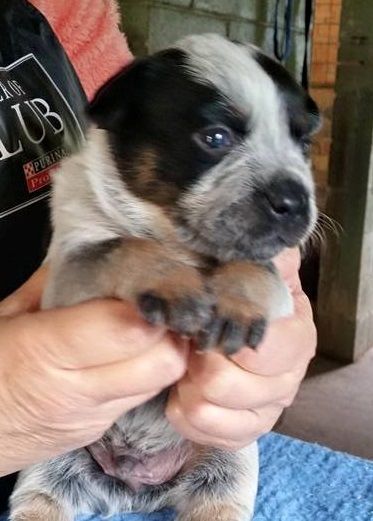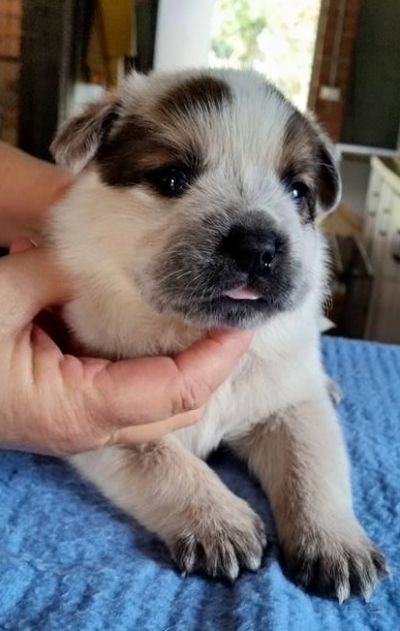 So much news! Red (WP Rugby Red) attends his first game as mascot for the Queensland Reds, although we suspect he slept the whole way through!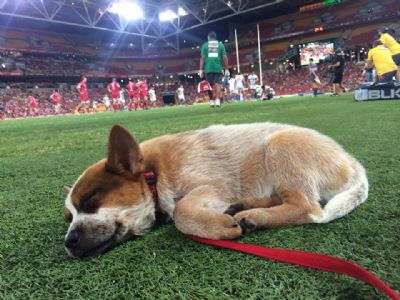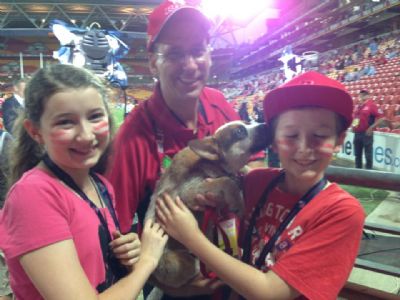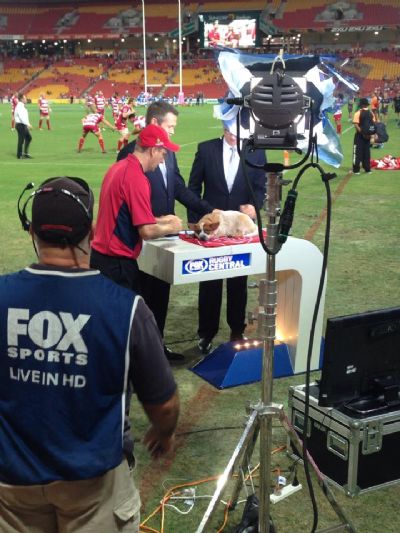 March 9, 2014
Lace (WP Denim & Lace) wins another Minor Puppy in Group and shortlisted for Minor in Show at the Blacktown Kennel Club Saturday show. She shows her little tan socks off at the Sunday show and gets a 15pt Best of Breed, beating all the older dogs.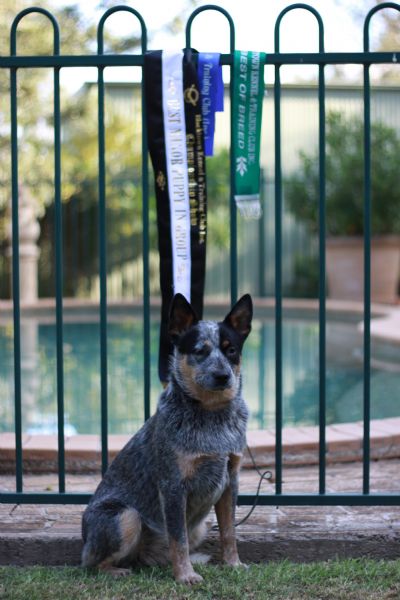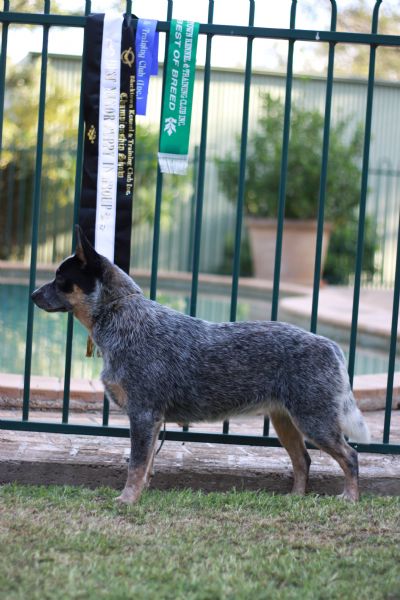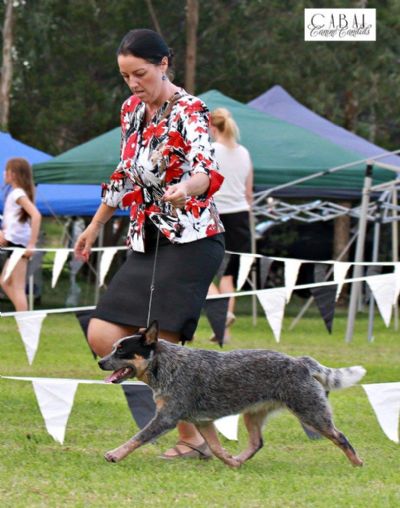 Star (WP Shooting Star) has entered the show ring and is receiving so many lovely comments from judges and fellow ACD people. She is a sweetheart who has so much substance. She is still working out how to control her huge reach and drive -she feels like a spider to run on the lead at the moment, but as she matures and also understands running in straight lines she will be a super mover. She is the first Levi (Burrenjup Hot Coals) x Pavesi Five Card stud breeding. All our other young dogs sired by Pavesi Five Card Stud have been out of WP Blue Anzac daughters. Sandra handling her in the showring.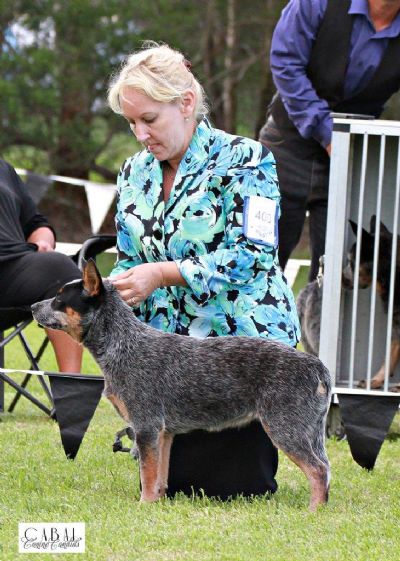 March 7, 2014


Tess (Aust Ch WP Inevitablue CCD RN HSAs) has the last commercial she worked on go to air. Tess is a really special girl and is currently pregnant. For details of the mating check out our future litters page
March 6, 2014
Red (WP Rugby Red) is attending his first game as mascot for the Queensland Reds this Friday night, being on the sidelines, media interviews and hopefully his first national TV appearance.

All reports are that he is doing really well, this from his trainer -

He is already making us so proud, he handles the attention and the media so well, his commands are coming along, we have sit, stay, drop, come, heel, walk off lead almost mastered, we have these tricks sorted, high five, shake, roll over, spin, sleep and wake up.
He is loving every minute of his training, we have a gruelling season ahead so we need to keep up the training.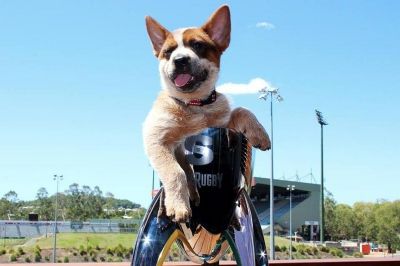 March 5, 2014
Ted's (WP Bush Tribute) hip and elbow scores come back and we are excited to say that he has international grade A hips (2:2) and his elbow score coming back as 0:1.

We are keen to improve the next generation to 0:0 elbows. Dr Rob Rawlinson noted that Ted is closer to 0 than 1 however under the scoring system he registers a 1, as anything between 0.1mm and 2mm is deemed a 1.

March 2, 2014
Our Lace (WP Denim & Lace) is on fire, winning Minor Puppy in Show at Milton Show yesterday.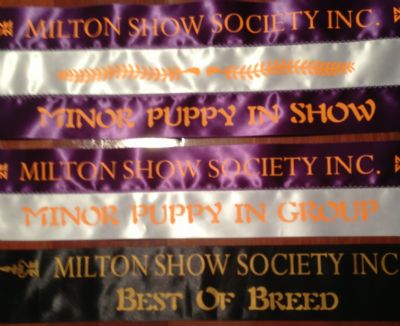 February 26, 2014

Today Queensland Reds Rugby Union announced their new junior mascot, and he is a Willowpark ACD! We have known for the last few weeks but couldnt say too much until after the press release. His name is WP Rugby Red.

This little guy is brother to Mick (WP Mick Dundee) and from Ted's (WP Bush Tribute) first litter. All accounts are that the vet and trainer feel he is almost the perfect puppy for the job,

Here is his first promo video

February 21, 2014
Meet Mick (WP Mick Dundee) a son of Ted (WP Bush Tribute HT). Mick is looking promising so far, both conformation and character wise.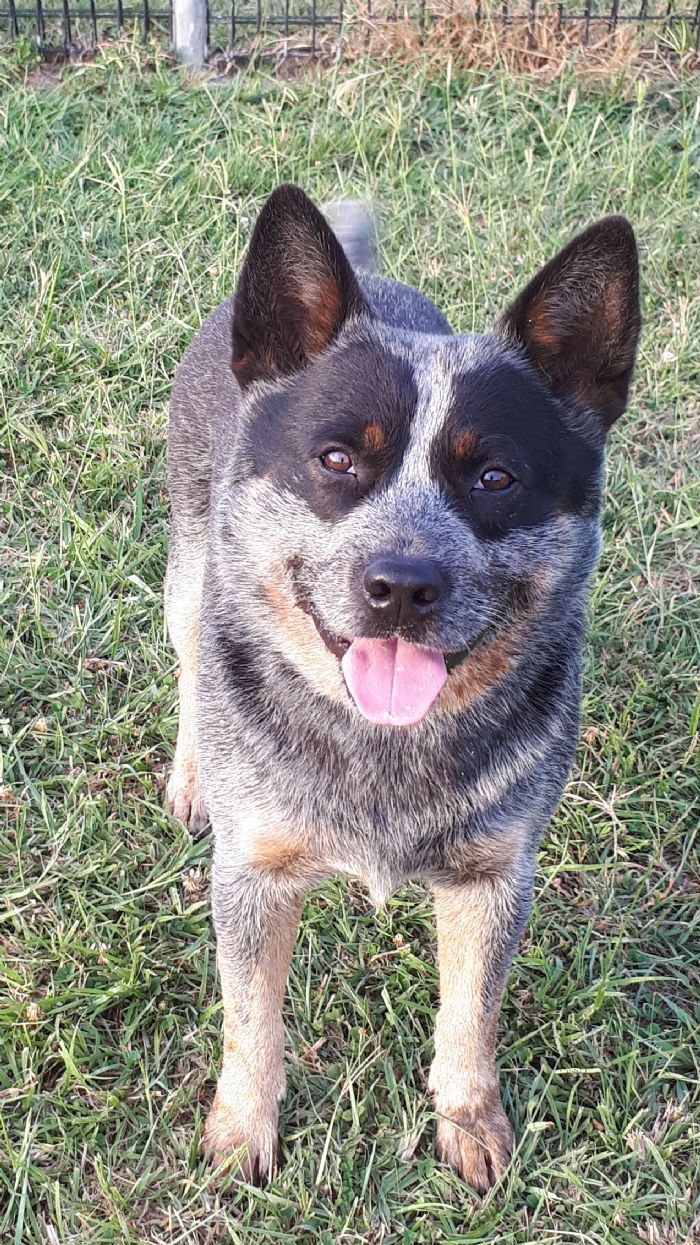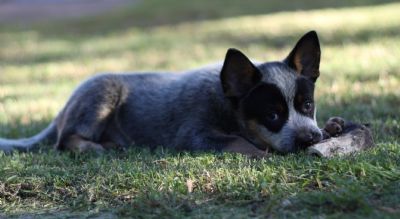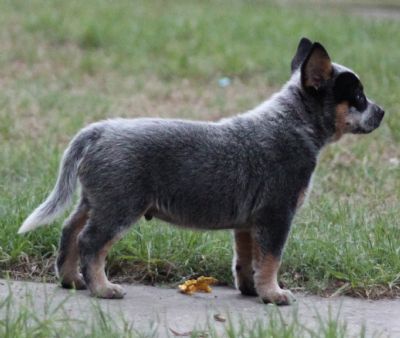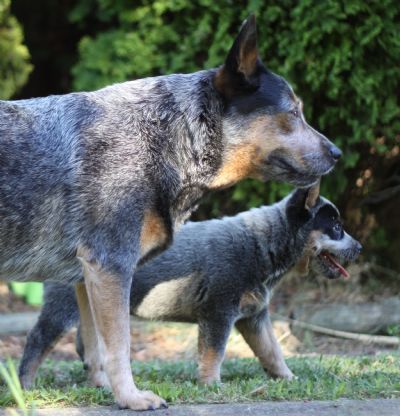 February 20, 2014
An update from Morgan (WP More the Merrier).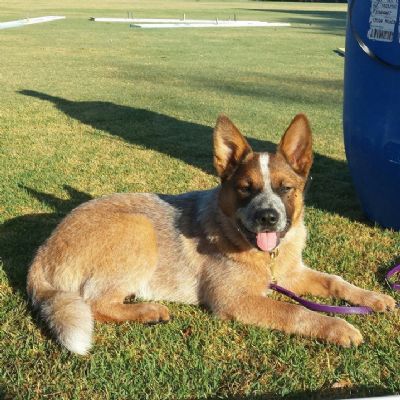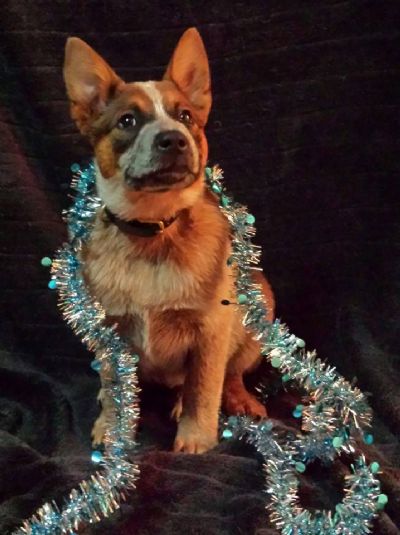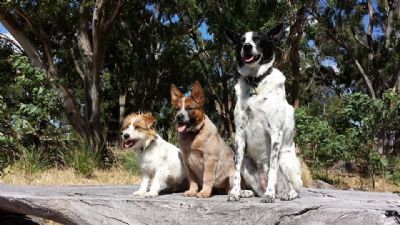 Hi Sandra and family
Just a quick update on our little Morgan. Officially nicknamed Morgan Fox (canine equivalent of Megan Fox in beauty of course) she has slotted into our family very well and is loving life. You could not have chosen a better puppy in terms of temperament to suit us- she is VERY bold and super confident with plenty of drive which suits us perfectly. The other dogs have welcomed her into the family and they all get along extremely well. Morgan has just started getting to the point where she can 'work' with us- assisting at our puppy school classes and behaviour consults and starting foundation agility work. She LOVES to swim and has done so from day one- not just at the beach, every water bowl is fair game!! We look at the Willowpark website often and will definitely be in touch in future to get a Willowpark boy to join our family. Thanks again- very happy to have what we consider to be the perfect cattle dog.
Tamara and Stuart
Underdog Training and Behaviour Consulting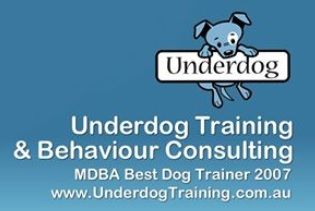 February 17, 2014
Lace (WP Denim & Lace) comes back from her first weekend away in Minor Puppy making a clean sweep of the bitch class and coming home with 28 points. We are so happy with her - such a delight to show and already a little professional on the end of the lead. She loves the show ring almost as much as she loves the beach!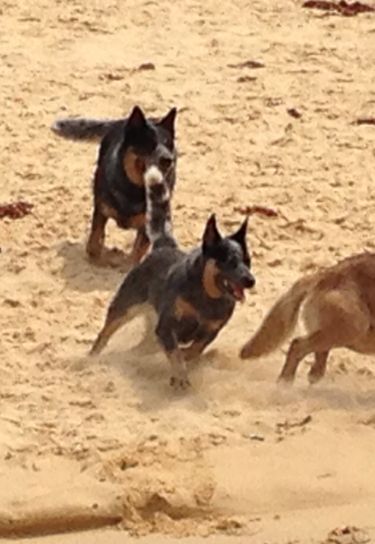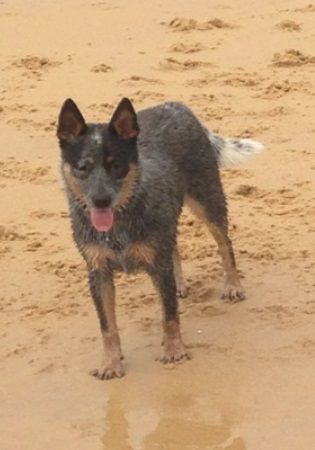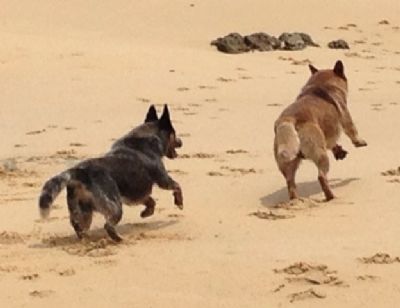 Zac (WP Custom Made) gets his 2nd pass in the CCD ring finishing 4th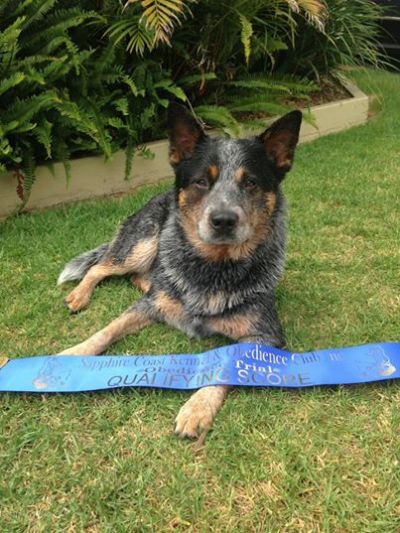 February 13, 2014
The dogs are having a great time on the south coast, doing what dogs love the most, getting muddy! Ted, Zac and Lacey (WP Denim and Lace)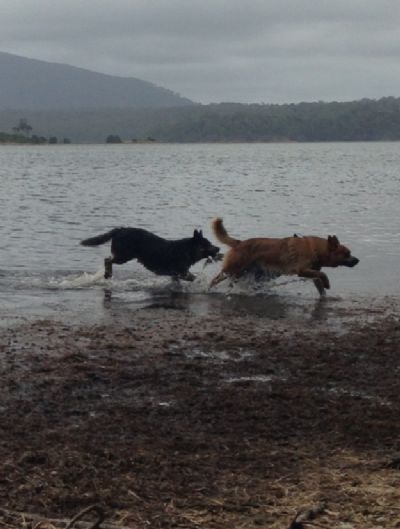 February 12, 2014
Ted (WP Bush Tribute) gets his first Rally O Novice pass! Very happy with him as he has had very little formal obedience training but managed to nail his sits, drops, stays, left and right finishes and recalls and he is only 12 months old. Zac (WP Custom Made) gets his 2nd Rally O Advanced pass and 4th place in his class.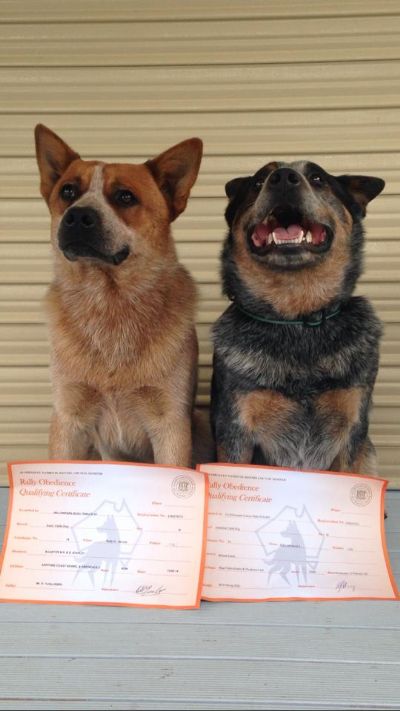 February 11, 2014
Zac (WP Custom Made) is onset filming for an ABC production on buying Australian Made products.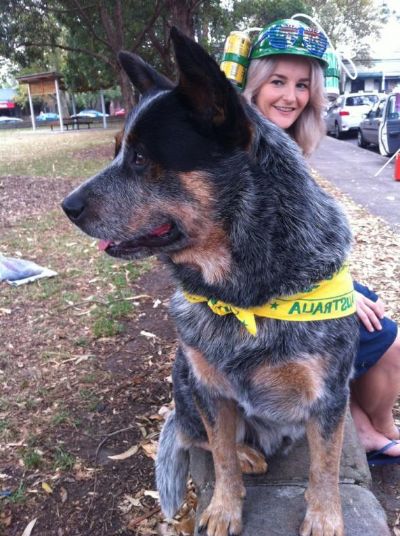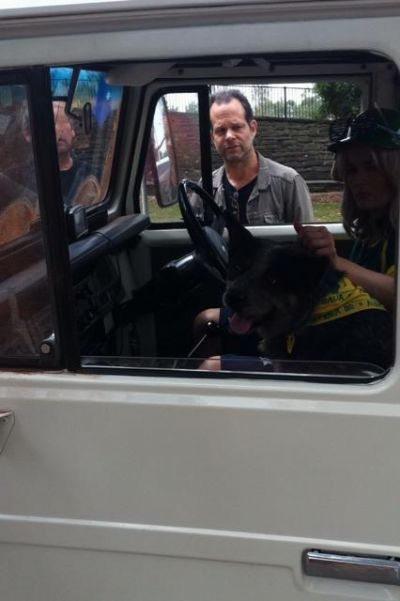 February 8, 2014

Zac (WP Custom Made) works for 2 days solid at the Sydney Pet & Animal Expo. His friendly nature and sensible attitude made him a crowd favourite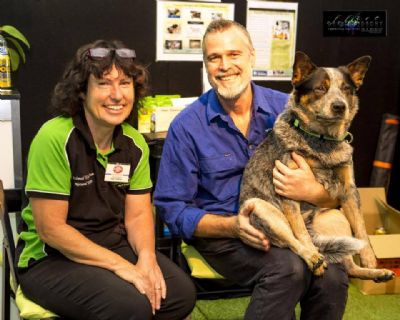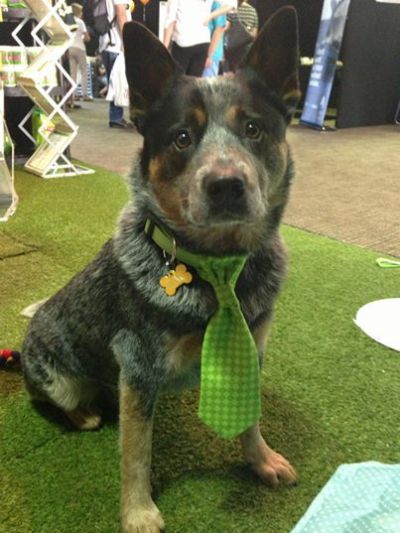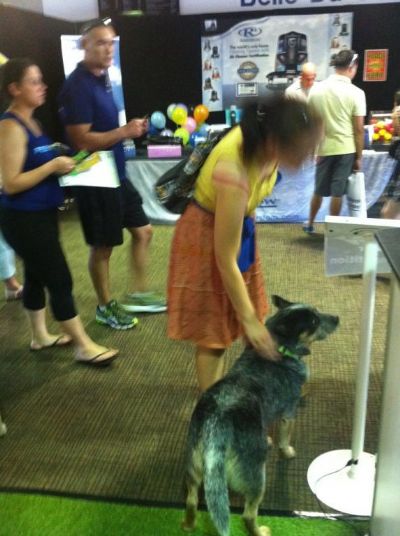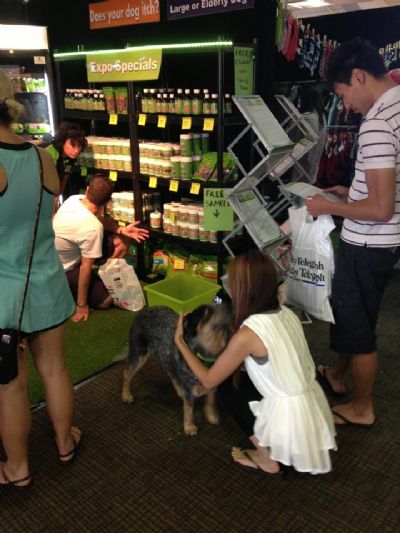 January 21, 2014
Ted's (WP Bush Tribute HT) first puppies are 5 weeks old today. They are adorable and we are very happy with their boldness... up exploring much earlier than any other litter we have had before and not much worries them. One of the red boys is off to be the mascot for a rugby union team!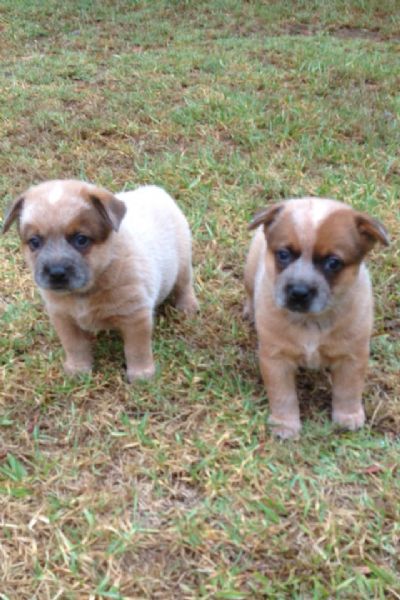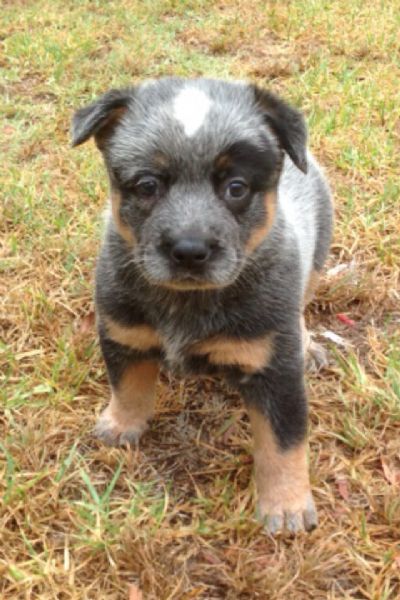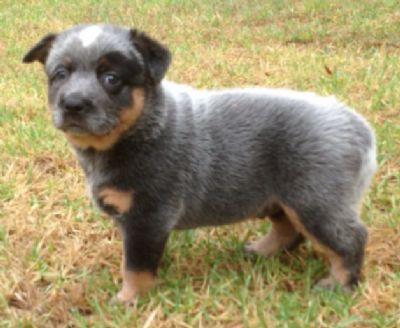 January 20, 2014

We are so impressed with how Bentley is maturing (Pavesi Five Card Stud x Aust Ch WP Blue Breeze HT ET). We hope to use him in the future.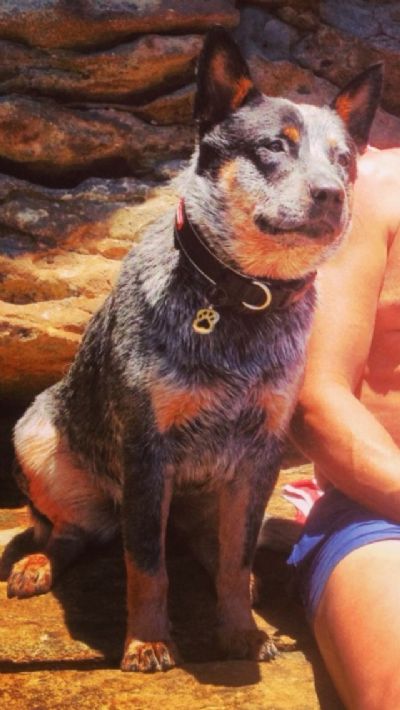 An update from Bonnie's owners. Bonnie is litter sister to Bentley, pictured above.

Hi Sandra

We really enjoy your updates on the website and wanted to send you some photos of Bonnie. We picked her up from your place almost a year ago now. She was such a cute puppy and has grown into a lovely dog. She has such a nice nature and even though she was a bit of a handful in the beginning, has calmed down a lot now. We live in an inner city suburb of Sydney, however, we are lucky to have plenty of parks nearby where she can run around and make new friends. Twice last year we took her to my family's cattle property in Central Qld where she got to play farm dog and run around with the Collies and Kelpies (though she did have a bit of trouble keeping up!) On the last trip we also discovered how much she loves swimming in the dams!

Thanks again.
Tim & Megan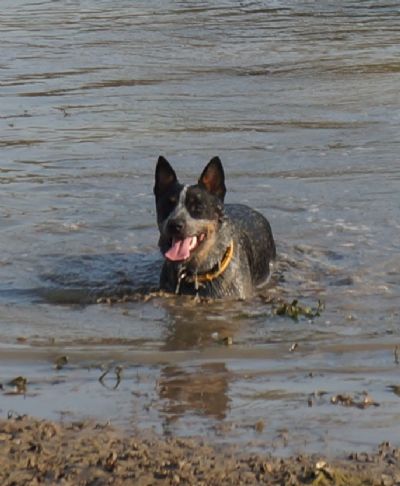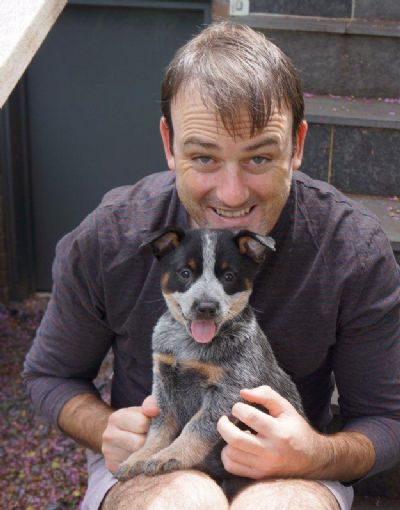 January 19, 2014
Two of the Pavesi Five Card Stud x WP Eternal Flame puppies at 19 weeks

Alyse has sent us a photo and really cute video of Ziva

Hi Sandra,


 


Just an update on one of the gorgeous puppies we purchased only months ago from you.




Ziva, as you know was purchased as a working dog as well as my companion.




She is the most loyal and loving best friend I could have ever asked for.


Ziva is doing well , her instincts have shone through in the passed few weeks, 
nipping at the cattle's heels and she tries to round up the chooks occssionally. 
She is a total water bug, whenever she gets the chance no matter if it's a cattle trough,
pool, dam or water bowl, she has to be in it! 
She is extremely intelligent, definitely has a bright working dog future ahead of her! 
Here is a video of her working one of my heifers, and a photo :) 


Would just like to thank you again for giving me the opportunity to own such a beautiful dog! 



Thank you, Alyse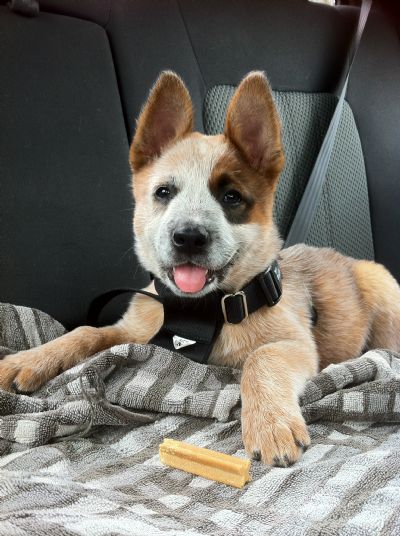 Neil sent us photos of Smoke seeing his first cattle over the holidays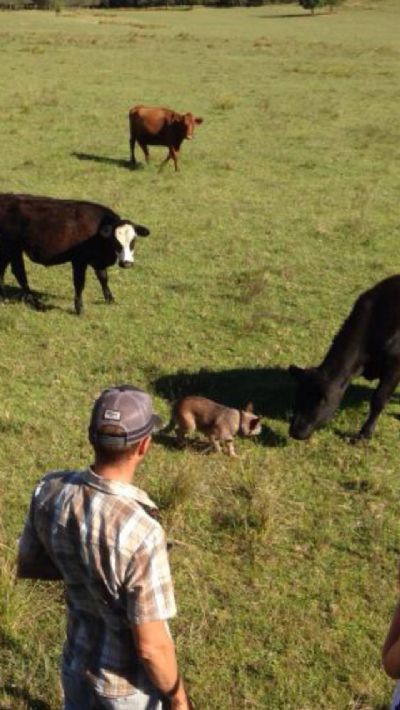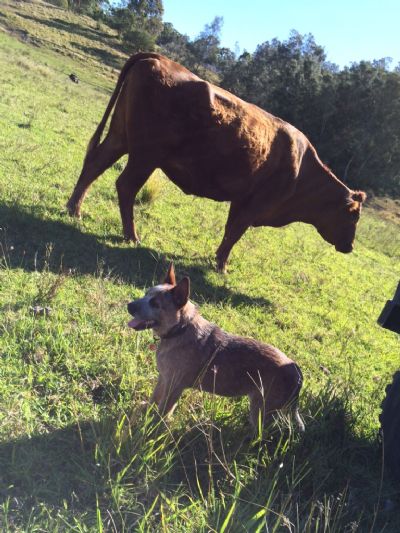 January 18, 2014
Lace (WP Denim & Lace) always has fun at the shows, and certainly made plenty of friends this weekend, including Lotte the Bearded Collie and Player the Border Collie.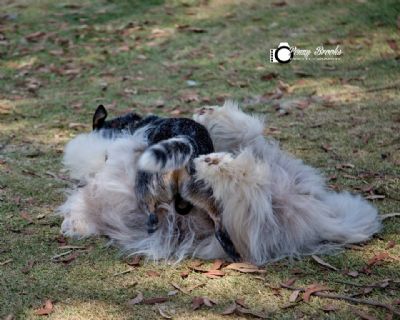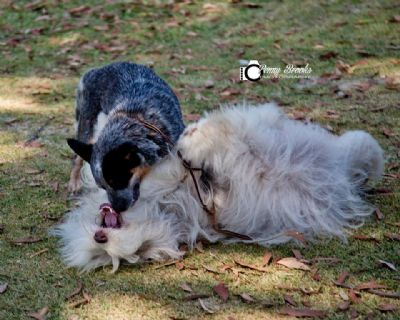 January 14, 2014
This is Harlie (WP Covergirl), who is from our Pavesi Five Card Stud x WP Eternal Flame litter. She lives in Victoria and this is what her owner has told us -

"She is doing great as well, she is very very intelligent! That photo was taken when we took her out on her first camping trip last weekend and she behaved perfectly! She had already learn't sit, stay, drop, roll over and high five at 12 weeks old, thank you so much for her she is exactly what I wanted and she's already got that working dog in her, every time she sees our sheep all she wants to do is chase them around. I am in love with her she's the perfect dog and she has settled in greatly here :) "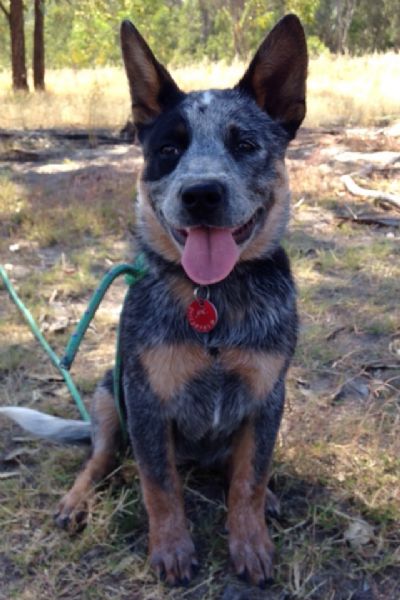 January 13, 2014

Summer's puppies are growing like weeds, already engaging with us at 3 weeks of age. Here they are just before they turned 4 weeks old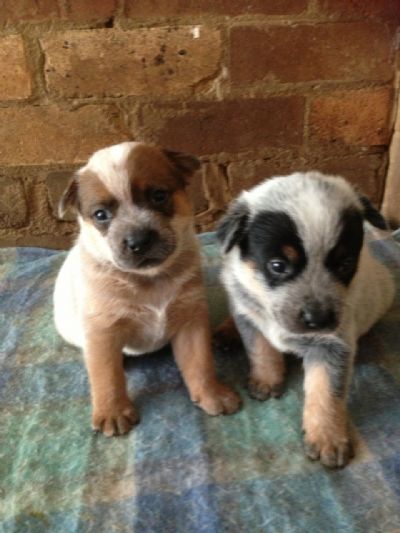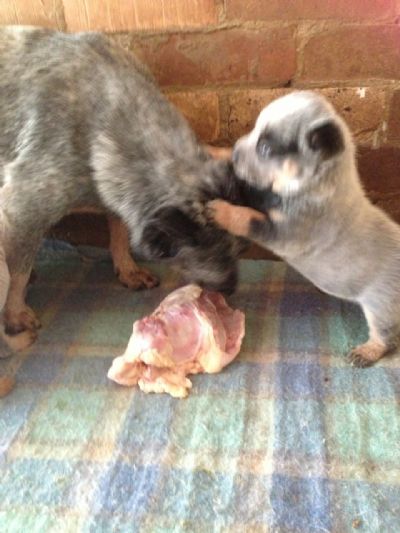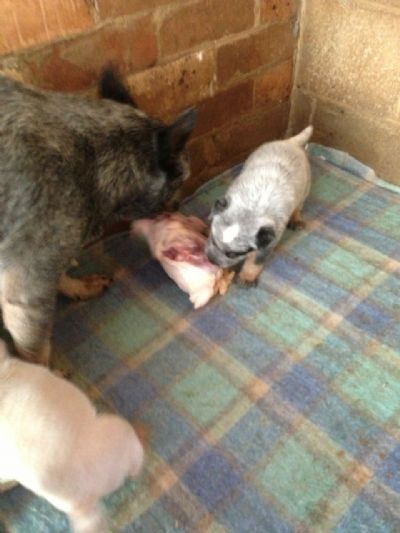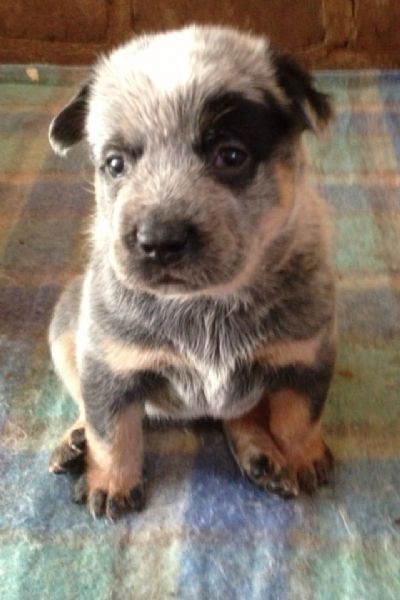 January 12, 2014

Our gorgeous Lace finishes her time in Baby Puppy with a Baby Puppy in Group and oh so close to a Baby Puppy in Show. She has been receiving so many nice compliments from many people around the shows. She is so nice to show, confident, playful and even in 40 degree heat she never tires.